Hyde Park Market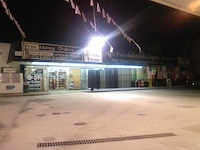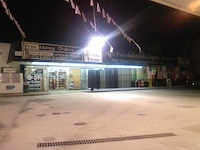 PLACE INFO
Type:
Store
4429 Duval St
Austin
,
Texas
, 78751-3917
United States
(512) 524-4217 |
map
Notes:
No notes at this time.
Added by AChamberlain on 11-25-2008
PLACE STATS
Reviews:

13

Ratings:

pDev:

22%
HISTOGRAM
View: Place Reviews
Ratings: 22 | Reviews: 13



3.48
/5
rDev
-0.6%
vibe: 3 | quality: 3 | service: 3 | selection: 4.75
This place would probably have an overall higher rating if it was just concerned with selection. Several Spec's locations in town are pretty good, Whip In included. However, I have yet to find any other store in Austin that competes with "the flag store" as they call this place. Located in Hyde Park, this looks like a gas station and convenience store, with a bunch of flags hanging outside. When you get inside you find yourself in a tight maze of gourmet foods and rows upon rows of beer all stored in coolers. This is by far the largest selections of six-packs and singles I have seen in Austin. You never know what you might find in the singles section, they are always adding to and rotating the stock.
709 characters

3.44
/5
rDev
-1.7%
vibe: 3 | quality: 3.5 | service: 3 | selection: 4
These guys stock just about everything that can be found at Specs & Whip-in, including some rare German & Belgian imports (Kapuziner, Moinette, Chapeau Faro, etc). However, on more than one occasion these beers have been sitting in the fridges for over a year, so buyer beware! Depending on what you're looking for, you'll either find a few more options or a few fewer choices than the aforementioned Austin "juggernauts". Service up front is courteous, but don't expect to find a beer guy to chat with in the aisles, as I've never run into one in the 10+ times I've visited.
Hyde Park also has an entire series of fridges fully stocked with mix-n-match singles for $12.99 a sixer. The only downside (besides the steep price) is that you can only select one beer for each brewery in that mix-pack.
One BIG BEEF: the ridiculous mark-up. For example, if you want to purchase a single 12oz bottle, they will most likely BLEED YOU DRY. Every bottle in the 'singles area' that is capped with a sticker will cost you $3.99 per purchase. ARE YOU KIDDING ME? Look, I understand the concept of not wanting customers to make a $12.99 mixed six-pack out of higher ABV/specialty beers that would normally cost much more, but this is literally highway robbery with >300% markups. Besides that, the number of beers that have been getting the dreaded 'sticker' has skyrocketed over the past year. Furthermore, every bomber will cost you at least 2-4 dollars more than you could get at Specs, Central Market, Whole Foods, or any other ATX beer store.
No thanks. I used to frequent this store in the past, but the price point has completely turned me away from Hyde Park Mark-up.
1,668 characters

3.36
/5
rDev
-4%
vibe: 3.75 | quality: 2.75 | service: 2.75 | selection: 4.5
The selection of craft beer here is very, very good. They have a large mix-6 section, tons of refridgerated bombers, all the local stuff and representatives from basically everything distributed in Texas. You can often get a sixer of something that sold out quickly at some of the hotter bottle shops in town.
If you were to rate on selection alone, it is among the very best around.
Where we run into problems is two-fold:
1. The age of some of the beers. Many have clearly been there for a long time. I'm not sure they really have a beer person, they just get everything they can in and became a beer stop without much knowledge of freshness and turnover. Perhaps they get too much stuff in.
2. The price. It's really inexcusable on a lot of items. We're not just talking about the 1 or 2 dollar markup. Many six-packs and bombers can be as much as $5 more expensive than anywhere else.
This is close by, and they have a great selection of other things (coconut-based ice cram, for example), but I rarely buy beer here anymore unless I'm on a particular whale hunt.
1,072 characters
3.21
/5
rDev
-8.3%
vibe: 2.5 | quality: 3 | service: 2.25 | selection: 4.75
Hyde Park Market offers a very nice selection of beers. Ultimately, they may have the largest bottle selection in Austin. Their biggest problem is they overcharge every beer by a few dollars. It's reasonable for small bottle shops to charge a little more than HEB or Spec's, but Hyde Park Market often charges $2-3 more than the rest of the small bottle shops in town. I only go to this store if I'm looking for something that has sold out everywhere already.
Mix and Match 6-packs are nice, but many of the beers are far beyond expiration. I've seen beers in that shelf that were 2+ years old (expired 18 months). At the same time, you might find something that has been aged in good condition for a long period of time. The same goes for the rest of the bottles in the store - if you're not careful, you might buy expired beers. Always check the date if you can!
Beyond the beer selection, they have nice offerings. They're a very typical Austin-esque convenience store. They may have the best British candy selection in town.
Unfortunately, I often leave this store with regret.
1,085 characters

2.79
/5
rDev
-20.3%
vibe: 1.5 | quality: 2.5 | service: 2 | selection: 4.5
I went here for the first time this weekend and was impressed with the selection. There is a sign on the cooler that says $12.99 for mixed six packs. I filled a six pack with different beers and headed to the counter. The person started to ring me up and then let out a huff. I was told you cant grab beers from the same brewery to build your six pack. Fine, I understand that but put that as part of the sign you have out there.
I put the beers back pretty annoyed and then went and looked at the cooler on the other side of the store. The prices are ridiculous. Arrogant Bastard which is around $4.89 everywhere else in Austin was $6.99 (I think). Lukcy Bastard which I have bough in Austin for $5.99 was $8.99.
I wont be back.
731 characters

2.46
/5
rDev
-29.7%
vibe: 1.25 | quality: 2 | service: 2 | selection: 4
2.19
/5
rDev
-37.4%
vibe: 1.5 | quality: 1.5 | service: 1 | selection: 4.5
This place looks like a gas station, but has just about the largest craft brew selection in austin. Only place i've seen with more is oak hill liquors. I saw so many things there I did not see anywhere else in austin. Tried a few of their mix and match 6-packs for 12.99. But it seems like they never take beer off the shelf, no matter how old it gets and how skunked out it gets, they just keep it on the shelf. Its hard to find an employee who knows what you are talking about when you tell them that the beers have been sitting out for too long, and even when you do find someone, they don't care.
I'll only return if I need to buy something out of a can that can age, or new releases that are sold out everywhere else, but still at this location b/c their prices are so much higher.
This place a bit pricey, more expensive than the other specialty stores like specs by a long shot, only places more expensive are restaurants.
Re-visited today. Their singles selection has become so limited as to what you can get in the same 6-pack, that it was impossible to pick out 3 decent beers that could go into a 6-pack. Selection is still probably mostly skunked. And their idea of service is if you happen to walk out not finding anything you wanted to buy, they will yell at you "WHAT CAN I HELP YOU FIND!", not that they can actually help you find it.
1,355 characters
Hyde Park Market in Austin, TX
Place rating:
3.5
out of
5
with
22
ratings