A1 Brews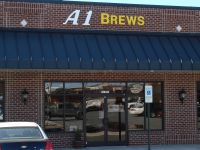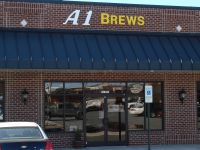 PLACE INFO
Type:
Store
1145 C St Mark's Church Rd
Burlington
,
North Carolina
, 27215
United States
(336) 270-5064
// CLOSED //
Notes:
No notes at this time.
Added by TheGambler on 11-25-2008
PLACE STATS
Reviews:

9

Ratings:

pDev:

22.33%
HISTOGRAM
Ratings: 9 | Reviews: 9
Reviews by Loki:
4.5
/5
rDev
+11.7%
Right off of I-40 on the Mebane exit. Nice A1 Brews sign in the Kingston Commons shopping center.
Very spaciously laid out. Almost too much space. I got the feeling that it was laid out so that if they things go well they can easily add more shelf space without making it cramped.
I really liked how they had 2/3 of their shelving packed with single priced beers, with a broad selection and well spaced shelving. All of their single priced beers were packed tight in the six pack section. All kinds of styles and breweries. All craft beers or imports. No macros.
Very friendly and knowledgeable staff. If they didn't know about the beer we were discussing they were quick to look it up on the internet. I'm pretty sure they were using this site as they were quoting letter ratings and telling me how many people reviewed the beer.
Nice detour on the way home from dropping my brother off at RDU heading back to Winston.
923 characters
More User Reviews:
5
/5
rDev
+24.1%
A1 brews is Burlington's best place to buy craft beers. Tom, the owner, is one of the nicest beer store owners I have ever met. He has encouraged and helped my taste of brews expand. He always listens to what I like in a brew and makes great recommendations. There is a free beer tasting every Friday afternoon. There is a great selection of local brews as well. They have cold singles if you are in the mood fro just one after work. I highly recommend this place if you are in the Alamance County area looking for a craft beer.
528 characters
4.15
/5
rDev
+3%
place is right by where i live, so thats awesome. im there most every friday for their tastings. they bring out 5 or 6 different beers, often with some sort of theme. this past friday was beers to pair with thanksgiving festivities (they even had a ba article on the table discussing the topic).
pretty wide selection. 6-packs as well as singles and larger bottles. had growlers from carolina brewery the last time i was there. getting the singles seems to be the best value. and owner said he could get most anything we wanted too, (except for that dumb abv cap in nc), but ive seemed to be able to find something i want every time.
owner is real quiet, but will start talking more and is very knowledgeable if you ask a question.
stamp card is pretty cool. labeled as buy 12 6packs and get one free. its actually just a stamp for every $10 and then get a $10 discount.
ive always kinda wondered about how bright it is in there and what effect that has on the beer.
overall, place is great.
1,001 characters
4.55
/5
rDev
+12.9%
A1 Brews is a great neighborhood beer shop. That being said, going there to find a good beer is nothing like shopping at the grocery store. The selection is amazing, there are very few good brews that he doesn't keep in stock. You can make your own mix packs which is great for sampling and finding new favorites.
The service is excellent, you just have to ask. If you ever have a question about styles, brands, breweries, etc, this guy can help you. If you want a keg, you can order just about any beer that you want and get it in just a few days.
A note on the expiration dates, I've bought many different beers from A1 Brews. Some have been past their dates and others haven't, but I've never had one that didn't taste right or had truly expired. And I'm a homebrewer so I can tell you when a beer is past it's prime.
Finally, this is the place to be on Fridays. From around 4pm - 7pm they hold free beer tastings. Each Friday they usually open up 6 or so different types of beer (usually from the same or similar breweries). This is a great opportunity/excuse to bring a few bottles home after you've already figured out that you like the beer during the tasting. Plus there are plenty of other Beer Advocates who hang around the store during the tastings.
Overall, this is a great place. A1 Brews has been a great part of really cultivating the beer community in Burlington and Alamance county. Check it out next time your in Burlington!
1,447 characters

3.55
/5
rDev
-11.9%
Stopped in here on my way through back to Winston. This store is all beer, no wine, which is nice. Tons of 6-packs. Many, as the previous reviewer pointed out, are a bit pricey for what they are, but not all are that high price. Lots of singles available, many of them in the cooler. Those all were decently priced; better than the local Total Wines. What I really liked is that he was selling Red Oaks as singles. Everywhere else you have to buy the 12-pack for almost $20! I grabbed a few of those among some other brews and was on my way. They carried a decent amount of European brews as well. Some of their stuff seemed to be outdated, but most was fresh. They even had some discounted racks for beer that was past it's "best by" date. Most were 30-50% off. Not too bad. I wish other stores would follow suit. Service was not there. The guy just stood behind the counter, never said a word. Even when I paid he was distant. Ah well, I'm not here to make friends, just buy some beer. Check it out. Not a bad place.
1,018 characters
1.75
/5
rDev
-56.6%
Someone is going to have to explain to me how this place has an A-rating right now.
Did no one notice that their six packs were, at a minimum, 10-dollars.. even for something like Sierra Nevada which everywhere else has at 6.99 to 7.99?
Did no one else notice that fully HALF (no joke) of their beers that carry expiration dates were past (and months past in some cases) those dates?
Everything they had was available to be bought as singles, which is a GREAT quality in a beer store and the prices on singles themselves were very reasonable.. usually the same or 10-20 cents cheaper than what Total Wine would charge for a single. I think a single of Bell's Two Hearted was only 1.89. Not a bargain, but as low as you can ever hope a single of that would run.
But they didn't seem to have six-pack prices really. If the singles were 1.99, the six-pack was 12 bucks.. even if that six-pack ran for 8.99 or 9.99 at every other store in the state.
Their prices on large-format (bombers and 750s) were also about a dollar or two higher than anywhere else.
So, great that they sell singles and encourage mix-sixing but their prices in general were far too high and the lack of freshness was APPALLING. If the beer isn't dated or meant to be aged DO NOT but it from here.
The fellow himself was nice enough. He asked me if I needed anything and was doing a good job knowledgeably explaining the qualities and tastes of certain beers to other customers. He seemed to know his stuff.
They also had Brooklyn snifters on sale for only 2 or 3 dollars (great deal), plus some Dogfish head glasses, a chimay chalice, Brooklyn and Rogue pint glasses and some Leffe glasses as well as generic mugs and pilsner glasses. That was nice.
So, I'm rating the service at 1.5 because of how terrible a disservice it is to sell a customer a sixpack of a beer that went out of date 3 months ago (and also charge them 2-3 bucks more than anywhere else while you're at it) but the person-to-person service was good.
The selection itself was fairly good... no "white whales" but options from almost all of the good craft breweries as well as your rarer imports... but, again, everything was out of date. If the bottle isn't clearly marked as being still in date DO NOT TOUCH IT from this place unless it is something that can age nicely.
So I'm not really sure how to score the selection. The selection in terms of titles was good. Probably a 4 out of 5, but the selection of beers fit to be drunk in their current (expired) state was looow.
2,519 characters

4
/5
rDev
-0.7%
I stopped in at A1 Brews while passing through the area after noticing it here on BA.
The store sells only craft beer and it is extremely clean, clearly labeled and well organized. They have a good representation from the major US breweries such as Stone, Victory, Sierra Nevada, Bear Republic, DFH, Sweetwater and Terrapin. And they have a decent selection of Belgians, Germans and Brits. I didn't find anything really hard to come by (I was hoping to find some Ballast Point Sculpin IPA) but I was still pleased with the selection. I talked to the owner a bit and he seemed dedicated to his establishment and interested in his customers. I thought he was a really nice guy.
I only had a couple of concerns. First, most all of the beer is out on the shelves. There's a refrigerator that keeps a small portion cold but it's a very small portion. Also, I found the prices a pretty high as compared to the Triangle ($10+ for sixes of Sierra Nevada). I guess being the only option in this area allows that but it would discourage me from stopping in while passing by.
I think A1 Brews certainly warrants a visit to see what you think. I wish the owner luck in developing his business. He's certainly off to a good start.
1,220 characters
4.65
/5
rDev
+15.4%
Really neat place -- I was surprised to learn I had such a great specialty beer store near my house. Good selection of American microbrews, plus a wide range of international brands from Belgium, Germany, UK, and others. Proprietor is a nice guy who seems pretty knowledgeable about beer.
You can purchase six-packs or singles (in most cases), plus there's a good range of bombers and somewhat rare barleywine bottles. Plus this place hosts beer tastings about once a month -- I haven't been yet, but the owner told me they feature new arrivals at the tastings. Great idea.
Prices are pretty good, with singles in my mixed six pack ranging from $1.70 for a shorty of Wolaver's IPA to $3.60 for a bottle of Duvel. Odds are, you can find whatever you're looking for here.
771 characters
4.15
/5
rDev
+3%
I was at Lowes Home Improvement across the street and saw the sign with the word "Brews" on it and couldnt resist.
Very clean and nice place, looks pretty new. Lots of wire racking for the beers and the beers were certainly all over the place. One great thing about this place was that they encouraged mixing sixers and buying single beers. I dont know why more stores dont encourage this.
The owner seemed like a nice guy. I am sure he would order anything not on the shelves, atleast that is the vibe I got. Good selection for the area with all of the usuals and some new stuff like Smuttynose and some others that didnt look familiar. Really decent prices on the singles and sixers: most singles were under $2 and sixers around $10
I was in a hurry so I couldnt stay long but I would give this place another shot with more time on my hands.
847 characters
A1 Brews in Burlington, NC
Place rating:
4.03
out of
5
with
9
ratings