The Chase Taproom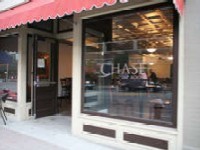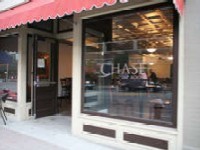 Bar
135 N Broadway
Lexington
,
Kentucky
, 40507-1228
United States
// CLOSED //
Notes:
Reviews by Magery:

More User Reviews:


BeermaGeddon13
4.47
/5
rDev
+23.1%
vibe: 4.25 | quality: 4.5 | service: 4.25 | selection: 4.75
Having stood the test of time, Lexington's original downtown craft beer destination thrives on today. 22 taps are adorned with a who's who of the craft beer scene with local standouts Country Boy Brewing and West 6th Brewing standing toe to toe daily with the likes of Schlafly, Anderson Valley, Goose Island, Cincinnati's own Rivertown Brewing and more. An affinity for bourbon is also represented with a few unique tequilas sprinkled in as well. If UK is across the street at Rupp you can guarantee before and after a game for the bar to be well stocked with big blue faithful enjoying their favorite brew while smiles abound. Must see beer spot when visiting Lexington.
Jan 24, 2013
crlova2 from Kentucky
2.59
/5
rDev
-28.7%
vibe: 3 | quality: 3 | service: 1.5 | selection: 3
Despite a decent draft selection I cannot recommend The Chase Taproom as a destination for an avid beer drinker and beer advocate. This is mainly due to the staff that has been working the four different occasions I have been there. The only times I go anymore is on Tuesdays occasionally because all the draft beer is $2 from 8PM to midnight (including Arrogant Bastard and nitro left hand milk stout). I would never go and pay full price again like the first time I tried the place out, though. The staff has been unfriendly, not knowledgeable, and doesn't seem to care about the quality of the product they are serving. For example, my last two visits I saw the bartender pour multiple beers that were over half foam in the pint glass and serve it to the customers! Two times I saw him serve a pint glass with 3/4 of the glass straight foam and watched the poor guy that didn't say anything to the bartender wait 4 minutes before could drink his beer after the massive head dissipated.
So, unless you want a real cheap ($2) beer or two on Tuesday evening and don't mind flaws in service I wouldn't give this place much thought. If you do go though, don't be afraid to send back a glass full of foam for an actual beer.
Last visit: 4/26/11
May 06, 2011
clvand0 from Kentucky
3.36
/5
rDev
-7.4%
vibe: 3.5 | quality: 3.5 | service: 2.5 | selection: 4
The Chase Taproom is located in downtown Lexington near Victorian Square. Parking is quite tough if you're driving in and want to visit - chances are good that you'll have to park in a parking garage.
There isn't much decor in the place, so there's not much to say about that. They have a large bar and then some tables. There is a jukebox near the bar also - and every time that I've been in there, somebody has gone and put on loud techno extremely loud - annoying.
The two bartenders that I've encountered didn't know anything about beer - one even said she doesn't drink beer. (?)
They have about 12 or so beers on draught and they are typically pretty decent selections, however, the pints will cost you around $6 each, so it's kind of expensive.
No food is served, so eat before you go, and bring your wallet.
Jun 24, 2009
BEERchitect from Kentucky
4.1
/5
rDev
+12.9%
vibe: 3.5 | quality: 4.5 | service: 4 | selection: 4
Highlights of last visit, April 19, 2010:
On tap:
Bell's Bourbon Barrel Aged Hell Hath No Fury
Clipper City (Heavy Seas) Holy Sheet
Great Lakes Edmund Fitzgerald
Dogfish Head 90 Minute IPA
Comming up on its 3rd anniversary, The Chase Taproom focuses is craft beer and only craft beer. As of last visit, they have increased the number of taps to 22 and their selection of bottled beers have grown to about 40.
Their constant rotating taps have included: Stone Arrogant Bastard, Rogue Dead Guy, Bell's Hopslam, Dogfish Head 60 Minute, Breckenridge Vanilla Porter, Great Lakes Edmund Fitzgerald, Chimay Tripel, Kentucky Bourbon Barrel Ale and IPA, Spaten Optimator, Stone Anniversary, Flying Dog Pale Ale, Sam Adams Winter Ale, and the stray Pabst Blue Ribbon. The beers have revolved nicely since opening. Other beers that are commonly found on tap are Bell's Two Hearted, Great Lakes Burning River, Carlsburg, Kentkcy Kolsch-style, and always a seasonal. The bottle selection covers Fuller's ESB, Flying Dog Horn Dog, Left Hand Warrior IPA and Seasonals, Organic Ales, more seasonals. They also carry the commonly requested Corona, Heineken, Killians, Miller Lite, Bud lime, and Coors Light, even if against their will. They will also pour you one of about 8-10 wines if you are one of those. The bar also boasts about their premier bourbon and tequilla collections--check them out as well.
This is one of only two true beer destination in Downtown Lexington, just a hop-skip-and-jump from Rupp Arena, Civic Center. Located in the upscale Victorian Square Shops, it has sidwalk access on both Broadway and Short Streets. It's decor is quite minimal, giving a proper backdrop to the rotating artwork that is on constant display. The owners hope to add another 12 taps soon and to extend the bar quite a bit. The bar sits about 20 people with table seating for about another 20 or so. Outside seating also takes care of about 20. The place can get busy with up to 100 beer-drinkers on the weekends, when accoustic bands play, or when special tastings and events occur.
There is no food availabe from the Chase, so be prepared to drink your meal or order food from nearby resturaunts and have it delivered. They do offer several specials including $1 off during happy hour (4:00-6:00 daily), the Siren Speicial (half off a special pint when you hear a siren), ladies' night on Thursdays and gentlemen's night on Mondays.
The staff is fairly knowlegable about the beers and are very eagar to talk to you about just about anything, beer related or not.
The bar is a great happy-hour stop-off, or a place to catch a beer before the game, after the game, or during the game. Their two flat-screen tv's will air about any game you want. The jukebox is also worth checking out when hanging out with friends. Otherwise, it's one of the better people-watching bars in Lexington. Be sure to enjoy the outside seating (weather premitting).
Nov 25, 2008
The Chase Taproom in Lexington, KY
Place rating:
3.63
out of
5
with
8
ratings