Bier-Spezialitäten-Laden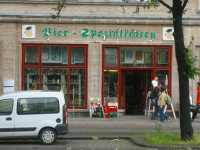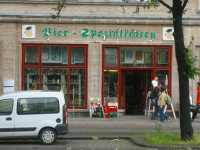 PLACE INFO
Type:
Store
Karl Marx Allee 56
Berlin
, 10243
Germany
(49) 2492146
// CLOSED //
Notes:
No notes at this time.
Added by 4thoseabout2bock on 11-25-2008
Ratings: 7 | Reviews: 7
Reviews by 4thoseabout2bock:
5
/5
rDev
+8.2%
There are two destination beer shops in Berlin -- this one and Ambrosetti across town.
The owner here is knowledgable, friendly and clearly loves his beer. Coming from the US I did not realize what an exceptional selection he had in German standards. The shop is crammed head to toe with wooden shelves, beers arranged by style. Tell the owner what you like and he will suggest comparables. My favorite beer on our last trip to Germany several years before was Andescher Dunkel Doppelbock. He had that but also recommended a doppelbock from Schlossbrauerei Fürstlich Drehna which was indeed a great choice!
We lived in Berlin for two months and are now in Munich for 6. The big three brewing groups have a stranglehold on the beer selection down here -- Berlin was better for variety, especially at these two bottle shops.
Beer hunters will find its worth a trip to this spot -- easy to reach above the Strausberger Platz U Bahn stop.
940 characters
More User Reviews:
5
/5
rDev
+8.2%
vibe: 5 | quality: 5 | service: 5 | selection: 5
I visited this place while on holiday in Berlin, on the strong recommendations of others on this site. I was not disappointed. The selection is great: abundant shelves of German beer and some good (but limited) choices of European and American imports. But what makes the store so wonderful is the atmosphere. It doubles as a hangout for regulars who stop in and, you guessed it, drink beer. These good folks also appeared interchangeable with store clerks - the tipsy guy out front was working the register on my second visit. All were very knowledgeable and happy to help this American who spoke no German find an obscure Bavarian brew to enjoy.
It puts a smile on my face knowing that places like this exist...I wish we had one where I live.
746 characters
4.85
/5
rDev
+5%
Visited this beer store based on recommendations here. As mentioned very convenient location to the U-Bahn (On U5, but you can connect through Alexanderplatz - then one stop on U5 to the south). On of the exits is literally next door to the store.
Showed up with a list of 50 German beers I was looking for. Found one by myself which is a minor accomplishment as the store is wall to wall beers.
The owner offered to help me, took the list and went down it one by one and came up with 9-10 off the list (I had also already checked off 10 or so myself). As he went through the list he made various comments, such as 'I've never seen this one' and 'they no longer make this one'.
Sure you could find some of the beers for a Euro but certainly not in one place.
For what it's worth, I did stop in several local stores in the city and did not find anything I was looking for except at KeDeWe.
894 characters
4.45
/5
rDev
-3.7%
This shop may seem shabby to a spoiled American drinker but is nevertheless the best bottle shop in Berlin. The proprietor is surprisingly friendly, has always offered to help me out--he has limited English, but if you say "the best pilsner!" or "I really like Aventinus" or "I'm trying to do a tasting with a bunch of Zwickl beers" he will help you out. Better if you speak German, but still, I have never met a German shopkeeper more friendly to American tourists. The guy definitely earns his exceptional.
The selection is stunning--you don't come here for international beers, that's true (although they have some Sam Smith, it's mostly macros from other countries--why doesn't something like Mikkeller distribute to Germany?), but all the bottled German beers you could want and more.
Most of the prices are reasonable given that these bottles are only available here, but some of the prices on the common Kölsches and pilsners, for example, are a little bit out of line. Just find somewhere else to load up on your Früh and Dom.
That said, it's conveniently located right next to an U-Bahn station so that you don't have to haul your liquid booty too far, and the guy will give money for pfand if you bring the bottles back (and most of them are too rare for you to get pfand anywhere else).
1,303 characters
4.05
/5
rDev
-12.3%
The Bier-Spezialaten-Laden store is located on a busy east-west artery near the center of Berlin, literally adjacent the subway stop. The proprietor stated that he had over 550 beers, most of them German. There were a few american beers, and some beers from all over, but mostly the rest were other european beers. With well over 400 German beers, he must have nearly every German bottled beer. There are chairs out front. Apparently you can buy a beer and drink it there. I thought the beers were reasonalby priced, but they were cheaper in grocery stores, with of course little variety.
588 characters
4.35
/5
rDev
-5.8%
I did not go to this looking for imported beers - it seemed that selection of these quite ok, with some well-known brews. I was the most interested in exciting German brews and found everything I wanted.
The place is run by a nice old man - although he was sitting with a couple of other old friends and discussing soccer, he immediately offered his help. He dis not speak much English, at least not more than a few sentences, but as I know some German, that was not a problem. I told him I could bring home maximum 10 beers, because more would not fit into my luggage, so he suggested me some of the most interesting ones.
Prices are expensive for Germany (most bottles were 2 to 2.40 eur), but, taking into account that most of the beers are brought from other German states, I would say the price is very ok.
813 characters
4.65
/5
rDev
+0.6%
Located immediately next door to the U-Bahn stop, literally 3 or 4 meters from door to door. Very convenient. Great selection of German beers. Not so good selection otherwise. For US beers they had Anchor Steam and Liberty, SA Triple Bock, Budweiser, and a couple other unremarkable bottles. Their Belgian selection was limited to pretty widely available bottles, Triple Karmeliet (sp?), Orval, Duvel, Delerium Tremens etc.
But the German selection was great. Lots of Bocks, maybe 20 or 30 different bocks. Lots of weizen, pils, helles, dunkel etc. Three Schlenkerla kinds, but only one other kind of Rauchbier (learned it's pronounced rouw-u-ka (where the rouw rhymes with first part of round) not rousch. They had many kinds of Berliner weisse which he said was shit. And they had an ad for a Liepzig Gose but when I asked him if he had any bottles he said no, it's shit.
Also, my friend who lives in Berlin said they were flying the flag of the racist soccer team. And they asked us about Obama and said that they didn't like him. They were old and curmudgeonly but knew a lot about beer and were very helpful in picking bottles out though they didn't speak much English at all (strange for Berlin, but maybe not for old men in the east) and my friend had to do most of the talking.
Beer is super cheap everywhere in Berlin, so I'm not sure if this is a good value or not. I got 9 half liter bottles of mostly strong bocks for 17 euro (Diebels alt in grocery stores is 0.69 euro for a half liter).
The place is kind of a dump and dusty, but all the bottles I looked at were well within their date range.
Wish I had more room in my luggage and more money to pay the weight fee!
1,688 characters
Bier-Spezialitäten-Laden in Berlin, Germany
Place rating:
0
out of
100
with
7
ratings