Hops Grillhouse & Brewery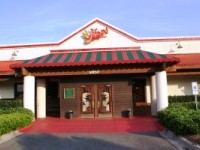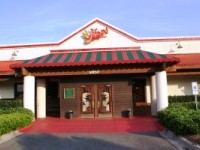 PLACE INFO
Type:
Brewery, Bar, Eatery
9950 E. Independence Blvd.
Charlotte
,
North Carolina
, 28105
United States
(704) 844-8300
// CLOSED //
Notes:
No notes at this time.
Added by Jason
HISTOGRAM
View: Beers | Place Reviews
Ratings: 8 | Reviews: 8
Reviews by BeerBelcher:

3.08
/5
rDev
-11.5%
vibe: 3.5 | quality: 3.5 | service: 3.5 | selection: 2 | food: 3
On my way to the airport in Charlotte, several hours before my flight was scheduled to depart, I passed this place and pulled a U-ie to stop in. And what I found was a Gordon Biersch-type environment that while I though was inferior to other brewpub chains that I frequent (Rock Bottom is what I'm thinking), it did fit my needs - decent enough craft beer and appetizers at quite reasonable happy hour prices.
I sat at the bar, chatted with an amiable older gentleman who was a regular, and had some beers and appetizers. Draft beers were a buck, and appetizers were half price. The year-round beers were a snooze-fest, but they had an oatmeal stout and IPA as seasonals, and both were decent (and a buck!). I also had some nachos and pot-stickers, which were OK. The cheap-ness of these beers and food really elevated them in my mind; had I visited 2 hours later and paid full price, my impressions may have been different.
Service at the bar was OK...the bartender seemed to get that I knew something about beer and didn't try to over-explain things, which I appreciated.
Not bad, but far from exceptional. Still, choices are limited in this town, and I wouldn't not recommend it.
1,185 characters
More User Reviews:
3.64
/5
rDev
+4.6%
vibe: 3.5 | quality: 3.5 | service: 4 | selection: 3.5
My son recently moved to NC and on a visit we stopped here for a few beers one night. It was kind of quiet when we walked in with just one guy at the bar and 2 tables with a few more people. We sat at the bar and a friendly bartender came right over. We each had a few beers, no food and then went on our way. The beers we tried were ok but I'm good having tried them just once.
378 characters
3.18
/5
rDev
-8.6%
vibe: 3 | quality: 3 | service: 4 | selection: 2.5 | food: 3.5
We stopped by here while is Charlotte of a Saturday beer adventure. We ordered a flight that consisted of 7 samples these beers were what i would consider average at best the Alligator Brown was more of a porter than a brown and is the brew that I would most likely consider buying on any future visit. The blonde was a beer for a hot day when you have been outside ether playing or working in the heat.
Their food was fairly tasty and the waitstaff was very attentive. And it appeared that they paid very good attention to all the other customers as well. Numerous patrons were at the bar and growlers were being filled.
The Establishment does have the feel of most all Chain Establishments i.e. you know that you are in a chain restaurant when you walk in the door.
771 characters

3.38
/5
rDev
-2.9%
vibe: 3 | quality: 3.5 | service: 3.5 | selection: 3 | food: 4
I have been meaning to stop by this place for quite some time now, but never really had a chance to. Our homebrew club hosted a "pint night" here the other night so we decided to give it a shot.
The atmoshphere is fairly standard for a chain brewpub/restaurant. We were at the bar area which had a clear view of the brewhouse.
The wait staff seemed to be quite attentive and quick enough; we never seemed to have an empty glass. Unfortunately, at least our server, did not seem to know too much about the beer.
They had about 4 or 5 of thier standar beers on tap; an english porter, an american amber, and strangely enough two blonde ales. They also had a seasonal on tap which was a scottish ale. The beer was decent, not outstanding, but decent.
The food was pretty good, I got a Reuben sandwich and fries; both were pretty good. I have heard from several people that the steaks are pretty good as well.
Overall, this is a fairly decent place to stop and have a beer or two
981 characters
3.73
/5
rDev
+7.2%
vibe: 4 | quality: 3.5 | service: 4 | selection: 3.5 | food: 4
Suprised that nobody has reviewed this place for so long ...
Well, I admit to passing the place for a couple years because it looked closed all the time. But, I think its a good find since they brew their own beer, make their own chips, and even brew Root Beer, too.
Right now they have a good deal to try all of their brews - 4 oz. glasses of their light beer, gold lager, red ale, porter, and their seasonal which is a scotish ale right now - 5 total for $3.79
If you like fresh beer and fresh made chips then check this place out !
Plus, you can get any of their beers to go in growlers, even thier root beer !
617 characters

3.78
/5
rDev
+8.6%
vibe: 3 | quality: 4 | service: 4.5 | selection: 3 | food: 4
CLOSED as of July 2013:
I feel like this place needs some updated reviews.
Thanks to lpb1970 making a post about how impressive the Pale Ale is I stopped by.
1) Mon & Wed drafts are $0.99.
2) Tuesday growler refills ae ONLY $5.00!!
3) The pale ale is PERFECT. An excellent year round beer.
Since coming back the burgers are excellent...very evry good to be honest. The ruben is also excellent and I have no complaints about service. Iwish I could (and I need to) revire other beers...but I can't get past how good this pale ale is.
538 characters

3.9
/5
rDev
+12.1%
vibe: 3 | quality: 4 | service: 4.5 | selection: 3.5 | food: 4
This place deserves an updated review. Its is one of the only brewpubs we have in the Charlotte area and is actually a well kept secret. The standard Hops offerings don't really impress me much (the Red Ale is pretty good) but the brewer here (John) has a lot of talent and gets to exercise it in his seasonals. He produced an Oatmeal Stout recently that was exceptional. As good as anything else out there. He is also brewing a very nice pilsener. My favorite of the non-standard offerings is the Pale Ale. For some reason they call it a Winter Pale Ale. Either way, it is a delicious, hoppy pale ale with a perfect blend of citrusy hop flavor and aroma and a delicous malt backbone to back it up. They do growler fills and sell 1/4 kegs for $50! Go to Total Wine and you will pay twice that. 12 oz. drafts 2.79, 20 oz. 3.79 all the time with happy hour and daily specials even lower. Beat those prices anywhere I dare you. Cant be done. And like I said, that Pale Ale is as good as anything out there (better in my opinion) and twice as fresh. It will be flowing through my kegerator very soon. The food here is actually very good with the wings being some of the best in Charlotte. Charlotte BA's need to put this place on their radar. I am downgrading my review a bit because the decor of the place is dated, the bar area allows smoking and they don't offer a huge selection of different beers like another beer bar might. Support local beer.
1,446 characters
3.15
/5
rDev
-9.5%
vibe: 3 | quality: 3 | service: 3 | selection: 3 | food: 4.5
Well it is pretty much the same at all of these. I actually heard that this one is closing down, not sure if that is a good or a bad thing, but never the less here are my thoughts. You walk in and it is your typical steak house for the most part. Lots of wood and dark. You can see all the tanks and lines right there and every once and a while you will see someone go and and starting mixing or stirring, so you know that they are actually real. The brew is always the same, they are all pretty much bland and just don't really do anything for you. But you still have them because that is all they serve, and you kinda have to admire them for sticking to that. You cannot even find another companies in here. The food is probably the best part as is the steaks are awesome here for sure. The staff really knows nothing about the brew, but there is really not much to know here to be honest. Overall if there is no local place to go, you could do worse as at least the food is good. But as for seeking it out strictly for the brew, forget that and move on.
1,057 characters
Hops Grillhouse & Brewery in Charlotte, NC
Brewery rating:
2.99
out of
5
with
16
ratings