Saraveza Bottle Shop & Pasty Tavern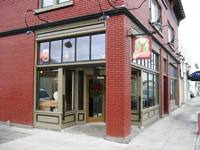 PLACE INFO
Type:
Bar, Eatery, Store
1004 N Killingsworth St
Portland
,
Oregon
, 97217-2222
United States
(503) 206-4252 |
map
saraveza.com
Notes:
Open Daily: 11:00am - 12:00am
Added by msubulldog25 on 11-26-2008
Reviews: 25 | Ratings: 60

4.22
/5
rDev
-2.5%
vibe: 4.5 | quality: 4.5 | service: 3.5 | selection: 4.5
After living just down the street from Saraveza for many months, finally went down to meet up with friends and siblings and see what they had to offer... especially since I've been aware of their good reputation for quite awhile now.
I'm quite glad I made it in here, and I will be returning frequently. Many of my personal favorites greeted me from inside the very retro green Beer coolers lining the walls as I walked in. I've seen pictures of the interior, but I was far more impressed in person. I think they may have more Beer bottle caps in their mural presentations than I have in my own personal collection! There are plenty of antlers and Beer memorabilia all over the place, and lots of Beer stickers.
The tap list is modest at 10 offerings, but there is some good stuff on there... on my visit I enjoyed the Block 15 "Brewed By Beavers" Rauchbier, Amnesia's "Dusseldorf Alt", and Everybody's Brewing "Cash" Stout.
We had dinner elsewhere, though a friend ordered the jalapenos with cream cheese and bacon and they were a hit.
Highly recommended for a nice-quality selection of bottles and draft Beer with an appetizing menu of tasty snacks and a cozy and charming atmosphere.
1,192 characters
4.5
/5
rDev
+3.9%
vibe: 4.5 | quality: 4.5 | service: 4.5 | selection: 4.5
Big fan of this place. Owners were working on the Sunday morning when I went and they were super friendly and knowledgeable.
Selection is excellent, particularly for this Californian. Went with some friends to watch a Packers game, which they specialize in showing on Sunday mornings, and we were able to buy many various single bottles and share them throughout the day. Tap list was also very nice. Prices definitely worked for me.
Sort of the progenitor of City Beer Store and Beer Revolution down here in the bay area.
I dug the atmosphere and I'm sure I'd dig it even more on a non football game day. Regardless, it was great.
Definitely a great spot at which to have a couple beers or pick up some random bottles to take home.
Can't comment on the food, as I didn't try any of it, but I know they do have a menu that people seemed to be enjoying.
861 characters

4.5
/5
rDev
+3.9%
vibe: 4.5 | quality: 4.5 | service: 5 | selection: 4
Went to Saraveza a while back for a few beers, they were having a can release party that night for Fort George Brewing and the place was pretty hopping. Tons of midwestern memorabilia line the walls...im a Packer fan so that was kindof cool as they had several pro-Cheesehead items around. There are several large coolers full of a pretty decent variety of beers. Not many beers on tap but the ones on tap were beers that you probably wont find that many other places other than there. I didn't try any of the food as i had just eaten before I went but the food smells and looks great so I want to go back and give that a try. Overall one of my new favorites in Portland.
671 characters

3.68
/5
rDev
-15%
vibe: 4 | quality: 3.5 | service: 3.5 | selection: 4 | food: 3.5
Great little Portland establishment. The beer lineup is always solid, usually with one or two little gems on it. The food, pasties, are quite tasty and filling and a perfect companion for the beers they serve (hint hint Bailey's Taproom...).
Saraveza also has a small but high-quality selection of bottles. I have found quite a few hidden gems tucked away in the recesses of their coolers. Worth a peek every time.
The best thing about Saraveza is the special event room. Almost weekly they feature some local craft brewery tasting, usually with free appetizers from the kitchen. Highly recommend attending these events.
623 characters

4.2
/5
rDev
-3%
vibe: 4.5 | quality: 4 | service: 4.5 | selection: 4
Came by on mothers day, this is a nice place. My wife was telling me about a beer movie that interviewed the owner lady in her joint. Very cool store with lotsa beers to be uncorked or a neat draft station that on our visit had old milwalkee schlitz and some local brews. The food menu was very nice looking for sure. I like pasties and they had lotsa good combinations. The service was outstanding and friendly, The young lady seemed very knowledgeable about all things beer and the menu. If only all places had staff like this! The beer menu was pretty much all incompassing, with lotsa imports and west coast brews. Now the bottle prices, to me, seemed steep but hey I am a southern boy and $13+ a bomber seems high.
719 characters

4.58
/5
rDev
+5.8%
vibe: 4.5 | quality: 4.5 | service: 5 | selection: 4.5 | food: 4
Wonderful place! Just a few mins walk from the train stop. I was fortunate to have arrived during an IPA draft special wherein they had something like 5-7 IPA's on tap. Sampler was nice and allowed me to try nearly all of them.
Good representation of regional beers, especially hoppy stuff.
Service was impeccable & friendly beyond expectations. I wish more people were like this in the service industry. Our pasties were tasty and the fruit appetizer was interesting as well.
There's a lot of character in this place.
523 characters

4.22
/5
rDev
-2.5%
vibe: 4 | quality: 4.5 | service: 4 | selection: 4.5 | food: 3.5
This was my first stop in my 24 hours of beer blitz in Portland.
Walking in it seemed a little too hip for me. But that was my issue as the folks were friendly and open. The pub has an open sports bar like front area surrounded by retro freezers packed with bottles. The back is taken up by close, cozy wooden booths. Overall there's a retro look with plenty of Schlitz paraphernalia. The whole place takes from the upper midwest with it's food and feel.
I wasn't too impressed with my pasty, though I enjoyed the pickled veggies that came with it. My buddy got the cheese and potatoes, which was amazing.
The server was friendly and open and very knowledgeable. Very excited about local Oregon brews. Once or twice we had to stop her and ask for service or approach the bar, but as soon as we made it clear we were looking for service, friendly service appeared. So it seemed more laid back and chill than negligent or dismissive.
The only downside was they listed Boulevards Saison Brett on the bottle list but had none available. That was alright as she sent me home with a couple bottles of local brews I'd never heard of. The % off for take-out bottles make this a reasonable place for brews.
Saraveza is a must-do for those in the area or visiting.
1,260 characters
4.5
/5
rDev
+3.9%
vibe: 4.5 | quality: 4.5 | service: 5 | selection: 4
Man I love Saraveza. This is one of the best places in town. First off, the space is great with a few booths, a nice centrally located bar, and some high tables. The bottle selection is pretty amazing as well. They keep a nice accurate chalkboard taplist in several places around the place, and they generally have one of the better taplists in town. Now for the best part, the service at this place is UNBELIEVABLE. This has to be the nicest, happiest set of servers at any beer place I frequent. Always in a good mood and making jokes, very friendly and open, not snobby in the least but they DEFINITELY know their stuff. For the non-geeks they could not be more helpful and chill, and happy to pour as many samples as it takes. They've got a TV for some sports occasionally. What a wonderful spot.
800 characters
4.26
/5
rDev
-1.6%
vibe: 5 | quality: 4 | service: 4 | selection: 4.5
Stopped by today for a first time visit. Definitely will not be the last time...
Saraveza is another one of your rather typical low key, Portland watering holes that amazes you with how well they manage to do everything. This place looks a lot like an old time deli, but one that just happens to have a killer selection of beer. In addition to the well thought out draft list (7+ craft, 2 Belgian imports and Hamms), they have a very good selection of bottles for in house consumption or take home. The atmosphere and ambiance just doesn't get much better. There are all kinds of interesting brick a brack, and the bomber and sixpacks are kept in old fashioned looking (not sure how old they really are) lime green coolers. They have a considerable amount of historical beer paraphenalia spread around, and I really got a kick out of the beer cap bar top they have at the main bar. I have to say the old fashioned macro swill tap handles (Schlitz regular and the bull, stag, old milwaulkie, ranier, etc.) were a very nice added touch I thought. The place is fairly small (the modest size bar is in the middle, with some tables and chairs in the front area, and then some booths in the back). The comfy, low key, friendly vibe had me instantly relaxed in this low key setting.
Service was very, very friendly, with the bartender fairly knowledgable about the beers on tap. This particular day, I had a glass of draft gose from Cascade, followed by a bottle of the excellent El Camino. The other geezers to the left of me (I have to include myself in that number these days) were all having large mugs of hamms with their rather delicious looking meat and veggies pasties. Didn't try any food, though I was tempted to try some of the interesting looking sausages the cook was grilling outside on the sidewalk just outside the door.
As for prices here, my glass of the gose and the in house el camino came to a whopping $7.50.
Maybe there are other places as cool as the Saraveza (God knows I'll certainly keep on looking), but there's no getting around that this was a fun and very high quality stop.
2,105 characters

4.13
/5
rDev
-4.6%
vibe: 4.5 | quality: 4 | service: 4 | selection: 4.5 | food: 3.5
The interior is great. The tables with the bottle cap collages are very cool to look at...a great conversation piece. As is all the decor and beer signage on the walls and everywhere else. It's a bit of clusterfuck in terms of decor but that's just fine. Better than nothing to look at.
Has a modest but excellent bottle selection. There are a decent amount of taps and generally some good stuff to try out. They are good about creating a balance between average and very high quality and rare beers.
The bartenders are very friendly and there is usually a good mood in the place when you roll in, which is super nice.
The vintage fridges give off a bit of must that drives me nuts every time I walk in...but...they look cool and I forget about it every time I sit down and enjoy myself.
A super cool spot. Love the branding and exterior signage...great design work.
871 characters
4.3
/5
rDev
-0.7%
vibe: 4.5 | quality: 4 | service: 4.5 | selection: 4.5 | food: 4
Visited 2.18.10, funky space, a lot of vintage brewer memorabiia. 10 seat bar, a few booths in the back and 6-8 tables in front. Decent selection of quality beers from 10 taps, and several hundred bottles properly stored in retro coolers (with PtE in plain sight!). Prices were pretty good, especially for the draft selections. While I didn't try the pasties (which were a bit small) I understand they are quite excellent. I did have the pickle plate, which turned out to be a pretty funky pairing with the RR Consecration. The bar help was excellent, they were working hard for the money. About 5 blocks from TriMet stop, though the neighborhood is borderline sketchy. A real quality space, great beer selection, phenomenal staff. Hope to catch an event or two here in the future. Well worth a visit.
801 characters
4.05
/5
rDev
-6.5%
vibe: 3.5 | quality: 4.5 | service: 4 | selection: 4 | food: 3.5
A friend brought me to this bar a couple weeks ago while visiting. It's a charming little neighborhood pub adorned with vintage breweriana, with an emphasis on all things wisconsin. It's small and intimate with a several booths, and a nice long bar.
The tap selection is small, but they varied the styles nicely, and had about half the taps from local breweries. The bottle list is extensive - but my one peeve was that it was not updated. The first four bottled beers we asked for were not in stock (they listed Pliny and Blind Pig, which is just a tease - why even put those on the bottle list!). Other than that, the food was so-so - standard pub fare, but you're not going there for food in the first place. Overall, a nice beer bar in a nice space that'd would make a great local.
787 characters

4.36
/5
rDev
+0.7%
vibe: 4.5 | quality: 4.5 | service: 4 | selection: 4.5
Saraveza is in a way, for a lack of better words, quaint. This small, neighborhood bar gives the feeling you've stepped back a few decades with its old coolers and vintage beer signs and decoration. Even the tap handles are vintage U.S. breweries. The narrow space has booths on one side and the beer cap-covered bar on the other. Much like Belmont Station, there's bottles to gaze at for while sipping on your current beer. Bonus points for being a very clean place.
Nice bartender...seemed like he enjoyed being there. I can't stand it when you can tell that the bartender/server would rather be somewhere else. He was helpful with any questions we had.
Tons of beer to choose from in the coolers. I fortunately found a lone bottle of Cascade Sang Royal which was not available at other places including Racoon Lodge. Another similarity to Belmont Station is they don't have a ton of taps, but the offerings available do not disappoint. I enjoyed The Bruery Black Orchard and Roots Woody IPA.
I highly recommend Saraveza...great little beer joint.
1,052 characters
4.44
/5
rDev
+2.5%
vibe: 4 | quality: 4.5 | service: 4 | selection: 5
Found out about this place through Twitter when there was a "Tweet" about Upright Brewing doing a firkin-ified release of their #6. So, my wife and I made the trek from SE up to North Portland. And I'm glad we did!
The selection in this place is AMAZING. Their bottled domestic craft beers and the international selections included. Some really brilliant beers stored in retro fridge units along two walls. They had about 6 taps or so with some fizzy yellow beers for the unadventurous drinkers and the rest were craft beers.
The bar is quite small, so it's not one you'd really "sidle up to" and hang out, but there is some seating available. Though it seemed a bit cramped, it was cozy. Especially if you're a beer lover! It's one of those places you lament not being closer to where you live. Lucky bastards in NoPo and NE!
I listed the value as "a bit pricey" because 2.5 pints, two small Lindemann's Cassis bottles, a 22 oz. of Jongleur, and a 22 oz. of Saion Dupont cost me $60 including the tip. Came as a bit of a surprise because I didn't see any price lists available for the bottled beers. I should have asked, but still. That pretty much killed my beer budget for the rest of the month!
1,202 characters
4.13
/5
rDev
-4.6%
vibe: 4 | quality: 4 | service: 4 | selection: 4.5 | food: 4
Saraveza opened recently (late summer 2008) along a fairly threadbare, but much improved, stretch of N Killingsworth, almost opposite Portland Community College. The tavern takes up one-half of a modest brick building, spruced up by proprietor/bartenderess Sarah Pederson, a Wisconsin native with a knack for Midwestern pub kitch and a die-hard Green Bay Packers fan. Before opening Saraveza, Pederson ran one of the Pix Patisseries (argueably among the best dessert stops in the city) and even interned for a while with Alan Sprints at Hair of the Dog. All that to say, she's got street cred...
The tavern isn't very big, in square footage terms, but manages to cram alot inside. Aged hardwood floors, large street-facing windows and an array of couches and tall, bottlecap-encrusted tables give the front half a comfortable 'living room' feel. This is where people hang out, play Scrabble or Yahtzee, sip a pint. Along two walls are a pair of massive green reach-ins - the 'bottle shop' - which hold a surprisingly diverse assortment of local/regional bottles, many imported craft standards and a few rare curiosities I've honestly never seen before. Purchases 'to-go' are discounted a little.
The back half of the space is more like a 'traditional' bar, a cleaned-up version of a Midwestern dive. 10 tap handles pour an eclectic mix of Oregon craft brews (Amnesia, Double Mountain, Fort George and Cascade all earn a spot) an interloper (Monchshof Festbier ran dry, so Pliny the Elder replaced it!) and a nod to the past (a dedicated tap for Rainier). Seating in this area is a few cozy booths and a couple tabletops lining a brick wall, clustered about a bar with several stools and a glass-strewn backdrop. 'Classic' beer signs and paraphernalia (think Blatz, Ballantine, Hamm's, Schlitz and the like) dot the walls and hold court on a shelf above the bar.
Visited twice so far, once on a sleepy Saturday, when my wife and I were just about the only patrons; today is different - final game of the NFL season and Packer Nation is out in full force (watching the Pack complete Detroit's 0-16 run of ineptitude). Service downgrades a little with the game on (projected on the rear wall), but it's still quick and affable.
Food is modest pub-grub (salty snacks, meats/cheeses, gameday grilled brats), a couple soups, and, of course, the pasty. There are several variations of the meat/veggie-filled staple to pick from, including the 'Nater' or 'Nater Potater' and a daily special (had a nice BBQ one the last visit). It's not high cuisine, but it's definitely hearty and tasty fare. (Speaking of 'tasty', that word does NOT rhyme with 'pasty' - much to our uninformed embarassment on the first visit. Does, however, rhyme with 'nasty'...which ISN'T to say it tastes that way...).
Definitely a worthy beer stop and a fun place to visit on game day or during one of their occasional tasting/'meet the brewer' nights. Recommended (even if you're a fan of the Bears, Vikings, Lions or any other NFL team...).
3,014 characters
Saraveza Bottle Shop & Pasty Tavern in Portland, OR
4.33
out of
5
based on
60
ratings.