Emperor Norton's Cinnamon Stout
| Manchester Brewing, LLC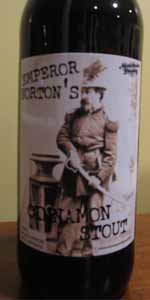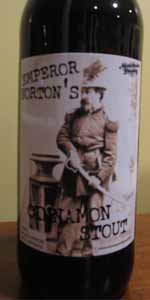 BEER INFO
Brewed by:
Manchester Brewing, LLC
New Hampshire
,
United States
Style:
American Stout
Alcohol by volume (ABV):
5.00%
Availability:
Limited (brewed once)
Notes / Commercial Description:
No notes at this time.
Added by Jayli on 11-15-2009
This beer is retired; no longer brewed.
HISTOGRAM
Ratings: 14 | Reviews: 14
Reviews by crashlimo:
1.88
/5
rDev
-44.4%
look: 4 | smell: 3.5 | taste: 1 | feel: 2 | overall: 1
A- Dark with slight tan head.
S- Heavy on the cinnamon and roasted malts. Mild coffee notes; overall quite inviting
T- Chlorine
M- Did last long in the mouth, but reminiscent of my childhood best friend's swimming pool.
Overall: Brutally unappetizing, and resides somewhere at the bottom of my sink... perhaps I got a bad bottle
333 characters
More User Reviews:

3.48
/5
rDev
+3%
look: 4 | smell: 3.5 | taste: 3.5 | feel: 3 | overall: 3.5
This beer was a very dark brown, almost black color. It had a thick mocha head which dwindled down to nothing fairly quickly. Sweet, roasted malt aroma. Cinnamon also, as advertised. A chocolate and faint coffee taste at first, then the cinnamon showed up and took over. I thought it to be on the sharp side, not exactly pleasant, either. I'd like this stout a lot more if the cinnamon was toned down.
401 characters
3.7
/5
rDev
+9.5%
look: 4 | smell: 4 | taste: 3.5 | feel: 4 | overall: 3.5
Appearance: 1/3 inch head, black in color, opaque
Smell: A big dose of cinnamon with a bit of roasted malt
Taste: huge dose of cinnamon, some roasted malt and dark coffee
Mouthfeel: very dry, high carbonation, slightly bitter, medium body
Drinkability: An above average dry stout with loads of cinnamon. The cinnamon is stronger in the nose than the mouth, but you need to love that spice to enjoy this. I could have two.
426 characters
4.17
/5
rDev
+23.4%
look: 3.5 | smell: 4 | taste: 4.5 | feel: 4 | overall: 4
From a 22 fl. oz. bottle and sampled on January 17, 2010. The pour is a rich dark brown however there is little head. The aroma's lead character is cinnamon of course but there is also a nice dash of chocolate malts and coffee grinds. The mouthfeel is in the medium range. The flavor has that nice addition of cinnamon sticks along with the overall smooth and creamy ingredients of a nice stout. It ends dry. This is a nice brew.
429 characters

3.53
/5
rDev
+4.4%
look: 4 | smell: 3.5 | taste: 3.5 | feel: 3.5 | overall: 3.5
Pours a dark brown, almost black color with a thin head that fades fast, not much in the way of lacing.
Smell is roasted malt and a lot of cinnamon, just as advertised, maybe a bit too much cinnamon.
Taste is mostly roasted malt with an aftertaste of cinnamon, extremely dry finish, other than the cinnamon aftertaste this is a fairly straight forward stout.
360 characters
3.48
/5
rDev
+3%
look: 4.5 | smell: 4 | taste: 3 | feel: 4.5 | overall: 3
Poured into an imperial pint glass. Has a nice chocolate brown head that was 1 finger to start, but quickly almost completely disappeared. Remaining head coated the sides very well. Color was almostly completely translucent dark brown. Aroma was at time likes a Cinnamon Teddy Graham, and other times like a cinnamon red hot. Taste was heavy on the cinnamon, almost too powerful, with what seemed to be touched of ginger. A very small amount of sweetness was sometimes evident. Felt wonderful in the mouth. Coated extremely well and was nicely carbonated. Not very drinkable due to the over powering cinnamon flavor.
616 characters

3.07
/5
rDev
-9.2%
look: 3 | smell: 3.5 | taste: 3 | feel: 2.5 | overall: 3
A- Black with a slightly fizzy light tan head. Retention is low and a small ring stays atop the beer. Lacing is non existent.
S- Lots of spicy cinnamon in top of roast malt that lends coffee and cocoa notes to the smell. Strength is good but smell is too spicy.
T- Very reminiscent of my first homebrew. Cinnamon is strong with some roast malt, cocoa and coffee. Cinnamon adds a strange flavor along with its recognizable one. A bit fruity and grassy, maybe from hops.
MF- Way too thin. The thin body has moderate carbonation, maybe a bit much for such strong stout flavors. No. warmth and a bit of bitterness on the palate.
DB- Price was low burt the taste amd mouthfeel were not that good. Interesting combo of flavors but the beer is just too thin. Price will keep me trying Manchesters offerings but not this one. Strong cinnamon a bit too much after a while.
867 characters
4
/5
rDev
+18.3%
look: 4 | smell: 4 | taste: 4 | feel: 4 | overall: 4
Very dark, almost black color with a tan head and little lacing.
Definite cinnamon smell with hints of dark choolate and coffee.
Taste started out as a typical stout, then the cinnamon came in and gave it a nice finish.
Mouthfeel was medium with a bit of carbonation. Feel not as heavy as other stouts.
I like cinnamon, so this was very drinkable beer. Will definitely have another. Might try to brew a cinnamon stout this fall.
428 characters

3.4
/5
rDev
+0.6%
look: 3 | smell: 3 | taste: 3.5 | feel: 4 | overall: 3.5
Pours a two finger brown head that vanishes leaving no lace. Black color, no highlights, ton of yeast left in bottle. Medium carbonation and heavy bodied. Roasted coffee nose. Flavor is roasted/burnt coffee and hints of cinnamon. The brewer puts the ABV at 5.5%. $3.99 for a 22oz bottle from Smiley's Beverage Dover, NH.
320 characters
3.35
/5
rDev
-0.9%
look: 3 | smell: 3 | taste: 3.5 | feel: 3.5 | overall: 3.5
Modest head that dies to a single layer of bubbles. Nearly no lace. Dark, dark brown where no light shines through.
Initial smell is quite medicinal, like a high-alcohol cough syrup. Next up, a strong bark-like spice smell--my first thought is sarsaparilla, not cinnamon. Stunningly, there's very little burnt malt aroma.
Interesting combination of chocolate malt and medicine. Very dry. Aftertaste is like an alcoholic root beer with a touch of hop bitterness. The body is light for the style.
497 characters
3.35
/5
rDev
-0.9%
look: 3 | smell: 3 | taste: 3.5 | feel: 3.5 | overall: 3.5
Opened room-temperature brown glass bomber and poured into chrysalis shaped bomber glass
Immediately after cracking open the beer, I was met with 10 minutes of spewing foam. This took away from the experience, but I'm sure that if you chilled the beer, this effect wouldn't have been so severe. I usually drink warm beer, but this was unreasonable amounts of foaming.
after finally getting it poured, noticed nice dark near-black colour with dark chocolate brown head.
aroma was more cinnamon-spicy than the flavour. The flavour was more of a porter than a stout with a mere hint of cinnamon. Despite being light and crisp for a stout, it was well balanced and enjoyable.
675 characters
2.1
/5
rDev
-37.9%
look: 4 | smell: 1.5 | taste: 2 | feel: 4 | overall: 1.5
Picked this one up at Gordon's in Waltham on 11/12/09
A: This beer pours a jet black with a two/three finger head of light brown sudsy, rocky head. On the first pour receded quickly, second pour it hung around a bit longer. Some minimal wispy lacing is left.
S: Nose is almost ALL cinnamon, touch of barley, touch of malt. I had to really search for the last two. Cinnamon far outweighs everything else.
T: Taste is HARSH on the cinnamon. I almost literally feel like I am sucking on a cinnamon stick. As the beer warms, there may be the slightest of hints of toffee ...and then finally there is a definite presence of citrus hops. It pretty much bitch slaps you in the finish.
M: Lighter side of medium body, medium carbonation, light on the tongue with a sticky dry finish.
D: I caught nothing in this that was reminicent of a stout, it was a great try to play on a style...malts were lacking, character outside of cinnamon took a long time to detect. Based on pure chillin with cinnamon, this would be good - but as a stout, not so much.
1,056 characters
4.01
/5
rDev
+18.6%
look: 4.5 | smell: 3.5 | taste: 4 | feel: 4 | overall: 4.5
Pours a pitch black color with a thin brown head into my pint glass. Head formation takes a while but otherwise seems good.
Aroma is full of roasted coffee, cream and chocolate. Seems good for the style.
Taste is full of lightly roasted coffee, dark fruits and chocolate. Hard to detect cinnamon but I suspect it has more to do with texture than taste. Warms up in the mouth.
Mouthfeel is warm with lingering roasted coffee being the dominant flavor here.
Eh, it's a stout and tasty as it is. I would not mind having it fresh but otherwise, it's a standard.
562 characters
3.83
/5
rDev
+13.3%
look: 4 | smell: 3.5 | taste: 4 | feel: 3.5 | overall: 4
Apperance: It's dark, opaque blackness with about one finger worth of a tan head.
Aroma: Well straight out of the gate a whole bunch of cinnamon in the nose. A little bit of sugary malts with underlying notes of of dark roasted hops. The cinnamon has the strongest showing among the aroma.
Taste: Once again lots of cinnamon. Lightly carbonated to give it a little crispness on the pallate which is a nice touch. Dark roasted hops and malts swim among the flavors.
Notes: Not a bad stout overall the cinnamon is certainly interesting. Cheers.
545 characters
Emperor Norton's Cinnamon Stout from Manchester Brewing, LLC
Beer rating:
3.38
out of
5
with
14
ratings