Dismiss Notice
Getaway
| Lift Bridge Brewery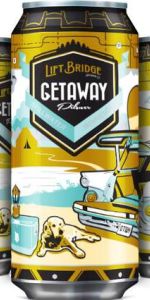 BEER INFO
Brewed by:
Lift Bridge Brewery
Minnesota
,
United States
|
website
Style:
German Pilsener
Alcohol by volume (ABV):
5.20%
Availability:
Fall
Notes / Commercial Description:
No notes at this time.
Added by TGanyone on 05-10-2014
Reviews: 11 | Ratings: 52
3.64
/5
rDev
-3.2%
look: 3.75 | smell: 3.5 | taste: 3.75 | feel: 3.25 | overall: 3.75
I poured this from a bottle into a clear teardrop beer glass. It's very light colored and clear with a one finger white head. It's a nice taste but I don't taste the apple that others taste. I'd prefer a bit more carbonation. I'd buy it again though. It would be a good summer beer and a good one to keep on hand for others who don't like their beers as chewy as I do.
★
373 characters
2.28
/5
rDev
-39.4%
look: 2.75 | smell: 2.75 | taste: 2 | feel: 2 | overall: 2.25
I have read the other reviews about this beer and I am scratching my head. It almost seemed more like a light beer or light Ale than a Pilsner. My guess there are too many Ale drinkers rating this.
★
199 characters
3.97
/5
rDev
+5.6%
look: 4 | smell: 3.75 | taste: 4 | feel: 4.25 | overall: 4
Twelve ounce bottle, can't find a date. Poured into pint glass. Yellow and lots of carb bubbles with tiny head. Smell is bread, apple and honey. Feel and taste are smooth, refreshing biscuit with apple. Good beer. Cheers!
★
221 characters

3.88
/5
rDev
+3.2%
look: 3.75 | smell: 3.75 | taste: 3.75 | feel: 5 | overall: 3.75
A light, but clear, golden appearance with subtle carbonation. A one finger head, which dissipates quickly.
The smell has a lot of malt and sweet apple.
This very much tastes like a beery apple cider. The most unique flavor is of apple, with a distinct malt flavor in the background. The feel is quite light, which fits the style well.
All in all, I could see this being a very enjoyable summer beer. Despite being a lager, this has clear notes of both malt and apple. A pilsner with attitude, something which is surely lacking.
★
534 characters

4.29
/5
rDev
+14.1%
look: 4.25 | smell: 4 | taste: 4.5 | feel: 4.25 | overall: 4.25
This is one of my favorite US-produced pilsners. Great all-malt body, crisp hop bite, but very drinkable on a hot day in July. Well balanced, and well done.
★
158 characters
4.25
/5
rDev
+13%
look: 4.25 | smell: 4.25 | taste: 4.25 | feel: 4.25 | overall: 4.25
Had on tap at the Bryant Lake Bowl
L: Pours brilliant gold under a thin white foam cap. S: Resiny piney hops and light grains. Some citrus.
T: Light sweet grains with bread and faint biscuit.
F: Clean, crisp finish with medium carbonation, medium light body.
O: A summer lawnmower beer of good quality.
★
306 characters
3.48
/5
rDev
-7.4%
look: 3.5 | smell: 3.5 | taste: 3.5 | feel: 3.25 | overall: 3.5
This is a rather nice middle of the road Pilsner. I generally prefer a little more hoppiness, but this is really solid and balanced. A great summer tipple.
★
155 characters
3.84
/5
rDev
+2.1%
look: 3.75 | smell: 4 | taste: 3.75 | feel: 4 | overall: 3.75
Appearance: Pours from the can with a clear golden hue with rather modest head for the style; some splashy lacing lingers
Smell: Fresh baked bread with a grainy character; a spoonful of sugar and a touch of lemon also appear
Taste: Bready, up front, with a biscuity sweetness and a grainy character developing; grassy, with a hint of lemon, after the swallow; a bit of lager twang in the finish
Mouthfeel: Light to medium body with crisp carbonation
Overall: An enjoyable pilsener, perhaps a tad too sweet; found this in the back of the fridge so the hops may have diminished somewhat over the six months or so since it was brewed
Thanks, DaftPatrick, for the opportunity
★
682 characters

3.2
/5
rDev
-14.9%
look: 3.5 | smell: 3.5 | taste: 3 | feel: 3 | overall: 3.25
Appearance: Clear yellow-gold, ok head.
Smell: Pears, sweetness.
Taste: Sweet and fruity, lots of apple and pear flavor. Slick and syrupy feel.
Overall: I like craft pilsners but this one missed the mark for me. Flavors leaned too far into malt liquor territory. It reminded me of Grain Belt Premo, which I also don't like. Tried both on tap and in cans, was actually worse on tap.
★
384 characters
3.83
/5
rDev
+1.9%
look: 4 | smell: 3.5 | taste: 4 | feel: 4 | overall: 3.75
Clear straw color with one finger of head sitting over active carbonation. The head settles to a thin cap. Nice amount of sticky lacing is left down the glass.
Aroma smells like it has a touch of tartness or sourness. Some spicy hops with notes of pepper and earth.
Flavor is dry, spicy, earthy, and bready. Moderate bitterness. A faintest hint of sour. Nice Saaz hop flavors that is nicely carbonated by the dry, slightly sour malt.
Easy drinking light body and active carbonation. The lively carbonation compliments the light, dry beer.
Pleasing to the palate that has a bit of a unique twist for American versions of the style.
★
634 characters
4
/5
rDev
+6.4%
look: 4 | smell: 4 | taste: 4 | feel: 4 | overall: 4
Poured from a 16 oz. can into a Surly tulip glass.
Appearance:Pours a bright and clear straw golden orange with a moderate amount of bubbles. Solid two finger white head with decent retention. Leaves a decent amount of lacing.
Smell: A bready and fairly sweet malt forward aroma with hints of biscuit and grains. Pale malt with hints of grains, biscuit, lager yeast, straw, cracker, and cereal. Subtle backing presence of earthy hops with a scent of noble hops. Subtle hints of lemon fruit. A pretty decent light lager aroma.
Taste: Like the nose hints at, a bready and fairly sweet malt driven taste with notes of biscuit, grains, and cracker. Upfront pale malt with notes of biscuit, grains, wheat, cereal, straw, lager yeast, and cracker. Light hop backing presence with some notes of earthy noble hops and some citrus notes of lemon. Crisp and nicely bready. A pretty solid summer lager taste.
Mouthfeel: Light to medium bodied with a moderate level of carbonation. Crisp, creamy, and pretty smooth with a fairly drying finish.
Overall: A solid local take on a light summer lager. Nice sweet malt notes with a nice crisp dry finish.
★
1,144 characters
Getaway from Lift Bridge Brewery
85
out of
100
based on
11
ratings.