India Pale Ale
| Upslope Brewing Company - Lee Hill
BA SCORE
82
good
132
Reviews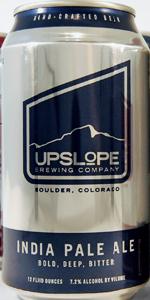 BEER INFO
Brewed by:
Upslope Brewing Company - Lee Hill
Colorado
,
United States
upslopebrewing.com
Style:
American IPA
Alcohol by volume (ABV):
7.20%
Availability:
Year-round
Notes / Commercial Description:
65 IBU
Added by rowew on 12-07-2008
Reviews: 132 | Ratings: 418

4.42
/5
rDev
+21.8%
look: 4 | smell: 4.5 | taste: 4.5 | feel: 4 | overall: 4.5
Poured a copperish brown out of a can. Lacing holds on to the glass and so holds the slight beige head. The dominant smells are sweet malt and hops though the hops doesn't overwhelm. This is a well balanced beer. The malty-ness and the hops compliment each other with this IPA. I like that there isn't the blast of the hops which tends to happen. This is a highly drinkable beer and it was a nice surprise from one of the newer breweries in Boulder. It is as nice as their Pale Ale which I had earlier in the day. I will highly recommend this beer and brewery. High quality. Highly drinkable.
592 characters
3.78
/5
rDev
+4.1%
look: 4 | smell: 3.5 | taste: 3.5 | feel: 4 | overall: 4.5
A - Pours a fairly dark, clear reddish-amber color with about a finger of head. Head recedes to a thin layer fairly quickly, but retains well throughout the rest of the beer. Leaves slight, spotty lacing.
S - Fairly sweet on the nose with malty bread and caramel aromas. Some spicy and citrus hop scents in there as well.
T - Sweet caramel and bread maltiness up front with the hop flavors coming through after. The hops have hints of citrus, spiciness, and a little bit of pine as well. Somewhat bitter on the finish, but not too intense. Definitely leans toward the sweeter side with fairly heavy malt flavors. Doesn't quite have the hoppiness of many IPAs.
M - Medium to light bodied with a good level of carbonation. Somewhat resinous with a lingering sweet aftertaste.
D - At 7.2% abv, this is quite drinkable. Lacks a bit in the hop profile, in my opinion, but overall, it goes down smooth and isn't offensive by any means.
I think upping the levels of hops in this one couldn't hurt, as it is slightly too sweet for me, but really a pretty good offering for a newer brewery.
1,088 characters
3.65
/5
rDev
+0.6%
look: 3.5 | smell: 3.5 | taste: 3.5 | feel: 4 | overall: 4
A: Deep, rich, amber/red coloring. About three fingers of frothy head, at first, probably due to the can. Then the head drops off. Still, by the end of a glass there is a light coating. Very light lacing.
S: Slightly spicy, hoppy aroma. Some malty caramel note. More bread and sugar than in most IPAs.
T: Again, very sweet and bready for an IPA. Not much bitterness. The hops come through slightly at the end, and there is a sightly bitter aftertaste. There is a hoppy bite at first followed by a strong caramel, sugary feel. The taste that initially hits your palate lasts until that bitter aftertaste follows up again. In other words, not too complex as the initial taste almost matches the aftertaste. This beer really tastes of caramel, for an IPA. Brown sugar lovers check this out!
M: Light for an IPA. Perfectly carbonated for its style. Sweet and oily residue.
D: Very session-able. Besides the caramel sweetness this is a slammer for those who don't mind a bit of bitterness. The sugar will get in the way before ABVs or IBUs.
P.S. This beer reminds me of Dales Pale. However, it is not as full bodied. The mouth feel is completely different. Dales is much thicker, almost syrupy. This beer is better for sessioning, but lacks the complexity and force of a Dales. In other words, if you're asking which beer is better . . . the clear choice is Dales.
1,366 characters

3.68
/5
rDev
+1.4%
look: 4 | smell: 3.5 | taste: 3.5 | feel: 4 | overall: 4
A - Poured a nice deep copper/amber color with a nice off-white fluffy, lacy head with good retention.
S - Mild citrus with a caramel/malt background. With a tint of breadiness.
T- The patagonia hop is a bit more mild than any chinook or cascade choice that most breweries would pick for their IPA's. Upslope did a nice job with the hop schedule in this to make it bitter and nicely aromatic. The malt sweetness comes through. I would classify this as a pale ale rather than a IPA. The hop aroma isn't quite there. The aftertaste is a little cloyingly sweet with the bitterness makes you want a little water to wash it down.
M- Smooth, a little oily on the palate.
D - Overall very drinkable, but I'd bring it camping or to the softball game rather than pair it with any food.
780 characters
2.92
/5
rDev
-19.6%
look: 4 | smell: 2 | taste: 3 | feel: 4 | overall: 3
12oz can. Nice dark orange-red color. Smell is caramel, butter, more butter, caramel, diacetyl? The taste has a hoppy bitterness but it doesn't help. I wanted to like this beer because it is local but it was just average. i will say the alcohol was well hidden. This was like a fourth-rate Dale's.
297 characters
3.63
/5
rDev 0%
look: 4 | smell: 3.5 | taste: 3.5 | feel: 3.5 | overall: 4
A - Pours a burnt orange/light amber color. Tan head that holds up for a while before shrinking to a OK coating on top of the beverage. Some lacing is lift on the sides of the glass as the head shrank.
S - A light grapefruit citrus scent when the head was full. After it had shrank, it seemed more piney.
T - Definely more of the pine acsent comes forward now. Sweet malt flavor upfront on the tongue with the hops kicking in the back of the mouth. The hop bitterness lingers for a long time afterwards, maybe too long.
M - Crisp and easy going down. The long lasting hop bite is a bit too much, doesn't seem to be a good balance with the malt backbone. Really over shadows it by my opinion.
D - Very drinkable and is a good beer for hop heads.
748 characters
4.01
/5
rDev
+10.5%
look: 4.5 | smell: 3.5 | taste: 4 | feel: 4 | overall: 4.5
Presentation: Same as the Pale, 12 oz can - blue instead of the red used on the pale. Described as bold, deep, bitter. Same ingredients too, includin the patagonian hops and snowmelt.
Appearance: Deep red color, large head tan in color, good retention and lacing.
Smell: Some fruity hops, a bit of a spicy aroma I can't identify. Almost like anise, but that isn't quite right. Underlying malt sweetness.
Taste: Smooth mouthfeel, actually a bit less bitterness than I expected, when they say on the can Bitter. Highly drinkable with some interesting hop and malt flavors.
Overall impression: For a new brewery, I was pretty impressed with both of the offerings I found in cans. This is a drinkable beer with plenty of flavor.
729 characters
India Pale Ale from Upslope Brewing Company - Lee Hill
3.63
out of
5
based on
418
ratings.