Old Man River Restaurant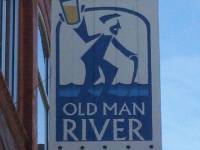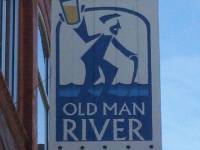 PLACE INFO
Type:
Brewery, Bar, Eatery, Beer-to-go
123 A St
McGregor
,
Iowa
, 52157-7702
United States
(563) 873-1999
// CLOSED //
Notes:
Backpocket beers are no longer brewer at Old Man River Restaurant.
Added by papat444 on 11-27-2008
HISTOGRAM
View: Beers | Place Reviews
Ratings: 11 | Reviews: 11
Reviews by blackie:
3.63
/5
rDev
+2%
vibe: 4 | quality: 4 | service: 4 | selection: 2.5 | food: 4
couldn't pass up the chance to drop by this not-yet-in-the-database brewery after braving an intense gust front and accompanying falling trees at Effigy Mounds with the dirtman
the brewpub is located in a cool old building that has been spruced up and refinished quite a bit while retaining much of what marks this as a historic building (and as dictated by its listing on the national register), built in the 1880s as an office for one of the more famous steamboat makers of the time, it fits well into the tiny town McGregor, which itself has a sort of forgotten by time appeal
the interior is spacious and even on this dreary day filled with natural light from the huge windows facing the street, steamboat pictures adorn the walls and the bronze torso of an 1800s steamboat captain greets customers upon entry, most of the interior is dedicated to dining tables, with a horseshoe bar backed up against the kitchen, there's also a nice screened and covered porch in the rear, only a few other groups of patrons were present at the time of our visit and the place was almost too quiet - of course this was around 3 pm on a Sunday
Old Man River has opted to stick with German styles for their lineup, on-tap were a marzen, helles, pilsner, dunkel lager, and hefeweizen, all beers are available in three serving sizes - 12 oz., 16 oz., and 23 oz., poured into unique etched glasses, tasters were also offered
really enjoyed the onion ring snack, beer battered and just barely crispy on the outside with soft dough underneath, dusted with parmesan and accompanied by a house-made dipping sauce, the rest of the menu was enticing but more than we needed at the time
service was friendly and very timely
1,705 characters
More User Reviews:

3.46
/5
rDev
-2.8%
vibe: 3.5 | quality: 3.5 | service: 3.25 | selection: 3.5 | food: 3.75
This is a great example of the prime local for a micro brewery / restaurant. They are in a river town that is frequented by boaters, and seasonal street fairs that bring in tons of traffic. The place itself is set into the downtown area in a nice building w/ above average ambiance. The food was average to above average and beer selection was middle of the road - 6 to 8 if I remember correctly. Definitely worth a stop if in the area!
436 characters
4.25
/5
rDev
+19.4%
vibe: 4.25 | quality: 4.25 | service: 4.5 | selection: 4 | food: 4.25
Backpocket opened their new facility in Coralville last fall and its a unique experience. Their focus is on brewing but a corner of the building is set up as a brewpub. The focus is on beer but they have a small menu (pizza and salad) but they are done very well - think artisan brick-oven pies. The staff is great and really take care of you.
If you had been to the former location in MacGregor (which was also good) its a whole different experience. The new place is very close to I-80 so be sure to stop if you get a chance.
527 characters

3.76
/5
rDev
+5.6%
vibe: 4.5 | quality: 3.5 | service: 4 | selection: 3.5
The first thing I noticed when walking into this place was the smell of warm smoke like from a hearth. On a cold winter's day walking into a rustic small river town and then walking into a small rustic building and seeing the trees on the hills the smokey feeling was almost like a time machine back to 1880.
Good atmosphere, lots of seating and a big bar. The beer was ok, I had a weizen that tasted ok, but didn't have a good head or body. It was also poured into a nonic. I was the only person there on a saturday afternoon. A couple came in before me, but left soon after. I had my beer and left the place empty.
I was told that the Coralville Brewery is the main brewery and they send the beer up to NE Iowa. It used to be in McGregor, but not anymore.
761 characters

2.55
/5
rDev
-28.4%
vibe: 3 | quality: 2.5 | service: 2.5 | selection: 2.5 | food: 2.5
The atmosphere was pretty basic, coffeehouse channel on the audio system and a couple TV's, not to many patrons eating and the bar was pretty empty. The Outdoor patio seemed like a nice little section and the inside was nicely done with big high ceilings and nice woodwork.
The Beers were all just ok, nothing real special about any of them, They don't seem to rotate the handles or doing anything out of the ordinary and just have the same 5 flavors most of the year, and the rootbeer was subpar.
The service was a bit slow with only one waitress trying to cover the entire area, and are request for their advertised free tour was basically ignored.
The food was greasy and ok at best, I know I'll have a hard time convincing my wife to eat here again as they couldn't even make a decent ruben.
The Prices were very reasonable and none of the food was expensive, beers were fair, as usual growlers if you do the math are and incredibly poor deal for the locals.
This place has potential, I know the brewing equipment that went into the place was very high quality and the facility is very nice and spacious. They just need someone with some imagination in charge so its not just another plain jain average brew pub.
1,221 characters
3.18
/5
rDev
-10.7%
vibe: 4 | quality: 3.5 | service: 2.5 | selection: 3 | food: 3.5
Stopped in here for a snack and a sampler. It is a nice place with a biergarten/patio where i sat.
The service is a bit slow, there only seemed to be one waiter and she wasn't the best. The beer is pretty cheap. A 5 beer plus 1 root beer sampler is only 4 bucks. I tried some food and it was decent if greasy. The beer is pretty standard but not bad by all means.
Overall it is a nice stop if you are visiting nearby attractions such as the effigy mounds or the state parks but it isn't a place to just go to for the beer.
525 characters
4.05
/5
rDev
+13.8%
vibe: 4 | quality: 4 | service: 4 | selection: 4 | food: 4.5
Have visited here a few times over the past few years, just now writing a review. This brewpub is located in McGregor, Iowa, just footsteps from the Mississippi, at the feet of Pike's Peak state park. The town of less than a thousand is known for being the birthplace of the Ringling Brothers of circus fame. The building is an old warehouse that has been nicely renovated for a very spacious dining area with large windows that let in lots of natural light and give a great view of the bluffs that separate this town from the rest of civilization.
They had 5 beers and their root beer available the day we visited, and my wife and I each started with a sampler tray that had 2.5 oz samples of their helles, weizen, scotch ale, pale ale, dunkel, and root beer. Each of these is true to style and well above average in quality. I ended up having a nice barbeque pork sandwich, and a pint of the scotch ale was the perfect pairing. The accompanying pub fries were very good, but the real star of the meal was the onion rings, breaded with their own beer batter-- the batter was exceptionally light and absolutely delicious. Very possibly the best onion rings I've ever had.
Our waiter gave us good service, and the whole experience was great. Got a growler of the pale ale at the end. All in all, a nice place to get good food and great beer. Looking forward to my next visit.
1,376 characters

4.2
/5
rDev
+18%
vibe: 4 | quality: 4.5 | service: 4.5 | selection: 3.5 | food: 4.5
Old Man River Brewing Company 12-16-10
I stopped here on a beer tour of North East Iowa on a Thursday afternoon. There was one couple in there when I arrived along with some staff, and by the time I was leaving there had grown to be a decent number of small groups. The building is absolutely beautiful, with a full bar that would sit maybe 25 people and tables for maybe a hundred more. It's a historic warehouse style space downtown McGregor with large windows looking out on Main Street. I didn't notice any outdoor seating for the summer, but I'm sure there was somewhere.
The bartender was in fact normally just a waitress, but did a good job as bartender to. She tracked down and hauled out the brewmaster for me to talk with when she realized I had more questions she couldn't answer, but stayed around to refresh my glass as needed. The brewmaster, Jake, was very friendly and obviously excited to have a beer geek to chat with. He was very forward with plans to build a new brewery in Coralvile, IA (breaking ground in the spring) with a larger system, bottling line and tap room, and changing the name to Back Pocket Brewing. They still plan to brew specialty batches at the McGregor Brewery. He also showed me some of their label mock ups and other merchandise.
The food was a bit more gourmet than one might expect for the area, and delicious.
Beer was available in several different sizes in some nice German style glassware, which was attractive. They also had a root beer brewed in house that was pretty good, and nice to allow people who might not drink to participate in the brewpub experience. This is another place I hope to return to.
1,659 characters

3.43
/5
rDev
-3.7%
vibe: 4 | quality: 3.5 | service: 3.5 | selection: 3 | food: 3.5
Stopped off here on a trip up to Prairie Du Chien. Located in McGregor, IA, this brewery is in a bit of an oasis. The town is a bit touristy with many empty buildings. However, this is the gem of the downtown area located in a neat old building with high rafter-ed ceilings and a very spacious dining area.
We arrived at lunchtime and were only the second group there. To be fair it is the off season for the area. We were seated promptly and the service was friendly. Found it a bit odd that the server didn't know what a growler was but she figured it out.
Burgers were ordered by all and were of good quality meat and toppings. The beer battered fries were quite good as they should be at a brewery.
This brewery holds to purity law style with all lagers (Helles, Weizen, Pilsner, Dunkel, and a Scottish Lager). The standout was the Scottish as the others were mostly true to style but rather bland. In this area however beggars can't be choosers. Free brewery tours were advertised, but the head brewer (who lives above the brewery) was out of town. The general manager was kind enough to give us the quick and sweet tour and this was much appreciated.
This is a relatively young brewery (1 year) but looks to be headed in a good direction. Overall, I wouldn't travel hours to get there but definitely a must stop if in the area. I hope their brews improve with experience as well as the brewery.
1,406 characters
3.05
/5
rDev
-14.3%
vibe: 3.5 | quality: 3 | service: 3 | selection: 3 | food: 3
Went on a road trip there yesterday with three friends. We got there just afternoon and there was a smallish lunchtime crowd. We had a waiter right away, but it took a bit to finally get our beers. Beer selection was ok, nothing special. Interior is nice with an updated old- time feel. My and my friends philly cheese steak sandwiches weren't so hot, not bad, but not too much like a good pcs sandy. One guy had a good chicken sandwich and the other guy's was decent. My weizen was good, but the marzen was kind of lame. One guy had a pils and that was good and the other guy had a dunkel and said it was ok. We all agreed that if we were nearby, we'd return, but not go out of our way. Town is very touristy.
710 characters
3.43
/5
rDev
-3.7%
vibe: 3.5 | quality: 3.5 | service: 4 | selection: 2.5 | food: 4
stopped in this joint after hiking through a lightning storm at the effigy mounds national monument. The national park/monument has some well maintained trails that provide some nice views of the river and over 100 ancient effigy mounds
the brewpub is new and very sterile. there are only 5 beers on tap - weizen, marzen, helles, and a couple other standards. there are a few tv's and a mostly modern wooden interior
serving sizes range from 12oz to 23oz and there is a reasonably priced sampler. glassware was all pretty cool as well.
food appeared to be pretty standard brewpub fare - we tried the onion rings which were actually really impressive - soft beer batter, covered in parmesan with a nice dipping sauce
i had the weizen which was above average and refreshing.
if in the area hiking or whatever, check it out. the town is pretty quaint and this is likely your best bet for a beer
896 characters
Old Man River Restaurant in McGregor, IA
Brewery rating:
0
out of
5
with
0
ratings