Mr. Bones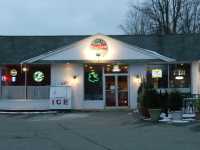 PLACE INFO
Type:
Bar, Eatery, Beer-to-go
640 N Main St
Greensburg
,
Pennsylvania
, 15601
United States
(724) 836-1704
// CLOSED //
Notes:
Mister Bones has a twitter account @MisterBonesGBG .
Added by DuqTroops on 11-27-2008
Ratings: 9 | Reviews: 6
Reviews by greg4579:

3.4
/5
rDev
-15.4%
vibe: 3.5 | quality: 3.5 | service: 4 | selection: 3 | food: 2.5
I stopped by Mr Bones today after checking out there website and following them on Twitter for a few weeks.
The wife I and I walked in and started looking through the coolers. I think there were four small coolers with a good selection of craft beers. There were four large coolers along the wall filled with mainly bmc stuff and some Sam Adams stuff.
We ordered a pizza and were quickly dissapointed when we saw them pull out a frozen pizza. We each grabbed a an offering from Dark Horse to go with it.
We were the only ones there for the most part. I liked the fact they kept a bunch of beer magazines. I grabbed one and looked through it while we waited for our pizza.
The pizza was not so great, but in the end it was pizza so I still ate it.
I was told they do beer dinners there which is cool, but I have no idea what they would serve because I only saw a conveyer pizza oven and a fryer. This place looked like sandwiches were the specialty. I was kind of dissapointed that there wasn't any taps either.
In the end I really wanted to like this place, but I just felt it was lacking. I won't be lured away from my "usual" place, but if I find myself in downtown Greensburg I am happy for the option.
1,217 characters
More User Reviews:

4.11
/5
rDev
+2.2%
vibe: 4 | quality: 4 | service: 4.5 | selection: 3.75 | food: 4.5



4.45
/5
rDev
+10.7%
vibe: 4 | quality: 4.5 | service: 4.5 | selection: 4.5 | food: 4.5
I visited Mr. Bones because of the reviews I have read and some things have changed since the last review!
Atmosphere is as described - more of a sandwich shop than a bar. Some tables, one tv, four coolers of beer to choose from for on-site consumption and mix-sixers, several coolers of six-packs, some bombers, a good food menu, and an outdoor patio. Also, they had some beeriodicals to read.
The do a $13 mix-6 which I have found is a good deal for PA. In order to get a 6er for $13, you have to pick from the beers without price tags (typically $3). Other beers will be marked with prices and are given a discount, but the 6er will be more than $13. They also had gift baskets of various beer and glassware, but I did not investigate closely.
Service was no-nonsense. Just ordered at the counter, grabbed a bottle of Troegs Mad Elf and they gave me a glass instead of a plastic cup (first change). I used a typical pint glass but I also noticed style-specific glassware. They were able to run a tab for me (second change).
I ordered buffalo wings (10) and they were brought out to my table. I got the golden sauce on them and they were delish - baked not fried.
The beer I got:
SlyFox IPA
Duquesne Pilsener
Church Brew Works Pale Ale
Heavy Seas Winter Storm
Guinness Draught
Buffalo Bill's Brewery - Alimony Ale (IPA)
Others include: Stone, Bells, Founders, Brooklyn, Dark Horse, Dogfish Head, Green Flash, Victory, Stoudts and Chimay among others.
I would certainly visit this place again to have food and get a 6er.
1,532 characters
3.73
/5
rDev
-7.2%
vibe: 3 | quality: 4 | service: 3.5 | selection: 4 | food: 3.5
I'd stopped in here a handful of times to grab some singles or a 6-pack, was always impressed by their selection & competitive prices (for the area, anyway). There'd always be some interesting new stuff on the shelves (Troegs Scratch, Cuvee Rene, Rodenbach), not typically seen at a small, otherwise bare bones establishment (no pun intended). So to celebrate my last day of working in Greensburg, I decided to stop for a bite & a brew.
Grabbed a bottle (Troegs Scratch 33) & ordered a wrap at the counter. It didn't seem that you're allowed to keep a tab open, as they asked me to pay for the beer & food at the counter. Not a big deal, but I was planning on grabbing more than one & didn't feel like going back up & using my credit card for each purchase.
The vibe inside is pretty minimal: a few tables, a TV, some cooler bottles on display as decor. Clean enough, bright enough, just very utilitarian. The place has an outdoor patio, which has got to be nice on a summer evening, but of course can't be in use all year round.
Food wasn't bad. I got the chicken portabella wrap, which was good, & came with a bag of chips & a pickle. Again, pretty utilitarian.
Oh yeah, one thing I forgot -- to pour my beer into, I was given a plastic cup. That kinda sucks, not least of all for providing basic ambiance & showing some respect for the beer. Definite turn-off.
I grabbed a mixed sixer to go (yes, I had to use my card again). Came to a decent price for what I got.
Like I said in opening, this place is a good bottle shop, but I don't think efforts to be anything more than that are cutting it. They know their beer there, but the rest is basically a lunch counter, & not one that does justice to the great beer selection. Hell, real glasses would make a big difference. Go for the beer, don't bother with the rest, & you'll do fine.
1,845 characters
4.04
/5
rDev
+0.5%
vibe: 3 | quality: 4.5 | service: 4 | selection: 4
While I was in PA for a week, I wanted to hunt down some decent beer and this was one of a couple of places that wasn't too out of the way.
A reviewer below me put it best, the "atmosphere" is more of a deli than a bar though I was getting the beer for take out. Probably not the best place to enjoy some beers but not the worst either.
All of the beer was cold spread throughout 3 coolers of singles/bombers and about 5 more for six packs. The dates on those that I bought were recent and as far as I could tell the coolers were kept out of light.
The staff was very helpful in explaining how this whole "buying singles in PA" worked, and one guy chatted with me about the DFH Sahtea I was purchasing. When I went back again later that week, one of the guys even recognized me and we had a quick chat about the beers I'd bought prior.
Decent selection; in fact in looked very nice to me as I spotted all sorts of breweries that I don't have access to here in NC. Lots of Troegs, Great Lakes, Oskar Blues, Lagunitas, DFH, Southampton, and a small selection of German and Belgian beers. Standard fair in the "big coolers."
Once the staff explained the discount to me and how the system of purchasing mixed sixers worked, the prices seemed alright. A few bucks more than I'd normally pay around here but from what I'd read and from those I talked to the $13+ sixer didn't seem too bad.
1,388 characters
3.94
/5
rDev
-2%
vibe: 3.5 | quality: 4 | service: 4.5 | selection: 3.5
A little past the headkeeper on 119/66 and a bit past main greensburg lie this little gem. The headlining deal is the 13.00 craft mixed sixers with a decent but not insane selection. Organization was good for what craft they had, and the staff was very helpful and friendly, good to talk shop and good recommendations. I wouldn't make a special trip to go here, but if
I am on town, their prices can't be beat for craft. There were only a few tables as this is most definitelyna takeout centered place. The food choices looked interesting, more closely resembling a deli than a bar. Would like to eat there next time.
617 characters
4.5
/5
rDev
+11.9%
vibe: 4 | quality: 4.5 | service: 5 | selection: 4 | food: 5
Mister Bones is a sweet sandwich shop, with a pretty decent craft selection. The GM, Arron, goes out of his way to talk beer with the local geeks, and is somewhat of a geek himself. Also, on occasion, this place gets mega-rare beers (Last night, I enjoyed a Cherry Adam from the Wood). In the summertime, they open up the outside bar (The "boneyard", I believe), and have full bar service, and sometimes live music. If the weather cooperates, this place can be packed on a weekend night. Also a great mix-and-match six pack shop, with relatively reasonable prices. Overall, an enjoyable place to chill outside and enjoy a craft in greensburg, for what it's worth.
663 characters
Mr. Bones in Greensburg, PA
4.02
out of
5
based on
9
ratings.