Great Crescent Bourbon's Barrel Stout
| Great Crescent Brewery
BA SCORE
82
good
33
Reviews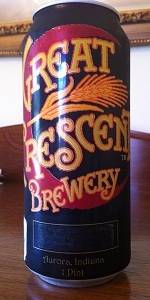 BEER INFO
Brewed by:
Great Crescent Brewery
Indiana
,
United States
gcbeer.com
Style:
American Stout
Alcohol by volume (ABV):
7.50%
Availability:
Rotating
Notes / Commercial Description:
Stout aged in Makers Mark barrels.
Added by aasher on 01-25-2011
Reviews: 33 | Ratings: 55

4.03
/5
rDev
+11.6%
look: 4.5 | smell: 4 | taste: 4 | feel: 4 | overall: 4
Served this 16 oz. can in a Sierra Nevada hops glass. No date. The body was deep, dark brown. The head was modest and rich tan in color.
The smell was lightly metallic. Hints of bourbon and nuts. Vanilla. Not overpowering in any characteristic.
The taste was roasty, creamy chocolate. Coffee and vanilla. Light alcohol. Fruity. The oak seems to dry it out and balance the inherent sweetness. Complex but very easy to drink.
The mouthfeel was medium bodied. Creamy but not too thick despite the appearance. Actually a bit lighter bodied than expected.
555 characters

4.38
/5
rDev
+21.3%
look: 4.5 | smell: 4 | taste: 4.5 | feel: 4.5 | overall: 4.5
In line at founders for CBS
A-dark body with a nice tan head
S-lots of malt and a faint smell of sweet, sweet burbon
T-tastes like adult chocolate milk. Wow. Not really bourbon but awesome none the less
M-medium body and smooth
O-great beer. Looking forward to more
271 characters
4.32
/5
rDev
+19.7%
look: 4 | smell: 4.5 | taste: 4.5 | feel: 4 | overall: 4
Finally scored a can of this!
I do believe this is the world's only Bourbon Barrel Stout from a can!
Pours a pitch black with nice tan head. Looks pretty solid. Smells roasty and malty. Lots of rich dark fruits on the nose. A touch of oakiness peaks through. Smells pretty great. Tastes roasty and lightly bitter. As it warms up the dark fruits and light chocolatey flavours come through. Pretty enjoyable. Nice light oak. I wish the bourbon was stronger but its pretty tasty. Nice solid mouthfeel... honestly I'm really surprised by how good this is! Definitely something I'd try again!
589 characters
4.5
/5
rDev
+24.7%
look: 4.5 | smell: 4.5 | taste: 4.5 | feel: 4.5 | overall: 4.5
Pour - inky, jet black with no light coming through whatsoever. Very thin, wispy coffee-colored head on top. Tiny streams of carbonation flowing upwards in the glass. Wow, this looks impressive.
Aroma - dark roast coffee, Oreos, chocolate cake batter, dark chocolate, cocoa, vanilla beans and heft amounts of dark roasted malt. This smells heavenly. Lots of aromas going on...
Taste - first sip and I realize right away that this has the mouthfeel of velvet. So smooth it is scary. Bitter roasted flavors abound with some sweet cocoa and coffee as well. There is a dry, tannic flavor in the background along with some notes of vanilla from the barrel aging. Not too overpowering, just a nice subtle flavor enhancement. No real sense of the alcohol in this brew, which is nice as sometimes that alcohol flavor in bigger stouts can be a bit much. Everything meshes very well in this stout and each sip complements the last. As this warms the flavors are enhanced and the glass gets emptier and emptier.
Overall - this beer is proof that you can put a bigger, more complex beer in a can with no issues whatsoever. The flavors and aromas of this beer are preserved perfectly and this tastes amazing. Lots of bitter roasty maltiness along with the unique qualities provided by the barrel-aging make this stout well-rounded and extremely enoyable. Bourbon's Barrel Stout is not too strong and thus there is no burn from the alcohol. This is smooth like silk going down and pure pleasure to drink.
Would I buy more of it? - absolutely. I've got the cash in my hand.
1,562 characters
4.47
/5
rDev
+23.8%
look: 4 | smell: 4.5 | taste: 4.5 | feel: 4.5 | overall: 4.5
Poured from can to a pint glass. Head was very thin (too careful a pour? Not used to cans, but remains subtley with this dark brew throughout the drinking of it.
Smell hints of coffee, chocolate, bourbonesque tones (to be expected).
Taste is much like the smell, and sweeter than I would have guessed. Very mellow and smooth.
Mouthfeel is almost syrupy, but full bodied.
Overall, a fine stout, well balanced. Will have this again.
436 characters
4
/5
rDev
+10.8%
look: 4 | smell: 4 | taste: 4 | feel: 4 | overall: 4
Thanks again to woodychandler for yet another canned beer. Poured from a 16 oz. can. Has a black color with a 1.5 inch head. Smell is of coffee and roasted malts. Taste is coffee and malts up front, a touch of chocolate, a bit of smokiness at the finish. Feels full bodied in the mouth and overall is a beer worth seeking out.
326 characters
4.07
/5
rDev
+12.7%
look: 4 | smell: 4.5 | taste: 4 | feel: 3.5 | overall: 4
A- nice head, jet black, poured in a tulip glass
S- good degree of coffee with a hint of the bourbon
T- very tasty for an "underground" beer, primarily coffee and vanilla, dont get much of the bourbon bite but has a nice smoky roast finish..
M- creamy, but goes down easy, maintains a decent amount of carbonation for bourbon stout
O- a really good beer, very tasty, with great color and lingering mouthfeel.
On a side note: I spent some time down in Aurora, IN at the brewers location. Never have I been treated so well on site. This is a fine Mom and Pop shop that really appreciates good, clean beer. I was shocked at how much beer they produce out of just a single kettle. I asked the owner and he said the barrels are Makers Mark. If your in the area I highly recommend stopping by.
793 characters

3.83
/5
rDev
+6.1%
look: 4 | smell: 3.5 | taste: 4 | feel: 3.5 | overall: 4
A- black with a 1 inch tan head, some deep reds on edge of glass.
S- some roast and coffee with a slight bourbon undertone, as it warms you get some vanilla and oak.
T- coffee and vanilla, not as much bourbon as i was hoping for. some wood. no alcohol present
M- very thin, makes it completely drinkable but for a BBS i was hoping for a heavy chewy mouth feel.
O- this is a great beer, very drinkable... you could probably go through the 4 pack in a night. but at 15 bucks id hold on to a few. if you are in the area give it a try.
537 characters
Great Crescent Bourbon's Barrel Stout from Great Crescent Brewery
3.61
out of
5
based on
55
ratings.