Bourbon Barrel Aged Black Mamba Stout
| Aviator Brewing Company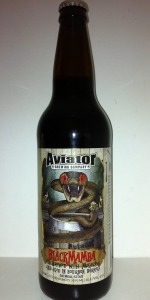 BEER INFO
Brewed by:
Aviator Brewing Company
North Carolina
,
United States
aviatorbrew.com
Style:
Oatmeal Stout
Alcohol by volume (ABV):
not listed
Availability:
Limited (brewed once)
Notes / Commercial Description:
No notes at this time.
Added by tdm168 on 12-29-2011
This beer is retired; no longer brewed.
Reviews: 7 | Ratings: 46
4.5
/5
rDev
+24%
look: 4.5 | smell: 4.5 | taste: 4.5 | feel: 4.5 | overall: 4.5
On tap at the breweries tap room on 12/29/11.
Pours pitch black with a quarter inch inch of brown, dense, head that has great retention. The nose has notes of oak, roasted malts, coffee, and faint bourbon. The flavor is chocolaty and roasty up front with notes of coffee and oak in the finish. This is a full bodied, moderately carbonated, smooth beer.
This was great. I had had the regular Black Mamba just prior to this and was disappointed. The bartender told me that the BA version was much better and really mellowed out the beer. He was right. The regular Black Mamba vs. the BA version is night and day. I would take this over anything Aviator has to offer.
670 characters
3.2
/5
rDev
-11.8%
look: 4 | smell: 4 | taste: 3 | feel: 3 | overall: 2.5
Poured from the bottle into a large snifter glass.
A nice mahogany brown color out of the bottle, hits into a very dark walnut brown almost black body. Reddish brown around the edges and fairly see through. Head is a very light tan brown color, barely makes half a finger, and slow settles to a thin 2mm light tan collar.
Interesting nose on this. A sense of clean wet character, some hinting fruit in the back. Some char and some cookie dough like sweetness. A hint of barrel charring also, not so much molasses but a pretty solid smelling brew.
Mouthfeel is incredibly seltzery and fizzy. Charring carbon and roast, but with a bitter grainy taste. Lots of lingering roast, but there is no depth. Ashen quality. The flavor profile is just overburdened by this roasting character, and a wet sense that just provides no depth to the palate. There isn't any malt backbone to this it's pure char, with some tolerable grainy character.
Where's the malt sweetness? Where's the chewy oat mouthfeel and cream character? Where's the bourbon character or heck the molasses on this? I like this brew's bouquet a lot, but the palate does not deliver at all. Not a total drain pour, but I need some Barney Flats...
1,206 characters

3.63
/5
rDev 0%
look: 4 | smell: 3.5 | taste: 3.5 | feel: 4 | overall: 3.75
[Suggested Glassware: Nonic Pint]
The pour was a murky opaque black with a large (2-3 finger) light tan frothy head that was mostly lasting, reducing slightly to a thick cap which lasted throughout and had good runny lacing.
The aroma was of a roasted cereal malt and a heavy leathery yeast with notes of molasses, chocolate, vanilla, coffee and a mild odor of bourbon.
The taste was bold and roasty with a nice malty feel and possessed hints of chocolate and molasses from the get go, and then became slightly bitter sweet with a strong coffee note and an alcohol presence that seemed stronger than the ABV that this brew possesses. The flavor lasted quite a long time after the swallow, with an alcohol espresso taste hanging out on the taste buds for a while longer.
Mouthfeel was almost full in body with a creamy, dry texture and a very soft carbonation.
Overall this was a very good rich Stout with a lot of flavor which did not take away from the alcohol taste one bit, making it a very enjoyable and easy brew to drink...
http://www.facebook.com/KAJIIsBeerReviews
1,078 characters

2.63
/5
rDev
-27.5%
look: 3.5 | smell: 3 | taste: 2 | feel: 3 | overall: 3
leftover from the Aviator tap takeover last week.
Black body with a caramel head. Smell is just disappointing. Mostly the base beer. Thick oatmeal smell with a lot of roasted barley. Slight piney hop presence, and loads of woody, dry oak.
The smell follows almost too much. I like the base beer. Very light body with a good thick roasted feeling. I like how its light and still very deep and roasty. but thats really it. I get alot of the barrel here. Heavy dry woody oak really dominates, and, when the wood takes a break, I get a medicinal/piney hop presence that I dont want in a BA stout.
Finishes clean and smooth with the oak trying to stay around.
In terms of plain stouts, not bad. In terms of BA stouts, no.
722 characters

3.58
/5
rDev
-1.4%
look: 3.5 | smell: 3.5 | taste: 3.75 | feel: 3.25 | overall: 3.5
A - Jet black with khaki colored head that dissipates rather quickly.
S - Immediately detect the bourbon odor, followed by roasted malts, coffee notes, and a chocolate presence.
T - Follows the nose almost exact. More chocolate than I expected, being that I've had the standard Black Mamba Stout offering on-tap, and didn't remember the prevalence of chocolate. There's a woody note in there, along with the slightest taste of bourbon, and a light alcohol burn on the back.
M - Heavily carbonated, border-lining on too much. There is a distinct fizz in the front, which gives way to a nice thick mouth feel, but I think it would be better if they dialed the carbonation back a bit.
O - I read through some of the previous reviews on this beer, and became a bit skeptical of my decision purchasing it. However, I'm glad I did, as I am actually pretty impressed! This is an enjoyable beer. Far better than the original Black Mamba.
934 characters
4.37
/5
rDev
+20.4%
look: 4 | smell: 4.5 | taste: 4.5 | feel: 4.5 | overall: 4
A - Poured out of a bomber into a sifter, dark black with light carbonation with tannish head that had some slight lacing.
S - Bourbon, molasses, oak
T - Bourbon yet toned done, roasty, oak, a tad coffee, hopped nicely
M - medium to full body but a tad thinner than other stouts, hopped up through out with a crisp clean with some residual earthy tones.
O - Good beer, One of the better from Aviator I have had. I recommend it
430 characters
4.19
/5
rDev
+15.4%
look: 4 | smell: 4.25 | taste: 4.25 | feel: 3.75 | overall: 4.25
This was a delightful stout. It felt thick, but was not heavy. It has a sweet, bourbon taste at the front. Though it is mildly sweet, the sweetness does not linger the way it does with a Belgian beer. It dissipates into a nice smoke/roast flavor more typical of a stout. It is a great intro stout for those just beginning to venture into dark beers.
349 characters
Bourbon Barrel Aged Black Mamba Stout from Aviator Brewing Company
3.63
out of
5
based on
46
ratings.