The Bristol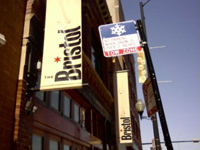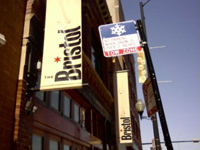 Bar, Eatery
2152 N Damen Ave
Chicago
,
Illinois
, 60647-4562
United States
// CLOSED //
Notes:
Recent ratings and reviews.
Ratings by jrallen34:
Reviewed by jrallen34 from Illinois
3.83
/5
rDev
+0.5%
vibe: 4 | quality: 4 | service: 4 | selection: 3.5 | food: 3.5
This place is only two blocks from me, but it took the GI exclusive bottles to get me there. Located on the corner of Webster in Damen, I found easy parking on a Sunday night. Walked in to a typical modern style place with communal seating. The decor was nice, I especially liked the chalk board wall where they write the daily menu and specials. The food was small plates, American gastro fare that was pretty good, however nothing overly special. The duck fat fries were awesome, but food wise too expensive for me to go back without being stellar food...Drink wise they have 6 taps of decent stuff. Right now they have their GI collaboration series, A Beer Named Sue, an awesome ipa worth having. The bottle list consists of four pages of bottles listed by bottle size. Fairly good stuff, very high quality but not overly rare. The reason we were there was for the "3 GI' sisters. Great for them they are only one of the places to get it, but way way way to expensive at $29 a bottle.

This place was above average food and beer wise, but not a place I would visit again. A cool vibe but too expensive for what it is. Plenty of bucktown restaurants I'd rather go for half the price then just walk to Map Room
Jan 03, 2011
More User Ratings:

Reviewed by emerge077 from Illinois
4.09
/5
rDev
+7.3%
vibe: 4 | quality: 4 | service: 4.25 | selection: 4 | food: 4.25
2022:
The Bristol closed after NYE, can't say that i'll miss it. It was an overpriced yuppie spot that shifted away from the beer menu in favor of better margins on wine and cocktails. Last time I was in here a few years back, a couple beers and "bar snacks" ran $60. Never returned after that.

2008:
Yet another player in the Chicago gastropub scene, riding the trendy wave of gourmet food and beer pairing. This place has gotten a lot of local press in the foodie scene, and I wasn't sure if it would live up to expectations as a craft beer establishment too. Typically places like this are more of a luxury for the bourgeoisie, and not affordable as a typical night out for most people. Luckily it surprised me, and came across as genuine.

On a Thursday before 6pm, it wasn't crowded at all. The room had low overhead bulb lighting, a windowed front, with exposed brick along the sides. Artwork hung on the left side above a row of 10-12 tables for two, and there were longer "communal" tables in the center. The stone-top bar was on the right, with the six taps toward the back and behind the bar. The back wall was finished with chalkboard paint, and over a dozen rotating menu items were listed there. The place felt pretty new and not quite worn-in yet, the atmosphere was definitely upscale and fairly modern. I could see it getting fairly loud later in the evening due to the open room and high ceiling.

The beer list was leather-bound, and spanned over 5 pages toward the back of the book. Two pages of "small format" 11-12 oz. bottles (both US and import), one "medium format" page of half liter bottles from Germany/UK, and two pages of "large format" 750ml & 22 oz. selections, many Belgians and a few US bombers here and there. The list was broken down in this order:
Style (bold)/Name/ABV/Country or state of origin/Price.
Under each entry there was a short creative description of the flavors, for example, "Gumballhead: Mandarin oil, lemon hops, and scones". To me, this showed a great deal of effort, and the opportunity to learn alot about a beer before you try it. Organic and sustainably produced beers were also noted. Granted, there was alot to read, but if you're a beer geek you probably don't mind. It was easy to run down the list by style, which was another bonus for organization.

Beer prices ranged from $3 for Miller Lite (why?) to $38 for Cantillon Lou Pepe Framboise. Drafts ranged from $5-9 including GI Matilda, GL Burning River, 1/2 Acre, Weihenstephaner Hefe, Surly Bender, and Founders Breakfast Stout, all in appropriate glassware. There were a only a handful of beers from Illinois, I counted six total. The beers seemed to lean 60/40 toward imports, and generally one or two from one brewer. Some of the more interesting selections: Cantillon Gueuze, BFM Abbaye De St. Bon Chien, Achel Extra, St. Bernardus, Harviestoun Engine Oil, Duchesse de Bourgogne, Kriek de Ranke, Fantome Saison, Foret, 1809, Cane & Ebel, Goose Island BCS, Hitachino White, Southern Tier Hoppe, Avery Hog Heaven, Thomas Hardys '05. The list was broad and varied, though I would have liked to see more midwest and limited offerings.

The food here is the main draw, lots of creative and unexpected small plates, with daily specials. Tonight the special was a venison/pork sausage for $17. The chalkboard menu was broken down into sections for snacks, salad, fish, meat, desserts, and "etc.". The snacks were the cheapest, small plates of little finger foods like duck fat fries ($4) and "scotch olives" wrapped in pork sausage. I didn't try any entrees, but everything was priced under $20, generally in the $14-17 range. My instinct was to try a few snacks, and they were all tasty.

Service at the bar was great, thought they didn't offer any beer pairings, but I didn't ask for any help with the list. The water was never 1/2 full, they refolded my napkin, and announced what each plate was as it was brought from the kitchen. The staff was laid back but eager and zealous to talk about the food. Three plates and two beers was a little over $30, so this is more of a "special night out" place for me, but one I would likely return to. Overall an "A" experience all around.
Dec 05, 2008
The Bristol in Chicago, IL
Place rating:
3.81
out of
5
with
3
ratings