Whole Foods Market - Arroyo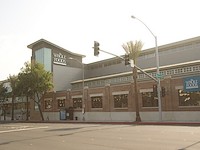 PLACE INFO
Type:
Bar, Eatery, Beer-to-go
465 S Arroyo Pkwy
Pasadena
,
California
, 91105-2529
United States
(626) 204-2266 |
map
wholefoodsmarket.com
Notes:
No notes at this time.
Added by jodan on 12-06-2008
Ratings: 12 | Reviews: 9
Reviews by mjmadden:
3.6
/5
rDev
-9.5%
vibe: 3 | quality: 4 | service: 3 | selection: 4
Great selection of beer, well representing styles and locations. Lot of breweries represented and well stocked. Organized very well, too. However the prices are WAY over the top (I still bought beer anyway...I mean I was already there) and not in line with other local joints.
276 characters
More User Reviews:
4
/5
rDev
+0.5%
vibe: 4 | quality: 4 | service: 3.5 | selection: 4.5
This Whole Foods has one of the bigger selections in the LA area. The beers are split pretty much 50/50 with being in the fridge or on the shelf. The good thing is that their beer selection runs an entire aisle on both sides, so there is a ton to choose from. They also have a tap room at this location that is fairly new and very nice. Service has been pretty good, but you need to seek help yourself if you need it most of the time.
434 characters

3.98
/5
rDev 0%
vibe: 3.75 | quality: 4 | service: 4 | selection: 4 | food: 4

4.45
/5
rDev
+11.8%
vibe: 4.25 | quality: 4.5 | service: 4.5 | selection: 4.5 | food: 4.25
Great location with some solid brews; way more than most WF's. They also have a restaurant with 20+ taps! Follow them on IG BEERONARROYO.
They always get in good stuff, including Pliny!
187 characters

4.55
/5
rDev
+14.3%
vibe: 4.25 | quality: 4.75 | service: 4.25 | selection: 4.75 | food: 4.5
This WF has the best beer selection in the entire Pasadena area. Pliny appears almost every week, but is usually gone within a day, or two at the most. It helps if you know the guys that work there; being a regular has its advantages. The beer aisle was expanded last year and offers a mind-blowing selection. I prefer West Coast IPAs, and this spot always has a superior selection. Paired with the high-quality in-house prepared foods, this is the best local place for quality brews and chow. Decent happy-hour, with $2 bottles and $3 pours from the rotating tap selection, plus a TV with DIRECTV for live sports. The clientele is usually very friendly, so it is easy to meet people here, plus the people-watching at the bar is always entertaining. A great spot.
763 characters

3.88
/5
rDev
-2.5%
vibe: 4.25 | quality: 3.75 | service: 3.75 | selection: 4
I believe this was my first visit to a Whole Foods. My first impression was, wow this is a cool market. Then, I kept seeing the prices, and my second impression was, wow this place is really expensive.
They had a good beer selection typical of what you would find at a better bottle shop. The prices were definitely more expensive than most other places, about $1 more per every $10. I didn't find anything special that day. Given the prices, I just bought a bottle of Mischief.
I don't think I'll visit this Whole Foods again for beer mainly because of their prices. Also, parking is downstairs and space is somewhat tight.
The one cool thing I saw was the special escalator mechanisms exclusively for shopping carts when moving from one floor to the next. I've never seen that before.
789 characters
3.78
/5
rDev
-5%
vibe: 3.5 | quality: 3.5 | service: 3.5 | selection: 4 | food: 5
Stopped in here after a nearby business meeting on 5/5/11. I was simply looking for something nice to drink with the carne asada tacos we were making for Cindo de Mayo.
Beer coolers are upstairs. They have a whole aisle of coolers, and the other side of the aisle is shelf beer. It looked like an overflow of most of the things that were already in the coolers, however the selection definitely wasn't bad for a market.
The one very exciting thing I found was 6 Plinys on the shelf with no bottle limit. Definitely a score for our Cindo De Mayo feast. The gentleman who was filling the shelves got extremely HUFFY with me for taking all of them, because in his words "we like others to be able to try that too". Well, limit your bottle purchasing then, for harder to find items. I shared them with friends, and lost no sleep over it. Anyway, I thought this was pretty rude, even if he was only joking. I won't hold it against the store because I LOVE this WF's. It's beautiful and 2 stories with alot options I don't see in other stores.
Anyway, I also purchased a Mikkeller barleywine, Big Worst, which I actually still have not tried. Looking forward to it.
I will continue to check back with this store as I am in the area.
1,231 characters

3.86
/5
rDev
-3%
vibe: 4 | quality: 4 | service: 3.5 | selection: 4
Was at a cousins birthday down the street and stopped in to see if they had any Abyss.
Atm- Its a whole foods. Its a big store with the upper levels and the beer cooler is pretty large. It was inviting to say the least.
Quality- Mostly regional CA brews but did have some English, German and Belgian offerings.
Service- Mostly just a young stock kid was running around, asked if they had the Abyss and got a cockeyed look from him but he was more than willing to check. I said no its okay. He seemed rather busy and I already had some at home.
Selection- Pretty decent selection. Walked out with a fresh Sam Adams Noble Pils and a Victory Storm King Stout. Was a cheap purchase about 5 bucks for both and worth it.
Value- Can be pricey depending on what you buy being in Pasadena but the nice thing about Whole Foods is the single bottle aspect. Dont have to buy the sixer for those of us who are tickers.
910 characters
4.14
/5
rDev
+4%
vibe: 4 | quality: 4 | service: 4.5 | selection: 4
Came here for the Telegraph Brewing Company and Hair of the Dog tasting last week. While the tasting was pretty fun (and free) I had a chance to walk around and take a look at all the beers Whole Foods had (which is on the second floor of this huge market).
Pretty decent selection, a lot of West Coast stuff (yeah!) but you won't find anything super rare here.
The staff is knowledgeable but I did most of the talking to the distributor for the beer rather than the staff at Whole Foods. Still, they seemed to be willing to help out, and I appreciate that.
Prices are a bit high (hey you are in Pasadena) though I haven't had a chance to do any "beer comparison shopping" with BevMo down the street.
All in all, a good place to get some craft brews, its close to home, and one of the female cashiers flirted with me. Looks like the ol' magic is still there ...
866 characters
3.86
/5
rDev
-3%
vibe: 4 | quality: 4 | service: 3.5 | selection: 4
The brews are upstairs in this massive Whole Foods. Probably 30' long, with almost everthing refrigerated. The selection is certainly larger than most other Whole Foods', with a particularly good stock of Californians, but also some Belgians, Germans, and British. My main gripe is their overstocking of some pretty sub-par beers like Lobotomy Bock -- it seems like it's perennially on sale at WFs. The staff floats between the wine section and the refrigerator, and they're not overly helpful but are rather friendly. Prices are what you'll see at other large stores. Certainly worth a try for the beers alone, if not the awesome store.
637 characters
Whole Foods Market - Arroyo in Pasadena, CA
3.98
out of
5
based on
12
ratings.