Sendik's White Shark Wheat
| Milwaukee Brewing Company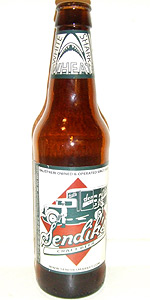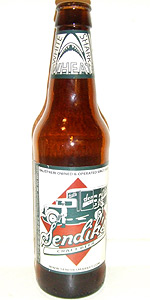 BEER INFO
Brewed by:
Milwaukee Brewing Company
Wisconsin
,
United States
mkebrewing.com
Style:
American Pale Wheat Ale
Alcohol by volume (ABV):
not listed
Availability:
Year-round
Notes / Commercial Description:
No notes at this time.
Added by DoppleJock on 01-31-2010
HISTOGRAM
Ratings: 13 | Reviews: 7
Reviews by BrewCityJeff:
More User Reviews:
4.12
/5
rDev
+14.4%
look: 3 | smell: 3.5 | taste: 4.5 | feel: 4 | overall: 4.5
Being a wheat beer, I made sure to stir up the sediment before I poured into a pint glass. The body was a murky, dirty golden color with a thick foamy white head that left some lacing on the glass. Aromas of soft wheat malt. Mouthfeel was light to medium bodied with a medium amount of carbonation. The flavor was very good wheat softness and subtle sweetness with a nice hit of coriander in the finish. Drinkability was very good seeing as I had 3 of these in one session.
473 characters

3.57
/5
rDev
-0.8%
look: 3 | smell: 3.5 | taste: 3.5 | feel: 3.5 | overall: 4
12 oz bottle poured into a Hoegaarden tumbler. No date or info.
A - Really dirty-hazy golden yellow with a fleeting white head. Lower retention and a tiny collar of lace is left over.
S - The nose is outright citrusy with a hearty orange peel spice and light lemon citrus zest. A touch of coriander adds another spice aroma. Dry wheat and pale malts provide a good background.
T - Smooth, dry wheat with a pale malt oomph to it and a bold spice flavor of coriander with lots of orange peel and lemony citrus.
M - It's a bit heavy for a wheat beer clocking in with a medium body but a good, smooth feel and a clean finish.
D - A summer beer for the masses, it's no surprise it sold out so quickly. It's also my understanding this is just Milwaukee Ale House's Ulao Ale bottled for Sendik's.
794 characters

3.11
/5
rDev
-13.6%
look: 4 | smell: 3 | taste: 3 | feel: 3.5 | overall: 3
12oz longneck.
A) Pours with a finger thick, creamy white head. Settles slowly to a nice lacing at the edge of the glass. A touch of chill haze and mellow upward carbonation. Gold in color.
S) Grassy. Hint of banana. Subtle citrus fruit.
T) Fairly malty up front - not expected from a wheat ale. The malt sweetness is quite sugary, lacking some of the earthy richness of other malt flavors. Light grainy notes poke through toward the end.
M) Definitely a light bodied beer. Mellow fizz.
D) An average brew, but nothing to write home about...
542 characters


3.23
/5
rDev
-10.3%
look: 3.5 | smell: 3 | taste: 3.5 | feel: 3 | overall: 3
12oz bottle poured into English pint glass.
Picked up on a whim from the local Sendik's because it was $5 for a six pack.
A- Pours pretty standard for a pale wheat, a cloudy apricot with a minimal head. After the pour, the beer leaves no lacing at all.
S- I detect a good amount of wheat and malt and a nice bready character. I pick up just a little bit of book dust and a little bit of Kapt'n Krunch cereal.
T- Wheat on the forefront with a good sweetness behind it. A decent malt bill and that cereal quality pops up again. Kind of reminds me of fruit loops.
M- Thin bodied but doesn't really seem watery. Some decent lively carbonation.
D- I think this one is a little too sweet to have too many of these. Pretty average but then again for the price it really isn't that bad. I don't know how readily available this is seeing as Sendik's is a Milwaukee area staple.
875 characters

3.55
/5
rDev
-1.4%
look: 3.5 | smell: 3.5 | taste: 3.5 | feel: 4 | overall: 3.5
Served in a Dogfish Head shaped pint glass.
Whilst filling my mixed sixer at Sendik's, I just couldn't say no to the "house" brew. It pours a clear brass topped by a finger of white foam and complete with quite a bit o' particulate matter. The nose comprises lemon peel, orange zest, light wheat, light coriander, and a pinch of pepper. The taste follows rather closely behind, though the coriander and pepper are notched-up significantly. A sort of sour note creeps in near the finish. The body is pretty light, with a light moderate carbonation and a wet feel. Overall, a pretty nice li'l brew, nothing very special, but you could do a helluva lot worse for the price.
671 characters
3.57
/5
rDev
-0.8%
look: 3 | smell: 3.5 | taste: 3.5 | feel: 3.5 | overall: 4
01/31/2010
12 oz. bottle poured into weizen glass.
My folks dropped this off last night when they visited. They bought it at the Sendik's grocery store in Mequon, WI. This is brand new, I guess...
Labeled under Sendik's Craft Beer brand, it's brewed and bottled by Milwaukee Brewing Co. in Milwaukee, WI 53204. There's no mention of the beer on either Sendik's or Milwaukee Brewing Co.'s websites, so there's basically no info currently out on the beer.
A: Poured a pale golden with 1-finger head, which quickly dissipated. Not too much lacing. Decent carbonation.
S: Mild wheat malts with some yeast. Semi-sweet.
T: Fair amount of wheat malt with some mild fruitiness. Somewhat grainy midway. Dry aftertaste.
M: Feels a little thin. Not much going on here...
D: For all I know, this is Sendik's first attempt at a craft beer. An American Pale Wheat Ale is definitely a marketable beer in these areas, so it seems like a smart choice. It's just OK. Hopefully it will get better with future batches.
1,020 characters


3.62
/5
rDev
+0.6%
look: 3 | smell: 3.5 | taste: 3.5 | feel: 4 | overall: 4
Poured from 12 oz bottle into pint glass.
A) This is a cloudy orange, kind of a lighter orange. It looks like when you mix Tang, but the water to powder ratio is off a bit. There was not much head generated. No lacing noted.
S) Wheat, lighter malt, a bit of citrus, some banana, and spices.
T) Follows the nose... Wheat, grains, some yeast, definitely some sweetness to this, but it gets cut through a bit with some citrus zest and rind flavor. Aftertaste is fine.
M) It's on the lighter side of medium, if there is such a thing. Pretty well carbonated. This is quite crisp and pretty darn refreshing. The feel was lively but not fizzy or off putting.
O) Not a bad summer patio beer, especially if wheat brews are your thing. I know I've had worse. If you find yourself at Sendik's, give it a shot.
Paired with kettle chips and swearing about politics.
858 characters
Sendik's White Shark Wheat from Milwaukee Brewing Company
Beer rating:
3.6
out of
5
with
13
ratings