Pull Chain Pail Ale
| Milwaukee Brewing Company
BA SCORE
80
good
15
Reviews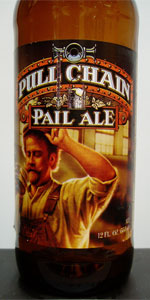 BEER INFO
Brewed by:
Milwaukee Brewing Company
Wisconsin
,
United States
mkebrewing.com
Style:
American Pale Ale (APA)
Alcohol by volume (ABV):
5.00%
Availability:
Year-round
Notes / Commercial Description:
No notes at this time.
Added by crossovert on 03-16-2010
Reviews: 15 | Ratings: 78

2.47
/5
rDev
-25.6%
look: 4 | smell: 2 | taste: 2.5 | feel: 2.5 | overall: 2.5
Poured into a Efes chalice, pale orange, small white head that stuck around for a bit, light lacing. Aroma is light grains, light hoppiness, some notes of orange/citrus from the hops, a touch of pine and little else. Wow, this might be the lightest tasting pale ale I've ever had. There's little to no hops bitterness, but what is there is light citrus, very little sweetness, and some grassy grain flavor. In all, there's just not much happening here. About as bland as a pale ale can get. It doesn't taste bad, but it's hard for something to taste when it really has no flavor at all. Thin, light body, avergae carbonation. Well, I was expecting much out of this, but it was well below my already low expectations. I could probably pound back 2 or 3 of these on 95 degree summer day after mowing the lawn, but it's probably good for little else.
847 characters
2.67
/5
rDev
-19.6%
look: 3 | smell: 3.5 | taste: 2 | feel: 2.5 | overall: 3
Bottle poured into an imperial pint
A - Pours medium sized white head that recedes to a small ring. Golden to slightly amber. Brilliant clarity.
S - Great pine hop characters shine right though. Rich, sweet smelling malts follow. Nice American citrus hops also.
T - Lacks any distinct malt flavor and the kettle hops lack much mid-palate flavors. Stays thin throughout. Moderate bitterness sharpens the finish for a light APA.
M - A little thin, light carbonation. Nice and stylistically dry.
O - Really nice smell to the beer. Disappointed by its lack of flavor complexity. Too thin.
590 characters
2.68
/5
rDev
-19.3%
look: 3.5 | smell: 3 | taste: 2.5 | feel: 2.5 | overall: 2.5
This APA pours a bit hazy golden-orange color with a quickly diminishing white head that leaves just a few specs of lace. The aroma is medium-low hops, floral and a bit of citrus, intertwined in the hops are a sweet, grainy, malts and a bit of vinous character. The flavor unfortunately falls short. There is some low spicy hop flavor, along with a bit of bready/sweet malt, but these flavors are very subdued and very quickly scrubbed off the palate by high, prickly carbonation. Overall the beer is weakly flavored and overcarbonated. I'll pass on a second one.
563 characters
3.02
/5
rDev
-9%
look: 2.5 | smell: 3 | taste: 3 | feel: 3.5 | overall: 3
A very typical Pale Ale, nothing extraordinary about it.
Pours a deep golden color, with hardly any carbonation and no head and barely any lacing to follow.
Smells of caramel, and toffee. Very light mouthfeel. Starts out sweet in the mouth and finishes dry and chalky, but not as dry as some. A moderate amount of bittering . Wish i could say more, but not that stand out of a beer.
383 characters
3.16
/5
rDev
-4.8%
look: 3.5 | smell: 2.5 | taste: 3 | feel: 3.5 | overall: 4
12 oz bottle. Brewed and bottled by the Milwaukee Brewing Co.
Pours into my Milwaukee Brewing Co. pint glass with a murky copper color, rotten peach I'd say. The head is foamy and eggshell white and leaves some decent lacing.
There is not much smell to this one, then again the only APA that has ever had a smell to me was FFF Pride and Joy. They definitely need to dry ho this one. There is a little bit of hops and grain but it is pretty thin.
It has a mild resinous pine flavor, pretty much the same as the IPA but watered down. Some generic malt in there too.
Unfortunately after having FFF Pride and Joy all APAs seem average, all brewers looking to brew it need to up their games.
698 characters

3.16
/5
rDev
-4.8%
look: 2.5 | smell: 4.5 | taste: 2.5 | feel: 2.25 | overall: 3.5
Over carbonated(two were as such and opened long apart). Grabed from cooler and instantly foamed. ... pourd light auburn. Smells like carmel corn and oatmeal.... tastes like a average pale ale....nothing special here. Over all.....annoyed when beer sprays from bottle for no good reason. ....
292 characters

3.27
/5
rDev
-1.5%
look: 3.5 | smell: 4 | taste: 3 | feel: 3 | overall: 3
This beer pours a cloudy pale orange color. The head is one inch in height, and recedes briskly into minimal lacing. The aroma is of grapefruit, pine resin, and a hint of floral hops. This is a very hoppy aroma for a pale ale, but I like it. The taste is on the hoppier side for the style too. However, it lacks depth. There is a flash of grapefruit up front, and then nothing to back it up. The mouthfeel is medium bodied with moderate carbonation. Overall, I will pass on this beer next time. It simply lacks anything that grabs my attention.
544 characters

3.38
/5
rDev
+1.8%
look: 3.5 | smell: 3 | taste: 3.5 | feel: 3.5 | overall: 3.5
from a 12 oz bottle
A- poured a clear copper color with a nice off-white head that receded to a fresh collar
S= has a malt and grain and a fresh grapefruit smell
T- has a hoppy with a pronounced grapefruit rind taste mixed with a malt grain and a lemon grass taste
M- has a crisp and dry mouth feel with moderate carbonation a bitter citrus and hop mouth feel
D- was better than average but was more bitter than tasty not very well balanced
447 characters
3.48
/5
rDev
+4.8%
look: 4.5 | smell: 4 | taste: 3 | feel: 3.5 | overall: 3.5
Whispy medium eggshell head of 2 fingers, though soon 1/2 a finger of what looks like fresh powdered snow, atop a medium copper body with little bits of bottle conditioned sediment floating around. YUM!
Sweet, dark dried fruits, though not overpoweringly strong, a little bit of light citrus, sweet malt and what seems to be a heavy hand of the slightly darker grains; as previously stated aromas from the grain of dried fig or raisin, though nothing astringent. Yeast gives off a very dusty, dry aroma.
Bitterness is relatively high up front and in back. Citrus is still there, though is more resigned to the bitterness than the flavor. Grain is not as sweet as I had expected; the grain comes off as musty and a little tired and weak, while the malt lends a deep toastiness, but misses those dark fruit flavors found in the nose.
Bitterness makes this one sticky in the back and,while a little dry, is somewhat refreshing.
Started out pretty good, I am a big fan of bottle conditioned beers, but the taste didn't match up to the aromas. A little bit of a let down.
1,070 characters

3.5
/5
rDev
+5.4%
look: 3.5 | smell: 3.5 | taste: 3.5 | feel: 3.5 | overall: 3.5
Served in a Lagunitas mason jar.
Still re-plowin' through some MKE brews, alighting on the pale ale this time. It pours a clear brass topped by over a finger of cream-white foam. The nose comprises lemon zest, light orange peel, light flowers, and light biscuit hiding way in the back. The taste brings in more of the same, with a stronger contingent of flowers, a slightly weaker biscuit character, and the lightest possible touch of grass tossed in for good measure. The body is a light medium, with a light moderate carbonation and a sorta/kinda drying finish. Overall, a nice little pale ale, nothing really all that special, but something pretty drinkable and whatnot.
674 characters

3.5
/5
rDev
+5.4%
On draft at Milwaukee Ale House.
The beer is golden hued with a small white head. The aroma offers biscuit malt, citrus, hops. A straightforward brew, in the "balanced" style of pale ales. Bready malts and hops with just a hint of alcohol. Easy drinking with moderate carbonation. Average...
293 characters
3.58
/5
rDev
+7.8%
look: 4 | smell: 3.5 | taste: 3.5 | feel: 4 | overall: 3.5
Bottle pour from brewery into a snifter glass. Orange amber, 2 finger head with excellent lacing. Pours and looks awesome.
Aroma more subdued with hops. Very earthy, lemon, grass and nice malt backbone.
Taste is very much like the aroma. Less floral overtones than other types for this style. It's more subtle. Less pine, more balanced.
Very drinkable, with a bit of hop bitterness on the back end that lingers.
Thought this beer is a solid offering. Ok, it's not 3F zombie dust or daisy cutter but a nice everyday beer that you can drink with friends and come back to. Should get more credit then some of the reviews here.
630 characters
3.58
/5
rDev
+7.8%
look: 3.75 | smell: 3.75 | taste: 3.5 | feel: 3.5 | overall: 3.5
Pours deep golden amber with a thin, creamy head. Trailing lace sticks.
The smell is of citric and floral notes with caramelized bread.
The taste of citric and hop bitterness is balanced by caramelized malt sweetness and a touch of plastic-like resin through the middle. Bready and hoppy dryness in the finish.
It has medium carbonation with a lighter side of medium body.
A bitter-leaning pale ale, but still easy enough to drink. Not a bad brew!
451 characters

3.93
/5
rDev
+18.4%
look: 4.5 | smell: 4 | taste: 4 | feel: 3 | overall: 4
12oz bottle, newer label than pictured. Pours bright golden orange with a foamy off-white head, good retention, excellent lacing. A citric & floral hop plume fills the nose with biscuity malt background. Tastes are grapefruit, lemon, grassy, refreshing, crisp, biscuity maltiness, finishes bitter and dry. Mouth-feel is on the thin side with moderate carbonation. Overall, I enjoyed this offering, my first from Milwaukee Brewing. I wonder if they've changed some things other than the label, as I seem to have enjoyed this one more than most.
543 characters
4.17
/5
rDev
+25.6%
look: 3.5 | smell: 4 | taste: 4.25 | feel: 4.5 | overall: 4.25
12 oz bottle poured into an MKE tulip.
5% ABV,
A - This faintly hazed golden pale ale pours with a small white head that disappears into the dormant brew almost immediately but leaves a little ring of foam left clinging to the glass.
S - The aromatic hop blend of Cascade and East Kent Goldings gushes fourth from the pour. Citrus grapefruit and light orange tease with a kiss of pine and a floral/herbal notes. Give the beer a swirl and you'll awaken traces of resiny plastic which aren't entirely pleasant but quickly fade into it's light malt backbone.
T - A hop-smack in the mouth, Pull Chain debuts with the blend of herbal citrus and floral notes the aroma foreshadowed, all tightly packed. Individual nuances are less called out but grapefruit rind is one of the more prominent characteristics that rests on the subdued pale malt base.
M - Citrus notes the hops offer aid in making Pull Chain feel like a lighter bodied pale with nice dryness. It's quite crisp and refreshing, finishing with a light touch of grapefruit bitterness for a nice-bodied pale!
O - Strong drinkability emanates from Pull Chain due to it's careful balance of mild maltiness balancing out forward hoppiness in aroma, flavor, and moderate bitterness. Pull Chain Pale Ale is a very solid go-to brew from the guys at MKE.
1,306 characters
Pull Chain Pail Ale from Milwaukee Brewing Company
3.32
out of
5
based on
78
ratings.