St. Pacome
| Micro-Brasserie Breughel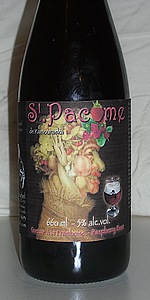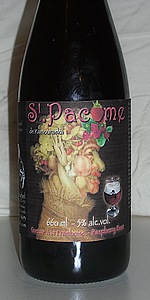 BEER INFO
Brewed by:
Micro-Brasserie Breughel
Quebec
,
Canada
Style:
Lambic - Fruit
Alcohol by volume (ABV):
5.00%
Availability:
Year-round
Notes / Commercial Description:
No notes at this time.
Added by yankeeheel on 01-04-2005
This beer is retired; no longer brewed.
HISTOGRAM
Ratings: 8 | Reviews: 8
Reviews by smcolw:
1.64
/5
rDev
-21.5%
look: 4 | smell: 2.5 | taste: 1 | feel: 1 | overall: 1.5
Huge, solid white head. I can only pour a little into the glass every three minutes. The bottle in the meantime overflows with a thickness that is similar to toothpaste squeezed out of a tube. Recedes slowly. Orange-gold color with a haze.
Very mild, but sour, smell. Hard to make a clear reading.
Very thin body. Initially a sour taste, but it quickly succumbs to a strong metallic taste of iron, particularly in the aftertaste. I get absolutely no sense of any fruit. Ergo, it has no elements of a lambic that I can tell.
526 characters
More User Reviews:
1.35
/5
rDev
-35.4%
look: 1.5 | smell: 1.5 | taste: 1.5 | feel: 1 | overall: 1
From BeerAdvocate Magazine Volume III, Issue II:
Brewed with spring water, wheat malt, barley malt, organic cane sugar, oat flakes, top-fermenting yeast, raspberry juice, and flavored with raspberry extract, hops, coriander and curaçao.
Pours a bright peachy/watery color topped with a thin white lace. Deep barnyard, peppery and acidic funk induces a slight wincing effect, with a sharp suggestion of berries. Flat--no, lifeless--on the palate. Watery all around. A weak raspberry presence is barely noticeable and offers a restrained version of itself with a mere splashing of tartness and berry flavor. Watery and bitter rind. Powdery spice. Mild medicinal flavors and acidity, followed by some chalk and oat that lingers into the finish with some wheaty, husky tannins. Dry and unpleasant.
One of the worst interpretations of a Framboise to have ever touched our palates.
879 characters
3.5
/5
rDev
+67.5%
look: 3.5 | smell: 3.5 | taste: 3.5 | feel: 3.5 | overall: 3.5
Smuggled across the border in the dead of night. ;) Purchased in Quebec back in 9/04. Interesting label. Has a painting of a man's head created of fruit and vegetables. I hesitate to call this a gueze, like it says on the bottle, because of it's fruity nature, and I doubt its a blend of anything.
Pours a slightly hazy straw with a mid-size creamy white head. 1/4" lacing stays for the entire quaffing. Smells a little estery and musty. Not a lot of character. Tatse wise it could pass for a serviceable fruit beer. Noticeable raspberry up front, slightly understated. Fades quickly and I'm left with a wheat beer backbone. Mild citrus finish. Slightly too much carbonation detracts a bit. Goes down easy enough, just isn't my kind of beer.
744 characters
2.16
/5
rDev
+3.3%
look: 3 | smell: 2 | taste: 2 | feel: 2 | overall: 2.5
First of all, front label says: Gueuze à la framboise (Raspberry gueuze). How can this beer a real lambic without using the typical yeast betranomices??? Second, rear label says : Bière blanche (white beer). So, what the hell is in this bottle. certainly not a lambic. I bought it to clear things out...
Poored ina pint glass, it reveals itself a a golden color. wront start for a supposed lambic/white beer! Translucid without any yeast suspension. Nice head and nice carbonation.
Nose: Disappointing! Faint nose of raspberry and coriander.
Mouth: Goes with the nose: Disappointing. Almost flavourless. Acid. Uninteresting.
Conclusion: Tasted many beers of that brewery. Disappointed in 75% of the time. This one is no exception. Avoid.
744 characters
2.83
/5
rDev
+35.4%
look: 3 | smell: 2.5 | taste: 3 | feel: 2.5 | overall: 3
500ml hard poured into my Brassin d'Hiver tulip. I was intimidated by the massive amount of deposit in the bottom of the glass. About half an inch of nasty looking globs moving around. Made me curious but still looked gross. And I like pouring my yeast in.
A- Mango flesh colour became a peach skin once the dark beige yeast sediment was added. Nice fine lacing.
S- Raspberry. Yeast. Strawberry. Lemon. Apple Cider.
T- Tastes like an water diluted unsweetened apple cider. Gently sour and bitter. Alcohol very well hidden. Kind of tastes like someones failed first batch of cider.
M- Very thin. Medium carbonation
D- You can drink quite a bit of this as it is very watery. Not so much taste either. Still, the watery factor suits the flavor well.
This is my first gueuze being a BA. I remember tasting this a while ago and hating/not understanding it. Now I must admit I enjoyed it a bit and would have it again. Made me want to try other gueuzes. According to beeradvocate.com reviews they should be a whole lot better.
1,027 characters
1.5
/5
rDev
-28.2%
look: 1.5 | smell: 1.5 | taste: 1.5 | feel: 1.5 | overall: 1.5
Bottle: Poured a deep golden/light brown color ale with a medium foamy head with limited retention and no lacing. Aroma of berry syrup with a weird chemical like adjunct. Taste is also characterized by some chemical-like berry and malt. Very unpleasant and definitely not something I am about to try again.
306 characters
1.65
/5
rDev
-21.1%
look: 2 | smell: 2 | taste: 1.5 | feel: 1.5 | overall: 1.5
( 14/50, 5% alc/vol, Home) Roseed orangey beer, with a translucent body and a small head of pearl that dissipates extremely quickly. Leaves a light lacing with it's ring of bubbles. Slight raspberry tartness in the nose, mixed in with a light barley aroma, and some dextrose in the mix. Simple and light. A bit of sourness. Water, with light raspberry flavouring. Cool and light body. Some bitter flavours with a malted grain palate that does not really do anything for me. Has a raspberry finish, with corn pancakes flour. Waterry and light, soured, but not acidic, just straight sweet and sour palate. Dry and astringent raspberry effects, does not activate on the tongue, leaves a cleansing dry finish. I don't think I will finish this one. Light, sour, with no real return value. Looks the part, just doesn't deliver on the mention of a 'gueuze a la framboise', which stylistically, is laughable.
904 characters
2.11
/5
rDev
+1%
look: 3 | smell: 2 | taste: 2 | feel: 2.5 | overall: 2
Lightly hazed gold with a weak head and a faint aroma of raspberries. Flavour is dry, watery and raspberry I guess. Some mineral water notes and a faintly faint bitterness from a hop or two. Wow. So bland I don't know what to say about this. Not worth trying in my book. OTOH, you could drink this all day long and it isn't actively gross, just like water.
356 characters
St. Pacome from Micro-Brasserie Breughel
Beer rating:
2.09
out of
5
with
8
ratings