Dismiss Notice
Extreme Beer Fest:Los Angeles
Join us December 9th in Los Angeles for the ultimate throwdown of craft beer creativity!
Learn more...
Dismiss Notice
Grand Cru
| Micro-Brasserie Breughel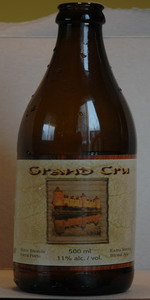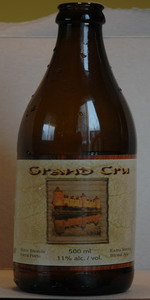 BEER INFO
Brewed by:
Micro-Brasserie Breughel
Quebec
,
Canada
Style:
Belgian Strong Pale Ale
Alcohol by volume (ABV):
11.00%
Availability:
Year-round
Notes / Commercial Description:
No notes at this time.
Added by Tim2000 on 12-07-2005
This beer is retired; no longer brewed.
HISTOGRAM
Ratings: 13 | Reviews: 13
Reviews by pootz:

3.47
/5
rDev
+0.6%
look: 3.5 | smell: 4 | taste: 3.5 | feel: 3 | overall: 3
I see I'm not the only one who experienced a "beer geyser" when I cracked this brew. Seems to be the result of the beer still working in the bottle. Fortunately mine only foamed out the top 1/4 of the bottle...what I got into the glass ( after the 4 inch speckeld cap reduced to a small cap) was a clouded orange-tea colored ale with massive aroma which scented the room with sweet banana-pinapple smells, some clove and a whiff of alcohol. Peppery up front from the ample natural effervescence...a tad thin in body....when this drops away we get sweet curacao and nuts over some musty-earthy notes then a relatively dry-spritzy finish...perhaps cellaring would tame this "volcano" and develop more flavors...as it is relatively young, this is a tastey ale but very sparkling and 2 dimentional. I'd like to try this aged a year or two.
837 characters
More User Reviews:
3.1
/5
rDev
-10.1%
look: 3.5 | smell: 3.5 | taste: 3 | feel: 3.5 | overall: 2.5
A sweet pineapple sugar yeast aroma and taste. Suger, cloves, corriander, and pepper from the yeast. Cloudy orange colour. Not that drinkable, but not that bad. Does not seem anywhere near purported 11%. Not appropriately carbonated, on the fizzy side.
252 characters
3.86
/5
rDev
+11.9%
look: 2.5 | smell: 4 | taste: 4 | feel: 3.5 | overall: 4
500 ml bottle poured into a hotel tumbler.
Random beer sampling, Quebec City.
"Does not contain bentonite, silicates, salt, hydrogen peroxide, or pH correcting agents." Whew--how many other beers have these ingredients? I shudder to think. Ingredient list does include barley malt, hops, yeast, water, organic cane sugar, and coriander. A micro from Kamouraska, 2 hours north of Quebec.
This high alcohol brew from an obviously Belgium-inspired brewery pours a clear dark golden color, little head and no lace. Nice aroma of fruity bubble gum (classic Belgian yeast scent), some spice, honey. Taste has a bit of metallic and alcoholic harshness that detracts somewhat...but there are enough pluses here to make the flavor good. Fruity sweetness up front, then nice hoppy bitterness in the midpalate, and a spicy nutmeg finish, with lingering underlying bitter notes.
Extremely strong, but quite drinkable and therefore somewhat dangerous. The metallic taste could likely be reduced by corking instead of capping. Salut to the microbrasseries quebecoises who dedicate themselves to Belgian-styled beers!
1,115 characters

4
/5
rDev
+15.9%
look: 4 | smell: 4 | taste: 4 | feel: 4 | overall: 4
Fascinating Beer, like nothing I've ever tried...
A nice bottle bought in a Quebec Beer Store.
Smell - Strong Lemon scent, pineapple, grapefruit. Fruitiest smelling beer I've yet to sample.
Taste - Yikes, what a tang! Tart! Interesting. Not bitter, but almost like eating slightly under-ripe tropical fruit..Very strong Lemon with almost a white-wine like taste. Can not taste the 11% anywhere in this...Lingering peppery spice that just sits there....
Mouthfeel - Tart and lots of fine bubbles tickle your tongue.
Overall, a very very interesting beer, i;ve never had anything like this. I highly recommend trying this to those who want something different....Truly original.
683 characters
2.38
/5
rDev
-31%
look: 2.5 | smell: 2 | taste: 2.5 | feel: 2.5 | overall: 2.5
Bottle: Poured a clear copper color ale with an off-white head with good retention and minimal lacing. Aroma consists of nice peachy fruity ester with light alcoholic phenols. Taste is a mix between some quite enjoyable fruity ester and some medium sweet malt. Body is a bit thin with some average carbonation and light alcoholic notes thought I have a hard time believing this beer to be 11% ABV. By no mean is this a great beer or something that I will buy again but by far not the worst from this brewery.
508 characters
3.76
/5
rDev
+9%
look: 4 | smell: 3 | taste: 4 | feel: 4 | overall: 4
I've used bentonite to clarify beer, its just clay... Ph stabilisers only make water better for brewing, aw well...
Nice 11% wheatbeer belgian hybrid. Cloudy medium yellow with a nice head that dissipates quicky. Taste of wheat malt, coriader and wheatbeer yeast. Alcohol is not overwhelming on the palate. Deceptively drinkable, knocks your socks off.
355 characters

3.35
/5
rDev
-2.9%
look: 3.5 | smell: 3.5 | taste: 3.5 | feel: 3 | overall: 3
tasting party sept 11/06 with northyorksammy, crwills, biegaman and me (grub). everyone threw in a few bottles and we had an interesting mix of beer and mead. not sure of exactly who contributed what, so i'll just thank everyone.
pours a hazy pale brownish colour with a thin off-white head.
aroma is slightly spicy. very earthy smell. corriander. bit of lingering sweetness.
taste is all about corriander. that earthy aroma is prominent in the flavour. it has a nice maltyness and hides the alcohol very well.
mouthfeel is ok. nice carbonation level and good body.
drinkability is ok. not my favourite beer, but not bad.
636 characters

4.12
/5
rDev
+19.4%
look: 3.5 | smell: 4 | taste: 4 | feel: 4.5 | overall: 4.5
I recommend a carefull decant off the yeast, the sediment really spoiled this one.
A: Golden-bronze with a fizzy white head, very little retention, no lacing.
S: Floral, earthy-metallic hops, caramel, bread and hint of tropical fruit & spice and a touch of orval-like funk.
T: Floral, earthy-metallic hops, bubble gum fruityness, mango, pineapple, light spicing from the corriander, crisp bitterness, alcohol is well-hidden. Not nearly as funky as an Orval, but there's certainly a little farmhouse ale character.
M: Moderate body is well carbonated with a very dry finish.
D: Very drinkable (I doubt it's actually 11%).
625 characters
3.63
/5
rDev
+5.2%
look: 4 | smell: 3.5 | taste: 3.5 | feel: 3.5 | overall: 4
Sampled as part of a large tasting with biegaman, grub, and northyorksammy. I think I must have been copying someone's notes at this point, since they say pretty much exactly what the previous reviews have said...
Poured a cloudy amber with orange highlights. Actually not a bad looking beer, even in my crap glass. Aroma is very yeasty, with some wheat and spice notes, and something that reminds me of grass. Alcohol is well-hidden, but there. Taste is overly metallic for my liking, and the metallic notes override some nice flavours that would otherwise make this a good beer. Reminds me a lot of some of the more common Unibroue beers, especially Fin du Monde.
668 characters

3.92
/5
rDev
+13.6%
look: 3.5 | smell: 4 | taste: 4 | feel: 4.5 | overall: 3.5
Thanks NorthYorkSammy.
Clouded, very murky, orange colour - no head. Aroma of strong, fresh coriander, bold orange peel. A great deal of metallic, copper notes in the aroma which I found (surpringly) nice and fitting for this beer. They somehow pulled off a metallic character, not sure how, but they did. Carbonation is good. Some easily detectable high alcohol notes. Though I wouldn't easily guess 11%. Coriander comes through as very chalky on the mouthfeel, but with long, soothing finish. Nice but simple, somewhat underwhelming for a 'grand cru' yes, but I enjoyed it. All in all, with the use of spices very "Quebecois" in character ; a typical makeup you find in many Quebec renditions of these style beers.
718 characters
3.77
/5
rDev
+9.3%
look: 4 | smell: 4.5 | taste: 3.5 | feel: 3.5 | overall: 3.5
500ml bottle poured into a tulip glass. Thanks to mattt for sending this my way.
Pours with a 1 1/2 inch head off a vigorous pour, then settles in to a comfortable 1/4 inch. Lacing, but a minimal amount of stickiness. Golden straw coloured, unfiltered, and very mild carbonation in this one. Good head retention though. Aroma is a bit wheaty, yeasty with some strong notes of banana and clove and coriander with a hit of lemon in the back. Nice mellow butter and vanilla notes with a helping of raw sugar and a bit of earth to bring it down. This has some nice amped-up witbier characteristics, very nice.
Taste is'nt as brillant, but it's not awful. There's a sharp metallic note off the bat that's a little offputting, and once that mellows a whole lot of flavours appear. Sweetness akin to apple juice mixes with a very earthy, potato-cellar like flavour. A twang of lemon sourness follows, and bitterness akin to juniper, and a chaser of yeast with some banana. Pepper, coriander, and a meatier, herbal, almost sage-like flavour appears near the finish. Definitely gets better as it warms. My only complaint is that it seems a little messy, overly complex. Body is a bit thin for my liking, fairly wet, but a little sticky near the end. Carbonation is highish, as I'd expect in a Belgian. I wouldn't want more than one I wouldn't think, it's just a little too muddled, but all in all a good effort.
1,408 characters
2.31
/5
rDev
-33%
look: 3 | smell: 2 | taste: 2.5 | feel: 2.5 | overall: 2
bouteille brune de 500ml,
l'étiquette mentionne bière blonde, la mienne tirait sur le orange, l'odeur et le goût de médicament (iode) ne m'attire pas du tout, on dirait une bière contaminée par des levures sauvages..après une nuit sur le comptoir la bière est la bière est meilleur, petit goût de caramel.. mais sans plus. un produit à oublier.
360 characters
3.19
/5
rDev
-7.5%
look: 3 | smell: 4 | taste: 3 | feel: 2.5 | overall: 3
500 mL brown bottle.
Hazy amber brew with a small head that dies down quickly.
Spicy, bready aroma.
Fairly sweet and spicy, cloves and lots of coriander, with subdued notes of tropical fruit. Alcohol is very well hidden for a beer this size. Grainy finish. Mouthfeel is watery and carbonation is low.
Really not much going on here. I was expecting more complexity from this one, considering the abv and the fact that they call it their "Grand Cru". Nothing really wrong with it, but like their other beers, on the bland side.
537 characters
Grand Cru from Micro-Brasserie Breughel
Beer rating:
3.45
out of
5
with
13
ratings