Tea Beer
| Brouwerij Lindemans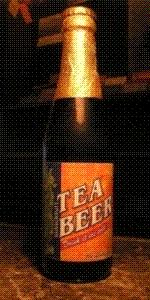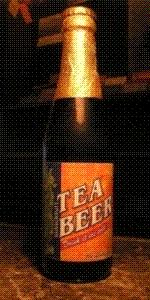 BEER INFO
Brewed by:
Brouwerij Lindemans
Belgium
lindemans.be
Style:
Lambic - Unblended
Alcohol by volume (ABV):
3.50%
Availability:
Limited (brewed once)
Notes / Commercial Description:
No notes at this time.
Added by TheLongBeachBum on 06-04-2004
This beer is retired; no longer brewed.
HISTOGRAM
Ratings: 9 | Reviews: 9
Reviews by tjd25:
4.17
/5
rDev
+11.5%
look: 3.5 | smell: 4 | taste: 4.5 | feel: 4 | overall: 4
Fine thin head on a pale amber/orange color body. The smell shows notes of wheat with a round and pronounced tart character, right in the style. Some barn smell too. The taste has an interesting balance, the tart sweet and syrupy aspect of the brew being balanced with an interesting fruity roundness (would that come from the tea leaves on which the beer maturates?) Juicy notes of citrus (lemony for the tart, orangey for the roundness), mint and peppermint. A fresh wheaty character. Mouthfeel is good and round, light without being too thin. Quite drinkable. I thought this was gonna be stupid and gimmicky, but I've really been proven wrong.
647 characters
More User Reviews:
3.54
/5
rDev
-5.3%
look: 3 | smell: 4 | taste: 3 | feel: 4 | overall: 4
Pours amber with fizzy head. Smells like iced tea with lemon, with some other various scent contributers. Taste was sweet but not sticky, with a refreshing quality not often found in sweeter beers. There was lemon and sweet tea in the flavors. Felt like drinking a carbonated Snapple at times but much better. Very drinkable and light. Even in Belgium this beer was hard to find.
379 characters
4.01
/5
rDev
+7.2%
look: 2.5 | smell: 4 | taste: 4 | feel: 4 | overall: 4.5
Drank from my Duvel Tulip
A - Pours a slightly hazey orange colour with no head.
S - Sweet lemon zest and tea
T - As with the taste it is very zesty with undertones of tea. It actuallt tastes like a fizzy Lipton Ice Tea, which is actually really nice.Has a very bitter finish.
M - Full carbonation and light body that makes for a very refreshing drop.
D - I'm impressed with this beer and thouroughly recommend it.
419 characters
3.9
/5
rDev
+4.3%
look: 3.5 | smell: 3.5 | taste: 4 | feel: 3.5 | overall: 4.5
A - Light amber, somewhat like a typical lager color. Would be a light color for iced tea. Very little white foamy head that fades fairly fast. Very little lacing left over.
S - A little like tea, but not as much as I was expecting. Some citrus (lemon and lime) as well as some cherry.
T - Similar to the nose, mostly fruity and not as much tea as I was expecting. That said, there is definitely a bit of tea flavor, it just seems to be overshadowed. It does come out more as you drink though. The fruit flavors up front seem to be a mix of citrus (lemon and lime), along with a bit of cherry, peach, and very slight raspberry. This provides a mix between tart and sweet. Also possibly a bit of mint.
M - Pretty light bodied. Decent amount of carbonation and fairly smooth.
D - Very drinkable if you are in the mood for it. It is actually kind of similar to drinking some tea, that's how easy it goes down. However, it doesn't really have a traditional beer feel to it.
Notes: Really interesting beer and I'm glad I tried it. It's not really all that beer like, although it does somewhat remind me of a Flanders Red/Oud Bruin. You really have to be in the mood for this, and I luckily was when I had mine. This does make it harder to rate as since at the moment it's hitting the spot and what I'm looking for I'm tempted to rate it higher. However, I think the majority of the time I would be less inclined to drink this. This rating is kind of splitting the difference between the two moods.
1,497 characters

3
/5
rDev
-19.8%
look: 3 | smell: 3 | taste: 3 | feel: 3 | overall: 3
From my notes 6/1/2007 pours a two-finger white head that fades to a thin layer leaving some lace. Almost clear amber color. Spicy nose. Good carbonation and light-medium bodied. Flavor is a spicy tea with some sweetness, clean finish. Different but once is enough. Best by Oct 19, 2009. €2.00 ($2.74) for a 250ml bottle from de Bier Tempel Brussels, Belgium.
360 characters

3.47
/5
rDev
-7.2%
look: 3 | smell: 3.5 | taste: 4 | feel: 2.5 | overall: 3
Tea beer is a strange, unique, and very interesting drink. The beer is a clear amber-gold color with a very short head. The aroma is not unlike iced tea, a theme that continues throughout the experience. Smells of citrus, faint herbal hops, honey, dried flowers, and -of course- tea bags. The taste has a decided lemon-lime flavor (the label says that the beer is made with lime juice. Sure, there's some malt t here, but the primary taste is of sweet iced tea with a slice of citrus in it. Fairly low in carbonation, smooth, and a little light. It didn't really satisfy for mouthfeel. Interesting and worth a try, but not really my thing.
639 characters
3.5
/5
rDev
-6.4%
look: 3.5 | smell: 3.5 | taste: 3.5 | feel: 3.5 | overall: 3.5
Pours a foggy brownish gold. No head. Nose is an odd antiseptic tea thing. Flavor is quite sweet, like candy. There are tea notes in here, yes. But it's quite sweet (in typical Lindemans style.) Feel is slick and sticky on liquid. Carbonation is lower.
This beer has to be your sort of "thing" to be able to appreciate it most. It's not really mine as I prefer traditional lambics and wild ales to things like this.
417 characters

3.53
/5
rDev
-5.6%
look: 4 | smell: 3.5 | taste: 3.5 | feel: 3.5 | overall: 3.5
"Drink it ice cold!" -- On it. I've been curious about this beer since I've been into craft...almost 10 years now. It was in Michael Jackson's 500 beers -- supposedly his 500 favorites, published back in the 90s. Beer poured from a 25 cl bottle into a Lindemans flute because I've got one and why not.
Beer is amber / dark yellow and clear with a lot of carbonation, white head of medium and small bubbles that leaves some lacing on the glass. Looks good.
Aroma is strong and spicy...allspice and nutmeg with hints of sugar and cinnamon...what is this going to taste like?
Beer has this chai like quality to it with this clove aftertaste, it is a heavily spiced beer. It's sweet on the onset, there is some tea bitterness in there but I can't identify the kind of tea it is. The overall spice level is quite high and really does taste like chai. There is a definite citrus quality to the whole thing lemons or more likely limes, maybe some peel or some I don't know..juice? It's an odd beer but it is decent. I don't think I'll seek it out again.
1,049 characters
4.55
/5
rDev
+21.7%
look: 4.5 | smell: 4.5 | taste: 5 | feel: 4 | overall: 4
Opaque amber body with no head.
Luscous fruity cherry aroma.
Brilliant fruity acidic creamy flavor. Peaches and cherry. No lemon, hops or tea that is noticeable but this is a fabuolous beer.
The tartness of this beer cloaks the mouth the fine smooth body of this beer.
The label says that:
"Lindemans Tea Beer is a lambic beer brewed with barley malt, wheat and hops. A spontaneous fermentation adn maturation on tea leaves results in an artisanal tea-flavored beer. Adding lemon juice we become a suprising "sweet-sour" lemon taste. Drink it Icecold."
Aged two years.
586 characters
Tea Beer from Brouwerij Lindemans
Beer rating:
3.74
out of
5
with
9
ratings