Lindemans Oude Lambik (Loerik)
| Brouwerij Lindemans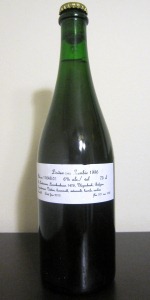 BEER INFO
Brewed by:
Brouwerij Lindemans
Belgium
|
website
Style:
Gueuze
Alcohol by volume (ABV):
not listed
Availability:
Limited (brewed once)
Notes / Commercial Description:
No notes at this time.
Added by on 11-17-2008
This beer is retired; no longer brewed.
Reviews: 8 | Ratings: 18

4.56
/5
rDev
+9.1%
look: 5 | smell: 4 | taste: 4.75 | feel: 5 | overall: 4.5
2000 Vintage. 75 cl. bottle consumed at De Heeren van Liedekercke.
Appearance: Bright orange pure lambic appearance, some white head, great for pure lambic, the head looks a bit like mould.
Smell: Huge dust, musty cellar, tart rotting lemons, fermentation, musty, vintage notes, really old non-prime lambic
Taste: Mellow musty, rotting cellar as well as sweet cellar, tart lemon, smallest hint of honey, rotting vintage notes, very old Lindemans lambic, end of the bottle has the taste of mould somewhat.
Body: Feels like pure lambic to me. Carbonation has never kickstarted here, which occasionally does happen after a long period of time with loerik's.
Overall: Old, possibly too old with these hardcore notes but still very, very enjoyable lambic. High quality old Lindemans lambic overall, a great drink. Second best Lindemans pure lambic I have had – second to only a phenomenal sample of young Lindemans I once had. Not worth a fortune to track down or anything but certainly enjoyable if you get the opportunity to try this one.
★
1,045 characters
3.89
/5
rDev
-6.9%
look: 3 | smell: 4 | taste: 4 | feel: 3.5 | overall: 4
Bottle pour at Woodshop 7 held at Beachwood BBQ & Brewing in Long Beach, CA.
1996 vintage.
Pours a slightly hazy yellow-orange with a foamy beige head that settles to an oily film on top of the beer. No lacing on this one. Smell is of grain, funk, must, cork, and wood. Taste is much the same but the funkiness in the flavor is not as much as in the smell. This beer has a lower level of carbonation with a slightly crisp mouthfeel. Overall, this is a good beer as it stands but it definitely shows its age with certain aromas and flavors I am picking up.
★
559 characters

4
/5
rDev
-4.3%
look: 4 | smell: 4 | taste: 4 | feel: 4 | overall: 4
Pour is a golden apple juice color with a creamy off white head. The nose has a faint dusty brett note, some apple juice like aromas and sweet apricot with a bit of syrup in the nose. The taste has dusty cob webb, light cellar musk, very juicy and a bit syrupy and sticky. Apricot, peach, rather sour in the finish. Fruits are tight and bright, light body, soft on the tongue, gentle carbonation, semi dry and puckering sourness.
★
429 characters

4.27
/5
rDev
+2.2%
look: 4 | smell: 4.5 | taste: 4 | feel: 4.5 | overall: 4.5
1996 vintage shared by Masterski. Thanks!
Appearance: Pours a hazy golden-amber, nearly still, but there is a touch of carbonation.
Smell: Heavy on the wet wood and acidity. Barnyard, mushroom and mint. Plenty funky and acidic smelling, has a distinct aged lambic mustiness that makes me think of old damp basement.
Taste/mouthfeel: Very sharp and sour palate. Acidic and intensely tannic. Wet wood, lemons, mint. Very mild carbonation, just a slight tingle on the palate. Finishes with heavy oak and acid. This has aged very well.
★
534 characters

4.22
/5
rDev
+1%
look: 4 | smell: 4.5 | taste: 4 | feel: 4 | overall: 4.5
Thanks to Alex for this one. Shared at my 30th Birthday Party.
1996 Vintage 750ml bottle.
A - Pours a mirky/hazy yellow, quick fizzy white head which vanishes quickly, spotty lacing, thin whispy cap.
S - An excellent funky/sour/tart note, hay, slight cheese, some fruity notes as well. Very funky and holding up wonderfully.
T - One of the best 1990's beers I've ever had, period. Funky fruit notes, excellent amount of tartness, not overly sweet nor sour, just right.
M - Light body, light carbonation, dry finish.
O - Like I previously said, one of the best 1990's beers I've had. It's really held up well and is very much enjoyable. Doubt I'll ever get to try this one again, but who knows. Thanks, Alex!
★
714 characters

4.19
/5
rDev
+0.2%
look: 3.5 | smell: 4.5 | taste: 4 | feel: 4 | overall: 4.5
Bottle from 1996 shared at Sean's 30th Birthday Extravaganza.
A - Straw colored beer with a slight bit of white head that left some spots on the side.
S - Nice barnyard funk with some horseblanket an and mild fruit notes. Smells pretty inviting.
T - After checking out the other reviews, seems that this one was a stellar vintage, and I'm guessing the fact it spent 15 years properly cellared didn't hurt either. Great blend of funk, tartness, horseblanket, and barnyard. Great stuff.
M - Soft carbonation, medium bodied, dry finish.
O - Great beer, great vintage, got some more of this at the party.
★
605 characters

3.83
/5
rDev
-8.4%
look: 4 | smell: 3.5 | taste: 4 | feel: 3.5 | overall: 4
2000 bottle vintage at De Heeren van Liedekercke; July 2010
An extremely aggressive pour by Joost produce a nice, stable, 1-finger thick, pale-tan tinged head. The beer is brilliantly clear and has a honey / pale-amber color. The aroma smells fruity with notes of apple and is somewhat sweet smelling. There is also some oxidation character here that perhaps brings our a touch of nuttiness. The nose is rounded out by funky Lambic notes of woody mushrooms, a light urea character as well as a typical mustiness.
The beer is drier tasting than the aroma would have suggested. It has a soft tartness to it and is actually a fairly soft Lambic overall. Much of the carbonation never really took hold in this beer; the texture is quite a bit thinner than it would be if there was more effervescence. This is nice and woody tasting it also has flavors of lightly funkified mushroom, musky-sweaty goat character and a spicy acetic backbone lightly spritzes the finish and even lingers on a bit in the palate. A light sweetness comes out a bit more as the beer warms in my glass. Both the acetic character and the oxidation bring out a fruity, apple-cider like note in the flavor.
This is definitely nice, but somehow it is not as good as I was hoping. It could use less acetic acid, the oxidation seems to dull it a bit, even though light and can be a touch distracting in the notes it brings to this beer. Still at the end of the day, I am definitely enjoying this beer.
★
1,468 characters

4.51
/5
rDev
+7.9%
look: 3.5 | smell: 5 | taste: 4.5 | feel: 4 | overall: 4.5
This is the 1996 bottle pictured - one of the 1042 that showed up at Systembolaget about tens years later. Thanks to bosse for this awesome, previously unheard of, brew. Served in a tulip-shaped taster at the RBWG - gave myself a hefty pour because I deserve it.
A - Pours with some big bubbles that dissipate to a thin ring. Looks like lambic, which isn't surprising seeing as this was Cuvee Rene that didn't carbonate. There's actually some spotty lace that remains that was a bit of a surprise. Hazy golden, apricot color.
S - Wow! I would have been convinced this was a fruit lambic if I hadn't know better. Lots of berry tartness is the first obvious note, followed by funky barnyard and hay, light acetic acid, and a delightful hint of mint. Wonderfully potent, balanced, and delicious-smelling.
T - The taste is more on the sour side, with a heft doses of hay and grass. Reminds me a little of the Cantillon Cuvee du van 89. It's not quite as amazing as the smell, but it was still excellent. Sour apples and lemons balanced by some light pale malts and sweet bretty funk.
M - This one was a little watery, and was obviously low in carbonation. Initially sticky, but then dry in the finish with some residual candy & cottonmouth feelings.
D - This was a wonderful treat. The acidity got a little intense by the end of my pour, raising doubts about consuming an entire bottle on my own, but otherwise this was easily and enjoyable consumed. Too bad I'll probably never get the pleasure to have it again.
★
1,514 characters
Lindemans Oude Lambik (Loerik) from Brouwerij Lindemans
-
out of
100
based on
8
ratings.