Lindemans Framboise
| Brouwerij Lindemans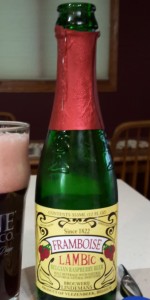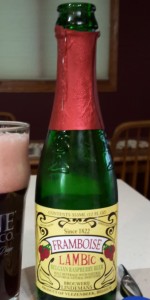 BEER INFO
Brewed by:
Brouwerij Lindemans
Belgium
lindemans.be
Style:
Lambic - Fruit
Alcohol by volume (ABV):
2.50%
Availability:
Year-round
Notes / Commercial Description:
2.5-4.0% ABV
Added by Todd on 11-01-2000
HISTOGRAM
Ratings: 2,864 | Reviews: 1,060
4.4
/5
rDev
+13.4%
look: 4 | smell: 4 | taste: 5 | feel: 4 | overall: 4
I had this lambic to round out my dining experience at a local beer bar/restaurant. I found it quite pleasant indeed - very nice fruit flavor, but not cloying as some can be. Mouth was was good too - did not feel like drinking syrup. Highly recommended as a "dessert beer" if such a category exists.
299 characters
3.3
/5
rDev
-14.9%
look: 4 | smell: 4 | taste: 3 | feel: 3 | overall: 3
I agree with Elgaupo this isn't beer as far as I am concerened. It's gonna be rated high by me, but more as a refreshing kool aid type drink..NOT BEER. It's very colorful and smells great but hey I can drink a cheery soda if i want that.............CHEERS
256 characters
4.19
/5
rDev
+8%
look: 4 | smell: 5 | taste: 4 | feel: 3.5 | overall: 4
very fruity and loaded with tingling carbonation. it is definitely not a mock lambic that is really a wheat beer. it is very flavorful and enjoyable. not a beer, but i can see myself having a lambic from time to time.
217 characters
4
/5
rDev
+3.1%
look: 4 | smell: 4 | taste: 4 | feel: 4 | overall: 4
First had this one at the Orlando Beer festival last November. I have since bought some bottles. First of all, hard to call it a beer, more of a sparkling wine, maybe. Nice reddish color, and bit bubbly reddish head. Rasberries sure enough hit your nose. Tasted very smooth and very fruity. Slips down fairly easy, nice taste and feel to it.
The ladies will like it :)
371 characters
4
/5
rDev
+3.1%
look: 4 | smell: 4 | taste: 4 | feel: 4 | overall: 4
Well I agree with those that have difficulty classifying it as a beer. After having removed the cork and smell the aroma, it comes across as a cross between a beer and a dessert wine. Has a good color and aroma. A different drink to have that I would recommend like some wines as an after dinner drink.
305 characters
3.92
/5
rDev
+1%
look: 4 | smell: 4.5 | taste: 4 | feel: 3 | overall: 3.5
Color and smell are excellent. It tastes quite good. Remember to handle the bottle kindly and don't try to get every last-drop out, you'll end up pouring the sediment and making it a bit too bitter at times.
Great for female company. ;-)
241 characters
3.54
/5
rDev
-8.8%
look: 3 | smell: 4 | taste: 3 | feel: 4 | overall: 4
Bright raspberry in color,true in the nose with a slight sourness.Not a classic belgian but a good drinker.Makes your mouth water,nice sweet raspberrys with a pleasent tart finish.
180 characters
4.24
/5
rDev
+9.3%
look: 4 | smell: 5 | taste: 4 | feel: 4 | overall: 4
The first thing that hits you after getting through the beer's cork is the strong smell of raspberries. The smell itself is intoxicating. This beer is very light with a very fruity and slightly sugary character. Nice raspberry purple/red color. Definitely not a beer for every occasion but a good aperitif.
310 characters
4.27
/5
rDev
+10.1%
look: 4 | smell: 4.5 | taste: 4 | feel: 4.5 | overall: 4.5
I was always skeptical of fruit beers until I had this. At first it looked like carbonated grape juice until the aroma hit my nose. My first taste was one of suprise and delight.This beer actually is really really good. I would not drink this everyday but for an appertif it is perfect.
287 characters

2.65
/5
rDev
-31.7%
look: 3 | smell: 3 | taste: 2.5 | feel: 2.5 | overall: 2.5
Cool cap/cork combination. Pours like sparkling wine, with the same head. To me, at first this tastes like carbonated raspberry cough syrup. As it warms up, and I get used to it, its better. Its aroma is deep, very earthy, raspberry, that carries through to its taste. Absolutely not to my taste, but I think that's me and not the beer, and I've tweaked the numbers accordingly.
382 characters
4.01
/5
rDev
+3.4%
look: 5 | smell: 4 | taste: 4 | feel: 3.5 | overall: 4
I had this on draft at a tavern in Atlanta and it tastes more like what I would imagine a rasberry cider would taste like. There is very little of the typical beer flavor here. Maybe it's because I had it on draft, but I experienced little of the bitterness or bad smells that I have heard in complaints about this beer and other lambics. You've got to go into this beer with an open mind or it's going to catch you off-guard. Still, not as good as the La Trappe Trappist Ale I had in the same sitting.
502 characters
3.8
/5
rDev
-2.1%
look: 4 | smell: 4 | taste: 3.5 | feel: 4 | overall: 4
Wow...what the hell, holy raspberries batman, it smells like my Grandmom just came over with a bucket of raspberries. ( which she really does). A very good beer of this style. Very drinkable. Not really my personal taste but I can definately appreciate this. I could never drink this brew everyday, but cool change of pace. Once or twice a year sounds about right. Overall a very cool brew.
390 characters
3.5
/5
rDev
-9.8%
look: 4 | smell: 4 | taste: 3 | feel: 3 | overall: 4
Nice balance between sweet and tart, but the raspberry flavor was so overwhelming that I could not get much sense of what else might be going on with the underlying malt. Not that I'm complaining that a raspberry lambic tasted too much of raspberries, but I would have liked a little more dimension.
300 characters
3.55
/5
rDev
-8.5%
look: 3.5 | smell: 3.5 | taste: 3.5 | feel: 4 | overall: 3.5
Presentation: Corked, capped and foiled in a sleek mini 12 oz magnum. No freshness date though most lambics have an extended shelf life.
Appearance: Deep rose in colour with a pinkish lace which stays for the duration.
Smell: Delicate and elegant ... lots of juicy raspberries in the nose. Syrupy and tart at the same time.
Taste: Crisp with a champagne like smoothness that cradles a effervescent body. Fresh raspberry juice like a Jolly-rancher or sweet tart ... very fruity with very vague beer like characteristics. Undertones of barnyard, horse blanket and apple peel flavours get masked much by the acidity. Finishes quite clean ... little in the after taste.
Notes: Very aromatic with lots of sweet tart fruit both in the nose and on the palate. Addictively good if you like syurpy fruit flavours ... a beer I would have at a morning brunch.
860 characters
Lindemans Framboise from Brouwerij Lindemans
Beer rating:
3.88
out of
5
with
2,864
ratings