Crabby Larry's Brew Pub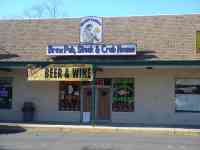 PLACE INFO
Type:
Brewery, Eatery
237 West Butler Avenue
Chalfont
,
Pennsylvania
, 18914
United States
(215) 822-8788
// CLOSED //
Notes:
No notes at this time.
Added by NeroFiddled
Ratings: 13 | Reviews: 12
Reviews by TheChauffeur1:

2.88
/5
rDev
-18.9%
vibe: 2 | quality: 3 | service: 3 | selection: 3
This joint is located in a very old strip mall of off 202. Stopped by on our way to river horse and triumph breweries. You enter through wood covered glass doors. Not to impressive. Upon entering you know this is a restaurant first and a brewery maybe third. The old brewery Owen is gone and Larry is doing this duty now. He was cool and talkative. We were told upon sitting at the bar that they did not serve lunch. I found that funny since I just wanted to try some beer. You will think you are in your grandmas diner. That said the beer was not bad and the Amber was good. If you are into the geek scene stay away. But if you would like a good brew it is worth a taste. The food they were cooking that I could not have did smell excellent. Later
748 characters
More User Reviews:
4.18
/5
rDev
+17.7%
vibe: 4 | quality: 4 | service: 4 | selection: 4.5 | food: 4.5
Yes, this is a small restaurant, but my wife and I thoroughly enjoyed our evening there. It looks kind of nondescript from the outside, but inside it is a very nicely decorated and well maintained restaurant. I had Dead Man Walkin' IPA and my wife had the Great Pumpkin Ale. The IPA was a strong entry and my wife said her drink was the best pumpkin ale she's ever had. Dogfish Head it's not, but if you live in Central Bucks/Montgomery County area, Dogfish Head is a 2+ hour or longer drive. We are adding this to the list of places we know within an hour's drive of our house where we can get a combination of unique, flavorful (and locally-brewed) beer and good food. The blackened swordfish steak was delicious. We'll be back again.
736 characters

4.05
/5
rDev
+14.1%
vibe: 3.5 | quality: 3.5 | service: 5 | selection: 4 | food: 4
Don't know why my original review was erased. Anyway me and Mrs. drove up here on a Saturday and arrived right around 6:00. There was only 1 other party there sitting in a booth by the door. Larry walked over and sat us at another booth behind the other party. The tanks sat behind the bar off to your left when you walk in the the double doors. The doors where pretty cool with a painting on them with fish in the ocean. Nice dining area in the back for a larger crowd if needed. A nice looking bar with the beer specials above as well as the specials of seafood for the day.
I ordered the sampler and all were decent but the specials Whiskey Vanilla Smoked Porter and Great Pumpkin ale were very good.
The waitress was very nice and fast about everything.
Maybe not a beer advocate place but does have fresh excellent seafood. Very Enjoyable place and My wife an I will certainly be back.
894 characters
3.61
/5
rDev
+1.7%
vibe: 3.5 | quality: 3 | service: 5 | selection: 3
This review is way past due. Our visit was in February of 08.
Larry was very congenial and chatty about his beers and we got a chance to talk with him about how he operates the brewing and the business and how he and his wife started the business.
We had a 7 beer sampler and thought they all would go well with one or more items on the dinner menu. The beers were all fresh and tasty. While a hard core beer geek might have been disappointed in one or more of these brews, each of them was just fine for a beverage to pair with food on the menu.
548 characters
2.93
/5
rDev
-17.5%
vibe: 2.5 | quality: 2.5 | service: 4 | selection: 2.5 | food: 3
Stopped by here 2 times. The 1st time was for an early dinner on a Saturday. Food was OK and the beer was mediocre. Kinda of reminded me of a restaurant at the Shore. I stopped back by a few months ago on a Saturday for lunch and a beer and they stopped serving lunches. I did grab a beer but felt weird being the only one in there. I regularly drive by when I work in NJ, but really haven't had the urge to stop back by...maybe I will one of these days to see what's going on. There's nothing 'bad' about this place, but there wasn't anything that really stood out either.
573 characters

3.58
/5
rDev
+0.8%
vibe: 3 | quality: 3.5 | service: 3.5 | selection: 4 | food: 3.5
I stopped by here pretty much immediately upon realizing there was a brew pub in my area I hadn't checked out.
I came here with my lady friend for dinner. The place itself seemed to lack zazz. I got a very distinct "bingo hall" feel to the place, like I was too young to be there. I think it was the lowered ceilings that did this the most. There was also a general aged look to things, but nothing that I could put my finger on. The little roof over the bar helped a bit, with a few nautical decorations elsewhere, but over all, I just wasn't feeling it.
The service also gave me the impression that this was clearly a family run organization. There were a few mix ups with seating, but our server was pretty good. Nothing amazing, but everything went smoothly.
The beers here really impressed me. I didn't know what to think with no reviews up, so I was worried. But what I found was some seriously above average brews. I honestly expected crap, but what I got was several shades above homebrew. Most of the summer brews had a distinct fruitiness to them that made them quite enjoyable. There were also quite a few (8 or so) to choose from. There are a lot of local brews that are worse that what you'll find here. Overall, I thought the beer was quite solid, but nothing to write home about. (looking back at the beers I entered, I gave them all a B+)
The food was pretty good too. I had the AK king crab, which was pretty good and the lady had a sampler plate that she didn't care for, although she finished it. From our one experience, there are just better places to get seafood around these parts.
The bottom line is that Crabby Larry's is an above average place to get fresh beer and seafood. If obligations bring you anywhere near, a visit here would be mandatory.
1,780 characters
3.65
/5
rDev
+2.8%
vibe: 3 | quality: 4 | service: 4 | selection: 3 | food: 4
Crabby Larry's sits in an older strip mall in Chalfont, PA.
Upon entry, there is a small fermentation tank to the left, along with 2 larger tanks that may have been used for dairy purposes, or something of the sort at one time...now they house beer, which is always a welcomed site.
The floor is carpeted and there is wood paneling covering most of the walls. The bar area seats about 8 or so and has a nice, gray tile counter top. There are 6 tap handles and a variety of glasses and wines behind the quaint bar. There are also a few swingtop Liter bottles emblazened with a "Crabby Larry's" logo.
The dining room has about 8 tables, or so and is adormed by a large painting that equates to a beach atmosphere. There is also a Marlin on the back wall to keep up with the them of a seafood shack. There other little things that keep up with the motif of the seafood decor including fisherman's rope, landing ties, etc.
I was there on a Saturday at 2 pm and I was the only one in the place. I was greeted by Larry, who showed me the beer list. I was intrigued about one of the seasonals, a "Bourbon-Vanilla Smoked Porter". He quickly changed the homebrew style cornelius keg and served one up. It was good!
I ordered up some popcorn shrimp and they came out a few minutes later. They too were spot on. There seemed to be a few customers come in for fresh seafood takeout while I was there.
The selection of brews was ok(around 6), considering they are handling one beer at a time and brewing once one gets moved into the next tank, which takes a few weeks worth of time. I was surprised to learn that they usually do batches in the range of 155-175 gallons. I asked Larry how much they do at once. I was thinking they were doing maybe 15-30 gallons per batch b/c it was an extract base system but I guess I was off.
Larry and Dani took care of me and they checked up on me quite frequently.
Not a bad price for everything. It was $22 for the shrimp, fries, 2 beers, and a souvenir pint glass. I'll take that deal anyday
2,027 characters
3.9
/5
rDev
+9.9%
vibe: 4 | quality: 3.5 | service: 4 | selection: 4 | food: 4.5
Fairly cold Oct.4th Sat. afternoon... the wife and I were craving some crabs so we decided to hit Crabby Larry's. The outside/parking lot/and facade of the Pub appeared a bit run down looking...but its is what's on the inside that counts.
The place was empty as we entered at 3:40pm. The wife and I both ordered the Alaskan Crab cluster which was served steaming hot...very, very tasty. I was already working on my 3rd Pumkin Ale which was very good as well. I couldn't ask for anything more...Crabs and Pumpkin Ale seemed to go very well together for me. I will likely make this place a once a month stop. As we were leaving the Pub was packed...I suppose it was wise to go earlier and beat the crowd.
704 characters

2.9
/5
rDev
-18.3%
vibe: 2 | quality: 3 | service: 3 | selection: 3 | food: 3
Crabby Larr'ys is a small crab shack in Chalfont. The atmosphere is a joke. This place is shady looking from the outside and even shadier looking once you step inside. This place is truly "strip-mall-crab-shack" as the atmosphere is reminiscent of a shady pizza joint or a re-modeled McDonalds! The quality of the brews was simply average, no real off-flavors to speak of. They have a blonde, an amber, a pale ale, a stout, a "black cherry" stout, and a "raspberry wheat" on tap. The sampler of their main four was OK, but the "black cherry stout" consisted of the man behind the "bar" adding black cherry syrup to their house stout! Lol! Service was OK, with a strange, perhaps slightly slow man serving the drinks, and asking us if we wanted anything else. Selection was OK, but i'd like to see more than the basic pale, amber, stout, line-up. As for food we got an order of fries that was decent, and the total bill for 4 sampler sized beer, 1 pint, and fries was only $11 + tip. This is more of an "Experience" than a brewpub. Check it out *only* if you are passing through Chalfont!
1,087 characters
4.41
/5
rDev
+24.2%
vibe: 4 | quality: 4 | service: 5 | selection: 4.5
Whats better on a cold rainy night to try some new brews in your own backyard? The Irish stout was very flavorable and full bodied . The Amber Ale was crisp and clean and refreshing.
Larry is a decent guy, and Owen is doing a fantastic job.
Check it out if your in the area.
276 characters

2.93
/5
rDev
-17.5%
vibe: 2 | quality: 2.5 | service: 4 | selection: 2.5 | food: 3.5
Crabby Larry's is obviously a restaurant first and a brewpub second. If you go there with this in mind, you'll be ok. The food was enjoyable and I had no qualms with it. The beer was ok but there were problems: They were out of the Belgian Wheat and the Raspberry Wheat. The Summer Blend was good but had to much of a lemon taste. The Amber Ale and Stout were good except that they both finished off with a very sour taste (I wondered if the beer had become contaminated.) The Brown Ale was very good and the Black Cherry Brown Ale was excellent.
Worth a trip if you are in the area.
584 characters
3.4
/5
rDev
-4.2%
vibe: 2 | quality: 3.5 | service: 3 | selection: 4 | food: 4
Crabby Larry's was an established "crab emporium" well before they added a brewery - which they did because it 's a way of serving beer without getting a liquor license in Pennsylvania! Who cares, I say! The food is great and the atmosphere is "strip mall crab shack". Go for the seafood, but be prepared for a wait on weekends. Of course, nowadays you can have a beer while you're waiting. The bad news is that it's an extract system - the good news is that brewer Owen Hutchins is doing an excellent job with what he's got. I liked everything I had, and that's very hard to say at any brewpub! If you don't go expecting the world, you'll be more than happy. Crabs N' beer. It doesn't get much better than that, and the prices are great to boot.
746 characters
Crabby Larry's Brew Pub in Chalfont, PA
3.63
out of
5
based on
23
ratings.