Cuvee McK
| McKenzie Brew House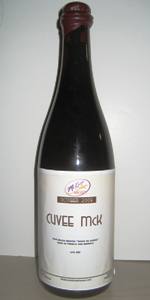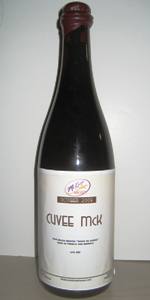 BEER INFO
Brewed by:
McKenzie Brew House
Pennsylvania
,
United States
mckenziebrewhouse.com
Style:
Bière de Garde
Alcohol by volume (ABV):
10.00%
Availability:
Rotating
Notes / Commercial Description:
No notes at this time.
Added by weeare138 on 01-23-2010
HISTOGRAM
Ratings: 10 | Reviews: 8
Reviews by drabmuh:

More User Reviews:
4.74
/5
rDev
+14.5%
look: 4 | smell: 5 | taste: 5 | feel: 4 | overall: 4.5
This is the Biere d'Hiver that's been aged in Chadds Ford Winery barrels for 10 months.
Appears a amber toned brown with a small off-tan cap that slowly fizzles into a gentle collar. Spotty bits of lacing are left around the glass.
Smell is of caramel, raisins, oak, vanilla, black cherries, cocoa, and ripe fruit.
Taste is of the mentioned aromas with a nice dry punch of oak, funk, and vanilla with a smacking of red wine following.
Mouthfeel is medium bodied, lip smacking, and dry with the yeasties, and mild funk backing behind the oaky tannins.
550 characters

4
/5
rDev
-3.4%
look: 4 | smell: 4 | taste: 4 | feel: 4 | overall: 4
Big thanks to yourefragile for sharing this one. Served in a McKenzie cervoise. Nice oak and slight oxidation. Slightly tart with mild cherry notes. Slightly phenolic in the finish. Overall, this held up quite well and was quite interesting to try. I'm always up for an old McKenzie brew, as they haven't done me wrong yet.
323 characters
4.03
/5
rDev
-2.7%
look: 4.5 | smell: 4 | taste: 4 | feel: 4 | overall: 4
I received this from jyoungsbcp and shared it with a few friends tonight.
Pouring a mildly hazy orange, this beer is capped by a beautiful, thick, off-white head with excellent retention and lacing. The nose is excellent. The combination of the yeasty funk with the wine barrel character is excellent, deep and nuanced. Grassy, hay, mild barnyard, mild funk, this smells deep and rich. I do get a touch of oxidation that causes the nose to be just a touch flabby, it could be a little tighter and better knit. Still, excellent stuff. The palate opens nice and rich with a blend of buttery honey and wine barrel with vanilla and fresh oak with a solid barnyard character. The base biere de garde is obviously quite whelmed by this process this beer has been put through. With a little acidity on the palate, I feel this could improve a lot. A little sweet and floral on the finish, this beer is medium in body and has moderate carbonation. An enjoyable beer that I went back to multiple times over the course of the evening.
1,025 characters


4.27
/5
rDev
+3.1%
look: 3.5 | smell: 4 | taste: 4.5 | feel: 4 | overall: 4.5
750ml bottle.
Pours a cloudy orange amber with a small short-lived head that leaves no lacing.
Aroma is very earthy with a combination of grassy notes, lemons, and a good bit of bretty funk. There is a light toasted cracker character in the background with oak, wine and spices.
The taste is sweeter than the aroma with more light fruits like pears and apricots. The lemon zest is still there with Belgian yeast spiciness and the finish of fresh oak and vanilla. Little bit of earthiness but less than aroma.
Mouthfeel is effervescent and bubbly with tons of oak dryness and spices on the palate.
A surprisingly good beer from McKenzie, a spicy biere de garde with a nice wood character. Good stuff.
704 characters

3.58
/5
rDev
-13.5%
look: 4 | smell: 3.5 | taste: 3.5 | feel: 4 | overall: 3.5
750ml bottle from the brewery. Pours a clear honey amber with a really soapy head. Nose is strawberries, red wine, some oak, brett. Quite rich and full in the mouth, but finishes dry with lots of oak and a kind of oceanic saltiness. Pretty balanced, focuses on red fruits, oak, and brett. A bit loose, I would like to see this tighten up and become more sour. Looking back this was kind of minty, and I think it needs time, or will never quite get there.
454 characters
4.67
/5
rDev
+12.8%
look: 4.5 | smell: 5 | taste: 5 | feel: 4 | overall: 4
750 mL bottle, October 2009 on label, maroon wax, poured into a tulip. As mentioned below, this is their Biere d'Hiver aged in Chadds Ford Winery barrels (Pinot Noir?) for 10 months.
Easily removed wax and slow, mild gusher. Pours a hazed mahogany amber color with a off white, slightly pink medium thick head of tiny bubbles that has a surprising amount of lacing and ok retention.
Aroma is very rich and complex, balancing slightly sour and funky farmhouse aromas with dark fruits and sweeter oak and vanilla notes from the barrel. Overall aroma is red wine like, and the earthy funk is nicely balance by the sweet from the oak.
Very high expectations for this after enjoying the other two bottled offerings from their Xmas basket and this does not disappoint. This is the biggest (in ABV and flavor) of the three and has a very strong character from the barrel aging complementing the base beer. The original Biere de Garde provides a spicy, malty backbone with lingering brett like funk and earthy hops in the finish. However, the wine barrels impart a strong dry and vinous punch, oak and vanilla, pleasantly sweet. Mouthfeel is medium bodied with fine carbonation and a tangy, tanniny finish. Alcohol is present throughout without any burning, but makes this a pleasant sipper. Overall, I'm very impressed with these offerings from McKenzie and definitely recommend revisiting this overlooked pub for their saisons, etc.
1,430 characters

4.15
/5
rDev
+0.2%
look: 4 | smell: 4 | taste: 4 | feel: 4.5 | overall: 4.5
Thanks to sleepydave for busting out this rare treat.
Poured into a Foothills signature glass. Cuvee McK forms a golden honey body with a thin white head. Slightly cloudy with no lacing.
The aroma is filled with musty, sweet, malts and light alcohol. Some honey notes and a touch of vinegar linger in the background.
On the tongue, oaky honey notes mix with sweet malts. Slightly sour, a bit acidic and quite dry. Caramel malts and barrel aging. A touch of vinous character, sweet, and again dry.
The body is surprisingly light for the strength, which lets some warming alcohol through. Crisp, very dry and slightly bitter. Almost creamy at times before the crisp dryness sets in.
This brew is quite drinkable, especially for the 10% ABV. The dry finish keeps any sweetness in check and the honey oak notes keeps your hand reaching back for more.
Overall, this is a very interesting beer and the first I've had from the McKenzie Brew House. A good example of the style with great mouthfeel and drinkability. This would be an excellent brew to enjoy on a warm summer evening. Worth seeking out.
1,099 characters

3.92
/5
rDev
-5.3%
look: 3.5 | smell: 4 | taste: 4 | feel: 3.5 | overall: 4
Appearance: nearly a gusher, big amber/ruby head with little lacing. Almost a gusher.
Smell: Very rich, raisins, figs, prunes, hay, barnyard, oak
Taste: a bit less intense than the smell, but still very rich. Raisins, figs, prunes, faint booze, caramel
Mouthfeel - a hair under medium bodied
Drinkability: Goes down very easy
329 characters
Cuvee McK from McKenzie Brew House
Beer rating:
4.14
out of
5
with
10
ratings