St. Romain Strong

McKenzie Brew House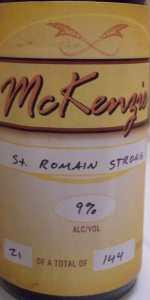 Rate It
Beer Geek Stats
| Print Shelf Talker
Style:

ABV:

9%

Score:

89

Avg:

4.04

| pDev:

16.58%

Reviews:

8

Ratings:

From:

Avail:

Retired (no longer brewed)

Wants

Gots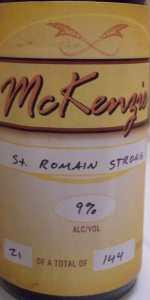 Notes:
Reviews by weeare138:
weeare138 from Pennsylvania
4.37
/5
rDev
+8.2%
look: 4 | smell: 4.5 | taste: 4.5 | feel: 4.5 | overall: 4
Thanks to hopdog for providing this. Bottle # 67/144...
Appears a deep amber with a fluffy, off white head that slowly fades into a soapy, thick collar. Lots of sticky lacing is left around the glass.
Smell is of vanilla, caramel, brown sugar, wild brett, leather, funk, red wine, and cream.
Taste is of the aromas with a ripe fruit, funky brettiness, vanilla, and caramel.
Mouthfeel is medium-full bodied, warming, sweet tart, fizzy, smooth, and semi-dry.
Dec 29, 2010
More User Reviews:

JAXSON from Pennsylvania
3.86
/5
rDev
-4.5%
look: 3 | smell: 4.5 | taste: 4 | feel: 3 | overall: 3.5
From a 750ml bottle. Pours a medium amber red with no head and very few internal bubbles. Nose is sweet candied apples, toffee, fairly rich malt, a touch of sweet rum, and some grain underneath. Good and expressive. Fairly rich, syrupy palate. Vanilla and sweet fruits on the front, some boozy rum elements, moderate hop bitterness, and some lightly sour wine barrel. Plum-like vinous nature. Though the palate is fairly rich it suffers from the lack of carbonation. Could be an interesting one to cellar as it needs to settle down, and some kind of fermentation can hopefully set in. As it warms it improves a bit, feels more rich and sweet. This is a slow sipper.
Dec 07, 2010
yourefragile from District of Columbia
4.07
/5
rDev
+0.7%
look: 4 | smell: 4.5 | taste: 4 | feel: 3.5 | overall: 4
Unlabeled and unwaxed 750 mL bottle with handwritten St. Romain Strong sticker, poured multiple times into a snifter. Not much info on this yet, but from Ryan's blog: "a Barleywine that spent a year and half in wine barrels and will be available in bottles this fall". Exciting.
Hard, vigorous pour produces short lasting big clear bubbles that immediately fade away and leave no lacing, not particularly surprising for the style. Color is a dark, radiant clear ruby-amber with golden highlights around the edges.
Aroma is fairly strong and nuanced, initially dominated by the sweet malts of the base barleywine, caramel and toffee. Very little hop or citrus presence, not surprising given the aging this beer has gone through. There is also a strong vinous, oaky and vanilla presence that blends nicely with the barleywine aromas.
The flavor of this beer is pure candy; a smooth blend of a robust, complex malty, aged barleywine with strong tawny, vanilla, oaky flavors from the barrel aging. Very sweet throughout, with a faint trace of dry hop bitterness and funk in the finish. Layers of dark fruits, plums, grapes, raisins, ripe apples and honey. The finish has more characteristics from the wine barrel aging and next to none alcohol presence.
Mouthfeel is the weak link in this beer right now. Not surprising given the pour, but there is next to no carbonation. Otherwise the body is thick and syrupy, coating the palate with every sip.
Overall, this is deceptively easy sipping, complex barrel aged barleywine. The flavor doesn't need any more aging to balance, but a little more time bottle conditioning in the cellar might escalate this beer from good to great. Regardless, another unique, interesting beer from McKenzie.
Sep 19, 2010
DefenCorps from Oregon
4.37
/5
rDev
+8.2%
look: 4 | smell: 4.5 | taste: 4.5 | feel: 4.5 | overall: 4
Another beer that Mike and Nathan shared last night. Thanks, guys!
Pouring pretty much still, this is a caramel-colored beer, clear and without much of a head. The nose is beautiful. Honey, caramel, toffee, a little funk, a rich, vinous character, mildly Chardonnay-like, a little smooth butteriness (closer to butterscotch), this is rich and complex. The palate opens with honey and funk, very well integrated, along with some caramel and brown sugar. Again, a little buttery chardonnay vinous character is present. Sweet on the finish with the vinous character lingering, this full bodied beer has low carbonation. A beautiful sipper.
Dec 22, 2010
glid02 from Georgia
3.99
/5
rDev
-1.2%
look: 3.5 | smell: 4.5 | taste: 4 | feel: 3 | overall: 4
Bottle shared by Grant – much obliged! I can't remember the bottle number but the total count was around 140 or 150 if memory serves correctly (144 according to the BA photo).
Pours a hazy copper color with a very thin layer of bubbles on top. The head dissipates quickly into a very thin ring around the glass leaving no lacing.
Smells of smooth caramel malts with hints of toffee and stronger hints of red grapes and oak.
Tastes similar to how it smells, though not as complex. Light caramel malt flavors kick things off and are joined quickly by heavier toffee flavors. Midway through the sip hints of vanilla come into play. Slight vinous flavors work their way into things near the end of the sip before fading out into a mildly bitter ending.
Mouthfeel is not so great. It's got a nice enough thickness however the carbonation is almost non-existent.
Drinkability is good. I didn't have a problem finishing my glass and could have another.
Overall this was a solid beer however it would have benefitted from a bit less sweetness and a lot more carbonation. Worth a shot if you can get your hands on it.
Apr 18, 2011


Thorpe429 from Illinois
3.96
/5
rDev
-2%
look: 2.5 | smell: 4 | taste: 4 | feel: 4.5 | overall: 4
Bottle number 9 of 144 courtesy of yourefragile at last night's barrel-aged barleywine tasting. Served in a SAVOR snifter.
Disclaimer: this bottle was flat but we force-carbed it to a low volume. Bottle is reviewed based on that, though the flat version didn't suffer too much against the slightly-carbed version.
Pours a smooth toffee color with virtually nothing other than a few bubbles that pop up. No head to retain, nor was there any lacing.
The nose brought forward a nice level of complexity with notes of oak and vanilla in the background, paired with a good dosing of caramel. Atop all of that is a slight sour twang and quite a bit of red-wine character. The flavor keeps things going with a prominent red-grape bite plus oak and very light acidity. Some tannins.
The oak and red wine add beautifully to the feel of what seems like would otherwise be a pretty decent barleywine. Like the experimentation here. Glad to have tried this.
Aug 21, 2011
stakem from Pennsylvania
4.37
/5
rDev
+8.2%
look: 4 | smell: 4.5 | taste: 4.5 | feel: 3.5 | overall: 4.5
Bottle #21 shared with wishuwerebeer yesterday 12/27/10.
Poured into a goblet, this brew appears a perfectly clear ruby orange color with almost a greenness about it along the edges when held to the light. Subsequent pours produce a brew that gets increasingly hazed. A few very large bubbles sit across the top of this brew but it is lacking any signs of a typical head. This is honestly one sexy looking beer even without the expected cap of foam. It leaves faint spotty particles clinging along the glass.
The aroma of this brew is brett'd with a vinous touch of grapes and sweetness. It is both funky and cheesy. There is a smooth vanilla sweetness across the back of this brew that indicates a touch of oxidation that takes this brew off in another direction but still quite enjoyable.
The taste of this brew is tangy with a flavor of wet leathery brett. There is a bold presence of alcohol heat and flavor. It tastes of oak with herbal hops that linger in the mouth with a lasting dryness from the woodsy character of the oak and a hint of oxidation. As it warms, it increases with a tad bit of sweetness that has a vanilla essence to it and fusel alcohol.
This is a medium bodied offering that is lacking carbonation. The carbonation that is there is very faint but surprisingly the lack of carbonation did not bother me or take away from this brews drinkability. The high alcohol level coupled with the dry oak and brett was a very different and enjoyable experience.
Dec 29, 2010

cpetrone84 from Pennsylvania
3.35
/5
rDev
-17.1%
look: 3 | smell: 3 | taste: 3.5 | feel: 3.5 | overall: 3.5
A-pours a hazy amber orange with a still body and a complete lack of head.
S-the nose is of oak and light berry fruits. there are vinous aspects in there with some soapy hops in the back.
T-flavors are oak and red wine up front, vinous aspects with sweet caramel malts and light notes of bitterness as a lingering sugary malt hangs around in the finish.
M-meduim body and creamy on the mouth with an aggressive carbonation and crisp bite in the finish.
D-different and interesting, barrel imparts a lot of flavors in this adding oak and vinous aspects. there is a good bit of sugary sticky malts in there to balance.
Feb 17, 2011

St. Romain Strong from McKenzie Brew House
Beer rating:
89
out of
100
with
11
ratings