Endless Summer Ale
| Old Forge Brewing Company
BA SCORE
80
good
15
Reviews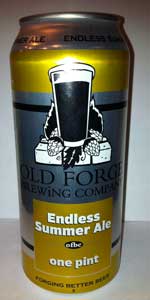 BEER INFO
Brewed by:
Old Forge Brewing Company
Pennsylvania
,
United States
oldforgebrewingcompany.com
Style:
American Pale Wheat Ale
Alcohol by volume (ABV):
4.80%
Availability:
Summer
Notes / Commercial Description:
No notes at this time.
Added by SierraGS on 12-09-2008
This beer is retired; no longer brewed.
Reviews: 15 | Ratings: 57

4.1
/5
rDev
+22.8%
look: 4 | smell: 4 | taste: 4 | feel: 5 | overall: 4
I had a mis-start with The CANQuest (TM) as I wanted to jump back into it in earnest and then mid-marking period grades came due and I had to figure out who was going on the Potential Senior Failure List, which trumped all, sadly.
It is a long weekend, I have no plans and I am emptying the CAN backlog, so if such news is of interest to you, please stand by.
From the CAN: "We strive to honor personal craftsmanship. Our handcrafted beer is made in small batches to ensure quality and peak freshness. Brewed and [CAN]ned by old Forge Brewing Company, Danville, PA."; "Endless Summer Ale is a light-bodied, low-hopped, pale golden ale, with some wheat and lightly toasted malts to round out the flavor."; "Forging better beer".
The Crack & Glug came off without any setbacks, but the fizzy finger of bone-white head showed no interest in hanging around and disappeared like the dodo. Color was a VERY pale yellow with NE-quality clarity. I CAN understand the comparisons to Bud when a beer is this pale. Nose was interesting with a lemony tartness backed up by bite that wheat CAN impart. Mouthfeel was very soft, almost like it was from a cask and the taste was nothing like Budweiser. Sorry. Instead, it had a light-lemon citrusiness along with a wheat tang. This is going to be phenomenal over the course of the upcoming summer. Finish was slightly dry and very satisfying. Another win for the home (state) team!
1,418 characters

4
/5
rDev
+19.8%
look: 4 | smell: 4 | taste: 4 | feel: 4 | overall: 4
on tap at the brewpub.
A-Pours a hazy golden, with a nice white head and spotty lacing.
S-Nice. Biscuit malt with some lemon and grassy hop notes.
T-Bits of lemon blend nicely with a bready malt graininess.
M-Light bodied and refreshing.
D-A very nice summer beer.
HV
273 characters

3.8
/5
rDev
+13.8%
look: 3.5 | smell: 3.5 | taste: 4 | feel: 3.5 | overall: 4
A-Bright, slightly hazy golden yellow with a thin white ring that left minimal lace.
S-Light toasted biscuit malt with a touch of lemon zest zing. All in all quite light.
T-Acidic biscuit with a surprisingly strong ending bitterness. A lemon like zing at the end. A fairly impressive flavourful brew for being so light.
M-Light bodied with a nice lingeing bitterness from the hops and lemon zest zing.
D-Better than expected. An easy drinking "light" pounder. This one will go down well come summertime.
507 characters
3.76
/5
rDev
+12.6%
look: 4 | smell: 3 | taste: 4 | feel: 4 | overall: 4
On tap at Old Forge on 12/26/08.
A - Clear golden body with a slight haze and lots of active carbonation. Thin patchy white head retained fairly well and left a good bit of lacing.
S - Subtle nose with scant traces of lemon zest, some grassy hops and a faint biscuity malt character.
T - This ale is similar to a pilsner in flavor, with a grassy hop profile, biscuity malt backbone and a touch of lemon.
M - Medium body with vigorous carbonation and oily texture. Finishes with a crisp hop bite and moderate dryness on the palate.
D - This ale was quite a bit hoppier than I expected, and seemed to drink more like a pilsner than an ale. This was my favorite of their initial line-up.
691 characters
3.73
/5
rDev
+11.7%
look: 4 | smell: 3.5 | taste: 3.5 | feel: 4.5 | overall: 4
Draft offering at Old Forge. The brew appears a pale straw yellow color with a fizzy white cap. As the cap fades, it leaves a webby lace pattern sticking to the glass.
The aroma is fruity with a hint of grass. A pleasant clean noble hop character is evident but not dominating, it provides a pleasant nuance.
The taste is crisp with that noble hop flavor making itself evident just like in the aromatics. It produces a minor grassy to earthy bitterness.
This brew is crisp with a snappy level of carbonation. It is light bodied and downright poundable. This isnt something I would get thirsty for all the time but it would make for an awesome yardwork brew or a stepping stone brew for people looking to make the transition from macro.
738 characters

3.69
/5
rDev
+10.5%
look: 3 | smell: 4 | taste: 3.5 | feel: 3.5 | overall: 4
A- Light yellow in color medium head.
S- Smell of a wheat and hops.
T- Light settle taste. Medium in hop and wheat with a hint of toasted malt.
M- Once again feel light refreshing on the pallet. Not to dry.
D- Not a bad beer. A summer ale for sure on a hot summer day. Would drink again.
291 characters
3.68
/5
rDev
+10.2%
look: 3.5 | smell: 3 | taste: 4 | feel: 3.5 | overall: 4
Poured into a fluted tulip glass, color is transparent, pretty clear gold, very light carbonation, head presents thick and frothy but dissipates to light cover with very slight clinging.
Smell is very mild, underdone notes of some pale malt with some wheat and biscuit, but very weak.
Flavor is pretty solid after a weak nose, nice mix of malt and wheat flavors but the biscuit/wheat mix holds through, some feint hop bitterness. A very pleasant mix of easy drinking flavors.
Mouthfeel is a little drying to the tongue, but overall the light sweetness plays well with this quality. A little lingering sweetness could make this very pleasant.
Overall, I like this style of brew and this one is pretty solid from a can. Some slightly lingering qualities in the mouthfeel but a pretty tasty easy drinking brew.
Quick edit: as it warms theres a nice creaminess that develops, which aided in the flavor and mouthfeel.
918 characters
3.55
/5
rDev
+6.3%
look: 3.5 | smell: 3.5 | taste: 3.5 | feel: 4 | overall: 3.5
Got this one as part of a mystery locals box from leftmindedrighty. Poured from pint can to dimpled mug:
Pours a clear, pale yellow with an expanding white, loose head. Pretty good lacing.
The nose is soft and sweet - subtle raspberry, corn, sweet malts, very light.
Kind of reminds me of a thickened up American macro - I definitely do get a pleasant raspberry flavor though. I'm not sure where this is coming from but it's nice.
Super easy drinking. This would be a great go-to session on a hot day.
505 characters
3.53
/5
rDev
+5.7%
look: 4 | smell: 3.5 | taste: 3.5 | feel: 3.5 | overall: 3.5
A thank you to woodychandler for as he cantinues to provide me with canned beers. Poured from a 16 oz. can. Has a light golden color with a 1/2 inch head. Smell is of malt, wheat. Taste is crisp, wheat, some malts and lemon, refreshing. Feels medium bodied in the mouth and overall is an easy drinking summertime beer.
318 characters

3.46
/5
rDev
+3.6%
look: 3.75 | smell: 3.25 | taste: 3.5 | feel: 3.5 | overall: 3.5
A: A glass consuming pearl white head is a four fingers deep upon the pour, soapy, porous, with a good rate of retention. Soapy lashes adore the glass for lacing. Within a strong, and steady rise of carbonation. Lemon peel coloring.
S: Light aroma of musky hay, and dry grains.
T: Sweet oranges, sweetly toasted grains, lemonade and lime. There is some fruitiness, sweet canned pears and honey dew. There is a nice grain base, dry, hay, sweet like, with some wheat crackers and a bit of wet citrus and straw coming on the finish. Decent sharp flavor aspect.
M: Good vibrations of dancing carbonation on the tongue. Light bodied.
O: Overall easy drinking, summer treat, sweet and lemony gentle dry grain finish.
714 characters
3.35
/5
rDev
+0.3%
look: 3 | smell: 3 | taste: 3.5 | feel: 3.5 | overall: 3.5
Thanks to woodychandler for this one. Poured into 9oz Pilsener glass. Poured a lightly hazy golden yellow color with just a thin cap of white head that quickly dissipated. The beer had very carbonation and nice bubbles floated up throughout the life of the beer.
The aroma featured nice malt and wheat upfront, some tangy yeast throughout and just a slight hop zing in the background. The flavors were pretty well the same, with the addition of a nice tartness that gave a nice counterpoint to the grains.
The body was smooth and crisp. Drinkability was very good, the 16oz can was gone far too quickly. Overall, a nice brew. A decent take on the style. Worth trying if you see it.
683 characters
3.3
/5
rDev
-1.2%
look: 3 | smell: 3 | taste: 3 | feel: 4 | overall: 4
Crystal clear golden hue but foamy white head. Pretty bland nose.
Very kolsch like. Light by consistent and smooth creamy body. Toasted buttery malts, light underlying hop bitterness to balance. Drinks like water. Light but flavors are good all around, could easily suck a lot of these Down. Boring but pretty good.
316 characters
2.76
/5
rDev
-17.4%
look: 3 | smell: 2 | taste: 3 | feel: 3 | overall: 3
Poured into a pint glass.
A: Pours straw with 3 fingers of white head that dissipates slowly. Extremely low carbonation and excellent clarity.
N: Has a really weak nose. I can only sense a little lemony citrus.
T: Lemony wheat and pilsner malts.
M: Medium bodied, crisp, clean and refreshing.
O: Crisp, refreshing and mild. The flavors are very weak. This would make a great substitute for water.
401 characters

2.62
/5
rDev
-21.6%
look: 3.75 | smell: 3.5 | taste: 1.75 | feel: 3.5 | overall: 2.5
Poured from can into a pint glass
Appearance – Pours a light golden color with a big white head. Tons of bubbles are seen flowing up from the bottle of the glass while the head fades quite rapidly to leave only a very light level of lacing.
Smell – The aroma is heavy of some toasted malt and a grainy wheat smell. With these aromas are some bready notes mixed with a light caramel sweetness and lemon citrus hop smell.
Taste – The taste starts with a bready and grainy wheat base. As the taste advances it gets more tart with some lemon and also starts to become somewhat off as some stale wheat hits the mouth. Toward the end the taste, the flavors sour more with floral and more citrus hop coming to the tongue and when combined with a somewhat cardboardy taste, it all leaves a rather unpleasant taste to be left on the tongue.
Mouthfeel – The body of the beer is on the thinner to medium side in terms of creaminess with a carbonation level that is rather average. Fairly good for the style and makes it more drinkable.
Overall – The feel, aroma and look are all fairly nice, but the taste is just off pretty much from the start. Not a beer I would recommend.
1,180 characters
1.45
/5
rDev
-56.6%
look: 3.5 | smell: 1 | taste: 1.5 | feel: 2 | overall: 1
A- Looks like a pretty golden yellow pale ale
S- smells like Budweiser
T- just like Budweiser
M- medium
Overall - When i had this beer i was hopping it was going to be a beer with some lemon flavoring and some crisp taste .Instead i got Budweiser. If you feel you absolutely most buy this beer do yourself a favor and pick up some Budweiser at least your wallet will thank you .
383 characters
Endless Summer Ale from Old Forge Brewing Company
3.34
out of
5
based on
57
ratings.