Falling Down Brown Ale
| Old Forge Brewing Company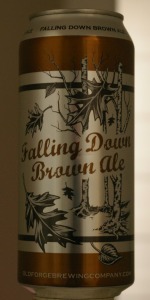 BEER INFO
Brewed by:
Old Forge Brewing Company
Pennsylvania
,
United States
oldforgebrewingcompany.com
Style:
American Brown Ale
Alcohol by volume (ABV):
6.50%
Availability:
Rotating
Notes / Commercial Description:
No notes at this time.
Added by Kegatron on 05-03-2011
Reviews: 7 | Ratings: 29
3.93
/5
rDev
+10.7%
look: 3.75 | smell: 3.75 | taste: 4 | feel: 4 | overall: 4
Poured into a tall glass: color is amber, head is light tan, fine bubble, good lacing .
Smell is caramel, toast, light toffee then quick takeover from the minty, earthy hops.
Taste has more dominant caramel flavor with toast, biscuit, chocolate and some toffee; hops are a little earthy and minty - I really like the description of the brew as a peppermint patty - solid sweetness and earthy, minty hops
Mouthfeel is sharp/bitter for a brown ale - but knowing it has a high hopping level it seems appropriate.
Overall - a good brew that leans towards amber ale status, but probably meets brown ale criteria (think of a cross between Troegs hopback and DF indian brown).
674 characters
2.49
/5
rDev
-29.9%
look: 2.75 | smell: 2.5 | taste: 2.5 | feel: 2.25 | overall: 2.5
Pours a murky reddish brown color with a white head that recedes to a ring. The aroma smells of stale hops, and some nondescript malt.
The flavor is a clash of hop bitterness and brown malt, ending with a hop bite, some bitterness, and a bit of cardboard. Not clean, not very tasty, pretty muddled.
Light body and well carbonated but harsh to drink and not good. Not very good.
382 characters
3.63
/5
rDev
+2.3%
look: 3.75 | smell: 3.75 | taste: 3.5 | feel: 3.5 | overall: 3.75
A - Very hazy deep brown color with a 1/4 inch of head that sticks around a bit. No sediment.
S - Good hop notes, some brown malts and Carmel malts. Toasty bread too.
T - Decent hop profile slightly bitter with mild brown malt notes and some sweetness. Kind of bland really.
M - Smooth for almost 7% drinks with a light to medium body.
Overall kind of lame not as good as other takes on the style and not as sweet.
415 characters

3.74
/5
rDev
+5.4%
look: 3 | smell: 4 | taste: 3.75 | feel: 3.5 | overall: 3.75
I have such a backlog that The CANQuest (TM) has begun to suffer as a result. It is not all my fault, however, as no picture existed and then there was an interminable wait for approval once I got one into the queue. No matter now as it is time to further The CANQuest (TM)!
From the CAN: "We strive to honor personal craftsmanship. Our handcrafted beer is made in small batches to ensure quality and peak freshness. Brewed and CANned by Old Forge Brewing Company, Danville, PA."; "Falling Down Brown Ale is a cross between a brown ale and a an IPA, with dark caramel and chocolate malts, brown sugar, and plenty of hops."
The Crack! was nice and loud and so I celebrated with an inverted Glug! This, in turn, produced two fingers of dense, light-tan head with moderate retention. Color was a cloudy Brown to Dark Brown (SRM = > 22, < 27) with some floaties in evidence. The nose had a chocolaty mintiness that kind of reminded me of a York Peppermint Patty. Mouthfeel was medium. The minty hops were immediately evident in the mouth and I was reminded that Old Forge does not adhere to style. If you were to come to this beer expecting a simple ABA, you would be disappointed. For a self-avowed hophead, I really liked it. The hops began to give 'way to a chocolaty maltiness and while certainly bitter, it also had an inherent sweetness. I would also liken it to a Girl Scout Thin Mint, since it also had a biscuity taste. I did not really perceive caramel at first, but the finish lingered with a slight caramel flavor. I would characterize it as semi-sweet to semi-dry, right on the boundary between the two.
1,614 characters
3.71
/5
rDev
+4.5%
look: 4 | smell: 3.5 | taste: 3.75 | feel: 3.75 | overall: 3.75
A big thanks to the creator of the canquest, woodychandler, for this beer. Poured from a 16 oz. can. Has a cloudy, dark brown color with a 1/2 inch head. Smell is malty, bready, some sweetness. Taste is surpisingly hoppy, citrus, bready malts are present, balanced and tasty. Feels medium bodied in the mouth and overall is a good quality beer.
344 characters
4
/5
rDev
+12.7%
look: 4 | smell: 4 | taste: 4 | feel: 4 | overall: 4
16 oz. can poured into a bulbed style pint glass. Liquid portion comes out a nice dark more brown tan amber color. Deep amber red glow wen held up to the light with some ok clarity. Nice milky latte colored head with tons of small bubbles and decent lacing to it. Good looking beer.
Smell is good, nice malt backbone. Slight hints of chocolate and coffee with a little bit more brown sugar and caramel sweetness and some brown breadiness. After that there are plenty of hints of hops, this is a well hopped brown ale. Some nice earthy and pine hops.
Nicely flavored beer. Malt presence there, but I think the hops profile jumps out first. Plenty of fresh nectar and resiny pine hops come out right away. After that there are subtle hints of cocoa as well as caramel. At the end there's a slight peppery earthy flavor. Pretty well balanced overall, I'm digging it.
Mouthfeel is nice, medium bodied. Good carbonation level and pretty smooth. Starts a little sweet but immediately bitter, than sweet again at the end. Balance is great with a nice approach and hopping the beer a little more. Crazy drinkable, and universally acceptable, could drink this pretty much year round. Like it quite a bit. Nice offering from a brewery I'm not fairly familiar with, but would appreciate if I were a local.
1,299 characters

3.18
/5
rDev
-10.4%
look: 4 | smell: 3.5 | taste: 3 | feel: 3 | overall: 3
On tap @ the Old Forge Brewing Company (Danville, PA) on 4/30/11. Served in a pint glass.
Pours a deep murky brown, topped with a finger of off-white head. This retains with some creamy bunching, and a generally rich flare-up, leaving back some nice looking swathes of lacing. The aroma smells floral and earthy in the nose, with a bit of a raw citric character going on in the nose. A bready sweetness and roasted notes mingle in the background, keeping this mostly pleasant, but this is fairly hop-forward overall in the nose.
The taste is bitter with a fresh green bite that spreads earthy citric bitterness out into the mouth. Malty sweetness attempts to mostly balance that out, before this moves into more of a burnt backend that then trails roast which mingles with some strong notes of leftover bitter fruit and a lingering earthy dryness. The mouthfeel is medium bodied, with a very sharp and lively feel on the palate, which is ultimately coming off a bit over carbonated at times. This does manage to get a little creamier along the back, the longer this hangs in the mouth, but the assertive prickliness of the carbonation does eventually start to get a tad distracting.
This was an OK attempt at an India Brown Ale but the overly raw aspects of the hop profile and the aggressive carbonation unfortunately kept me from really getting invested in this glass of it. It looked like this was the first time for this being on tap, so hopefully there will be some room for improvement for this one.
1,511 characters
Falling Down Brown Ale from Old Forge Brewing Company
3.55
out of
5
based on
29
ratings.