Lilly Handmade Chocolates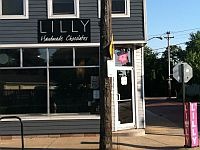 PLACE INFO
Type:
Store
761 Starkweather Avenue
Cleveland
,
Ohio
, 44113
United States
(216) 771-3333 |
map
lillytremont.com
Notes:
No notes at this time.
Added by lillymontague on 12-08-2008
Ratings: 6 | Reviews: 3
Reviews by adamette:
4
/5
rDev
-8.7%
Stopped in here while in Lakewood last night on the suggestion of my sister Rachel. Thanks Rachel.
Quality. Really high quality, if small, place. It is a choclatier and a beer and wine spot. Lilly is the Choclatier and her husband works there as well. It has this really cool pink and brown decor complete with Lilly's pink and brown hair. As you walk in there is a wall to the right which has long swatches of the pink lace pattern on them alternating with a black or dark brown paper. In the middle of the room is a large table with six packs, singles, bombers. On the left wall (as you came in) are shelves of wine (about 2/3 of the wall) and then, to the right, beer.
Service. Just fine. I did not ask for a lot of help but my wife and sister talked with Lilly for a while. They were very pleased with her interaction. I am sure that the service is good I just did not need any.
Selection. There are really some interesting choices there. I bought DFH Palo Santo Marron in a 12 oz. bottle but there were Stone, Avery, Troegs, Southern Tier, Great Lakes, Bell's (Expedition Stout and Two Hearted), a new Cleveland Beer whose name escapes me in a Blue labeled bottle and many, many others. Oh yeah, I saw a Peche Mortel there too. This from the web site:
Aspall Dry Cider
Aspall Medium Cider
Bad Elf Winter Ale
Brasserie Silenrieux Sara Buckwheat
Brasserie La Rulles Triple
Brouwerji Bosteels Pauwel Kwak
Brugse Zot
Castelain Blonde Bier de Garde
Dieu du Ciel Rosee d' Hibiscus
Dogfish Head Theobroma
Hitachino White Ale
Hitachino Ginger Brew
La Chouffe Golden Spiced Ale
McChouffe Brown Ale
Nice Chouffe Holiday Ale
Jolly Pumpkin Noel de Calabaza
Jolly Pumpkin Oro de Calabaza
Jolly Pumpkin La Roja
Jolly Pumpkin Luciernaga
DeDolle Still Nacht
Troegs Mad Elf Holiday Ale
Ommegang Hennepin
Piraat Triple IPA
Gulden Draak
New Holland Black Tulip Tripple
Stone Vertical Epic Ale 2008
Brother Thelonias Blegian Style Abbey Ale
Iqhilika Bird's Eye Chili Mead
Iqhilika Herbal Blossom Mead
Redstone Black Raspberry Nectar Honey Wine
Redstone Traditional Honey Wine
GJ Dansk Mjod Ginger & Hops Mead
Lurgashall English Mead
St. Louis Frambois Lambic
St. Louis Peche Lambic
Dogfish Head Black & Blue
Chapeau DeTroch Lambics-Banana
Cantillion Gueze
Cantillion 100% Kreik
Birrifico Balladin Noel
Birrificio Grado Plato Chocarrubica
Birrificio Grado Plato Strada S Felice
Birrificio Montegioco Draco
Dieu du Ciel Peche Mortel
Founders Breakfast Stout
Hitachino Espresso Stout
Hitachino Sweet Lacto Stout
Harviestoun Ola Dubh 12/16/30yr
Lump of Coal Dark Holiday Stout
Left Hand Brewing Rye Bock
New Holland Dragon's Milk
Nogne Imperial Stout
Nogne Winter Ale
Ommegang Chocolate Indulgence
Rouge Mocha Porter
Stone Brewing Co 12th Anniversary Ale (Bittersweet Chocolate Oatmeal Stout)
Southern Tier Oat
M I X-A-S I X E R S E L E C T I O N
Bell's Christmas Ale
EKU 28
Eisenbahn Vigorosa Weizenbock
Flying Dog Dogtoberfest
Fort Collins Chocolate Stout
Founders Dirty Bastard Strong Ale
Bison Chocolate Stout
Breckenridge Oatmeal Stout
Brooklyn Black Chocolate Stout
Dogfish Head Midas touch
Dogfish Head Raison D'Etre
The Poet Oatmeal Stout
Old Rasputin Russian Imperial Stout
Weyerbacher Imperial Pumpkin Ale
Southern Tier Raspberry Porter
Value. I did find a few of their beers to be more expensive than the nearby Rozi's Wine house but then again I saw a few beers (the Palo Santo Marron was one of them) that I did not see at Rozi's.
Notes: A gem of a place that is a bit out of the way (not much around it) but a nice source of some hard to find beers. The chocolate was very professionally made and looked very good as well. I did not taste any of that during my visit.
3,703 characters
More User Reviews:




4.7
/5
rDev
+7.3%
Visited this place on the way to Great Lakes Brewpub.
I would ditto what others have said.
The beer selection of singles is pretty good, a little higher priced than usual, but they carry a lot of regional beers that can be somewhat hard to find elsewhere, like Two Brothers, Indigo Imp, Dark Horse, etc.
The chocolates are also pricey but superb. I was once told that the difference between good and average chocolate is that the flavor of the good stuff will linger in your mouth for a while, and these chocolates definitely do that. The price isn't so bad when you consider that one of Lilly's chocolates will last your taste buds much longer than a cheaper brand.
Lilly and another woman provided excellent, friendly customer service, glad to answer questions about the chocolates, beers and wines. They were also savvy enough to give use some free chocolate samples with out alcohol purchases, thereby insuring our return trips.
Unfortunately, we weren't there for the tastings, but we plan to make one of those events over the holidays.
Overall, a great place for a special visit to enjoy some fine chocolates and good beers.
1,139 characters

4.85
/5
rDev
+10.7%
I walked into this place expecting just a nice chocolatier, and was caught completely off-guard by the wall of fantastic beer that's opposite the door as you enter. They had a wonderful selection of beer -- they didn't have quite as large a number of beers as many stores, but every beer they had was high quality. It seemed like they didn't stock any beer that's below a B+ rating or so. There's a list of their beer and wine selection on their website, but I'm not sure it's completely up to date. They don't sell any six-packs, just bombers and singles.
I picked up a Fantome Saison, Brooklyn BCS, and Left Hand Milk Stout. Prices were a bit higher than other places, but less than I'd expect for a small specialty store that's not advertised as having beer at all.
What really made me love this place is their interest in pairing beer/wine with chocolate. There was a selection of chocolates at the back behind a glass deli-counter sort of thing (in front of all the chocolate-making equipment). I haven't tried the chocolates we got, but they're very interesting and unique. Next to each chocolate was a recommended beer/wine and a card that described the flavors of the chocolate, of the matched drink, and why the two go together. For example, they had Nogne O Porter matched with a chocolate that has pistachios in it (I don't remember more specifically) and another paired with Left Hand Imperial Stout. They also had a chocolate truffle that was made with Rogue Chocolate Stout.
On weekends they also have a craft beer available for tasting, matched with a chocolate of some sort. They also have a wine matched with a different chocolate. Unfortunately, they only had a wine today, for some reason, but I'd like to come back to see what sort of pairings they come up with.
The service was good; the girl behind the counter was very nice and knowledgeable, and gave general advice about what beer to pair with the selection of chocolates we chose, but seemed to recognize we knew something about beer and didn't over-advise. She gave a lot of specific guidance and suggestions to a friend of mine who was looking for a sweet, chocolatey beer (he wanted Southern Tier Choklat, but they didn't have it).
The prices and lack of six-packs prevent me from making normal beer runs here, but because of the wonderful service, high-quality selection, and their matching beer with chocolate I plan to come back periodically, try the beer-chocolate match of the day, and grab a few bottles.
This was an awesome find!
2,522 characters
Lilly Handmade Chocolates in Cleveland, OH
4.38
out of
5
based on
6
ratings.