Pickering Creek Inn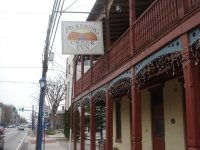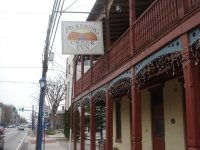 Bar, Eatery
37 Bridge St
Phoenixville
,
Pennsylvania
, 19460
United States
(610) 933-9962 |
map
pickeringcreekinn.com
Notes: Hours:
Mon:Closed
Tues: 11:00AM - 2 AM
Wed: 11:00AM - 2 AM
Thurs: 11:00AM - 2 AM
Fri: 11:00AM - 2 AM
Sat: 11:00AM - 2 AM
Sun: 10:00AM - 2 AM
Reviews by Fitzy:
4.5
/5
rDev
+7.7%
vibe: 4.5 | quality: 4.5 | service: 4.5 | selection: 4.5 | food: 4.5
Even during the "soft opening" this spot was on fire. I always shied away from the old Mansion House (too smoky, questionable clientele, & mediocre food) but when I saw their food & beer menus, I was hooked.
If you love Belgian beers then this spot was made for you. In bottles, they've got everything from Delirium Tremens & Bell's Hop Slam, to the local Victory brews. The draught brews are always changing - recently several offerings are Bear Republic's Racer 5, St. Bernardus Abt 12, & Victory Storm King Stout.
On top of the great food & brews, there are top-notch local bands playing every week. Last week's headliner was the keyboardist from Grateful Dead coverband Splintered Sunlight.
Stop in to The Pickering Creek Inn and you won't be disappointed.
UPDATE: There have been some changes recently but nothing to worry about now. The Pick is still a great spot for some great brews, food, & tunes.
910 characters
More User Reviews:
4.73
/5
rDev
+13.2%
vibe: 5 | quality: 4.5 | service: 5 | selection: 4.5 | food: 5
As a P-ville res, I am a semi-long-time patron of "The Pick." When I began frequenting the joint it was a pretty run-down really old (circa 1830s) hotel/bar, but the only place in Phoenixville to get a good craft brew. That was back in '09, which appears to be the last time anyone wrote up a review of this place.
Since then, they've pumped some magic (i.e. money) into Lincoln's old stomping grounds (someone told me he stayed there once). The burgers, which were once the generic frozen Acme burgers that you buy in a 20 pack, are now gormet grass fed beef burgers that stack up, meat-quality-wise, against any burgers you'll have anywhere else in P-ville. But I'm currently dieting, so I got this grilled chicken sandwich tonight snd even that stupid thing was awesome. So yeah, their menu has been upgraded from bar food to oh-man-thats-so-good-i-just-shit-my-pants food.
Currently they are building an outdoor bar, which not adds another cool facet to this sweet beer bar, but displays that they are experiencing success with their business model, despite rejecting the dance my drinkface off happy hour pallet.
By far this is the best bar in Phoenixville, not just because they offer a broad and dynamic beer selection, but because it has a warm, wood paneled, hand crafted fireplace, cozy feeling that no other P-ville bar offers. Go there.
1,354 characters

4.18
/5
rDev 0%
vibe: 4 | quality: 4 | service: 4.5 | selection: 4 | food: 4.5
The inside of this place looked newly refurbished, I grabbed at seat at the large wooden bar that had a view of a nice sized flat screen TV. I dropped in on a weeknight between dinner and lunch times, so the place was almost empty.
The quality of both the food and beer was great. The drafts were a couple of beers from manayunk, big eye ipa, and a few others. Bottle specials included the blonde and brune from general lafayette, founder's imperial stout and duck rabbit barleywine. I had the General lafayette Brune, which was quite good. I did not ask to see the entire bottle menu, but it is more extensive than my observations here.
The menu had an array of sandwiches, salads, soups and entrees. The entrees including a filet, pork loin, crab cakes and others. I had the Maryland crab bisque which was good but not great. I also had the Texas Style Brisket sandwich which was very good. Tender, slow cooked brisket with red peppers, jalapenos and home made bbq sauce on a grilled bun. I also had the option (with no extra charge) to get a side salad instead of fries. The salad was made up of fresh mixed greens and a balsamic vinagrette. Simple, but well done.
Service was great, partially because I was the only one in there. The servers (3 of them offered to help me at different times) were attentive without being irritating, and I got the impression that they actually cared when they asked how my food was. Regardless of the size of the crowd, I would guess service is always good here based on the attitude of the staff.
There is one complaint that I have: Pickering Creek Inn's website claims there is happy hour from 4-6 on weekdays, and there is not.
1,671 characters
4.18
/5
rDev 0%
vibe: 4 | quality: 4 | service: 4.5 | selection: 4 | food: 4.5
Despite my girlfriend's insistence that this was a townie bar, I kept saying, no BA says it's legit, we have to try it -- so we did.
Nice sort or stage-coach looking building, the exterior could still use some refurbishing, or maybe they're going with the distinguished with age look. Inside is very bright and looking every bit as new as it is. Nice sized bright oak bar greets you upon entrance, dining room is to the left of the bar. The dining room is decently sized with local art on the wall. We went rather early on an off day, so we practically had the place to ourselves. The waitstaff was very friendly and attentive. The bartender definitely knew his stuff, the lineup while we were there was made up primarily of imperial strength stuff and ipa's, but a good assortment nonetheless. I had a the Green Flash IPA and she had the RR Damnation, which I sampled and wish I had ordered as well. The menu is well planned and there is bound to be something for anyone. As for the food itself, it's really quite good. I had the pork loin, my girlfriend had the crab cakes, we sampled each others, delicious. My only qualm is portion size. Personally, to me, there's no such thing as too much, I'm a growing boy and all. Regardless, how simply good it was overwhelms the portion size.
Overall, very pleased. Not a townie bar has she had thought at all, apparently has a ghost and Butch Cassidy and the Sun Dance kid frequented the building in their day. Seems as though these may be difficult times for a restaurant to open, I wish them the best of luck and will certainly be back. Good history, good beer, good food -- can't go wrong.
1,640 characters
4.63
/5
rDev
+10.8%
vibe: 4.5 | quality: 4.5 | service: 4.5 | selection: 5 | food: 4.5
My wife and I stopped in this place this past Valentine's Day on the suggestion of someone ,I think one of the managers,at the near by Molly Maguire's as she heard me talking about my love for fine ales. Man am I glad. walking in we were greeted by a very nice bartender,though I did not get her name. I immediately glanced over the tap handles. What a nice suprise. Racer 5,Pliny,Victory and Breakfast Stout just to name e few. I had a Racer. The decor is very nice. The place i think used to be a slight bit of a dive from what I'm told,but it shure cleans up nice.Glossy wood bar and white linens on the tables. While we didn't eat the food looked terrific.We will be back for some. After a few pints a some conversation with a few other patrons it was time to bail. The Pickering Creek Inn along with the also excellent Craft Ale House in Limerick are bringing some much needed better beer spots to the area! That's a good thing.Smoke free as well!!!
954 characters
4.33
/5
rDev
+3.6%
vibe: 4 | quality: 4.5 | service: 4.5 | selection: 4 | food: 4.5
I stopped in on a Thursday evening after hearing they had Pliny the Elder on tap. I only live a few minutes away and since I've never had access to this beer I thought I needed to give it a go. The place is very quaint and had a cozy feel to it. I sat at the bar and had the beef briquette sandwich with vegetables. I liked that I had the choice of salad, fries or vegetables with the sandwich and the vegetables were outstanding along with a delicious sandwich at a very reasonable price.
If I remember correctly the tap list was Founders Breakfast Stout, St. Bernardus 12, Manayunk Pale Ale, Racer 5 or X (not sure), Pliny the Elder, and Victory Dark Lager. This is a very nice variety of brews for six different taps.
I'll definitely be back. Reasonable prices, great food, and outstanding beer!
802 characters
Pickering Creek Inn in Phoenixville, PA
Place rating:
4.18
out of
5
with
8
ratings