Propeller Revolution
| Propeller Brewery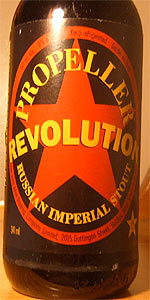 BEER INFO
Brewed by:
Propeller Brewery
Nova Scotia
,
Canada
drinkpropeller.ca
Style:
Russian Imperial Stout
Alcohol by volume (ABV):
8.00%
Availability:
Winter
Notes / Commercial Description:
This beer was born for greatness. Sent by English brewers via the Baltic Sea to the court of the Czars, Russian Imperial Stout was brewed to very high gravities and allowed to ferment on the long voyage. The result? A dark, strong and bracing brew.
Propeller's version weighs in at a whopping eight percent alcohol content, with a deep, rich, black colour. The taste of alcohol is well masked by the intense hop bitterness, extreme roasted malt and dark fruit notes.
Propeller Brewing Company has brewed and bottled this unfiltered ale each year since 2006, making Propeller the extreme brewing pioneers of Nova Scotia. This seasonal offering is only available at the Propeller Cold Beer Store on Gottingen Street, and select private retailers in Halifax.
Russian Imperial Stout - imbibed by Peter, adored by Catherine and now reclaimed by you, the People. Za Vas!
60 IBU
Added by MMansfield on 01-19-2007
Reviews: 65 | Ratings: 105
3.72
/5
rDev
-6.3%
look: 3.5 | smell: 4 | taste: 3.5 | feel: 3.5 | overall: 4
Appearance: Pours a black body with a respectably-sized, khaki-colored head.
Smell: Lovely aroma of roasted barley, chocolate, dark caramel, with mild notes of licorice.
Taste: Roasted malts with chocolate and dark caramel sweetness. Faint earth bitterness. Slight sourness on the finish. Scarcely any hop flavor to speak of.
Mouthfeel: Medium-bodied. Medium carbonation.
Drinkability: An ample RIS, but could stand to have more potent, more aggressive flavor profile.
★
480 characters
3.95
/5
rDev
-0.5%
look: 4 | smell: 4 | taste: 3.5 | feel: 4.5 | overall: 4.5
Received courtesy of Mandrake for CanBIF3!
Pours an opaque black, huge thick tan head, nice lacing, great retention, looks pretty nice. Smell is sweet, lots of dark fruit, light chocolate, coffee, some dates, not bad. Taste is malty, chocolate milk, roast, light toffee, some light fruits, dates, alcohol is very well hidden. Mouthfeel is medium bodied with low carbonation, pretty smooth. Do not taste the 8% at all, very well integrated. Not the most complex or flavourful RIS but pretty damn solid. Thanks Peter!
★
518 characters
4.22
/5
rDev
+6.3%
look: 4 | smell: 4.5 | taste: 4.5 | feel: 4 | overall: 3.5
another beer i received from a friend up in canada as part of a trade. if any of you watch the show trailer park boys, propeller is a local nova scotia brewing company that makes beers that the boys frequently drink during the movie and some of the shows.
chose the snifter to make sure i didn't drink it too fast..also get a better smell. pours out pretty dark..almost looks like liquefied tar. one finger head that dissipates to a ring of foam. no lacing on my glass. also some small bubbles rising up to the surface. the smell is nice...very coffee like with some unsweetened chocolate and a very very faint hint of alcohol. tastes very roasted, that is the first thing that comes to mind, then it seems to have a bitter sweet aftertaste that lingers. not quite as heavily bodied as i'd have thought.
the person i traded with to get this 12 oz bottle seems to find the growlers slightly more enjoyable. this was my only tasting of this beer, so i can't say for myself...but i eagerly welcome the opportunity to find out!
★
1,029 characters

3.88
/5
rDev
-2.3%
look: 4 | smell: 3.5 | taste: 4 | feel: 4 | overall: 4
Viggo shared this one with me. thanks eric!
12oz bottle.
pours opaque black with a big dense dark tan head. drops slowly and leaves some spotty lace.
aroma is nice. milk chocolate. light biscuity malt. pretty fruity too.
taste is nice. bit of bittersweet chocolate. light coffee. biscuit malt. low bitterness level.
mouthfeel is good. medium-low carbonation level. medium-large body.
drinkability is good. well balanced. the alcohol is hidden very well. tasty and enjoyable.
★
492 characters
3.11
/5
rDev
-21.7%
look: 4.5 | smell: 3.5 | taste: 3 | feel: 2 | overall: 3
Bottle courtesy of Okbeer: Poured a pitch-black color stout with a nice big foamy head with good retention and lacing. Aroma of bitter chocolate and subtle coffee is interesting but a tad weak. Taste of light bitter chocolate and coffee is more subtle then expected with some medium roasted malt. Body is oily and even a bit watery; I was expecting a fuller body as well as more of a creamy texture. Overall, while this is an interesting IS I thought it lack some complexity and the body was a bit too watery. I wonder if a got a bad bottle considering the high rating that this beer received or maybe I don't appreciate the style as much as others.
★
650 characters
3.98
/5
rDev
+0.3%
look: 4 | smell: 3.5 | taste: 4 | feel: 4 | overall: 4.5
341ml bottle sent to me by mmansfield. Thanks man! Poured into a snifter.
Pours black as coal with a dark tan head that recedes to a gasoline-swirl lace on the top. Mild carbonation. Aroma is heavily roasted, coffee, cocoa, light caramel sweetness, tobacco. Not much of the fruity aroma that you tend to get out of a lot of RIS's, so it seems a little less dimensional and more straightforward.
Taste is hit the floor mellow, roasted bitterness balances so well with the milk chocolate sweetness. There's a bit of lactic sourness going on, and it's a welcome addition to the whole experience. Figs, Spicy, Nutty flavours and a decent hop profile as well. Very Christmassy in the whole experience. Not one flavour overpowers the other though, and I really respect the balance that this brewer has created here. Mouthfeel is never too thick or heavy, and the carbonation is mild as befits the style. Drinkability, despite the extra alcohol, is high, near chuggable, which is scary. This may not be the world's most brilliant Russian Imperial Stout, but it is extremely enjoyable, and certainly a brew for Nova Scotians to be proud of.
★
1,138 characters
3.66
/5
rDev
-7.8%
look: 4.5 | smell: 3.5 | taste: 3.5 | feel: 3.5 | overall: 4
Bottle courtesy of Okbeer straight from Halifax. The pours out an excellent color and head for the style. Exceptional looking impy stout. Aroma is mostly muted coffee. Didn't get much else, other than a fruity like smell?? Has a nice solid mouthfeel- lively roasted malts with some other sweet tastes- amost like smores -chocolate and marshmellows. Hops are there but in a supporting role. The roast in the malts shows up more on the finish. There's still some sort of fruity flavour I'm picking up that I can't place.
Its great to see a Canadian brewery taking a stab at this style of beer- so big kudos to this east coast brewery. A very enjoyable impy stout and it would be nice to see more canadian takes on this great style of beer.
★
738 characters

4.17
/5
rDev
+5%
look: 3.5 | smell: 4 | taste: 4.5 | feel: 4 | overall: 4
Bottle ( Thanks MM)
The Pour: Black as a taxman's heart with a lovely fine pored chocolate cap that looks like an Areo bar...moderate retention though... and strangely, not great lacing. Minor points.
Demure, delicate nose...the smells you expect in a RIS are there but they don't jump out at you..cocoa, chared husk, molasses, tobbaco..all there but very delicately presented.
Upfront a great big chaw of patent malt is instantly balanced with juicy hops....mid palate the flavors develop; sweet cocoa, toast, figs, nuts, ...going into the long finish we get some drying and a wonderful sweetish- licorice decernment...light astringent "char" in the after taste. This beer absolutely hides its 8% alcohol till the finish where the malts and hops blend with it to give a very excellent licorice taste..
This isn't the most potent or pronounced Russki Imperial I've tasted, but it is one of the most drinkable and certainly tastes good fresh....no cellaring to mellow raw hop edges off this RIS. it's ready now and really tasty....it's dangerous how fast a few of these will fly down the hatch.
★
1,111 characters
3.36
/5
rDev
-15.4%
look: 4 | smell: 3 | taste: 3.5 | feel: 3 | overall: 3.5
Part of a tasting with northyorksammy, biegaman, grub, and derek. Thanks guys!
Great colour on this one. Black with red highlights. Mild milk chocolate aroma. Very dry mouthfeel for an RIS. Flavour is bitter, strong coffee and nuts. Mild dark fruit aftertaste, a little bit sticky.
★
284 characters

3.24
/5
rDev
-18.4%
look: 3 | smell: 4 | taste: 3 | feel: 3 | overall: 3
A: Brown-black, medium tan head; very little retention or lace.
S: Pleasant British fruityness (lacking in plenty of north american versions), chocolate, brown sugar, roasted nuts.
T: Great British fruityness, plenty of chocolate, some nut, warming alcohol, a little fusil. Maybe more of an American Double than a RIS?
M: Moderate body (maybe a little thin for its weight); slightly chalky.
D: Drinkable, but not overly enticing.
Thanks for the sample sammy!
★
473 characters
4.33
/5
rDev
+9.1%
look: 5 | smell: 4.5 | taste: 4 | feel: 4.5 | overall: 4.5
341 ml bottle. Completely opaque dark brown colour with a thin but mostly lasting tan coloured head. Cocoa, dark chocolate, dark roasted coffee, and fruity aroma with a lightly acidic note and just a hint of alcohol. Dark chocolate, roasty, coffee, nutty, raisin, and molasses flavours with a roasty, fruity, and lightly acidic finish. Full bodied, chewy but soft mouthfeel. As Imperial Stouts go, this one comes across as a cross between Bieropholie and Harvey's/A. LeCoq. And it works. Well done John Allen and crew.
★
519 characters
4
/5
rDev
+0.8%
look: 4 | smell: 4 | taste: 4 | feel: 4 | overall: 4
OK, you got me. That is, not one or two but 3 bottles sent by OKBeer.
In a word, ovaltine chocolate milkshake. And a 5 on that. Great coco aroma, appearance, creamy taste and aftertaste--I mean 14 hours later, I am satisfied on chocolate. Not cloying, but sweet rather than bittersweet chocolate.
Not for everybody, as many want a balanced RIS, with noticeable bitterness.
Had it again three weeks later and the fresh and thick taste faded faster than a teenager's ruby red lipstick in the rain. Smokey chocolate. Not bitter nor sweet.
Bobby, thanks again.
Third tatsing a year later courtesy of Neal. More coffee and chocolate second, result of aging? Not as thock mouthfeel.
★
679 characters
4.67
/5
rDev
+17.6%
look: 4.5 | smell: 5 | taste: 4.5 | feel: 5 | overall: 4.5
Presented in a foil-topped 341ml bottle with a clipped-in bottling date. Chilled for 20 minutes and then served in a Duvel tulip glass.
Pours a completely opaque jet black, not so much as a glimmer of light showing anywhere. Oily and thick, it almost oozes its way out of the bottle. Moderately vigorous pour yields a small dark tan cap which dissipates gradually until only a swirling pattern of surfacing bubbles remains. The slowly turning vortexes lend life to what would otherwise appear to be motor oil. Some lacing.
Smell is deep and complex. Dates, raisins, plums, and candied figs abound, sweet and sticky. Dark and bitter chocolate backing the profile, never imposing itself but never out of your mind. The light citrus of the hops shows as well, along with a hint of strong Turkish coffee. Summer berries and cherry as well, this is a thing of beauty. I'd give smell a 6 if I could, it's just that good.
Taste is bold, strong chocolate and coffee coming through loud and clear. Grapes and port wine as well, a hint of the alcohol sweetness showing up in the finish. The hops are unmistakable but not overwhelming. This is definitely in the English tradition, well crafted and subtle (at least as subtle as this style can be) as opposed to a wallop of hops and coffee that'll try to knock you off your seat. Not a beer to wrestle with, but one to caress, to hold in your mouth as long as you can because you want to get every nuance of it.
Mouthfeel is oily and thick, leading to an extremely lengthy finish. Carbonation is perfect, never letting up but never coming on too strong, and drinkability is extraordinary. The best beer that has ever called Nova Scotia home, bar none. John Allen and Propeller deserve credit for making a truly world-class imperial stout.
★
1,790 characters
4.26
/5
rDev
+7.3%
look: 4.5 | smell: 3.5 | taste: 4.5 | feel: 4.5 | overall: 4.5
I picked up a fresh 64oz growler of Propeller's new Revolution Russian Imperial Stout and along with two 341ml bottles. This review is the growler version, I've tried the bottle as well. Very close for comparison.
Appearance - Opaque Cola coloured. Rich, bubbling two finger head which is quickly diminishes, transforming into a light chocolately ring. Slim to none lacing.
Smell - Roasted malt, coffee, bitter chocolate, some nuts.
Taste - Wow. Stellar. Unsweetened chocolate. Huge after taste of smooth, creamy coffee. Nuts balancing out very nicely with the flavour. You can definitely taste quality in this brew.
Mouthfeel - Compliments the taste oh so well. Slick, creamy, gratifying. Cream turning into crisp at the finish. You'll be smacking your lips afterwards because you won't want the taste to leave.
Drinkability - Immensely high. The 8%abv is masked very well by the pronounced malt in this beverage. This has to be my new favourite from Propeller. I might even cry when the winter season ends.
Edit - After trying the several more bottled and growler versions of this beer, I can definitely say I consistently I enjoy the growler version more. I find the bottled version to be more bittersweet than the growler's creamy chocolate taste.
★
1,258 characters
4.12
/5
rDev
+3.8%
look: 4 | smell: 4.5 | taste: 4 | feel: 4 | overall: 4
Finally the wait is over. Marched down in the pouring rain to pick up this from the brewery.
Appearance: Pours thick and black, like motor oil. Medium brown cap, quite frothy. Very opaque. Head settles to a lacey ring
Aroma: Strong roasted malt, lots of coffee and unsweetned chocolate. Plenty of earthy tones, banana bread with nice sweetness in there as well. Picked up a tad bit of florals.
Taste: To die for. Strong coffee and huge roasted malt. Bittersweet chocolate with a bit of nuttiness and dried fruit, maybe dates.
Mouthfeel: Thick and syrupy, very smooth. Drinkability is quite high for the style.
Final Statement: It was worth the wait. I don't see how these labels were designed by bruce mackinnon, but oh well. It is a very solid brew, and hopefully it will go into regular rotation.
★
804 characters
Propeller Revolution from Propeller Brewery
3.97
out of
5
based on
105
ratings.