Propeller Hefeweizen
| Propeller Brewery
BA SCORE
84
good
14
Reviews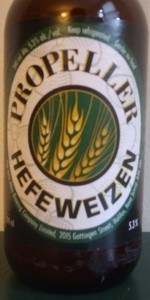 BEER INFO
Brewed by:
Propeller Brewery
Nova Scotia
,
Canada
drinkpropeller.ca
Style:
Hefeweizen
Alcohol by volume (ABV):
5.30%
Availability:
Summer
Notes / Commercial Description:
Nothing refreshes more than this naturally cloudy wheat beer with a yeasty aroma and flavours of banana and clove. Our summer seasonal is made with special Weizen yeast, German Noble hops and equal amounts of barley and wheat malts and finished with higher than normal carbonation.
"Propeller's version displays typical cloudiness with yeasty, spicy, banana, and dry savoury aromas. Very light and refreshing on the palate, with creamy texture and gentle, lightly fruity character, it finishes with a touch of dryness. The mild, refreshing style makes this a good summer brew that will appeal to most palates." (Sean Wood)
Yeast sediment is typical in this unfiltered classic German style. Prost.
12 IBU
Added by Seanstoppable on 04-12-2009
Reviews: 14 | Ratings: 18

2.68
/5
rDev
-27.6%
look: 4 | smell: 3.5 | taste: 2 | feel: 4 | overall: 2
Thanks to BBrianBoogie for this one!
Sampled immeidately after a Half Pints Hefe (which was bottled in the last 4 days). This bottle was bottled during the 4th week of January according to the label, seems a tad old, but I no Hefe aficionado.
Looks really nice, although it had clearly settled over time as it was clear until I have it the prerequisite last 1/4 swirl. Pours a hazy yellow to brown (a bit odd the colour). The colour though is easily ignored when paired with a beautiful fluffy white head that fills the glass and leaves very nice lacing.
The aroma on this beer is much more muted than the aforementioned beer, but it has some banana with a bit more coriander / clove spice on the nose. Enjoyable, but I was expecting a greater OOMPH across my olfactory glands.
The taste is incredibly disappointing in this beer. The flavours are so muted that I let the beer warm to see if more would be released. Initially it came across as a light fake-wit macro a la Rickard's or Keith's White... Not sweet, but with the bitterness being surprisingly upfront. Leaves an odd aftertaste. There are moments of banana and I am beginning to conclude that the aftertaste is some clove, but not in any enjoyable sense. I hate to be so harsh to the beer, but it is what it is...
The beer has a certain thickness to it, with a crisp carbonation. Finishes with the oddest of flavours that is in no way enjoyable, causing it to become difficult to drink. I hope this is due to age on the beer (3 months since bottling), but no matter what not a good Hefe.
★
1,553 characters

3.05
/5
rDev
-17.6%
look: 3 | smell: 3 | taste: 3 | feel: 3.5 | overall: 3
341ml bottle poured into pint glass oct5 2010
A only slightly hazy golden orange with a thin bone white head that falls fairly fast and left no lace
S a little spice and some dry cereal with some faint banana, pretty stranded
T not far from the smell but with some yeast
M quite light in the mouth, pretty refreshing beer no problems here
D easy enough to drink but nothing special, I could drink another but there's much better hefe's for a similar price
nothing sticks out with this beer good or bad, just a pretty average brew, nothing to be ashamed of and nothing worth bragging about
★
595 characters
3.31
/5
rDev
-10.5%
look: 4.5 | smell: 3.5 | taste: 3 | feel: 3 | overall: 3.5
One of the only Propeller beers I'm not a huge fan of.
Pours golden into a pilsen glass, a LOT of foamy white head at first, but settles in a bit after a minute. An 1/8 inch of white head remains on the glass as you drink it. Highly carbonated.
It has the characteristic banana/clove flavours of a hefeweizen, but MAN is that flavour strong in this one. A bit too much for me. On the other side of the coin, my wife really loves that flavour and loves this beer. It may just not be for me.
Minimal bitterness, feels heavy in the mouth, effervescence cuts that a bit, but not enough for me.
It's a heavier version of the hefeweizen than I'm used to. i can see it is probably very true to style, but to my palate it is a bit too much.
★
736 characters
3.35
/5
rDev
-9.5%
look: 3.5 | smell: 3.5 | taste: 3 | feel: 3 | overall: 4
12oz split courtesy of bobsy, first beer of the night.
Mine is the bottom pour of the bottle and it comes with a slight haze. Slight, while the top part of the bottle is clear. Golden straw yellow, a bout a finger of head. Not great retention, just a few bubbles kicking around.
Light wheat, clove and light banana in the aroma, but nothing that jumps out.
Pretty light, easy drinking hefe which also means it's pretty tame and uninspired on the flavor front. Light banana and cloves, a light grain tang, pretty quaffable but I wish it was a little dryer, a little fuller, a little SOMETHING more. Pretty thin body.
Easy drinker but lots of better hefes around.
★
665 characters
3.45
/5
rDev
-6.8%
look: 3 | smell: 3 | taste: 3.5 | feel: 3.5 | overall: 4
12oz bottle from BBrianBoogie.
Pours a clear and radiant gold with lots of bubbles clinging to the edge of the glass, and a bone white head kicking up. Even the second half of the bottle is only moderately cloudy. Upon examining the bottle, only a tiny bit of sediment remained behind. Some slippery lace struggles to stay on the side of the glass as the head drops to a film. Grain, pear, clove and light banana in the aroma. Not as intense with the banana and clove as I'd expect, but as this has inadvertently turned into a kristalweizen, I guess it should come as no great surprise. Decent quaffable flavour is fine, but a little plain. Good wheat body to it, with a generic spiciness in the finish. Banana and clove are there, but again, not as much as would be expected. Medium body with a moderate carbonation keeps this summery and drinkable.
By no means a bad beer, but not a great one either. Perhaps with more sediment this would have been a lot better, though as it is it still makes for a drinkable summer brew.
★
1,026 characters
3.5
/5
rDev
-5.4%
look: 3.5 | smell: 3.5 | taste: 3.5 | feel: 3.5 | overall: 3.5
Bottle: Poured a dirty and hazy beige/yellow color ale with a super huge foamy white head with great retention and very good lacing. Aroma of wheat malt with light cloves notes. Taste is quite refreshing though dryer then the style usually suggest with nice cloves notes and no bubblegum notes that the style usually suggest. Body is quite full with great carbonation. Well done though it lacks some character and ester that I usually associate with the style.
★
460 characters

3.66
/5
rDev
-1.1%
look: 4.5 | smell: 3.5 | taste: 3.5 | feel: 3.5 | overall: 4
At Propeller you can walk in the brewery with a large growler and they'll fill it up for you straight out of the fresh keg!
The Hefeweizen is their attempt at a Belgian/German Wheat beer. I would say this is more in line with a Schneider-Weisse than a simple wheat ale like a Hoegarrden.
It has an off-white with a touch of orange appearance.
Smell - Yeast, bready and some hops
Taste - Delicious lemon and orange with a hop bitterness. A bit overpower hops for the style, but still tasty. Some cloves for good measure.
Easy to drink and even easier to enjoy.
A great attempt but certainly not propellers best beer.
★
624 characters

3.68
/5
rDev
-0.5%
look: 4 | smell: 3.5 | taste: 3.5 | feel: 4 | overall: 4
Viggo shared this one. thanks eric!
12oz bottle. sampled sept 4/09.
pours slightly hazy deep golden yellow wiht a big white head. even after sitting for a half hour it still maintained a decent layer of head on top. lots of lace.
aroma is nice. banana and clove. light spice. light alcohol. bit floral and fresh. white bread and cracker. touch woody.
taste is nice. whole wheat bread and cracker. banana and clove. light alcohol. floral and bright. bit of other spice present too. fairly simple and clean, but good.
mouthfeel is good. medium-light body with a fairly dry finish. medium-high carbonation level.
drinkability is good. a solid example of the style that stays true to its roots and doesn't taste "americanized".
★
729 characters
3.73
/5
rDev
+0.8%
look: 3.5 | smell: 3 | taste: 4 | feel: 4 | overall: 4
A new seasonal Propeller beer, I had no choice but to head down with my growler, and see how it turned out.
Poured out into a very cloudy somewhat dark orange yellowish, with a bit of head. Smell is strong, yeasty, with hints of banana, but also somewhat sour. The taste starts out with a bit of a bitter bite, which quickly smooths out with a hint of bananas. Very drinkable overall, I've already gone back for a refill!
★
424 characters
3.89
/5
rDev
+5.1%
look: 3 | smell: 4 | taste: 4 | feel: 3.5 | overall: 4
12 oz bottle, pretty sure Bobbyok sent me this one in a trade.
Pours a lightly hazy amber, some orange highlights, dark for a hefe, medium sized white head forms, quickly settles down to a thin ring around the glass, a couple lace spots stick. Smell is nice, sweet banana and plantains, caramel, a touch of toasty malt, some fruit, oranges, just a touch of clovey spice. Taste is nice, sweet and fruity, orange peel, banana smoothie, biscuit, wheat, touch of clove, very dry and glutinous finish, a bit sticky. Mouthfeel is nice, light bodied with medium to high carbonation and a very dry finish. A pretty nice hefe! I am impressed. Thanks Bobby!
★
648 characters
3.92
/5
rDev
+5.9%
look: 4 | smell: 4.5 | taste: 3.5 | feel: 4 | overall: 4
Propeller Hefeweizen
A - Cloudy Golden colour, unfiltered yeasts take on a swirly appearance inside the beer, quite unique. Foamy head, but not long lasting.
S - Strong hints of Banana, clove, wheat. Smell is very appetizing and matches the style.
T - Mild Banana flavour, mild clove and grassy notes, very mild bitterness on the sides of the tongue. Corn comes out in the aftertaste, almost like plain corn chips, but not off-putting, and goes away quickly.
M - Very smooth and refreshing, good carbonation.
D - A very good beer in the Hefeweizen style, fantastic attempt for a Canadian Microbrew. Not quite as good as Konig Ludwig or Hacker-Pschorr in my opinion, but much better than Erdinger. If you see it, get it!
Rating - 4/5
★
738 characters
3.95
/5
rDev
+6.8%
look: 4 | smell: 4 | taste: 4 | feel: 3.5 | overall: 4
341 mL bottle with bottled-on date notched into label. Poured into weizen glass.
Pours a yellow-gold, cloudy, with a large, tightly bubbled foamy head. Good retention and some lacing left as I drink.
Nice clove/bubblegum aroma with hints of banana.
Nice sweet banana and peach flavour, hints of clove, bubblegum and pepper in the background. Mild lemony and wheat tang.
Medium to light body, very nice bite from the carbonation, but a strong astringency on the finish. Starts sweet, but ends dry.
A very pleasant brew, refreshing, easy drinking, and will be a pleasure to consume as the temperature rises. Recommended.
★
623 characters

4
/5
rDev
+8.1%
look: 4 | smell: 4 | taste: 4 | feel: 4 | overall: 4
G: Pint Glass
A: Murky yellow-green body, minimal head & lacing
S: Yeast, hops, with a finish of banana and some citrus
T: Grainy hops, wheat, banana and hints of citrus and bubblegum.
M: Medium-light body, medium-high carbonation with a dry banana-citrus finish
D: Well crafted hefe.Easy to drink and the subtle flavours add a lot to the complexity.
★
356 characters
4.18
/5
rDev
+13%
look: 5 | smell: 4.5 | taste: 4 | feel: 4 | overall: 4
hard to believe I'm rating the same beer, and reading these reviews I second guess myself even after consuming this beer less than an hour ago
a: gorgeous hefeweizen served in a curvy logo imperial pint, golden colored and absolutely opaque with yeast slurry - easily the most heavily clouded beer I've seen, absolutely no light penetration, big chunky white head sticks around and leaves lots of lace
s: huge yeasty aromas stacked high on the sweet wheat structure, like a bowl of banana pudding, lots of ester and phenolic components, just a monster aroma, only thing missing here would be some bubblegum
m: carbonation around medium, body light-medium and a little sticky with wheat sugars
t: huge yeast flavors on a moderately full wheat malt body, big on the banana and clove, thick with the yeast influence - almost chalky, very meaty and firmly flavored for what often tends to be a bland style
d: no problem, just a great example of the style
pint at Hart and Thistle, Halifax, Nova Scotia
★
1,003 characters
Propeller Hefeweizen from Propeller Brewery
3.7
out of
5
based on
18
ratings.