Möka Ale
| Garrison Brewing Company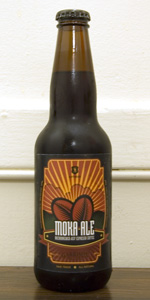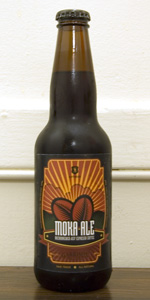 BEER INFO
Brewed by:
Garrison Brewing Company
Nova Scotia
,
Canada
garrisonbrewing.com
Style:
American Brown Ale
Alcohol by volume (ABV):
4.80%
Availability:
Rotating
Notes / Commercial Description:
No notes at this time.
Added by CAMRAhardliner on 07-01-2004
This beer is retired; no longer brewed.
HISTOGRAM
Ratings: 8 | Reviews: 8
Reviews by demcorhip:
4.22
/5
rDev
+9.9%
look: 4 | smell: 4.5 | taste: 4 | feel: 4 | overall: 4.5
Thanks to chonyr for bringing this one back from Halifax. A very nice ale this one is.
Appearance
This ale poured black, some light managed to come through around the edges, but not a whole lot. A one finger tan coloured head came off the pour. Scant lacing were subsequently produced from this medium carbonated brew.
Aroma
Espresso aroma predominates with a very pleasant dark chocolate aroma, cocao as well as roasted coffee. Some bready and caramel characteristics come through from the malts, and an earthy and floral hop grassiness.
Taste
Its hard to notice the malts in this one, theres some breadiness, and a hint of nuts and caramel. But as a lover of coffee and espresso its very easy to appreciate the great espresso flavours incorporated into this ale. Elements of cocao powder, dark roasted yet not bitter coffee, and dark chocolate are all evident. This ale is rounded out by the earthy, grassy and slightly bitter hops.
Mouthfeel
Nice, light to medium bodied refreshing ale. Nice clean and balanced flavours, especially in terms of the espresso and hops, as the contributions from the malts are much more subtle.
Drinkability
A very drinkable and refreshing ale. Would be a great summer treat, especially when one wants complex roasted flavours without the more substantial body of a porter or stout. A very sessionable brew with rich espresso flavours, and a good crossover ale for anyone who appreciates coffee and espresso.
1,461 characters
More User Reviews:
3.55
/5
rDev
-7.6%
look: 3.5 | smell: 3.5 | taste: 3.5 | feel: 4 | overall: 3.5
chocolately, coffee grinds, in smell and in taste.Some roast. Pours dark brown.No head. Is it a stout or is it a brown? sweet malty. Medium creamy like a chocolate milk.Overall, a malted milk beverage or iced coffee. Not a bad one, and interesting novelty.
256 characters
3.55
/5
rDev
-7.6%
look: 3.5 | smell: 3.5 | taste: 3.5 | feel: 3 | overall: 4
Pours a very dark brown with plenty of bright red highlights and a modest light tan head that dissipates reasonably quickly and leaves decent lacing. Smell is coffee first and foremost, dark and pungent, with obvious cocoa notes and a bit of nutty flavour to remind you that this is a flavoured brown ale and not a stout. A hint of sweet dark fruits as well. Taste is very bitter, but lacking the full roasted body of really well done examples of this sort. Astringent, with earthy notes and a bit of chocolate, this is a touch of a letdown. Mouthfeel is watery and thin, doesn't hold up, and drinkability is pretty good. Not a bad effort, but not a great one. Establishes Garrison's place as the definite second fiddle on the Halifax microbrew scene.
751 characters
3.37
/5
rDev
-12.2%
look: 3 | smell: 3.5 | taste: 3.5 | feel: 3.5 | overall: 3
Acquired from MMannsfield.
Pours a clear brownish orange, thin off white head forms, disappears to a thin ring around the glass immediately, no lacing. Smell is caramel, some grains, DMS, light chocolate, very light coffee roast, a little bit of wood, was hoping for some more coffee. Taste is odd, very thin flavour, grains and veggies, caramel, some chocolate, weird coffee roast in the finish, kind of citrusy and acidic. Very harsh and sharp finish. Mouthfeel is thin bodied with medium carbonation. Strange beer, don't really get it. Thanks Matt!
553 characters
3.8
/5
rDev
-1%
look: 4 | smell: 4 | taste: 4 | feel: 3 | overall: 3.5
Bought a single bottle at Premier Wine & Spirits Bishops Cellar. Despite what this
Appearance: Pours a dark dark brown, almost black. Quite opaque. Medium tanned cap which settles to a very nice lacing.
Aroma: As expected, deep coffee aroma. Leads me to strong earthy tones and wet moss. Also notes of chocolate along nuts and dried fruit.
Taste: Espresso flavour is strong, but not cloying. Strong hints of nuttiness here, along with a tad bit of chocolate. Moderately bitter finish. Tastes like fresh coffee, very rich and earthy. As Mandrake said in his review, it's like a coffee flavoured nut-brown.
Mouthfeel: Nothing remarkable, characterstic of a brown ale, moderate carbonation. Coffee flavour does not hinder the drinkability.
Final Statement: This is only my second helping of Khybeer Moka Ale. This is because I remembered my first tasting as putrid. This was througholy enjoyable, and an interesting ale to be sampled by all BA's.
949 characters

4.14
/5
rDev
+7.8%
look: 3.5 | smell: 4.5 | taste: 4.5 | feel: 3.5 | overall: 3.5
wow! 3 for 3 for this brewer with producing decent, drinkable flavored ales....and this one is probably the best of the lot. I'm used to seeing coffee used in sturdier ales like porters and stouts but the thinner body and nutty tastes of a nut brown ale seem to work well with the coffee blend used here. Flavors from my 2 favorite beverages in one glass ( beer and coffee) in a flavor blend that ends up producing a wonderfully refreshing drink.
Poured a darker crystal clear cola color with ruby highlights. Small tan cap with moderate retention but good lacing on the glass.
Medium-light bodied, rounded character with a slight mocha bite, creamy mouthfeel.
Aroma is a wonderful potpourie of coffee, chickory, cocoa, vanilla and walnuts.
Sweetish nutty malts in the front then a rush of good brewed coffee...finishes slightly tart cocoa flush with a light bittering from fuggles hops.
A very nice brew to be savored after a good feed of salmon or scallops.
974 characters

4.1
/5
rDev
+6.8%
look: 4.5 | smell: 4.5 | taste: 4 | feel: 3.5 | overall: 4
IMO this is Garrison's best beer. Its specially brewed for the Khyber club in Halifax. It is brewed with real coffee beans. It pours a near opaque black color with brown and ruby glints. A small tan head dissipates quickly leaving lots of lace on the glass. The aroma is very interesting, like half ale and half espresso. That description may sound weird, but it really smells good. The taste is of grainy malts, bitter coffee, and dark chocolate. Unusual but very well balanced. the mouthfeel is kind of grainy and gritty as though there are actual coffee grinds in the bottle or something, it could be a little cleaner in the finish.
635 characters
4
/5
rDev
+4.2%
look: 3.5 | smell: 3.5 | taste: 4 | feel: 4.5 | overall: 4.5
341ml bottle sent to me from Halifax by mmansfield. Thanks! I'm not sure why this beer is listed as retired, my bottle dosen't have a production date or code, but it seems to be very widely available in Halifax. Poured into a pint glass.
Pours with virtually no head, leaves a little lacing, cola coloured, medium carbonation. Smells of espresso beans, toasted malt is evident, as well as cocoa. Some sweet clover-like notes are in the background.
Taste is very bitter, all coffee and roasted malt off the top, but holding the beer in my mouth the sweetness begins to show, chocolate and honey predominate. Very subtle. There is a mild nuttiness to this beer as well, and a very mild sourness to round off the palate. All of these flavours are very well balanced, and one never blows any of the others out of the water. While some may say that's boring, I find it's very yin-yang, and I appreciate it as I expected the coffee notes to overcome the palate and all other flavours would be an afterthought. Aftertaste is quite bitter and the roasted malt and hop bitterness predominates. The body is a little on the heavier side of medium. A bit thick, but not too heavy. Creamy mouthfeel, but dries in the throat. Carbonation is mild and near perfect for the style. I could toss back pint after pint of this. And I will someday when I spend an evening at the Khyber Club in Halifax.
"Am I still alive where did I collapse?
In Edmonton, Alberta or home in Halifax
Float me down the river to the Musquedobit harbor
Because I'm getting nowhere
I met my love down at the Khyber
And we drifted throughout the crowd
And when I finally lay beside her
Oh you could hear my heart out loud
And when I'm gone she'll never leave me
No no she'll never be untrue
But if you do not believe me
You don't believe the sky is blue"
- Joel Plaskett "Down at the Khyber"
1,881 characters
Möka Ale from Garrison Brewing Company
Beer rating:
3.84
out of
5
with
8
ratings