Dismiss Notice
Garrison / Phillips Mash-Up! Belgian IPA
| Garrison Brewing Company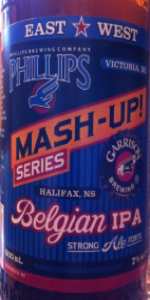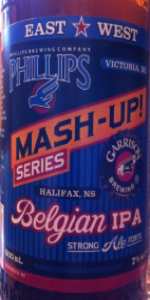 BEER INFO
Brewed by:
Garrison Brewing Company
Nova Scotia
,
Canada
garrisonbrewing.com
Style:
Belgian IPA
Alcohol by volume (ABV):
7.00%
Availability:
Limited (brewed once)
Notes / Commercial Description:
No notes at this time.
Added by ludachris on 07-18-2011
This beer is retired; no longer brewed.
HISTOGRAM
Ratings: 14 | Reviews: 8
Reviews by Long813:

3.55
/5
rDev
+0.3%
look: 5 | smell: 5 | taste: 2.5 | feel: 3.5 | overall: 3.5
Old notes on this.
A: cloudy light orange body with two fingers of white fluffy head. Retention is good and leaves nice lacing.
S: Strong aromas of citrus fruits, some earthy hops, banana and yeast. Very pleasing fruity aroma.
T: Flavour is not quite strong, which is surprising. There is a minimal amount of fruitiness notes and hops. Very displeased.
M: Medium bodied with medium-low carbonation. Texture is water like with very little after taste and alcohol notes.
O: I was looking forward to this based off the aroma, but the flavour was extremely lacking. I wouldn't purchase this again for that reason.
619 characters
More User Reviews:
3.65
/5
rDev
+3.1%
look: 4 | smell: 4 | taste: 3.5 | feel: 3.5 | overall: 3.5
Single bottle shared with friends at a Best of Nova Scotia beer tasting. This brew has quite a sad story behind it; a portion of the proceeds of this collaboration are set aside for the family of Garrison designer Colin Allin, who was killed in a robbery in Nicaragua this June.
Poured into a beer festival glass. A murky golden-straw brew, nice billowing head, good lacing circlets. Looks like a mild hefe or a tripel.
Nose is quite bitter, with strong whiffs of herbal hops almost overpowering the subtle pale ale notes of banana, citrus, yeast and clove.
No question this is stylized as an IPA - the herbal hops provide a long bitter finish. Opens nice hefe/tripel notes, good yeasty character, along with lemon zest, coriander and clove. The bitterness is a touch overpowering - more than a half bottle would more than do me in.
Interesting brew for a great cause.
875 characters
3.8
/5
rDev
+7.3%
look: 4 | smell: 4 | taste: 4 | feel: 3 | overall: 3.5
Orange, and yeast aroma. Smooth mouthfeel, carbonation right there. Lacey with but a little head on orange coloured body. Some decent hoppiness,citrus particularly orange taste, and drying finish. Easy and good drinker, 7% well hidden.Good effort for the style.Thanks Peeno.
274 characters

3.7
/5
rDev
+4.5%
look: 4 | smell: 4 | taste: 3.5 | feel: 4 | overall: 3.5
Bottle shared by Pino at my 22nd birthday, 500ml bottle into a tulip.
Poured a hazy clementine orange, white head that falls to a light film and some bubbles. Nose has some passionfruit, peach, sweet breadiness, sugary notes and a pinch of Belgian yeast. Taste is yeasty, some hop resin-iness. Some tropicla fruit notes. Chewy and bitter finish, medium carbonation and body. Nice offering, good hopping and solid flavours. I wish I would've caught this a bit fresher.
469 characters

4
/5
rDev
+13%
look: 4 | smell: 4 | taste: 4 | feel: 4 | overall: 4
Collaboration with Philips Brewing Company from Victoria, BC. Brewed in memory of Garrison's late graphic desinger.
Two fingers of creamy off-white head form over a glowing apricot amber body. It's quite hazed and well carbonated, helping the head stay afloat for awhile. Stretched patches of lace cover the sides of the glass.
A good dose of coriander can be pulled through the fresh and lightly spiced Belgian yeast. Soft tropical fruits including mango and papaya add a layer of IPA sweetness that I love. The more whiffs I take the more concentrated the spicy and yeasty characters become. A pinch of pepper plays in with its Belgian side.
Mango and papaya come in a delicate and soft manner along the back of the palate and graze the middle of the tongue, poking through the fresh bready and spicy layer that sits on top. There's more bitterness in this than I had anticipated. A nice dose of earthy hops with a grassy edge dries out the palate as the beer nears its finish but their bitterness extends far beyond this point. A bready/cracker-like character also makes an appearance in the finish, doing what it can to take some momentum away from the hops.
Medium bodied with a good level of carbonation for the style. Just a touch creamy with a dry finish that encourages another drink. The alcohol plays no role from start to finish.
This is an interesting style coming from a Canadian brewery and both Philips and Garrison made good work of it. This isn't as "Belgiany" as I had hoped but it sure is a well crafted beer and a very solid offering coming from Garrison.
1,591 characters
3.75
/5
rDev
+5.9%
look: 4 | smell: 4 | taste: 3.5 | feel: 3.5 | overall: 4
500mL bottle poured into nonic. Usually Garrison provides bottled-on dates, especially with its specialty or one-off brews, but this is one is sadly lacking.
Pours a hazy, translucent, bright orange with a finger or two of white head that fades to a thin haze, leaving plenty of spotting around the glass.
Bright, tropical fruit hop aromas up front, giving way to more grassy/herbal notes, with a bit of belgian candi sugar and just a hint of spicy lemon.
Hops taste a bit more herbal than in the aroma, but soften nicely. Malts are a bit more assertive, giving some underlying sweet, bready stability, but the hops and belgian yeast still shine through. Little bit of lemon, very mild clove flavours. Finishes bitter, with herbal grassy hops.
Mouthfeel is medium to light body, creamy and a bit sticky. Light carbonation.
Overall, this is a pretty good IPA, maybe not as assertively belgian as some examples, but tasty regardless. Worth picking up.
954 characters
3.58
/5
rDev
+1.1%
look: 4 | smell: 3.5 | taste: 3.5 | feel: 4 | overall: 3.5
Pours a translucent dark gold color with two fingers of thick white head. Plenty of lacing left on the glass.
Hops with a light pine/slight grass scent. Hint of coriander.
Some nice initial bitterness, with grassy hop flavorings accompanied with earthier flavors. Slightly more bitterness in the end, along with a dry finish. Some sort of spice pops in here and there
Not as good as the Belgian IPAs I have had from Belgian breweries, but certainly a solid North American take on the style.
494 characters

3.73
/5
rDev
+5.4%
look: 4 | smell: 3.5 | taste: 4 | feel: 3.5 | overall: 3.5
Hazy orange, nice white head, good lace left behind. Smell is malty with a fairly large hop profile, citrus and light pine, some belgian yeast, quite fruity. Taste is dry and fairly hoppy, earthy with some notes of fruit, a good amount of yeast in the finish and aftertaste. Medium carbonation, good feel with a solid weight. Not bad but could use some work, but if I came across this again I would not pass it up.
414 characters
Garrison / Phillips Mash-Up! Belgian IPA from Garrison Brewing Company
Beer rating:
3.54
out of
5
with
14
ratings