Kestrel Super Lager
| The Caledonian Brewing Company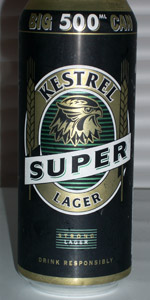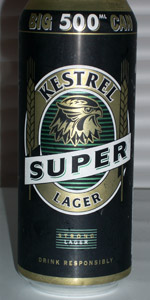 BEER INFO
Brewed by:
The Caledonian Brewing Company
Scotland
,
United Kingdom
caledonian-brewery.co.uk
Style:
Euro Strong Lager
Alcohol by volume (ABV):
9.00%
Availability:
Year-round
Notes / Commercial Description:
No notes at this time.
Added by Todd on 05-22-2008
HISTOGRAM
Ratings: 8 | Reviews: 6
3.24
/5
rDev
+1.6%
look: 3 | smell: 3.25 | taste: 3.25 | feel: 3.25 | overall: 3.25

3.24
/5
rDev
+1.6%
look: 3 | smell: 3.25 | taste: 3.25 | feel: 3.25 | overall: 3.25
Old Skool
not the greatest but does what it says on the tin
Which is a golden lager with some aroma and flavour with good mouthfeel leavin it above macro standard
163 characters
3.19
/5
rDev 0%
look: 3.25 | smell: 3 | taste: 3.25 | feel: 3.25 | overall: 3.25
500ml can: BBD 30 May 2014. Shared with my daughter and poured into a couple of old German Pilsner glasses at home on 29 Sep 2013.
Looks good, clean, clear and very golden: the white head refusing to stay long though.
I wasn't expecting much, but I was pleasantly surprised: if this had come in a cork and caged bottle with a Belgian breweries name on it everyone would be raving about it. However it comes from Britain in can form, so everyone has already decided it's crap!
The nose is fairly sweet and grainy, the taste similar but with a large alcohol blast, the malts just about hiding a slight metallic twang and the hops providing a mini bitterness towards the end of each sip.
A shared can was enough for me, but there is nothing wrong with this strong lager at all.
778 characters

4.02
/5
rDev
+26%
look: 4 | smell: 4.5 | taste: 4 | feel: 3 | overall: 4
Pours a delicious looking hazy gold with a small creamy head. The smell is sweet and fruity with wet cereal grains in there. Maybe a hint of metal.
Taste is sweet, boozy, and delicious. A bit of a stale flavour, though. A bit metallic. That's the only problem with it, I'd say. Has that delightful, fruity, high-alcohol lager flavour to it. Very light, though. None of that green apple nonsense. Mouthfeel is a bit sticky, but very very thin. It's the first euro strong I've had in a while, but I think it's slightly thinner than the others.
541 characters
3.32
/5
rDev
+4.1%
look: 3 | smell: 3.5 | taste: 3.5 | feel: 3 | overall: 3
Poured from a 500ml can into a lager glass.
A - Light amber colour, minimal head.
S - Mild wheat, with a dash of honey & mead.
T - Touch of phenols at first. Sweet with an underlying bitter malt.
M - Combination of the malty hit with some standard bitterness.
O - Strong, full bodied lager. Just lacking that something special to make a truly worthwhile beer. Solid malt lager at least...
394 characters
3.43
/5
rDev
+7.5%
look: 3.5 | smell: 3 | taste: 3.5 | feel: 3 | overall: 4
Not much to say that is not obvious from the moment you buy it:
Cheap English lager in a 500ml can that is 9.0% alcohol- made especially for the discerning Ibiza lager lout.
The funny thing is that it's quite drinkable, despite the bite of the alcohol through a sugary/malt aroma (we're not talking Duvel here!). I think I even smelled a hop?
Golden colour, thin head, low carbonation, good clarity. As I said, you know what you're buying, but actually better than you would think.
484 characters
3.3
/5
rDev
+3.4%
look: 3 | smell: 3 | taste: 3.5 | feel: 4 | overall: 3
Let me first say that, while I fully appreciate quality beer (Baltic porters, English bitters, and lambics are some of my favorite styles), I also appreciate beers that will get me drunk cheaply. I don't like nonsense beers like Bud Lite and whatnot, but I have no problem drinking, for instance, St. Ides. This is that sort of beer.
So..
I had this beer one time in England, from a 500ml can. I was looking to get drunk, and I saw this in the convenience store, and remembered hearing Devvo (http://www.fat-pie.com/chavs.htm) singing about it, so I thought, "hey, Kestrel, I gotta try this."
As far as cheap, high alcohol beers go, this one was surprisingly good tasting. In the US, malt liquors are generally 8-8.2% abv, so at 9%, this is quite strong, and yet, probably better than American malt liquors. I'd almost say this is a good beer. I mean, the taste actually had something going for it, in my opinion. It was definitely easier to drink and better tasting than Tennent's Super Strong Lager (another popular high alcohol cheap beer in the UK).
1,056 characters
Kestrel Super Lager from The Caledonian Brewing Company
Beer rating:
3.19
out of
5
with
8
ratings