The Ginger Man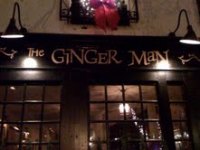 PLACE INFO
Type:
Bar, Eatery
64 Greenwich Ave
Greenwich
,
Connecticut
, 06830-5504
United States
(203) 861-1171 |
map
gingermangreenwich.com
Notes:
No notes at this time.
Added by Thrasher
Reviews: 14 | Ratings: 20
4.07
/5
rDev
+8%
vibe: 4 | quality: 4 | service: 4 | selection: 4.25
Quaint Colonial looking place with some interesting architectural features. Bar seats about 15. Solid craft draft and bottle menu (but not the selection they had posted online. Did not eat. On the pricey side.
209 characters

4.06
/5
rDev
+7.7%
vibe: 4 | quality: 4 | service: 4.25 | selection: 4 | food: 4
Decent draft selection with a nice bottle selection as well. I agree with a previous reviewer - nothing to blow you away but you'll definitely find a few things you'll be happy to drink. Reasonable prices, good service, and although I didn't have any food myself the burgers that came out certainly looked and smelled tempting.
327 characters
4.03
/5
rDev
+6.9%
vibe: 4.25 | quality: 4 | service: 4 | selection: 4 | food: 4
- Visited on 10-Aug-15 for late dinner
- Ordered their cheeseburger (medium) paired with two IPA's.
I finally arrive after a long flight clear across country. Sit down and the host (the waiter was preoccupied at the moment) asks what I'd like to drink. I ask for the tap list. He hands me the sheet and proceeds to tell me that they had just tapped out of the Ghandi Bot. I immediately throw my fists straight up and yell, "NNNooooooo!!"
I'm probably exaggerating, but I was pretty bummed. It was one of the couple beers I was looking forward to trying off tap during my trip. I then regained my composure and calmly asked if MBC's Lunch was still available and he happily said yes and immediately brought my pint glass.
The cheeseburger wasn't anything extraordinary, but was good and hit the spot.
805 characters

3.71
/5
rDev
-1.6%
vibe: 4 | quality: 3.75 | service: 3.5 | selection: 3.75 | food: 3.75
I decided to stop at The Ginger Man in Greenwich after reading online that they were featuring three variants of Bourbon County on tap. Bourbon Coffee here I come!!
This is a mighty cozy pub, particularly in this wintry snowy day. Wood galore, a beautiful bar and a dining area that resembles a cellar.
The tap list is not as impressive as in other Ginger Man locations (New York, SoNo, Dallas), but during my visit they had three Bourbon County handles so I can't complain. Other than that, among the 25 taps I would highlight Dogfish 90, Anchor Christmas '13, Blue Point Sour Cherry and Lawson's Super Session #2 (brewed at Two Roads in CT).
Their bottle list is also small, but watch for a BA Narwhal for a reasonable $28 (it goes for forty bucks at Ginger SoNo).
Food-wise, I only had a clam chowder and it was super delicious! Their menu is pricey, and so is the beer. $12 for ten ounces of Bourbon County. I would come back, though. It feels nice in here, and it is clubbier and more intimate than other Gingers.
1,026 characters
3.38
/5
rDev
-10.3%
vibe: 4 | quality: 3.5 | service: 3 | selection: 3.5 | food: 3
Cool location on the main street in Greenwich. Nice interior. Bar may have 20 or so seats.
For Greenwich, $12.95 for a sandwich is probably reasonable, but everywhere else it is a bit pricey. Overall, the menu ranges from burgers and specialty sandwiches to several entrees. I got the German pretzel sandwich, fried pork loin with a Chimay cheese dipping sauce. Not great, but good. The bread sort of dwarfed the meat though.
As just another local pub, decent beer menu...just be aware, this is not a beer bar on the same level of NYC's Ginger Man. They had Chimay, Spaten, Capt Lawrence, Radenberger, seasonals from Harpoon and Shipyard, then a few macros. Pretty good, if not overpriced, bottle selection.
Overall, an decent stop. More of a restaurant than it's NY counterpart. Expensive, mostly due to the location. Ok draft selection, but nothing that will blow you away.
879 characters
4.13
/5
rDev
+9.5%
vibe: 4 | quality: 4 | service: 3.5 | selection: 5 | food: 4
Having been to The Ginger Man many times before, we went here for dinner a few nights ago, while visiting some family. It is located in downtown Greenwich, CT, surrounded by high-end fashion stores and other posh eateries. It is a two story row house sitting end to end with other architecturally similar buildings. The outside decoration is fine wood, stained, and otherwise painted cleanly black. Massive pane windows let an inviting glow seep out onto the street. It is very festive, with Christmas lights abound, lining the inside ledges of the windows and door, also adorned with wreaths.
Diners enter into a small foyer where the hostess stands. To the immediate left there is a spiral staircase leading up to private dining rooms and the restrooms, while the restaurant opens to the right. The stairs' banister is, too, intertwined with holiday lights and foliage. Continuing into the space the bar is on the right facing wall. It is small but elegant. It seats about twelve at its sturdy wood counter. There is a television broadcasting, usually sports, behind the bar, which is otherwise mirrored and divided into cupboards. The taps are against this back wall, with assorted glassware and whiskies filling the rest of the spaces. Directly in front of the bar there are Victorian-style couches with low bronze tables for loungers or bar laggers. There are also a few more arranged under the stairs for more intimate conversation. Past the bar there is one of the primary eating areas. There are between eights and twelve tables here, each seating either two or four people. The room is rectangular and at the very end there is an open fireplace, usually burning fiercely. The tables are a darker wood and are nice, and sturdy. The décor here is predominantly black and white photographs of past local happenings. My favorite of which is of a grinning mayor of the town who had once agreed to roll a wheel of cheese down the street in front of one of their annual parades. The second main eating area is located to the left, past the couches and ottomans underneath the spiral staircase. This is for bigger parties, with six or seven tables seating, likely, up to ten. This area is decorated similarly, but also with old time beer advertisement posters. There are also shelves sparsely attached to the wall which have antique beer bottles on them. It is certainly interesting seeing some of the old time labels!! The light is low, lent by the holiday lighting and low hanging ship lamps.
The food menu is accommodating and on the fancier side. There is a selection of imported cheeses, as well as fresh fish appetizers a la carte. The overarching theme is American pub food, but jazzed up and infused with a good deal of seafood. I ordered a goat cheese and roasted vegetable quesadilla, while the fair lady ordered their beer-battered fish and chips. Both dishes were properly cooked, well portioned, and delicious.
After quickly ordering what we wanted to eat, we turned our attention to the extensive beer menu. There are about twenty five draught beers. This includes the gamut of macros, some Belgians, East and West Coast micros, and four seasonal specials. In bottles there are about seventy total, spanning over ten countries. A few of these are seasonal, but the rest are either constant, or within their general rotation. Fantastic!! Any beer aficionado could find something here. We each ended up with a bomber of Rouge's Chocolate Stout. For people seeking something other than beer they have a respectable wine list, and an even more respectable single malt scotch list. But that's another story. We didn't get a good chance to talk about the beer list with the waiter, so it is hard to say how knowledgeable they are, but with a list like that, someone is doing something right.
Overall, The Ginger Man is a great place to go. The décor is upscale, and the restaurant is clean and well maintained. The atmosphere is a bit loud, but surprisingly inviting and warm. There were really no problems, except that the drinks took longer than expected to be served, but this was considerably minor. You can come here with family for a nice dinner, friends for a louder, more raucous dinner, or anybody who wants to sit and relax in their bar area with some excellent drinks.
4,294 characters
4.25
/5
rDev
+12.7%
vibe: 4 | quality: 4 | service: 5 | selection: 4 | food: 4
Okay, I've seen a number of bad reviews of this place on here so I had to comment to offset that a little bit. I visited my girlfriend when she was spending a month in Greenwich and we basically became regulars here. The beer selection is pretty good. Over the course of the month we tried everything they had that wasn't generic and available everywhere. The one bartender here that really stands out is named Sal, and if you want good service at the bar, go there when he works on Tuesday, Friday and Saturday evening. Overall, the food was alright, but I definitely go here for the beer. I tried Le Baladin for the first time here (took them a while to find the bottle, I guess even Greenwich-ers will rarely go for that one) but over all I'd give this place an A.
767 characters

3.83
/5
rDev
+1.6%
vibe: 3.5 | quality: 4 | service: 3.5 | selection: 4 | food: 4
Cozy, dark and on the up scale side of the beer world, hey you are in Greenwich ,ct. one of the more upper cruster spots in the country. This place is stuffy. Expect to find extensive selections of draft and bottled beer from all the quality places locally, regionally, nationally and inter nationally. The beer menus are EXTENSIVE. Also a large menu of quality food, some of it beer focused. The Guinness stew is quite good, just like in the city. Nothing cheap, nothing less then quality."You get what you pay for" and this place is an example of that old maxim. Don't go with a bunch of guys for inexpensive pitchers and burgers. Do go with discriminating beer lovers for some quality beer and tasty food. Could be a good date place as well. One of the few places on the planet to get Captain lawence's tasty Ginger Man ale.
827 characters

4.05
/5
rDev
+7.4%
vibe: 4 | quality: 4 | service: 3.5 | selection: 4.5 | food: 4.5
Located towards the top of Greenwich Avenue.
The atmosphere here in the winter is welcoming, with fireplaces, great meals and great beer. Two stories to accomodate the crowds on weekends.
The quality is above average, nice furnishings, decorations, and makes you want to come back.
The service is good, but could be speed up a bit.
The beer selection is very good, large tap selection, and a bigger bottle selection, some connecticut locals like Thomas Hooker, and than Belgian classics like Duvel.
The food is really the stand out here, from the burger sliders to the ahi tuna salad, it is all great.
One of the best restaurant and bar options in Greenwich.
659 characters
3.68
/5
rDev
-2.4%
vibe: 4 | quality: 4 | service: 2.5 | selection: 4 | food: 4.5
I stopped here with a friend for dinner while in town on business. I found it on BA, and decided to stop despite the poor reviews (it seems this location doesn't live up to the reputation of the NYC location). It turns out the reviews were correct about the service but the beer selection still rocks here.
The atmosphere was OK, a little crowded on a Thursday night but the sit-down dining rooms weren't too bad. The servers knew absolutely nothing about the beers that were offered, but that's not so bad in light of the fact they couldn't answer basic questions about the food either. There were maybe 20 taps, the likes of Stone Coast, Thomas Hooker, Hoegaarden, Paulaner, Guinness (of course), and so on. The bottles list was reasonably extensive, maybe 150-200 beers from the UK, Germany and USA, with a small sampling from 4-5 other countries.
I recommend this place for selection alone, but be prepared for the servers to know jack shit about the product they sell. As long as you know what you want you'll be happy here.
1,032 characters
3.08
/5
rDev
-18.3%
vibe: 2.5 | quality: 3 | service: 3 | selection: 3.5
I enjoyed The Ginger Man's NYC location upon my one and only visit to it a year and a half or so ago. I heard the Greenwich location didn't hold a candle to it but didn't want to believe the (non) hype, but it's true indeed.
On a Thursday afternoon this place was dead. I could probably count the number of people in the place on one hand, and save for about five minutes, I was the only one sitting at the bar. The decor is nice enough with a lot of dark woods and an old school, Ivy League sort of feel to it.
The beer selection is decent with about 15 or so taps and around 50 bottles. Offerings included some Hooker brews, Magic Hat, Brooklyn (Fortitude on tap, I believe), Otter Creek, Dogfish Head, Guinness, Hoegaarden, etc. I had two problems here though: first, I checked out their website a few days before my visit and the beer list hadn't been updated in literally years. If you've got a website and you're known for your selection, why the hell not update it? I can see maybe slipping and forgetting here and there every so often, but a couple of years? C'mon! Second, the beer list on site wasn't even up to date. I asked the bartender to see the list, picked out what I wanted and then looked up to realize that most of the taps are different from what's listed, so then who knows how accurate the bottle list even is?
Anyway, service was basically: ask what I wanted, poured the beer and took my credit card when it was time to leave. Seemed to know the bare minimum about the brews at best.
It's funny, I was to meet two colleagues here and told them that I couldn't vouch for this place but the NYC one was good. They arrived before I did and were basically told outside that this place wasn't so hot and they should go to the Elm Street Oyster House instead...so we did. And it was good. And they had a decent (albeit small) craft beer selection to boot.
If I'm in Greenwich again and only drinking, I'm probably going back to The Ginger Man for lack of any other options, but if I want a good meal and some craft brew pints along with it, it's back to the Elm Street Oyster House for me.
2,123 characters

3.38
/5
rDev
-10.3%
vibe: 3 | quality: 3.5 | service: 3 | selection: 3.5 | food: 4
Visited with my wife on a leisurely Sunday afternoon.
Great bottled selection, but I'm here for what's on tap. I knew this would be the place to finally try a Thomas Hooker beer, since they are not distributed in New Jersey yet. Their Octoberfest was available, and I ordered one along with a sandwich.
The atmosphere doesn't compare with their NYC establishment, it's much smaller and very Connecticut. Lots of wood, very open floorplan with a good capacity to handle a good Friday night crowd.
Being unfamiliar with Greenwich and its bar scene, I wasn't all that impressed with the Ginger Man. I might come back on a Friday or Saturday night to contrast it with the quiet Sunday I walked in.
705 characters
3
/5
rDev
-20.4%
vibe: 3 | quality: 3 | service: 2.5 | selection: 3.5 | food: 3
Do not -repeat - do not - waste your time going here. Overpriced food, bad service, the beer selection is OK. They are really trying to cater to the "its Greenwich people who are Manhattan wannabees" crowd. Atmosphere is not conducive to wanting to hangout and try a few different beers. The quality of the food is OK - but if food is what you are looking for go to the Elm St Oyster House instead. Service is downright awful and they are not accomodating in any way to people who might be willing to hang out at the bar while waiting for a table. Beer selection is above average, so if you have to go here, you will find something interesting. Otherwise, keep on going to NYC.
677 characters
3.78
/5
rDev
+0.3%
vibe: 4 | quality: 3.5 | service: 3.5 | selection: 4 | food: 4.5
Emphasis on dining, with 2 dining rooms downstairs & another at top of spiral stairs. Bar is comfortable & quite busy/noisy, although bit too upscale to be chummy pub environment for which beer is best suited. Crowd is Greenwich, & about what you'd expect, for better or worse. Food is ambitious, & good; diners can go for expensive fancy entrees or more affordable sandwiches. Beer is generally $5 for 20oz imperial pint. Exotic bottled brews go for more ($7.5 for Orval, $15 for Saison Dupont). Staff is generally helpful, if not knowledgable; samples are permitted, sometimes bottles are opened behind the bar and shared. Appropriate glassware is used, although Brooklyn hefe served in a regular pint glass, & Ayinger Altbierisch Dunkel was poured into a weizen glass & swirled at the end as if it was a hefe. I didn't comment since I enjoyed seeing beer treated with respect even if incorrectly. There's about 20 beers on tap & twice that in the bottle. Tap selections are fine but not earthshattering; Maredsous, SN Bigfoot, a handful of Brooklyns (including Black Chocolate Stout) alongside more predictable choices. Bottled list has some interesting selections, but pricey. I'd like to see one or two more Bavarians, more Pacific micros, at least 1 CT micro, & a British tap offering (or better yet, cask) other than Bass or Boddington's - I mean come on, how dull can you get. But hey, ya can't have it all. In this town, it's kinda your only choice for beer (although you may want to check out Elm St Oyster House around the corner for Olde Burnside 10 Penny Ale, Otter Creek Stovepipe Porter, some other NE brews, and fantastic but wallet-emptying seafood).
1,667 characters
The Ginger Man in Greenwich, CT
3.77
out of
5
based on
20
ratings.