Flambeau Red
| New Orleans Lager & Ale Brewing Company (NOLA)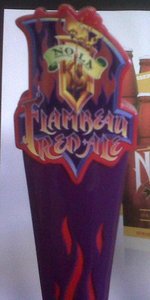 BEER INFO
Brewed by:
New Orleans Lager & Ale Brewing Company (NOLA)
Louisiana
,
United States
nolabrewing.com
Style:
American Amber / Red Ale
Alcohol by volume (ABV):
5.70%
Availability:
Winter
Notes / Commercial Description:
The creation of Flambeau Red starts with the selection of seven unique malts, to give a complex profile which is the foundation of this seasonal ale. Complemented by the barrage of three hop varieties, this is one incredibly well balanced American style red ale. The extreme depth of flavors are our focus, while the American ale yeast used for fermentation allows them to pop on the canvas that is Flambeau Red. The result of NOLA's latest seasonal brew is one incendiary beer, as bright and warm as the keepers of the flame that light the parade route during Mardi Gras nights.
Added by Beerbuddha on 01-17-2011
Reviews: 12 | Ratings: 46
4.92
/5
rDev
+19.1%
look: 4.5 | smell: 5 | taste: 5 | feel: 4.5 | overall: 5
Tried this at the brewery before release
Appearance: Huge reddish tan head. Color was a deep ruby amber color.
Smell: Wonderfully hoppy(citrus and pine) with hints of caramel
Taste: Wow. Had a nice caramel maltiness with a wonderfully balanced hoppiness too it. And what an incredible balance as well. The hops were cranked up a bit but not too much. Its great because the sweet maltiness greets you in the front and then at midpalate you are greeted with that wonderful hoppiness,
Mouthfeel: Medium body with medium carbonation.
Overall: Wow. Dare I say I think this will be one of NOLA's best beers? Yeah I'll say it. Be ready New Orleans because I think NOLA has another winner on their hands.
★
714 characters

4.67
/5
rDev
+13.1%
look: 4 | smell: 4.5 | taste: 5 | feel: 4.5 | overall: 4.5
On tap at Bulldog. My usual bartender gave me this when I sat down without questioning me, and it was exactly what I was going to order.
At first glance I questioned this beer as a girl drink at first, with its tinted red head and red amber color (emphasis on red).
Smell was hopps with some fruitiness, grapefruit and slight melon.
Taste was fruit up front (couldn't place the fruit exactly, will try harder on my next tasting) and some nice caramel malts with a nice hoppy flavor that was pleasantly unexpected at the first sight of the beer. I will never doubt my bartender again.
It had a nice medium body that went well with the beer.
Overall I enjoyed this beer alot. It is very easy to drink, I could down them all day.
I was upset Irish Channel Stout was gone but this is one hell of a replacement for the upcoming hot Louisiana Summer. My consumption of this fine beer will go up with the temperature.
★
916 characters
4.42
/5
rDev
+7%
look: 4 | smell: 4.5 | taste: 4.5 | feel: 4 | overall: 4.5
Had on tap at Avenue Pub into a pint glass
Appearance: 1/2 inch head, dark reddish brown in color, clear, medium carbonation
Smell: caramel, sugar, and pine hops--smells amazing
Taste: caramel, sugar, and pine hops. There is also some light citrus hops
Mouthfeel: light bodied, sweet with a bitter backbone, medium-high carbonation
Drinkability: Wow. This was my first NOLA beer and this blew me away. The pine mixes well with the sweet brown sugar malt. This is easily one of the best reds I have had in a long while. I could session this if it was available here. Wow-for the style-just wow.
★
598 characters

4.33
/5
rDev
+4.8%
look: 4.5 | smell: 4 | taste: 4.5 | feel: 4 | overall: 4.5
Had this at the Barley Oak in Mandeville, La
On-tap poured into pint glass
Poured a deep dark reddish color with a nice head on it, nice lacing and good head retention.
Smells of piney and earthy hops, some caramel malts
Taste is strong with the hops, piney and some citrus, but I enjoyed that. Balanced well with the sweetness, caramel malts.
Mouthfeel was medium with medium carbonation
Overall, a great beer. I enjoyed the hoppiness of this red ale, excellent brew.
★
468 characters
4.31
/5
rDev
+4.4%
look: 3.5 | smell: 5 | taste: 4 | feel: 4 | overall: 4.5
Poured into a pint glass. large amount of head from the recently tapped keg, but settled to a nice size. Some lacing with good head retention.
Pours a medium to dark brown color, a bit darker than your typical amber. Wonderful smell, hops shine through, piney with some malty notes as well, caramel and cane. Tastes wonderful, but the hops become a bit overpowering, excellent grapefruit and pine notes with the bitterness building a bit more than I like in an amber. This beer was consumed at its peak freshness, the pure hop flavor is absolutely awesome. Overall highly drinkable with a lovely mouthfeel, fairly carbonated but not too much, had to get myself a growler for the next day. Another hit for Nola and one that will hopefully gain this brewery more national attention.
★
780 characters

4.3
/5
rDev
+4.1%
look: 4 | smell: 4 | taste: 4.5 | feel: 4 | overall: 4.5
Translucent amber/red color, tan head of a little finger. Lace was okay.
Aroma has a nice pleasant floral hop smell, nice caramel malts, slight sweetness. Slightly nutty.
Taste is hugely hoppy. Floral, piny, and resinous. Malt, caramel sweetness. Awesome red.
Feel is nice and creamy, full bodied, nice and smooth, good carbonation.
Overall, one of my favorite reds now. Hop profile is great, and the malt backbone is perfectly complimenting.
★
447 characters
4.07
/5
rDev
-1.5%
look: 3.5 | smell: 4 | taste: 4 | feel: 4 | overall: 4.5
Pours a reddish brown with tns and tons of head. Pretty but overly carbonated i think.. Smells of a nice malt backbone and a solid but subtle hop profile. Certainly not a paicularly crazy smelling beer but soid nonetheless. Tastes sweet and malty. Lots of mossy earthiness coupled with a great but not overpowering hoppiness. Vry tasty
★
335 characters

4
/5
rDev
-3.1%
look: 4 | smell: 4 | taste: 4 | feel: 4 | overall: 4
Pours a clear reddish brown, moderate cap of off-white froth, some sticky lacing. Scent contains a blend of toasted grains, brown sugar, light caramel and molasses and a nice whiff of piney hops as well as some faint citrus. Taste leads with the firm maltyness, hops are present, but not overly bitter as preferred in the style, piney and spicy with a kiss of citrus. Medium bodied, good carbonation, lightly dry despite sweet notes. Best of the bunch from all the local brews sampled on a recent trip.
★
502 characters
4
/5
rDev
-3.1%
look: 4 | smell: 4 | taste: 4 | feel: 4 | overall: 4
Poured at the Avenue Pub, New Orleans
Then poured into a glass at our hotel before heading down to the French Quarter Fest.
A: Clear, reddish/amber with an off white, one finger head that hung around for the Fest. Great lacing.
S: Piney hops dominate, followed by malts and brown sugar.
T: Hop forward on the first swallow. Then a settling down of the hops, mixing with malt, caramel and brown sugar. Slight hoppy finish that blends well with the overall taste.
M: Medium with creamy carbonation. Full bodied.
O: My #2 fave from NOLA, following Smokey Mary. A great red ale. The growler beckoned our return from the Fest that night. A yummy nightcap.
★
656 characters
3.93
/5
rDev
-4.8%
look: 4.25 | smell: 3.75 | taste: 4 | feel: 3.75 | overall: 4
Had it fresh in the brewery.
Dark copper color with a thick beige head with good retention and leaving lots of laces.
Medium strength aroma with notes of cocoa, nice spices and roasted malts.
Similarly, flavor with notes of cocoa, a bit of each that sum together to the overall beer: citrus, earthy and piney hops, spices, American Amber/Red yeast and caramels. Dry aftertaste with a medium bitterness.
Medium body with good carbonation.
Pleasant American Red ale with a nice choice of hops that balances with some mild cocoa and spicy notes. Very easy to drink.
Ap.4,25 Ar.3,75 Sab.4 Sens.3,75 Cj.4
★
600 characters
3.88
/5
rDev
-6.1%
look: 4 | smell: 3.5 | taste: 4 | feel: 4 | overall: 4
Poured from tap into pint glass at Lagers in Metarie, LA. Pours a dark brown/deep amber. Little head but sticky lacing. Slight hop aroma mixed with malts. Typical red/amber aromas with a slightly hoppier aroma. Taste is a nice balance of hops and malts. Its not overly hopped and not overly malted. Overall, nice amber, but I think I'd like it more with a higher abv and/or more hops...
★
386 characters
3.58
/5
rDev
-13.3%
look: 4 | smell: 3.5 | taste: 3.5 | feel: 3 | overall: 4
On tap at Walk Ons in Lafayette, LA.
A: Pours a clear dark reddish/brown color. A two finger white head forms with good retention. Plenty of lace is left behind.
S: Toasted malts, baked bread, lingering hoppy bitterness. Not a lot of depth, but enjoyable.
T: Follows the nose with a nice toasted malt flavor. Bread and biscuit. Lingering hops. Standard, but enjoyable.
M/D: A light to medium body. Crisp carbonation, but a bit on the thin side. Easy to drink. I put back several without a thought.
Enjoyable and easy to drink. Nothing too exciting, but something to enjoy and nothing to turn down.
★
599 characters
Flambeau Red from New Orleans Lager & Ale Brewing Company (NOLA)
4.13
out of
5
based on
46
ratings.