Mad Bruin
| Driftwood Brewery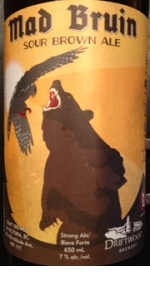 BEER INFO
Brewed by:
Driftwood Brewery
British Columbia
,
Canada
driftwoodbeer.com
Style:
Flanders Oud Bruin
Alcohol by volume (ABV):
7.00%
Availability:
Limited (brewed once)
Notes / Commercial Description:
No notes at this time.
Added by Rutager on 10-18-2012
This beer is retired; no longer brewed.
Reviews: 12 | Ratings: 36
3.3
/5
rDev
-16.2%
look: 3.5 | smell: 3.5 | taste: 3 | feel: 3.5 | overall: 3.5
Big thanks goes out to MSquared2 for sharing this one at a recent Random Sunday Tasting! Poured deep brown with a half finger off-white head that subsided to a minimal amount quickly. Maintained nice lacing throughout the glass. The aroma was comprised of sweet malt, caramel, fruit, wheat, and dark fruit. The flavor was of sweet malt, wheat, earth, and subtle spice. It had a light feel on the palate with mild carbonation. Overall this was a fairly decent brew. Another brew I had never heard of that showed up. The flavor on this one was a fair bit of a letdown though. This was due to the fact that it was very mellow and light. I really wish it would have brought the goods and tried to shock me. Unfortunately that was not the case. Glad I got to try it, but doubt I would do so again in the future.
★
806 characters
3.48
/5
rDev
-11.7%
look: 4.5 | smell: 4 | taste: 3 | feel: 3.5 | overall: 3.5
22 oz bottle poured into a tulip. Reviewed 26 October 2012.
Ar: Rich and malty, pleasant clean mild acidity, raspberries and brown sugar, lactic sourness, definitely of the flemish nature (clean sour without brett), metallic hints? clean and tart, malty and fruity overall, slightly spicy
Ap: Beautiful rich brown with red, creamy thick fine tan head, great retention
T: Malty and toasty, brown sugar, toast crust, dark caramel, mild acidity, metallic (though fades with time) malty and brown malt characteristics dominate, clean lactic acidity though it is mild, slightly fruity (raspberries, with dark dried fruit - prunes and raisins), rather nutty, rich with mid range malt (toasty and dark caramel) some bright tartness in the middle but overall malt forward with a bit of sweetness
M: Medium body, slightly sweet, low to moderate carbonation, slightly tart but not too much
O: If i think of it as a brown ale that is soured it is pretty good, if I am expecting a soured ale that is brown it is less acidic than I'd like. Clean lactic sourness w/out acetic which is nice. Overall pleasant and it is good to see breweries up this way doing some acidic beer, though this one might benefit from a little more maturation time.
★
1,232 characters

3.85
/5
rDev
-2.3%
look: 3.75 | smell: 4.25 | taste: 3.75 | feel: 3.5 | overall: 3.75
A: Mahogany, pours with a nice off-white head, very little retention, no lace.
S: Wonderful wine-like aroma (grapes, oak, field berries), light funk, dates, sponge toffee, lots of depth.
T: Figs, oak, black berries, maraschino cherries, cocoa, vanilla, dates, brown sugar, light acidity, modest bitterness.
M: Dry, very dry, with a lightly acidic, crisp finish.
O: I find it a bit rough around the edges. I think it should have some cellaring potential though... it's so dry that I think it would mellow rather than increase in acidity.
★
540 characters
3.86
/5
rDev
-2%
look: 4.25 | smell: 3.75 | taste: 3.75 | feel: 4 | overall: 4
Thanks to Boozecamel for this one.
Poured from a 650ml. bottle, no freshness info.
Appearance: Huge head, great retention that slowly pops and fizzles while leaving some traces on the glass. Body is the color of dirty brown.
Smell: Sour cork, bit of vinegar, bit shy i found.
Taste: Sour tartness that slowly unfolds itself, bit of minerals, black cherries, light vinegar with loads of wine cork flavor.
Mouthfeel: Very prickly, lively, acidic, full and long feel.
Overall: A discreet Oud Bruin, tasty indeed.
★
515 characters
3.9
/5
rDev
-1%
look: 3.75 | smell: 3.75 | taste: 4 | feel: 3.75 | overall: 4
22oz bottle, split, hair of the dog tulip
Brought back from recent trip to Vancouver - sweet label. Both of us being big fans of the "sour brown" style, this was one of the beers I sought out while in B.C. Definitely sour - minerally, vinegar, oak, tart cherry, fairly high acidity. Somewhat middle of the road in a tough style - certainly no La Folie, but still good
★
368 characters
3.92
/5
rDev
-0.5%
look: 4.5 | smell: 3.75 | taste: 4 | feel: 4 | overall: 3.75
Bottle from Fonduevoodoo in CanBIF Spring 2014.
A - Very strong carbonation coming up in a nice ruby coloured body. Cloudy body with a nice two finger beige head that lasts. Good lace walls around and a finger of retention. Nice stuff.
S - Lot's of funk, wood, dark malt, sugar, overripe dark fruit. Nice.
T - Seriously tart up front. Acidic, funky, overripe fruit again. A bit odd for the style as it doesn't pack a woody/dark fruit/cherry, but more an acidic apple note.
M - Strong carbonation, dry vinegary finish. Movement in the mouth with the medium body creates instant tingly sourness.
O/D - This is nearly on point, just missing a bit more kick. Maybe too much on the acidic end of things, smacking any of the complexity I associate with the style out the way. All that said, this is still tasty and worth a shot. Good effort.
★
842 characters

3.95
/5
rDev
+0.3%
look: 4 | smell: 4 | taste: 4 | feel: 3.5 | overall: 4
650 ml / 22oz bomber poured into a champagne flute.
A: Warm brown with a touch of ruby, fades to amber. A finger of off-white head that fades to a thin cover, no lacing.
S: Sour cherries, yeast, gentle malts. Very much like dried fruit.
T: Tart and sour flavours with cherry and malt notes. Finishes slightly sweet.
M: Light and well-carbonated with a fine finish.
O: Another winner from Driftwood and a good follow-up to Bird of Prey. I preferred BoP but it was a different beast. Both are excellent beers; buy and try if you can find it! I think it wouldn't be adverse to a bit of aging either - year-old Bird of Prey was great stuff.
★
641 characters

4
/5
rDev
+1.5%
look: 4 | smell: 4 | taste: 4 | feel: 4 | overall: 4
Wow, even the smell of this sour had me puckering up! Intense sourness on the nose, kind of a Granny Smith apple tangy-ness too. It pours a very dark brown, and has a little bit of frothy head that remains long after pouring. My first two sips of this were at a temperature much too low, this had to warm up a bit for the complexity to be revealed. Once it did, the intense sourness mellowed just a bit, enough for a shy brown ale flavour to peek out. The brown ale had a bit of toffee and roasted malt notes, but these were in the very background of the sour apple tangy-ness. Now despite all I've said about how sour this beer is, in my mind the most dominant flavour of this brew is Potential :) The flavour potential for this beer is off-the-charts, especially considering how much Driftwood's previous sour beer (Flanders Red) began to balance out after even just a couple months in the cellar. With a cellar-strengthened malt backbone, and a little more alcohol presence, I predict this will be nearly a 5 star beer!
★
1,022 characters

4.09
/5
rDev
+3.8%
look: 4 | smell: 4.25 | taste: 4 | feel: 4.25 | overall: 4
650ml bomber poured into tulip 26/4/13 thanks Rutager for sending a couple my way
A deep brownish amber that has some ruby highlights when held to the light, lots of bubbles keep a 1/4inch film going for ages but leaves just a few random patches of lace
S mild funk works well with some wood, brown sugar, raspberry and apple cider with a little sour cherry, vinous grapes, smells pretty solid with some leather and spice as it warms
T not quite the complexity of the nose with less fruity notes but a little more cider if that makes any sense, acidic and sour but not anywhere near turning my mouth inside out, somewhat mellow considering the style
M medium bodied with no shortage of bubbles, rather slick but I feel some tannins at the same time somehow, sour and dry with a lingering finish I can't quite place
O not a bad sour and I'm thinking it has a ways to go before it peaks, no pucker involved and I could drink my other bomber with no problems but I'm going to wait another year or so
Driftwood's ability to make such a wide range of difficult styles continues to impress me. I can see some cellar time working well for this one and I'll keep you informed.
★
1,179 characters
4.15
/5
rDev
+5.3%
look: 4 | smell: 4 | taste: 4.5 | feel: 3.5 | overall: 4
Appearance. Pours a deep red-brown with a finger of bubbly, off-white head that fades pretty quickly.
Smell. Sweet dark malts, cherries, raisins and brown sugar, a little wood, belgian yeast, booze, and leather.
Taste. Some darker malts, lightly sour, a little bit of cherry, plum and belgian yeast. Some nice tannic wood and leather in the end.
Mouthfeel. Lighter body, medium smooth carbonation.
Overall. Another great and long awaited sour beer from Driftwood. Nice follow up to the first in the series. Looking forward to the next.
★
539 characters
4.15
/5
rDev
+5.3%
look: 4 | smell: 4 | taste: 4.5 | feel: 3.5 | overall: 4
A: Pours a tawny brown with about 2 fingers of white head that dissipates to a thin rim around the glass. Slightly murky at the end of the bottle.
S: Initial smells of wet dark fruits, like dates and raisins, followed by sour fruits and cherries. Upfront is of sweet malts with the slightly acidic notes in the background.
T: Dry and tart, with bread crust and yeasty notes together with spices like cloves and sweet malts. Dry tannins stick to the mouth. Reminiscent of English style dry apple ciders.
M: Thin, low carbonation but the tartness sticks on the palette.
O: This is a very enjoyable beer and paired well with the sweetness of a margherita pizza. I'm glad we purchased a couple bottles and I am looking forward to how it ages.
★
742 characters

4.47
/5
rDev
+13.5%
look: 4 | smell: 4.5 | taste: 4.5 | feel: 4.5 | overall: 4.5
A: 1/4" cream colored head over caramel brown liquid.
S: Sour caramel and a floral scent.
T: Sourness, caramel, nuts, cinnamon and floral characteristics. Pretty tightly integrated.
M: Thin viscosity with low carbonation, characteristic of the style.
O Honestly this is better than most of the Belgians I have tried. Well done.
★
331 characters
Mad Bruin from Driftwood Brewery
3.94
out of
5
based on
36
ratings.