The Heretic
| Driftwood Brewery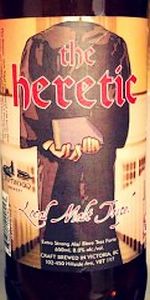 BEER INFO
Brewed by:
Driftwood Brewery
British Columbia
,
Canada
driftwoodbeer.com
Style:
Tripel
Alcohol by volume (ABV):
8.00%
Availability:
Limited (brewed once)
Notes / Commercial Description:
This Belgian-style Tripel was brewed with barley that was grown and malted here on Saanich peninsula by artisan Maltster Mike Doehnel. Not brewed by Monks.
Added by LampertLand on 06-07-2013
This beer is retired; no longer brewed.
Reviews: 8 | Ratings: 21

3.76
/5
rDev
-1.1%
look: 4.25 | smell: 3.75 | taste: 3.75 | feel: 3.5 | overall: 3.75
"This Belgian-style Tripel was brewed with barley that was grown and malted on the Saanich Peninsula by artisan Maltster Mike Doehnel. Not brewed by monks." Brewed in the style of a Belgian Tripel, available as a one-off release in 22 oz. bottles and limited draft.
Poured from a 22 oz. bottle to a tulip glass. Served above 57 degrees Fahrenheit.
(Appearance) Pours a frothy foam head of a pastel white color over a densely hazy golden amber body with mild, energetic carbonation and fine sediment in suspension. Retention is good and lacing is moderate and patchy. 4.25
(Smell) Forward blend of biscuit pale malts, soft wheat and candied sugar sweetness with a potent yeast profile generating notes of pepper, mango, pithy grapefruit and unsweetened pineapple juice. Potency is medium/high. 3.75
(Taste) Bread pale malts meet a chewy wheat and a touch of caramel grain to build a fuller bodied but very dry malt profile. The Candi sugars add a touch of residual sweetness but hardly covers the extent of the yeast activity. This Tripel has dried out considerably with only unsweetened fruit essence and mildly phenolic spices complimenting the body. Finishes with a lingering note of peppery spice and fruit juice, suggestively saison-like from the dry tartness, especially on the back end. 3.75
(Mouthfeel) Texture is silky, lightly chewy, fully dry. Carbonation is modest, generating a medium frothiness and soft crispness. Body is medium for the style, medium+ overall. Balance is tart fruity, yeasty and slightly grainy over sweet. Alcohol presence is light and there are no notable off characters in the flavor. 3.5
(Overall) Despite its near parching dryness, the flavors of this tripel are overall enjoyable. Nice fruit profile, fully exposed yeast character with a nice touch of clove spice and fruit juice, impending tartness. These are the tripels that I enjoy most, although it may showcase more unusual flavors from the traditional style, it's an enjoyable beer and one that I would recommend if the brewery were to make it available once again. 3.75
Driftwood Brewery's
The Heretic Local Malt Tripel
3.75/5.00
2,131 characters
3.6
/5
rDev
-5.3%
look: 3.75 | smell: 3.75 | taste: 3.5 | feel: 3.75 | overall: 3.5
Appearance. Pours a hazy honey gold with almost a finger of frothy white head.
Smell. Light but sweet caramel and nuts, sweet orchard fruits and light wheaty malts, cloves and spicy Belgian yeast. Was expecting this to smell like a stronger version of the Dubbel I just had, but it's much lighter and wheatier.
Taste. Crackery light malts and citrus hops (?) with a light bitterness, some light spicy Belgian yeast and lightly bitter phenols
Mouthfeel. Medium+ body, medium+ carbonation.
Overall not really what I would have expected in a tripel, especially after just drinking the dubbel. That being said it's a decent brew with quality ingredients albeit a little on the light and fruity side for the style.
713 characters

3.93
/5
rDev
+3.4%
look: 4.25 | smell: 3.75 | taste: 4 | feel: 3.75 | overall: 4
A: Hazy, dirty straw. Pours with a nice white head, thin ring of retention shows some lace.
S: Grain, wheat, biscuit, some candied pineapple and mango with hints of phenolic spice and hay.
T: Great biscuity malt foundation, dried fruit, light spicing, modest bitterness and a slight alcohol warmth.
M: Moderate body is perhaps a bit heavy for the style, slight residual sweetness balanced is balanced by a hint of acidity and a drying alcohol finish.
O: A good drinker, though perhaps more of a strong, blonde, farmhouse ale than a Tripel?
543 characters

3.88
/5
rDev
+2.1%
look: 4.25 | smell: 4.25 | taste: 3.75 | feel: 3.5 | overall: 3.75
650ml bomber poured into tulip 23/8/13
A slightly hazy golden yellow with a carbonation tornado coming off the bottom, a finger of foam falls to a thick film and stays there leaving lots of random lace deep down the glass
S pineapple, banana, clove, Belgian yeast, spice I can't place, brewers candy, some sweet malt and a little booze, smells like a triple
T still a little rough around the edges and compared tot he nose its a small step backwards, more malt and booze and a little less of the nice fruity, spicy notes I could smell
M medium bodied and it foams up and flattens out, a little heat and lots of cereal on the finish
O started of great but ends merely good, perhaps some age is in order? I can see it mellowing out and becoming something awesome down the road.
I'm loving the nose and liking everything else, I think my expectations of Driftwood is a world class beer in every style they attempt, this ones pretty good
943 characters
4.05
/5
rDev
+6.6%
look: 4 | smell: 4 | taste: 4 | feel: 3.5 | overall: 4.5
A: bright golden yellow, almost transparent; small head
S: nice yeasty dough with bright citrus rind, spice
T: Rich but not at all sticky. Nice and crisp. the flavour doesn't really develop into something more but it's all there in a tight little package. Good line of bitterness is long. And the taste gets better and better with every sip!
M: rich, full-bodied, not crisp. The style calls for light body but I don't find that the case with this one. Still, I don't think the mouthfeel is at all a detriment.
O: I didn't get too excited about this beer until I had it with my pizza (veg w peppers, onions, toms, arugula, goat cheese...if it really matters); the bitterness cut nicely and the flavour allowed the food flavours to come through beautifully. It doesn't have a "blow you away" style but I found it hard to resist taking sip after sip. Hard to believe that it's 8% -- this one could easily sneak up on you. Beautifully balanced in the typical Driftwood style. Unlike an IPA, this one won't overwhelm delicate food.
1,026 characters

3.39
/5
rDev
-10.8%
look: 3.5 | smell: 3.75 | taste: 3 | feel: 3.75 | overall: 3.5
650ml bottle, $7.45 + deposit at the Lennox Liquor Store, 12th and Cambie.
A: yellow/pale gold, pretty clear, less head than I expected but good retention, obvious carbonation.
S: a bit yeasty, pale malts, nothing strong.
T: sweet, pale malts, slight bitterness, alcohol.
I don't think this style of beer is for me, although by no means do I hate it. I can't compare it to others of this style, as any I've tried were a few years ago. I wouldn't get it again, but that's probably no fault of the beer, it's just not my preference.
533 characters
3.82
/5
rDev
+0.5%
look: 4 | smell: 3.75 | taste: 3.75 | feel: 4.25 | overall: 3.75
A: Pours a crystal clear deep gold with 4 fingers of big pillowy white head which leaves plenty of sticky islands of lacing up the sides of the glass. Tiny amounts of bubbles can be seen streaming up from the bottom.
S: Ripe bananas, pale caramel malts with notes of spice of pepper and cloves. Hints of alcohol in the background.
T: Ripe bananas together with yeasty bread. Noticeable wheat or grain presence that reminds me of a lager. Mid palate notes of rock candy and lemon peel. More hoppy and less sweet than Belgian triples. Finish is slightly bitter with lemon pith and a touch hot from the presence of alcohol.
M: Medium bodied with chewy mouthfeel. Despite the giant head on the pour, carbonation is low. Mouthfeel is full and sophisticated and is the highpoint of this beer.
O: The noticeable presence of hops mid palate and on the finish gives this tripel a west coast makeover. Heritic is less sweet, more wheaty and hoppy with lemon pith than a traditional Belgian style. This tripel is a good fusion between the traditional and new age styles.
1,064 characters

3.94
/5
rDev
+3.7%
look: 4 | smell: 3.75 | taste: 4 | feel: 4 | overall: 4
Driftwood Brewing 'The Heretic' , a local malt Tripel @ 8.0% , the label show's a member of the church holding a copy of the 'Reinheitsgebot' which loosely translated mean 'Pure by LAW' served from a 650 ml bottle purchased for $8
A-pour is a clear pale gold with a big off white head that is leaving a frothy lace along the goblet
S-unique Belgium yeast & hops , nicely crafted
T-again unique Belgium yeast & hops blended with local malts , sweet candy sugar
MF-mild carbonation , full bodied , I'd swear after the second sip this beer was crafted by Monks
Ov-although I prefered 'Clodhopper' this is a big beer and good take on a Belgian style ,
yes I'd buy again
prost LampertLand
692 characters
The Heretic from Driftwood Brewery
3.8
out of
5
based on
21
ratings.