Chuckanut Brewery & Kitchen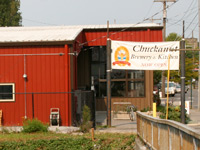 PLACE INFO
Type:
Brewery, Bar, Eatery
601 W. Holly St.
Bellingham
,
Washington
, 98225
United States
(360) 752-3377 |
map
chuckanutbreweryandkitchen.com
Notes:
No notes at this time.
Added by BeerAdvocate on 12-18-2008
Reviews: 18 | Ratings: 35

3.73
/5
rDev
+0.5%
vibe: 2.5 | quality: 4 | service: 3.5 | selection: 4 | food: 4
Chuckanut Brewery is a very utilitarian little place. The interior looks almost unfinished with very little decoration or even a paint job as though they left the place the way it was and just put out some tables and chairs. The indoor seating area is quite small although there is a more extensive outdoor area and beer garden in the back from what I saw. The indoor area has a fairly open view of the kitchen although it's not a particularly interesting view. A small bar area has one small T.V. and a nice patio area.
Food and beer quality seems good. I only tried a couple of different pizzas which were quite good and some chips and salsa which was pleasantly on the spicy side. The beer is some good European and German style beers which is a nice departure from all the American craft brewpubs.
Service was very friendly albeit a little slow while the selection both in the food and beer departments are diverse enough to warrant a couple return trips.
A nice quiet place (even on a Friday night) to get some good food and beer.
1,038 characters
3.35
/5
rDev
-9.7%
vibe: 3.5 | quality: 3 | service: 3.5 | selection: 3.5 | food: 3.5
A: From the outside it does not look like much but who cares. Patyio out back this is dog friendlky, overlooking water and much of Bellingham. Laid back, local vibe
Q: Beer quality is average at best, subpar to average I would say
S: Slow at times but not to complain about. They were nice but maybe understaffed
S: A mix of Bavarian, American and English styles but nothing to write home about
F: Ok, yam fries were decent but that was all we had. BB had ruined out appetite bland food
Ok to stop but not impressed.
521 characters

3.33
/5
rDev
-10.2%
vibe: 3.5 | quality: 3.5 | service: 3 | selection: 3.5 | food: 3
Went here a couple weeks ago while up in Bellingham. Had to check it out...hadn't heard much about the place other than it was somewhat new and just won small brewery of the year at GABF. Parking was good, there was on street parking as well as a small parking lot at the brewery. The actual brewing facility was in a separate building just steps from the taproom. The taproom itself was fairly small but wasnt' too busy when we were there which was good. It seemed like most of their beers were Lagers (which is pretty cool). I had a bock and a german alt both of which were good. Their menu was pretty good as well, we decided on a couple pizzas. Both pizzas were just ok. While this is a pretty good place I wonder how they got best small brewpub in the US. In my opinion they arent even the best small brewpub in Bellingham.
828 characters
3.7
/5
rDev
-0.3%
vibe: 4 | quality: 4 | service: 4 | selection: 3 | food: 3.5
Went there on a Saturday afternoon for a couple beers. It's a strange building, which makes it kind of interesting. Surprisingly large brewing facility.
Service was good, even as it got busier. Apparently it's a fairly popular hangout. We each had a couple beers, generally $4.50 apiece.
Selection is entirely lagers (six taps), which isn't my favorite, but they were pretty good for the style. The Schwartzbier and the Vienna Lager were my top picks.
We had an order of sweet potato fries, which were crispy, well-seasoned and quite tasty.
543 characters
2.33
/5
rDev
-37.2%
vibe: 1 | quality: 3 | service: 1.5 | selection: 3 | food: 2
This is the newest brewpub around. The atmosphere is very bad, they couldn't decide if they wanted an industrial look or an artsy look, so they combined them and got a horrible mush.
The quality of the beer is very good, even though I don't drink many Lagers, which is what this place specializes in. I did enkoy the Alt very much when I had it at another bar in town.
The service, while better than it was, is still bad.
The selection of beers is good, they make a lot of different ones over the course of the year.
The food is not very good, certainly not up to the standards set by the other brewpub in town. I agree with another reviewer about the clipboards, very tacky.
For the price of food versus quality of food, this place is over priced. The price of beer is fair however.
Hopefully the recent awards they've won will inspire them to try harder to improve, since they are now on the national beer radar. I also agree with another reviewer that these beers are better enjoyed at another establishment.
1,017 characters
4.03
/5
rDev
+8.6%
vibe: 4 | quality: 4.5 | service: 4 | selection: 3.5 | food: 4
Winning the GABF Small Brewpub of The Year award is not a bad way of capping your first year in business. But could this upstart deserve the highest accolades in the country? Well, they certainly brew some damn fine beers. Their menu features six house beers at any time, mostly lagers of German extraction, though they also brew a few Anglo-style ales. Beers are characterized by exceptional clarity, lively carbonation, and clean lines. I've yet to encounter the more typical hop bombs or fruitier malt-driven ales commonly brewed in our region. But frankly, clean, honest lagers are a welcome market niche.
The spacious brew house (lots of room for expansion) is separated from the pub except by a shared carport roof with a parking area between the two buildings. The pub is a modest affair with multiple seating areas, a patio overlooking Whatcom Creek, and a covered outdoors seating area with a stage and BBQ suitable for Oktoberfest-type events.
Food centers on wood-fired pizzas, wraps, salads, light Mex and seafood, with a few interesting specialties such as goat cheese pie, yam fries, or the Yamburrito. Many ingredients derive from local free-range organic scenarios. I found it satisfying and reasonable. One thing I don't "get" is that they hand you menus on clipboards. What's with the clipboards? Am I ordering food or taking a survey? Another item for my wish list is that, while they do have a few tulips and Tuesday is Kölsch night with beers served in 8-oz. stanges (for a buck-fifty), most beers come served in shaker pints. Those brilliantly clear lagers just beg for a tall pilsner glass or something more elegant to show off their supreme clarity and effervescence. (I'm getting tired of shaker pints, especially with lagers.)
Chuckanut gives us much to celebrate and a lot to look forward to. Now there's at least two good reasons to be in Bellingham.
1,884 characters
3.88
/5
rDev
+4.6%
vibe: 3 | quality: 4.5 | service: 4 | selection: 3.5 | food: 3.5
Have to agree with Terry (Beertunes) that the atmosphere is not the best feature of this place. It really does look like it might have been a hardware store in a previous lifetime, and the layout inside is a bit odd. You actually park your car in the middle of the building set-up, with the small brewery operation on your right as you drive in, and the brewpub on the left. As you walk into the brewpub, there is a small bar area to your left, with tables and chairs scattered around the interior of the pub. The brewpub really looks more like a small breakfast cafe, but what the hell, I wasn't here for the ambiance anyway.
Chuckanut was recently named the 2009 small brewpub of the year at GABF, and after tasting through the beers here I could see why. The pilsner and smoked amber were both excellent, and the schwarzbier was pretty good as well. Wasn't in love with the vienna lager, but the taste I had later of the alt over at Terry's place later confirmed that the brewer here (Josh) clearly knows what he's doing when it comes to making good beer. Josh was kind enough to provide a quick tour of his 10 barrel bewing operation and was just an all around pleasant, easy going guy. Back to the brewpub... there was also an amber and kolsch the day I was there, neither of which I had an opportunity to try, though Terry told me it (the kolsch) was pretty good. We were served by a pleasant young lady, who was quick and efficient while we were there. I didn't get the impression she was particularly knowledgable about the beers available, but that really wasn't required anyway this day. Food was OK. I got the "local" 10 inch pizza, which came with smoked salmon and red onions. While nothing memorable, it was tasty and filling (which was all I required).
There's no doubt about it, the beers here are very, very good. If the brewpub was the only place I could find Chuckanut beers, I'd stop by pretty frequently if I lived in town. However, their beers appeared to be pretty available all over town, and I know there are now beer bars in Seattle where you can find Chuckanut beers as well. That being the case, the brewpub itself is nothing memorable, and with all the other interesting options in Bellingham, I suspect I'll probably take my business elsewhere next time I'm in town and want to drink Chuckanut beer.
2,333 characters
3.05
/5
rDev
-17.8%
vibe: 2 | quality: 3.5 | service: 2.5 | selection: 3.5 | food: 3
Converted from an equipment rental store, as you enter the brewhouse is to the right and the pub on the left. Only 6 seats at the bar so you'll probably have to grab a table. They are brewing a lot of styles but only six at a time are on tap. They are brewing to style which is a refreshing change from the typical Northwest hop bombs. They insist on the annoying habit of rinsing your glass with water just before pouring a beer. I personally prefer not to have a teaspoon of water in my beer. The bartender explained that this is to rinse the last of the soap out of the glass. Shouldn't the soap be rinsed in the dishwasher? It is obvious that the pub is secondary to the production brewery, with unattractive mustard colored walls and some of the worst "art" I've ever seen. There are some outside tables that give you a view of a neighboring bar notorious for hosting several serial killers. I like the beers and they are gaining distribution so I recommend trying the beer at a different bar.
Edit on 8/24/09. Now having been open a year, this place is finally getting it's groove. The service is better and the beers are dialed in. The room is still ugly, but if you're in town it won't kill you to stop in for a couple of quick pints.
1,243 characters
Chuckanut Brewery & Kitchen in Bellingham, WA
3.71
out of
5
based on
326
ratings.