Monserrate Roja
| Bogota Beer Company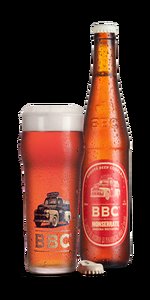 BEER INFO
Brewed by:
Bogota Beer Company
Colombia
bogotabeercompany.com
Style:
American Amber / Red Ale
Alcohol by volume (ABV):
5.00%
Availability:
Year-round
Notes / Commercial Description:
It is our red beer, British recipe, fruity and full-bodied, hoppy and rich aroma. 2 weeks of maturation. 5% alcohol.
Added by Andreji on 08-04-2003
Reviews: 7 | Ratings: 22

3.45
/5
rDev
-2%
look: 3.5 | smell: 3.5 | taste: 3.5 | feel: 3 | overall: 3.5
Some earthy hops show in this one. A touch of grapefruit. A lot of bready and caramel malts. Spicy, almost ryelike. Some fruitiness. A decent amber. Ends very dry.
164 characters
3.97
/5
rDev
+12.8%
look: 3.5 | smell: 4 | taste: 4 | feel: 4 | overall: 4
Nice appearance. Tawny cooper. Smell delicious, hops above all. It has a medium body and medium carbonation. Great balance between flavor and drinkability. Begin with a mild zesty taste with sweetness fruit based. Apparently inspired in american and English heritages, hops from the first and malt and body from the latter. Very good surprise. One of the best from Bogota beer company.
385 characters

3.29
/5
rDev
-6.5%
look: 3.5 | smell: 3.25 | taste: 3.25 | feel: 3.5 | overall: 3.25
Pours a hazy amber color with a 2 finger white head with plenty of lacing on the glass. Aromas of malt, light earthy hops, a bit of nuttiness. Tastes of Caramel malt, biscuits , fruity hops, some earth notes and nuttiness. A fairly light feel with a clean finish. Similar to Fat Tire.
284 characters
3.62
/5
rDev
+2.8%
look: 4 | smell: 3.75 | taste: 3.5 | feel: 3.75 | overall: 3.5
Pours a light Amber with a touch of haziness. Aroma is nightly malty with notes of roasty Carmel. Flavor I sight lyricists Carmel malts. Has a solid body and overall a solid beer.
179 characters
3.12
/5
rDev
-11.4%
look: 3.5 | smell: 3.25 | taste: 3 | feel: 2.75 | overall: 3.25
Picked up this brew as part of a sixer that also included Candalaria Classica and Cajica Honey Ale as well as a handy BBC imperial pint glass. Have had this brew many times at BBCs but never review so now with glass in hand, let's give it a whirl. Popping the top I get a waft of malt and noble hoppiness. Pours into a trusty SAPP to a light amber with a very creamy 3 finger head. Taste is balanced with a nice malt base mixed with a noble hop bitterness that hits up front, then fades into the background leaving a slightly bitter aftertaste. Mouthfeel is a little thin but sufficient. Overall a good brew, nothing extraordinary but in the land of adjuncts a godsend, and a good drinker.
689 characters
3.83
/5
rDev
+8.8%
look: 4 | smell: 3.5 | taste: 3.5 | feel: 4.5 | overall: 4.5
I've acquired a much stronger feel for this sort of session beer.
This is a typical example of a red ale, which pulls off a very much brit feel in every sip.
The pour is a clear red, rather bright which turns amber when placed against a light.
The smell is fundamentally hoppy, with a strong astringent feel that you'd perceive from a cold, fresh dry beer like a stout or a bitter. there's not much head to look at but seems to give off enough of an eye-nose combination.
The taste isn't really too elaborate. it's basically a session beer with a refreshing grainy feel overwhelmed immediately by a strong bitterness. This hop strength brings along a hefty grassy/floral feel within the mouth that computes to much of the actual stronghold the beer has.
This is quite a nice beer to drink one-after-another. fits in with the improving pub feel in Bogota.
869 characters
3.71
/5
rDev
+5.4%
look: 4 | smell: 3 | taste: 4 | feel: 3.5 | overall: 4
A: Light, tawny copper, clear with several streams of good size bubbles joining a medium size just off-white head. Keeps a good skim & leaves quite good lace.
S: Grainy & a bit caramelly & sweet malts. Backed by softly herbal & muddled citrus hops. Pretty simple, but okay strength & okay overall.
T: Opens with a good dose of caramel & a fair bit of grainy & malty sweetness. Middle is more grainy accented by the sweetness an caramel. Just a hint of toasty & a whisper of bread crust. Hop character balances quite firmly with moderate plus bitterness. Softly herbal, grassy & leafy, and a fair bit of muddled & muted citrus. And a slight touch of earthy in the finish.
M: Medium body with carbonation just the barest bit over-matched. Nice texture – hop tannins, some dextrins, & a hint of sugars. Touch of roast and hops take it drying.
D: Perhaps inspired by both US Reds & English Pales. Hop focus with strength is more US, but overall character is more English. Without trying to beat a square peg through a round hole . . . This is one heck of a tasty and nice drinking beer.
1,088 characters
Monserrate Roja from Bogota Beer Company
3.52
out of
5
based on
22
ratings.