Zipaquira Abadia
| Bogota Beer Company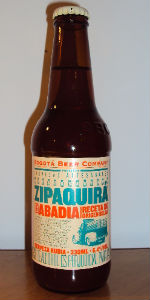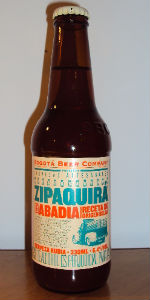 BEER INFO
Brewed by:
Bogota Beer Company
Colombia
bogotabeercompany.com
Style:
Belgian Pale Ale
Alcohol by volume (ABV):
6.00%
Availability:
Rotating
Notes / Commercial Description:
It is our turbid beer, non-filtered, orange hue. Fruity & Spicy. Recipe of Belgian origin. 3 weeks of maturation. 6% alcohol.
Added by Andreji on 11-04-2008
HISTOGRAM
Ratings: 6 | Reviews: 5
Reviews by Luiz0930:

4.63
/5
rDev
+16.9%
look: 4.5 | smell: 4.5 | taste: 4.75 | feel: 4.75 | overall: 4.5
I've been in many parts of the world and had different beers all over the place. One day I found myself in calle 83 Bogota Beer Company Pub. This beer is the best they had that day. After having different tastes from all their tap selection, I found myself drinking a Belgium wheat recipe (witbier) in Bogota, Colombia. Let me say that it is hard find decent beers in south america, specially witbier or hefeweissen (not including imported beers of course). BBC, this is a beer to keep for those who are diehards about their beer.
BBC Colombia, A must!!
555 characters
More User Reviews:

3.13
/5
rDev
-21%
look: 3.5 | smell: 3 | taste: 3 | feel: 3.5 | overall: 3.25
The Zipaquira was ok....didnt knock my sox off. The beer poured a pale yellow with sediment particles and white head that left a spotty lace. The smell had some citrus and belgium malt. The taste was a weak belgium pale not much going on....sure there was some citrus and belgium sweet malt, but other than that not much going on. The mouthfeel was lighter in body with good carbonation. Overall...eh.
401 characters

3.99
/5
rDev
+0.8%
look: 3.75 | smell: 4 | taste: 4 | feel: 4 | overall: 4
3.77
/5
rDev
-4.8%
look: 3.5 | smell: 4 | taste: 3.5 | feel: 4 | overall: 4
A: Rich, glowing golden with just a hint of an orange hue. Mildly cloudy with lots of fine floaties. Medium to small white head. Plenty of active bubbles. Decent splotches of lace.
S: Spot on Belgian pale nose with good strength. Fruity with pear & banana prominent and a hint of tropical. Malts are wheat, a touch toasty & bready, and a soft bit of sweetness. Restrained herbal & spicy hops. Hint of fairly clean yeast.
T: Same components as nose, but quite different proportions. Fruit dials back & also focuses more on banana. Doughy wheat is a lot more forward. More yeast too. Herbal hops are also more present with a good dose of bitterness. Spice also comes out more – and seems to come from both yeast & hops. Some pears shows through stronger towards the end. Hint of a pleasant earthy note I the finish. Lingering herbal hops.
M: Just mediu body with carbonation a tad over matched. Cushiony & almost soft core while being bright & refreshing at the edges. Ghost hint of sticky sugars on the lips. Spicy hop drying takes a bit to really kick in.
D: A nice wheaty Belgian pale ale. Pleasantly fruity in the nose & up front with a solid hop backing on the palate. Nice, stand-up offering from an interesting brewery (craft brew in Bogota, Colombia).
1,263 characters
4.5
/5
rDev
+13.6%
look: 4.5 | smell: 4.5 | taste: 4.5 | feel: 4.5 | overall: 4.5
'11 Version.
Had the pleasure of having this re-brew of their "Abbey", or rather Belgian Pale Ale, on-tap with fellow BA aschwab and head honcho Berny Silberwasser at the BBC in Usaquen, on what should be the city's upper east side. I review it however with a beer in hand, from a bottle.
Now, a couple of years back this was their first venture into the great array of belgian styles and I granted them much credit for having a successful first-go, although back then it was more of an experimental brew. This time around, it comes off much more mature, elaborate and flavourful; indeed perfected. I can only hope it doesn't run out too soon throughout.
The pour, in general terms, is unchanged. I'm having it on a Duvel tulip and the head covers up to about 3/4 to the top, a thick and radiant, yet very compact white creaminess to it. below, glowy mid-way between yellow and orange, much more opaque than i had it pegged out to be the previous times. cloudy but not dirty looking, and granted a great contrast of sights.
Head fades half-quickly but leaves tonnes of lacing behind, in a rather organised fashion, rimming the beertop with also a few chunks afloat; very much *that* look you get from the very yeasty belgians.
Smell is beautiful, all throughout akin to some place between a Duvel and a Leffe Triple; very spiced, pungy herbal feel of the former, and a sweet, grapefruit appeal of the latter. The alcohol does become perceivable this time around with just a subtle stimulus at the back of the nose; and much more intense in general than the previous version- the smell is perceivable now even at a distance.
The taste is the most significant improvement in my opinion. from a shy (or shier) feel, it emboldened into a flavourful sweet sour blend, peppery at times, a feel of the strongest limes in its bitterness at others, and an orange or grapefruit sweetness for the gentler part. It is not malty and has certainly put behind a moderate witbier feel it used to have, favouring then a purer pale ale feel.
I remain intrigued about the hops, although they seem to be much more consonant with the rest of the flavours this time; they're bitter but not too much so; they're grassy but in a discrete fashion; but it seems undeniable, they're there.
The alcohol also comes across as much more present and blended into the whole taste, no efforts to hide it but rather to integrate it- in a very, very successful fashion I must say. it is there throughout, close to the feel you should get from, perhaps (again) a Duvel, but not quite that strong either. but it is there, and it is an welcome addition.
As far as drinkability goes, you would definetly not choose to session this but it can last you a few glasses' (or chalices') worth, but it is worth tasting thoroughly and deliberately. at 6.4%ABV it shouldn't come down too strongly but isn't worth going crazy about.
Overall, it perhaps represents among the best offerings the BBC has pulled in its years. It is a testament to their steady improvement as it reflects not only the evolution of this beer but of the company as a whole (with their recent IPAs or stronger belgian ales) growing and perfecting themselves through the years rather than stagnating on their usuals given their financial success "either way".
3,295 characters
3.71
/5
rDev
-6.3%
look: 3 | smell: 3.75 | taste: 3.75 | feel: 3.75 | overall: 3.75
Golden color, slightly hazy. It made a three finger head with low retention.
Sweet aroma of Belgian yeast, caramel, cloves and biscuit malt.
Very pleasant taste, sweet malt and Belgian yeast with notes of oranges, cinnamon, maybe anis and caramel. Dry aftertaste.
Light to medium body with low carbonation. Alcohol of 6.4% ABV is completely hidden.
A refreshing and flavorful Belgian ale, not overly complex, nice to drink it even at a hot day. Likely among the top three of BBC brews.
486 characters
Zipaquira Abadia from Bogota Beer Company
Beer rating:
3.96
out of
5
with
6
ratings