Bogota Lager
| Bogota Beer Company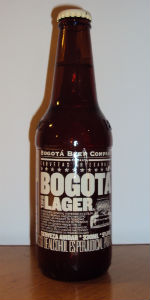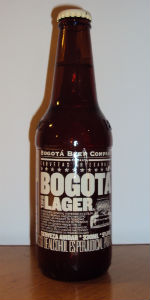 BEER INFO
Brewed by:
Bogota Beer Company
Colombia
bogotabeercompany.com
Style:
Euro Pale Lager
Alcohol by volume (ABV):
5.00%
Availability:
Rotating
Notes / Commercial Description:
"Es nuestra cerveza tipo lager, receta de origen checo. Cuerpo medio, notas a caramelo que le dan una característica excepcional. 2 semanas de maduración, 5% alcohol."
It is our lager beer, recipe of Czech origin. Medium body, caramel notes that give exceptional character. 2 weeks of maturation, 5% alcohol.
Added by Andreji on 12-07-2008
HISTOGRAM
Ratings: 11 | Reviews: 6
Reviews by Andreji:
3.81
/5
rDev
+9.5%
look: 4.5 | smell: 3.5 | taste: 4 | feel: 4 | overall: 3.5
Bogota Lager, Take two.
This years' version i'm having bottled, which i've always considered a fair take for a lager. And you can certainly appreciate it bottled because its clear label-on-brown-bottle certainly gives you a sense of what it is (or does it?), whilst respecting the beer, keeping it unskunked.
Pour is certainly a bit unexpected. in a favourable way. they've come a long way, or maybe it just looks better this time around (or maybe i simply don't remember my former tasting all that clearly). Reddish, but just borderline- under the wrong light, you could almost bet it's a dark golden hue. Tight, creamy head, that would just make you believe it'll fade quickly and somehow holds longer than you expected it to, plus it settles a nice looking film on top with a generous lacing rimming the glass. Oh, i poured it into an american pint (again).
smell seemingly bettered.solid, deep hoppy sensation, although still fairly subtle, it certainly embraces a nose dug into the glass. and almost (almost!) hints a slight bit of alcohol. a tad astringent. but the malts are nowhere to be found...
...until the tasting. I like the bbc's take, because they give this lager their signature burnt malts feel that replicates in others such as the monserrate. Indeed, it may well be very similar although the body is oilier and perhaps makes it less sessionable. The malt feel doesn't go forever, though, it's very slight and not too sweet, you really have to wiggle thoroughly to get it. Plus, you'll be taken by a very herbal yet bitter hopness. not as strong as the monserrate, but it does leave a generous aftertaste.
And, as i said, nice medium bodied, somewhat oily (you can almost feel it leave a film atop your tongue). Very, very discrete alcohol feel.
Overall, it is a good lager. It's come a long way and now seems richer in flavour which is something to welcome (for a lager, at least). Let's see if they keep improving it.
1,943 characters
More User Reviews:

3.72
/5
rDev
+6.9%
look: 3.75 | smell: 3.5 | taste: 3.75 | feel: 4 | overall: 3.75
The Bogota Lager is not an American Amber or Red....so this was misclassified from the start. The beer pours a clear yellow with white head that leaves a spotty lace. The scents carry a Saaz hop and waifs of grain. The taste is a crisp solid Euro Lager with the saaz hop being present and enough bitter to keep the pallet clean on the after taste. The mouthfeel is light to medium in body with good carbonation. Over all this is a solid lager and could be sessioned without prejudice.
484 characters
3.6
/5
rDev
+3.4%
look: 3.5 | smell: 3.5 | taste: 3.5 | feel: 3.5 | overall: 4
A: Blond yellow just barely leaning a git golden, but yeah, mostly yellow. Bright and clear with lots of bubbles rising from all over to join the fair size brilliant white head. Fair amount of splotchy lacing.
S: Generic lager nose with a hint of floral & sweet esters. Malts are crackery, but no appreciable pils character – more American pale with a crackery edge. Herbal & floral hops with a light lemony citrus touch. Alright character and decent strength.
T: Malts are a bit sweeter than on the nose and take on a faint toasty hint. Not really any of the caramel notes promised in the company's website blurb about the beer. Base malts are crackery, dry, and the barest bit grainy. American six row or super generic, blah pils. Quite strongly balanced to hops. Firmly herbal hops with hints of lemony citrus, and a medicinal & leafy background note. Herbal hops linger for a long time. Just a frogs hair of astringency.
M: Just barely under medium body with carbonation over-matched a bit. There is a hint of sweetness and sticky sugars, but it is far overpowered by an almost fierce herbal, tea-like, hop drying. Crisp overall, but not really refreshing.
D: A very flavorful & hop balanced lager. Just enough malts to stand up to the firm character, but no more. Flavor is all too often lacking in way too many lagers from all parts of the world. Not this one. Quite fair for drinking a few and it stands up well with food.
1,435 characters

3.49
/5
rDev
+0.3%
look: 3.75 | smell: 3.5 | taste: 3.5 | feel: 3.25 | overall: 3.5
Golden color with white or slightly off-white head, moderately good size though not too durable. Clean hops over malt nose, could be bigger, but balanced. Taste is straightforward malt with hops obvious but never out of place. Clean mouthfeel.
243 characters
3.28
/5
rDev
-5.7%
look: 3.75 | smell: 3.25 | taste: 3.25 | feel: 3.25 | overall: 3.25

3.25
/5
rDev
-6.6%
look: 3.25 | smell: 3.25 | taste: 3.25 | feel: 3.25 | overall: 3.25
Basic lager. Very American. Not much else to say.
49 characters
3.41
/5
rDev
-2%
look: 3 | smell: 3.25 | taste: 3.5 | feel: 3.5 | overall: 3.5
Pale golden color with lots of fluffy head with medium retention.
Light aroma of floral and herbal hops.
Although a bit watery body, it is a flavorful pilsner that is not shy in showing its herbal hops. Dry and bitter aftertaste.
Well balance malt sweetness and amount of hops used in its recipe. Pleasant Bohemian Pilsner to drink, it is a good choice for a decent session beer or to enjoy on a hot day.
404 characters
3.6
/5
rDev
+3.4%
look: 3.5 | smell: 3.5 | taste: 3.75 | feel: 3.5 | overall: 3.5

3.42
/5
rDev
-1.7%
look: 3.5 | smell: 3.25 | taste: 3.5 | feel: 3.25 | overall: 3.5
I got the chance to try a few Colombian craft beers from the Bogota Beer Company including this one. They certainly brew good craft beer in Bogota too.
Look: clear light yellow with a half-inch white head.
Aroma: moderate bready typical lager aroma
Taste: It's mild but not a Heineken, it has a bit more flavor. Not the best Bogota beer I tried today but a better Lager.
Feel: light body
391 characters

3.75
/5
rDev
+7.8%
look: 3.75 | smell: 3.75 | taste: 3.75 | feel: 3.75 | overall: 3.75

3
/5
rDev
-13.8%
look: 3 | smell: 3 | taste: 3 | feel: 3 | overall: 3
Bogota Lager from Bogota Beer Company
Beer rating:
3.48
out of
5
with
11
ratings