Don Rufino
| Bogota Beer Company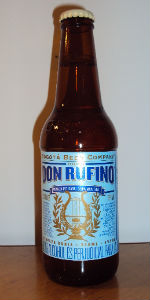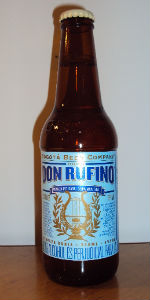 BEER INFO
Brewed by:
Bogota Beer Company
Colombia
bogotabeercompany.com
Style:
Kölsch
Alcohol by volume (ABV):
4.00%
Availability:
Rotating
Notes / Commercial Description:
"Es nuestra cerveza conmemorativa a Rufino José Cuervo (filólogo de la lengua castellana de finales S.XIX). Rubia, brillante, finas burbujas, muy refrescante. Sabor suave. 2 semanas de maduración y 5% alcohol."
It is our commemorative beer to Rufino Jose Cuervo (philologist of the Castilian language of end the 19th Century). Blonde, brilliant, fine bubbles, very refreshing. Smooth flavor. 2 weeks of maturation and 5% alcohol. (bottle label says 4%). Type: Golden Ale.
Added by Andreji on 03-04-2011
HISTOGRAM
Ratings: 5 | Reviews: 4
Reviews by Andreji:
3.65
/5
rDev
+8.3%
look: 4 | smell: 4 | taste: 3.5 | feel: 3.5 | overall: 3.5
Don Rufino is one of the BBC's recent bombardment of seasonal or one-off beers and I of course had to land a few bottles to try it out, since I had missed it the last time it was around.
Had the luck of getting one bottle (for this very tasting) from Berny himself while visiting the brewery with fellow BA aschwab.
Berny explained the story as a homage to Mr. Rufino José Cuervo, colombian filologist and pioneer of the brewing art in the country in the late XIX century.
Poured into a Jester King american pint glass. right off, a very clear and bright, golden tone. maybe reminiscent of some traditional franco-german ales. small, fizzy white head fading almost instantly into a simple rim and almost no lacing. almost no action within.
And it is in the terms of this franco-german style that I had a hard time deciding what style this must be. Of course, a dozen people will eyeball me like i'm insane if i can't tell the two apart, but the smell brought me through the world of both Koelsch and Saisons. I opted for the latter- maybe a fresher memory- but I guess time will allow for someone to disprove me.
For all it's worth, the smell has a very interesting sour-to-bitter feel of stored hops. not really lemon-ish, but slightly more pungent. not sweet at all. and there's no alcohol present (wouldn't expect there to be any, either).
While the taste is good, it's not fantastic as it combines with a smooth and very light body. Maybe I've become overhyped about hop bombs and stronger, more savory beers, but I failed to be overwhelmed by this one. Again, very subtle and non-sweet, the strength of the flavour goes along the lines of an introductory, wheatier feel (very grainy, to be honest...bière de garde? nah, but definetly not a Kölsch). follow up is a balanced hoppy feel, almost slightly charred, but on the very soft end.
The body is very, very light. although the bitter nose and taste may balance it out slightly, this is definetly a summer beer, and it is fizzier than it appears. maybe i'm just not in season right now. No alcohol ever throughout.
The beer is overall not bad, but it may have more mystique behind it than marvel in itself.
2,191 characters
More User Reviews:

3.6
/5
rDev
+6.8%
look: 3.5 | smell: 3.5 | taste: 3.75 | feel: 3.5 | overall: 3.5
The Don Rufino is a good solid warm weather sessionable beer. The beer pour a bright pale yellow with a white head that left some lacing. The smell was mostly grain and bread with maybe a hint of citrus. The taste was light an crisp, good balance between hops and malt. The mouthfeel was light in body with good carbonation. Overall this was a decent beer and would be even better on hot days.
393 characters
3.63
/5
rDev
+7.7%
look: 3.5 | smell: 3 | taste: 3.5 | feel: 4 | overall: 4.5
A: Super pale golden to slightly tawny lightish yellow. Small white head that falls fast. Bright and clear with a few streams of small fast rising bubbles. Some okay lace.
S: A rather shy and clean nose. Faint malt with touches of toastiness and sweetness. Very ghostly hint of generic hops. Perhaps some soft esters. Opens just a small amount as it warms.
T: Quite a bit more going on than in the nose. Biscuity malts – a bit toasty & with just a touch of fresh milled malt effect. Softly herbal & grassy hops (hint of mint) with moderate bittering. Touch of estery fruit with just a hint of vinous character. Lingering herbal bitterness. Develops a pleasant, slightly sweet citrus note as it warms.
M: Medium light body with firm carbonation. Crisp & quenching. Attenuated quite a bit, but finish is only mildly drying. Sounds simple and basic, but is pretty great.
D: Sort of a light and small American pale golden ale that is leaning just a bit kolsch-style. Not fruity or richly malty enough to really pull off the later though. Oh well – styles aside – this is damn nice & refreshing. Fairly tasty too. A very good summer beer for anywhere. Super nice for a little 4.0% beer.
1,191 characters
2.73
/5
rDev
-19%
look: 2.5 | smell: 2.5 | taste: 2.75 | feel: 3.25 | overall: 2.75
Made for commemorating the first brew made in Bogotá by Don Rufino and Don Angel Cuervo, which was called Cerveza de Cuervo. This if you don´t count Chicha, which is a corn fermented beverage made for centuries in Andean countries.
Pale golden color with a short retention.
Faint smell of vanilla and honey. Although light as well, its flavor is more fun the aroma. Taste of malt with herbal hops with a mild but pleasant bitterness.
Light body with good carbonation and a crisp feeling.
An ok beer, on the positive side I was expecting less given the low 4% ABV alcohol, but could be less watery anyway. More marketing that product.
635 characters
Don Rufino from Bogota Beer Company
Beer rating:
3.37
out of
5
with
5
ratings