Whole Foods Market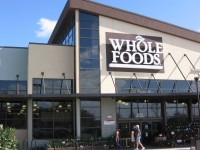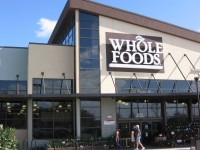 Store
8003 Turkey Lake Rd
Orlando
,
Florida
, 32819-7382
United States
(407) 355-7100 |
map
wholefoodsmarket.com
Notes:
Reviews: 14 | Ratings: 30

3.86
/5
rDev
-3%
vibe: 3.5 | quality: 3.75 | service: 4 | selection: 4
Beer selection was pretty good overall. However, the beer is located in two areas in the store - right near the produce section and then in the far back of the store - so check both areas. They had a great mix and match 6-pack selection with some local stuff in there. Dates were pushing it, but not awful. Otherwise a nice selection of domestic, craft and imports. They had the essentials from the local breweries (cigar city brewery, funky buddha, green bench) and prices were comparatively very good ($1 less per sixer compared to the places nearby).
Overall a decent selection - probably best place to stop by if you're in this area as there aren't many other good options close by.
689 characters
3.67
/5
rDev
-7.8%
vibe: 4.5 | quality: 3 | service: 3 | selection: 4.75
In total the visit to Whole Foods in Orlando was a let down. I was blown away when I first started looking through the two beer sections this store has. When I started looking at dates for canned IPAs my excitement came to a screeching halt. Some of the Cigar City brews were 2+ months old and others were less than a month. Lot of people in these sections, no one ever offered any assistance however. Huge inconsistency in dates/freshness, not something I'd expect from a retailer that prides itself on quality.
517 characters
4.33
/5
rDev
+8.8%
vibe: 4.5 | quality: 4.5 | service: 4.5 | selection: 4 | food: 4
This Whole Foods is right by my job, which I love. I've gone in here on a couple of occasions. The first time I went and checked out their food they have set up buffet style for you to stick in some styrofoam and head back to work or eat at the various tables they have set up. On this visit I noticed their nice selection of beers.
On my second visit I checked out the beers (2 coolers on 2 sides of the store). Many single bottles and 4/6 packs available as well as big bottles. The prices are comparable to most other stores although sometimes you'll find a good deal. If you don't see something or only see one of something the staff is super friendly and willing to go see if they have more of what you want.
Finally, they have a bar in the middle of the place, which stocks around 8 beers (CCB among others) and a good selection of wines.
847 characters
4.46
/5
rDev
+12.1%
vibe: 4 | quality: 5 | service: 5 | selection: 3.5
This is a typical Whole Foods market, with a good (but not huge, compared to, say, Total Wine) selection at decent prices.
One way, however, in which it is NOT typical at all is that it has a bar right in the middle of the supermarket - an honest-to-God BAR with 8 craft beers (and 16 wines) in coolers, proper bar-top with coasters, stools to sit at and a knowledgeable bartender. It's U-shaped and the other side of the U is a a coffee bar, with an ice-cream counter linking the two, so pretty much all tastes of a snacky/desserty/beery nature are catered for. I had Cigar City Hotter-than-Helles and Brooklyn Blast Double IPA, so there was both local and national interest to be had.
The bartender said it was the only such bar in a Florida WFM, although he didn't know about anywhere else (nor I). Food from the store (like hot fresh pizza) was available and in all it was remarkable how much of a bar ambience was created among the tomatoes, pesto, cookies and fresh fish.
979 characters

4
/5
rDev
+0.5%
vibe: 4 | quality: 4 | service: 4.5 | selection: 3.5
I stopped here on two different occasions during our Orlando vacation. This was a very convenient beer pit stop on our way in and out of town and is just off the highway.
Atmosphere: First of all, as a grocery store, this place is great... one of the better Whole Foods I've visited actually. As a beer place, it was good. The beer selection is spread out throughout the store for no reason whatsoever. Curious....
Service and Quality: There was no CC Maduro on the shelves when I went for the second time. I wanted to grab some on the way out of town to bring to a friend. I found the beer buyer and he retreated to the back and found a freshly arrived shipment of the stuff. Nice customer service!
Value: As with most Whole Foods, the prices were $1-2 higher than most other places, however, I did find some stuff that was right on par... particularly the Cocoa Beach Brewing Co. stuff.
This is a very easy, convenient stop in Orlando, particularly if you are staying near, or are visiting Universal Studios.
1,014 characters

3.73
/5
rDev
-6.3%
vibe: 4 | quality: 4 | service: 3 | selection: 4
Stopped by here on my Florida vacation in my quest to knock out another store. It's a grocery store, so don't expect beer geeks everywhere first off. There's beer in three location in the store: with the produce as part of a mix a six selection, with some cheese (just a few assorted bombers), and then in the far corner by the way, there are a lot of six packs. Selection was pretty good, with a lot of Cigar City bombers and a bunch of stuff I can get back home (Victory, Great Divide, etc). Prices were really good...8.99 for a six pack of Maduro? Yes please. Knightly is a better overall store, but it's on the other end of town. Whole Foods is a decent little stop if you're in the area.
692 characters
4
/5
rDev
+0.5%
Visited on Sept. 3, 2010.
This is a pretty big Whole Foods store. The beer is in the back with the singles selection near the produce and the bombers/packs near the deli. The selection was pretty good. DFH, Southampton, SN, North Coast, Fort Collins, Eel River. Weyerbacher, Bell's, Great Divide, Terrapin, Steelhead, Starr Hill and others. The singles selection is a pretty good representation of what's in packs.
In the other section, you have the same breweries plus some Rochefort, BFM, Brooklyn, Ommegang, Cigar City (Guava Grove & Big Sound), Bison, Hoppin' Frog and others. There's about 30 different bombers & 750mls. Everything is priced and seemed reasonable. Service was perfunctory.
Worth a stop for sure and it seemed to have a better selection of domestics than Knightly.
789 characters

4.15
/5
rDev
+4.3%
When you walk in to the store if you go to the far left wall there is a singles/mix six shelf and a small selection of beers on the cheese shelf across from it. The mix six selection is well chosen with a good variety of expensive, seasonal and local beers. Over the cheese while I was there were an assortment of Bruery and BrewDog beers.
As you walk along the back end of the store there is a selection of packs and large format single bottles. Again a well chosen selection of locals, regionals and national beers along with a good selection of imports. The selection at this store is disappointing compared to the Tampa Whole Foods on Dale Mabry but not bad. I also knocked it a bit as the section is so divided. The two parts are literally on opposite sides of the store.
The lady there restocking the beer was very helpful and knew a few things. She was able to help me make a decision and was polite. I was shocked that a person in the store knew what was what when it came to the beer selection. Maybe that is why it is so well thought out.
A little on the pricey side but reasonable considering it is a Whole Foods and they tend to be a bit more expensive across the board.
1,185 characters

3.85
/5
rDev
-3.3%
Thanks beerfly for pointing me to a Whole Foods while I was in vacation of the beer wasteland of Orlando for vacation.
On the left side of the store is a mix a six pack area, with a small area of 12 oz. bottles. That's always a nice option, and I'm surprised to find that in a grocery store. Across from this section are some 750 ml Bruery bottles hiding in a chilled cheese section. The six pack section is on the other side of the store. This is what I was looking for. I was looking for some thirst quenching wheats and a local beer, and I left with six packs of Hoegaarden, Sierra Nevada Kellerweiss, Orlando Brewing Pale Ale, and a bottle of Brooklyn Local 1. I also found a strange bottle of Chapeau Mirabelle Lambic. Prices were a bit more than I'm used to.
Maybe there aren't a lot of FL breweries, but there didn't seem to be much local. No Cigar City, and only a few other Southern beers. Everything else was pretty typical, with most styles covered. The area they were working with was pretty small, but for what I was there for it worked fine.
1,059 characters
4
/5
rDev
+0.5%
Thanks to my fellow BAs for the recommendation. This place has great variety. There is a nice grocery store sized cooler that you can mix a six with. The variety is good there with Bells, Orlando, Left Hand, Rogue and others being well represented. Beer can be found throughout the store on shelf tops. There is also an ample selection of six packs. I found several beers there I had been searching for a while. The prices seemed reasonable to what I would expect to pay here. I wish this place was more organized, but certainly one of the best beer stores I visited while I was in Florida.
590 characters
4.25
/5
rDev
+6.8%
Well, this is a regular stop for me if I'm getting a few tasters on my lunch break.
They have a nice big selection of single brews to include, but not limited to: Two Hearted Ale, La Fin Du Monde, tons of Sierra Nevadas, Left Hand brews, Full Moon, Trappistes Rochefort, Bells and several others. I'd guess about 100 different single to choose from. The cool thing is that if you do the math, the single bottle price is not much different than if you multiplied it by 6 (or 4) and bought the package. So it's easy to bring yourself to "make your own six pack."
If you venture over to the package goods area, you'll find a lot of cold "big beers" and growlers of Chimay, etc... Also, tons of cool sixers of good imports and micros.
I just love the hippie atmosphere. They have used, empty six pack boxes laying there for us drunks to use! We can recycle and feel good about buying beer here! I keep hoping to get a cashier who is playing with less than a full deck of cards so they will simple scan the six pack (I always use something like an empty Bud or Heiny) so I can get 6 amazing beers for the price of 6 mediocre bottles of shlug.
I love this place, seriously.
1,171 characters
4
/5
rDev
+0.5%
I was on international at a conference and couldn't justify the time and cab fare to knightly spirits.. so I figured I'd give WFM a shot. Wow - was I ever glad I did.
For a Canadian in search of quality American micros - I hit the jackpot. Everything I was interested in was there plus more. Sierra Nevada, Stone, Brooklyn, Dogfish, etc.. plus all the beer were sold in singles at very reasonable prices. I didn't see any Belgians but there were a number of Euro lagers at the top of the stand.
This was such a good I went back twice in three days! If you're on International for a conference or just staying with the family look this place up.. it's a solid 15 minute walk but worth it.
690 characters

4.15
/5
rDev
+4.3%
I am a sucker for a WFM wherever I am visiting. In the healthy food and good beer hell of the depressing tourist area of Orlando this place was truly appreciated, both for the huge selection of everything good food wise and also for the typical WFM quality selection of worthy beer. Its located towards the left as you enter and work your way towards the rear of this large and well stocked store in several cooler units. Singles, sixers, cases warm at various areas. Bells, Bison, Mad River, were new to me, along with more familiar choices such as Omegang, Stone, DFH and Brooklyn. Tons of other options, Go here, you will get some healthy snacks and food to munch on (giving you a break from the tons of fast food junk available everywhere you look in the area) and you will be able to enjoy quality beer.
808 characters

4.3
/5
rDev
+8%
Located on the corner of Sand Lake and Turkey Lake Rd in the Dr. Phillips area out by Universal. This is a relatively new store that is much bigger and less claustrophobic than the one in Winter Park.
In the back of the store, most of the beer is located in the coolers along the wall, with a few of the 750s located on a shelve next to the coolers. This store has a pretty solid selection. You are not going to find many ultra-rare beers here, but they do carry a wide selection of some of the better domestic/import crafts that are available in the area. Brooklyn, Rogue, Dogfish Head, Bell's, Terrapin, Stone, Allagash, Oskar Blues, Lagunitas are a few of the better breweries available off the top of my head.
There are a few of the guys on the staff that are obviously into good beer and are doing a good job of bringing in what they can to the store.
Overall, this Whole Foods Market is worth stopping by. With Knightly Spirits only a few miles away that is definitely a can't miss in the area as well.
1,014 characters
Whole Foods Market in Orlando, FL
Place rating:
3.98
out of
5
with
30
ratings