Five Points Bottle Shop - West Side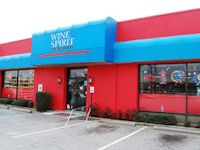 PLACE INFO
Type:
Store
3685 Atlanta Hwy
Athens
,
Georgia
, 30606-3150
United States
(706) 316-2337 |
map
fivepointsbottleshop.com
Notes:
No notes at this time.
Added by Big78CJ on 12-21-2008
Reviews: 8 | Ratings: 23
5
/5
rDev
+6.8%
vibe: 5 | quality: 5 | service: 5 | selection: 5
The sister location of the original that's actually in Five Points, this location has it's own unique offerings. While this store doesn't get quite the volume of crazy rarities that the original handles, what goodies it does receive are able to wait on their proper owners. If you go in this store knowing what to look for you can find some really amazing deals. The other plus that puts this location on the same level of greatness as the original is the adjacent growler fill station. With an entire wall full of taps, great homebrew supplies, and an amazing glassware collection, the growler store is almost as exciting as the main location. The stuff they have on tap is ridiculous as well, I mean, what type of location sells growlers of Older Viscosity? It was literally the most expensive growler I've ever gotten as well as the best value. This place is awesome.
870 characters

5
/5
rDev
+6.8%
The owner of the original Five Points Bottle Shop and Aroma's Wine (and Beer) Bar in Five Points has opened another bottle shop, this one on the west side. Although the original still has a much larger beer selection, I am reviewing this location as if it were owned separately from the original or if I did not know the other existed. If you are looking for something extremely rare, go to the original and he probably has it. Otherwise, head to the west side and read this review.
The staff here are all hired and trained by the same people as the original place so they are all very friendly and willing to help. Sometimes they might be liquor people or wine people (or the occasional BMC frat boy) but most know something about beer and certainly enough to help you with a few choice suggestions for beers you may not have noticed.
The prices and selection are fantastic for a beer store anywhere but especially for Georgia. I hit beer stores all over the country when I travel and this one is better than most. The original location is still the best selection but the West Side has a huge range of crafts (both domestic and import craft), belgians (including some true lambics), and even some rare gruit beers and things like that. They really have great variety and they are sure to keep new offerings from breweries coming in regularly.
If you are heading out to or in from Atlanta, or you just live on the west side of Athens, stop by this store and load up on all the goodies you need. If it is a really special occasion, head over to Milledge and check out the original location.
1,593 characters

4.89
/5
rDev
+4.5%
vibe: 4.75 | quality: 4.75 | service: 5 | selection: 5
Amazing place to shop for beer. Both this location and the original are packed full of stuff I can't find/have never seen elsewhere. The staff is very knowledgeable, and willing to have a beer conversation without pushing/pointing you toward anything specific unless you ask for direction and guidance. Fund of information and willingness to help are amazing.
Prices are standard, and not jacked up even for hard to find/retired items.
Definitely worth stopping in if you are in the area, and even planning a day trip from atlanta if you have nothing else to do!
564 characters
4.85
/5
rDev
+3.6%
I try to make a visit to the Athens area at least every month or so to explore the beer selection at both Five Points locations, if time allows.
A recent interior expansion of this store (along the back wall) has allowed them to expand the beer selection and to also make room for more American 12 oz. singles. [As I can't afford sixpacks or fourpacks of everything, I highly value stores that offer craft beer singles as part of their customer services.]
Aside from local North Georgia distributors carrying some beers that are "passed over" by Atlanta-area distributors, some of the special editions that get picked-over in the Atlanta area may be found in Athens. Several of the staff members seem to be BA members and they are very knowledgeable about the Athens "beer scene" and upcoming special events at Aromas and other Athens establishments (as well as events in Decatur, GA).
If you are in the Atlanta area, before making a drive to Athens, give them a call to ask about what they might have and if they are down to the last bottle or two of something in demand, they might be willing to put is aside for you.
1,122 characters
4.8
/5
rDev
+2.6%
Finally stopped in here after only having time to visit the original location my last few visits up to Athens.
Quality is very good. About half of the beer is refrigerated and all of it is kept away from daylight. My one suggestion would be that all IPAs, ambers, and similar styles be put into the coolers.
Service is great. Everyone there knew what they were talking about, what beer was increasing in price, what beer was coming in soon, etc.
Selection is also great. Every beer you could want and then some more. They have many of the rarer imports that aren't seen in many places, including a ton from Italy. Beers tend to stick around on the shelves substantially longer than in Atlanta so you can find some beer that's harder to find as well. They also have three full coolers full of singles and have a build-your-own-six-pack option. If you're looking for something in particular that you don't see it's not a bad idea to ask as some stuff they keep in the back.
Value is OK. Shopping mostly at Green's here in Atlanta the prices are a bit higher but not prohibitively so.
Overall I prefer this location to the original, but you really can't go wrong with either. A must stop if you're in the area.
1,213 characters
4.5
/5
rDev
-3.8%
Stopped in here on a recent trip to Athens. This location is very easy to find once you get off the 'Athens highway loop'. Upon walking in I was amazed at how much larger this location appeared to be than the original store. Everything was nicely layed out and categorized to keep the beer, wine, and liquor seperated. I made my way to the far left of the store where the entire wall was a cooler with shelving that ran the entire length as well that with un-chilled brews. The selection here was quite good if I'm honest. It didn't quite have some of the rarer stuff that you can find at the regular location, but still very nice. This location is a little out of the way if you are going planning to only hit up downtown Athens, but it is TOTALLY worth the extra drive to get there to find something that they might not have at the other store.
846 characters
4.44
/5
rDev
-5.1%
vibe: 4 | quality: 4.5 | service: 4 | selection: 5
this is the bigger but still little brother of the downtown five points bottle shop. this is a crazy huge store, and im sure they do a lot for frats in the area. dont let that scare you away the beer selection is impeccable. there is a new addition of a homebrewing store/growler station with (i think) over 40 taps. the selection on tap is ridiculous, as well as the selection of bottles in the store. this place is big, and that kind of hurts the service a little. they are more than helpful if you need something, but they arent coming up to you and asking you what you want. this store is a little more off the beaten path than the other one, and is worth a trip in the area. go there.
689 characters
4.3
/5
rDev
-8.1%
vibe: 4 | quality: 4.5 | service: 4 | selection: 4.5
Quality is very good. Most of the beer is refrigerated. However some more fragile styles like IPA's are setting on the shelf. I love the smell of the humidor in this place.
Service is good. Most people here seem to really know what they are talking about. However at times I have had trouble with not finding a person to help me.
Selection is great. Ive never been in Five Points and didn't see something new to me. They have been my go to spot for Cantillion for a while now. They keep many of the harder to find imports in stock. And occasionally there are surprises on the shelf.
585 characters
Five Points Bottle Shop - West Side in Athens, GA
4.68
out of
5
based on
23
ratings.