Dismiss Notice
Devil's Wit
| Indigo Imp Brewery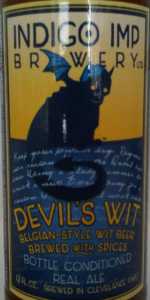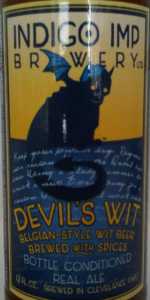 BEER INFO
Brewed by:
Indigo Imp Brewery
Ohio
,
United States
indigoimpbrewery.com
Style:
Witbier
Alcohol by volume (ABV):
5.20%
Availability:
Limited (brewed once)
Notes / Commercial Description:
No notes at this time.
Added by adamette on 06-18-2010
This beer is retired; no longer brewed.
HISTOGRAM
Ratings: 9 | Reviews: 6
Reviews by jampics2:

3.2
/5
rDev
-6.4%
look: 3 | smell: 3 | taste: 3.5 | feel: 3 | overall: 3
12oz bottle into an oversized pint glass. Looks nice but I was very careful not to get the dregs into it. The oz or so I didn't pour in was mud. This is straw, mostly clear with just a touch of haze, and without active carbonation or head. Could look better.
Smell is crackers, corriander, clove, and tart wheat. Wheat is a little strong, no citrus or exotic spicyness except for a touch of lemon.
Taste is ok, probably my favorite of the 3 beers in the sampler pack. The beer is somwhat tart, with a touch of torrified wheat, corriander, orange, lemon and an abruptly dry finish. It's a good witbier but nothing that stands out.
Mouthfeel is light but it feels slightly undercarbonated.
Overall, this was ok, I enjoyed it but it really doesn't stand out. That's my problem with the Imp in general so far - no identity in the product. I like the brand and the logo and the packaging, and the beer is decent. But at this time in the brewery's life, I'd like the unique techniques that this brewery employs (urban open fermentation) to have paid off in an identity. I just wonder when one of these beers is going to bring the wow factor.
1,140 characters
More User Reviews:
4.18
/5
rDev
+22.2%
look: 4.5 | smell: 4 | taste: 4 | feel: 4.5 | overall: 4.5
***Reviewed Blidly in the Blind Beers BIF***
A- Light gold, slightly hazy. Was quite clear but I got a little sediment from the bottom of the bottle trying to get it all!
S- Bready and biscuity malt, light citrus (lemons, tangerine, lime) and maybe a touch of banana.
T- Very, very similar to the aroma and not straying from there. I get a bit of bubblegum here that I didnt get out of the aroma. This is a good beer. Quite tart, like lemonade, but not overly so. Very well balanced between the lactic sourness and sweetness of the wheat.
M- Medium and a little bit creamy in the mouth from the (obvious) wheat that's used. High carbonation. This is exactly WTF I needed on this 95* day here in Atlanta. You are a saint, sitarist.
I'm not sure what brew this is or who makes it, but I'm going to have to have more. Soon.
Style guess: Berliner Weisse. Unless some has invented a sour Hefe...
It is: Indigo Imp Belgian Wit. What?! If I wasnt an honest man, I'd change my guesses.
This Wit definitely has a nice, sour, lactic touch to it. I'm LOVING IT. It's probably a little too much for *style* but, who cares. It threw me for a curve, that's for sure.
I looked at the reviews and 2 out of the 3 dont know what you're talking about. Damn fine beer and I'll review it that way. This beer deserves A LOT more credit than it's score represents. Shame on you. I'm not a big Wit fan, but this beer hits the mark.
I'll take more of this in a locals for locals trade, if you're up for it. Thanks for the refreshing drink, sitarist.
1,537 characters

4.06
/5
rDev
+18.7%
look: 4 | smell: 3 | taste: 4.5 | feel: 4 | overall: 4.5
The appearance is a light straw color, and the aroma is fairly mild with hints of wheat and yeast. The taste is excellent, though, very full-bodied for a wit beer with an assertive, almost floral flavor bursting with spicy yeast complexity and wheat, a bit like a heavily amped up, much tastier Shock Top. This was perfect for a hot summer's day.
346 characters

3.22
/5
rDev
-5.8%
look: 3 | smell: 3.5 | taste: 3 | feel: 3 | overall: 3.5
Poured into snifter.
Pours a light layer of white head. Not a lot of lace. Color is a light hazed pale yellow.
Aroma: Coriander and spice. Some yeast and lemon zest. It has some dry muskiness to it as well. Some bananas and cloves.
Taste: Very musky flavor. Lemon zest, clove, coriander, bananas, yeast and spice. It has a very sharp flavor.
Mouthfeel: Crisp and spiced. Lighter bodied with a medium amount of carbonation. Ends clean with spices.
Overall, a fairly average wit. Nothing bad with it, but it just doesn't pack to big of a punch (granted it really shouldn't). It just doesn't have a lot of flavor even for the style.
634 characters

3.02
/5
rDev
-11.7%
look: 2.5 | smell: 3 | taste: 3 | feel: 3.5 | overall: 3
Bottle. Poured into a tulip glass a slightly hazed very pale straw color with very minimal head that collars around the edge of the glass. The aroma is that of white grape, citrus, very slight spice, and wheat. This is actually very bland tasting BUT easy drinking at that. Very slight citrus and banana type notes. Sweet white grape like start. Light/medium mouthfeel. On a hot day this would probably be refreshing but it isn't the best example of the style. Very little head and zero lace.
492 characters

2.38
/5
rDev
-30.4%
look: 3 | smell: 2.5 | taste: 2.5 | feel: 2 | overall: 2
From the card provided in the sampler pack: 5.2% ABV A light gold color with citrus, spice and a crisp finish make this wheat beer a refreshing summer drink. From the label on the bottle: Belgian-Style Wit Beer Brewed With Spices: Bottle Conditioned Real Ale
Live review. Poured from one of the 12 oz. bottles that I bought as a part of the "small batch sampler pack" at Heinen's in Willoughby Hills, Ohio yesterday, the 12 pack box cost of $21.99. Poured into my Cooperstown Beverage Trail pint glass. No observed "best by" date but this sampler pack was just released so I am sure that it is fine (mine is the first review of the beer anyhow!).
A Hazy light yellow body under a VERY brief white head (it was there for about 15 seconds) in a look that meets the style guidelines but is otherwise not very impressive. At first glance it reminded me of fresh squeezed lemonade (without the lemon pulp floating about!) 3.0
S Rather basic Witbier smell of light citrus, some wheat grains. 2.5
T Static tasting Witbier with the requisite light citrus and wheat tastes but not much else. Again here with this beer (as in others from Indigo Imp) I taste a tendency toward a flemish sour that is not welcomed. 2.5
M Has the feel of alka seltzer with plenty of carbonation rising up, dancing on the tongue. Other than that physical feel, this is a very light beer. I don't really like the alka seltzer feel to a beer. 2.0
D Not that good with the alka seltzer feel and the less than impressive "wannabe Witbier" taste. Sam Adams Summer Ale offers more interest in terms of a seasonal in my opinion. 2.0
Notes: Indigo Imp is just getting started but this one is a no go for me. I should note that I have tasted about 100 Belgian Witbiers and this is clearly in the bottom 20 per cent by style comparison for me.
1,809 characters
Devil's Wit from Indigo Imp Brewery
Beer rating:
3.42
out of
5
with
9
ratings