Dismiss Notice
Spring
| Indigo Imp Brewery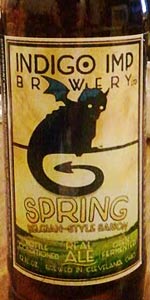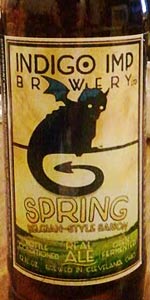 BEER INFO
Brewed by:
Indigo Imp Brewery
Ohio
,
United States
indigoimpbrewery.com
Style:
Belgian Saison
Alcohol by volume (ABV):
6.80%
Availability:
Spring
Notes / Commercial Description:
None provided.
This beer is retired; no longer brewed.
HISTOGRAM
Ratings: 14 | Reviews: 11
Reviews by CLAZZ51:
More User Reviews:
3.65
/5
rDev
+7%
look: 4 | smell: 4 | taste: 3.5 | feel: 3.5 | overall: 3.5
Pale deep golden colored ale with a bright white head. Nice biscuit nose reigns supreme throughout each sniff, but the beer has honey spiced elements without difficulty. Flavor has biscuit malt with hints of honey doo and sharp honey malts, a white pepper spice, and clove accent. Very nice beer as a whole soured cereal grains without difficulty. Spicy tart finish with a simple low level of carbonation and cloying sweet back ground notes, going strong. Drinkability or overall socor in this case is moderate comparing all the levels that the beer has to offer, completely great drinking experience.
601 characters

3.22
/5
rDev
-5.6%
look: 3 | smell: 3.5 | taste: 3 | feel: 4 | overall: 3
12oz bottle poured into a standard pint glass. Pours a golden yellow w/ no head and no lacing. Lots of sediment in the bottle, so pour slow. The aromas are nice, lots of sweet yeast. The taste is very sweet, almost sour. All of the belgian-styles I've had from Indigo Imp have been sour. Now don't get me wrong, the flavors aren't bad, just not what's expected from a saison. It's also fruity and slightly malty. I believe they used pilsner malt. The mouthfeel is actually very nice, well carbonated, smooth, slightly creamy, enjoyable. Drinkability isn't bad.. despite some off flavors, it's very easy to pound this one.
I'm assuming most saison purists wouldn't approve. It's a hot mess, kind of sloppy, but there's something about it I like. I wouldn't really recommend it, but if you come across it, don't be scared.
821 characters

2.33
/5
rDev
-31.7%
look: 3 | smell: 2.5 | taste: 2 | feel: 2.5 | overall: 2.5
Poured into a small snifter on 4/23/11
Split with MbpBugeye. Keep in mind this is the guy that made me drink Pizza Beer and Romulan Ale.
Clear golden color until yeast in the bottle adds a haze, causing an overall faded appearance. 1/4th in fizzy, white head is gone in a flash. Thin ring of retention; minimal lace.
Light, musty earthiness permeates aromas of lemon, grass, sharp apple, banana and dulled spice. Tartness as it warms. Pilsner malts come through. Smells a bit floral, too. Tastes weird. Mineral water with a semblance of watered-down Fanta Limón. Kind of grassy and earthy; floral. tart apples with a little bite. Grainy, light body; dry. Low carbonation. Finishes tart and meh.
One of the better Indigo Imp beers I've had. That isn't saying much though; it's still bad.
791 characters
3.46
/5
rDev
+1.5%
look: 3.25 | smell: 3.5 | taste: 3.5 | feel: 3.25 | overall: 3.5
Indigo Imp Brewery
Spring (Belgian Style Saison)
LOOK:
Pours a pale golden color. The white head forms but disappears quickly in the glass. There appears to be very small bits of sediment. Lively carbonated bubbles rise to the surface. Little to no lace, this looks like what you might expect from a Lambic, though the fact that their beers are brewed with open fermentation being the only other similarity.
SMELL:
Lightly funky aroma, Belgian yeast, pale malts, candi sugar. A bit of honey like sweetness also peaking through.
TASTE/FEEL:
Pale malt sweetness with some wildflower honey notes, small tartness and hoppy citrus. Grainy sweetness and a bit of must. Not sour at all this is just sweet and musty. A little tip of the tongue tart note is met by a sturdy earthy hop bitterness. Spice flavors are very distant. Refreshingly drinkable and light bodied, there is a chalky, slightly dry finish.
OVERALL:
Unique for sure, this Spring offering is a quenching beverage. Not as sour as a fan of open fermented beers might demand, there is still a reasonable amount of funk to this brew without being off-putting at all. It's quite more-ish, in fact I may purchase another four pack of these.
1,204 characters

3.97
/5
rDev
+16.4%
look: 3.5 | smell: 4 | taste: 4 | feel: 4 | overall: 4
Pours a cloudy yellow color, looks kind of like pineapple juice. Really no head to speak of, just a ring that leaves a few spots of lacing.
I smell boiled peanuts, coco butter, coriander, and mildew. It is sweet with sour notes in the background.
I taste pears, coriander, coco butter, and her sex. It has a funky sour flavor that is hidden behind sweet malts. Smooth, and unique.
Smooth, light body with just a little bit of carbonation. It glides right on down the hatch.
An easy drinking mix between an American Wild Ale, and a Saison.
542 characters

4.03
/5
rDev
+18.2%
look: 4.5 | smell: 4 | taste: 4 | feel: 4 | overall: 4
I'm getting a real taste for saisons.
A - Deep cloudy straw colored. Poured with a weak and loose foamy head that dissipates quickly to leave a simple ring of foam around the edge of the glass.
S - Yeasty and earthy. Some sweet malts make the scent of some light fruits come through, stuff like pear and banana.
T - Very, very earthy and even a bit funky. There are some flavors of grass and straw and pear and lots of grape. This one is quite complex. The epitome of farmhouse flavor.
M - Crisp and fairly dry. Pretty high in carbonation. There is a hint of spice that likes to stick around the mouth.
O - The best Indigo Imp beer I've sampled. As the first one I've tried out of the sampler pack I hope I don't get too let down by the other selections!
759 characters

3.89
/5
rDev
+14.1%
look: 4 | smell: 4.25 | taste: 3.75 | feel: 3.75 | overall: 3.75
12 oz.
Pours a slightly hazy honey gold, half inch of white head dissipates slowly, some particulate matter noticeable in the beer.
Smells of lemon rind, coriander, clover honey and grassy malts.
Light grassy malt flavor, coriander, sweet lemon, orange, and banana and clove to a lesser extent.
Medium to light body with light tingles of carbonation.
Pretty solid drinkable summer ale, a bit bland in the flavor, but otherwise good and worth trying.
456 characters

3.82
/5
rDev
+12%
look: 3 | smell: 3.5 | taste: 4 | feel: 4 | overall: 4
12oz bottle poured into a pint glass.
A: Light orange color; no head, just a light lacing. Good carbonation.
S: Lemon, light malt and flowers. Sour, but balanced.
T: Lemon, pear, sweet malt, coriander.
M: Light, pleasant carbonation.
O: I like this. Complex flavors, very crisp, refreshing and tasty.
300 characters
3.53
/5
rDev
+3.5%
look: 3.5 | smell: 3.5 | taste: 3.5 | feel: 3.75 | overall: 3.5
Appearance: Pours a cloudy honey color with a rather modest head; just a shard or two of lacing lines the glass
Smell: Bready and yeasty with a hint of pear, nectarine and herbs
Taste: Bready, up front, with the yeast taking over in the middle along with nectarine, pear, pepper and herbal tones; brings on a hint of band-aids in the finish, however
Mouthfeel: Medium body with moderate carbonation
Overall: Unfortunately, this is not a very impressive version of a Belgian saison though there is a surprising difference in the quality of the wax-capped bottle as it is far less phenolic and puts the fruit elements forward in a more favorable light
653 characters
2.45
/5
rDev
-28.2%
look: 3 | smell: 3 | taste: 2 | feel: 2.5 | overall: 2.5
Brought over by Ryan011235, no one knows the depths of his depravity like I do. And last night he broke out the indigo shovels and we dug even deeper.
Appearance
Pale and lagery looking. Its a golden yellow thats semi clear, or semi hazed. My glass started out half full so we'll go with semi clear. There is a fast head that quickly becomes flaccid *chortle*.
Aroma
It does indeed smell quite spring-like. Lots of pollen and floral smells with spice. Its lemony, are there Saaz hops? There is certainly pilsner malt though. It has lots of that characteristic cracker dough aroma.
Taste
This is strangely sweet. The underfermented, malted grain taste is very strong at the tip of the tongue. Its got notes of malt liquor and watermelon. It finishes very salty with a bit of pilsner malt. All rounded up this stuff tastes like Pez dissolved in salt water.
Mouthfeel
Dry with a low carbonation, nearing flat. It has a slow, slimy feel to it.
Overall
Just about an average saison that gets weird at times and dips below average. It does, indeed taste like a first attempt at a run of the mill saison.
1,106 characters

3.38
/5
rDev
-0.9%
look: 3.5 | smell: 3 | taste: 3.5 | feel: 3.5 | overall: 3.5
This is one of the first three beers I tried from from Indigo Imp in their sampler pack. Came in a wax sealed bottle. It's a Belgian Style Saison and poured out a nice straw color with little head retention. This one has some nice spicy notes and a slight tart taste. It kind of reminds me of a dumbed down Saison du Buff. Its a little too bitter for my taste but does represent the style well and is worth a try.
413 characters
Spring from Indigo Imp Brewery
Beer rating:
3.41
out of
5
with
14
ratings