Fiend Red Rye Ale
| Indigo Imp Brewery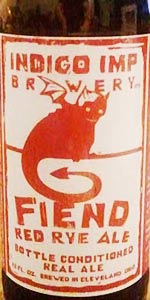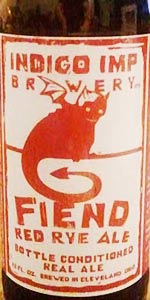 BEER INFO
Brewed by:
Indigo Imp Brewery
Ohio
,
United States
indigoimpbrewery.com
Style:
Rye Beer
Alcohol by volume (ABV):
5.20%
Availability:
Rotating
Notes / Commercial Description:
No notes at this time.
Added by Jesse13713 on 03-30-2011
This beer is retired; no longer brewed.
HISTOGRAM
Ratings: 9 | Reviews: 7
Reviews by 5thOhio:

2.09
/5
rDev
-15.4%
look: 3.5 | smell: 2 | taste: 1.5 | feel: 3 | overall: 2.5
Tried an Indigo Imp---think it was Jester--a while back and wasn't impressed, but since I do love rye beers, I thought I'd give them another shot.
Pours a deep rich cloudy amber/copper color with a small head, about 1/2 inch which slowly dissipated to about 1/8 inch. Not much lacing. Carbonation was good, nice mouthfeel of fine bubbles, almost like a nitro but not quite, probably due to the bottle conditioning.
It had a slight earthy-malty odor, nothing really distinct, but OTOH I don't have a highly developed sense of smell.
I didn't get all those weird off-flavors the other reviewers found, but it sure didn't come off as a rye to me. The predominant taste was sour. Underneath that was that same earthy-musky-malt flavor I noticed in the aroma. But any subtle flavors that might be present were overwhelmed by the sour taste. If you like sour with not much else to speak of, go for this.
Overall, the $10 I spent on a 4-pack of this stuff would have been much better used going towards a pricey bottle of Hoppin Frog.
1,032 characters
More User Reviews:
1.98
/5
rDev
-19.8%
look: 4 | smell: 3.5 | taste: 1 | feel: 2 | overall: 1.5
Deep murky blood orange red color with a light khaki tan head forming thick, scattered specks of lace. Aroma has a tart/medicinal spicy rye bread signature notes with an acidic lactic backdrop. Flavor is pretty horrible with competing sour acidity and sour mash graininess. Pretty much tastes like acid reflux without much character, this one striked out for me. Mouthfeel is thin carbonation is mellow with a lingering acidity that feels like you just threw up a little bit in your mouth. Overall this beer needs dumped don't release beers like this I'm done with the Imp for right now.
587 characters
3.52
/5
rDev
+42.5%
look: 2 | smell: 2.5 | taste: 3.5 | feel: 4 | overall: 5
Appearance - Looks like a traditional rye beer. Murky and opaque sour brown in color. Three inches of head that are quick to disappear. Appears to have average carbonation. Very musky and swampy looking. Poor lacing.
Smell - Sour apple right up front on the nose. Reminiscent of some brand of tart candy. Not too heavy in rye or malts.
Taste - Hmm. Not sure what to think of this at first. I like to support local breweries; but I have not liked anything from Indigo I've had in the past. I'm pleased to say this is different. Slight masked sourness upfront that quickly fizzes on the tongue, pops into citrus, and then settles into a sweet caramel trickle. Rye is present on the finish.
Mouthfeel / Drinkability - Easily drinkable and very light bodied. This is quite a delicious beer and a thumbs up for Indigo Imp. It isn't anything too fantastic or extraordinary; but it can definitely hold its own. Dry on the finish. A thirst quenching beer that just really hit the spot after another hard day at work.
1,011 characters

1.76
/5
rDev
-28.7%
look: 3 | smell: 2 | taste: 1.5 | feel: 2 | overall: 1.5
Poured into a small snifter on 4/23/11
Split with MbpBugeye
Murky, dirty brown, rust and copper. Over one finger head dissipates to a thin film and a good bit of collar retention. Swirling helps. Not much lace.
Perfume-strange aroma that seems pretty off. Buttery caramel and grains; rye comes through but isn't prominent. Stray citrus and floral tones blend with caramel making smell candy-like. Has an odd wooden note, kind of like spruce. Yuck; this tastes bad. Really bad. Conglomerate grains, caramel, earthy hops and wispy rye. Everything seems out of place. Cocoa, overtones of orange. Tartness plays off the carbonation; it's quite fizzy. Medium body. The finish is perhaps the worst - coating, almost plasticine and dry spice.
I wanted this to be the beer Indigo Imp pulled off well. It isn't. This is another dud. It's not rye but it's plenty wrong.
863 characters
3.72
/5
rDev
+50.6%
look: 3 | smell: 3.5 | taste: 4 | feel: 4 | overall: 3.5
Beer is interesting these days...constantly changing, adding, subtracting, and balancing. In an increasing industry where there is a lot of the same to choose from, Indigo Imp is attempting to do something interesting--and in Cleveland!
The Fiend is marked as a Red Rye Ale, which may be misleading. If there is one downside to this beer (and perhaps the brewery at this point) it is the way they relay information on their packaging. This beer came in a sleek looking cardboard box four-pack. The only issue was there was no information on the box telling much about the beer, or the creative things Indigo Imp is trying. The "Give Me an Imp" description on the bottle label seems generic and uninspired: "Only the finest ingredients..." etc.
But, let's talk about this beer.
The beer pours a murky copper color, a little fizzy, and a head that rises and falls in seconds. The carbonation is there, but not much of a head. A young beer? Most likely.
The aroma gives notes of raisins, dates, prunes--dry fruit. There are some other elements in there too, peach, roasted oats, and cherry. The smell here is opposite of what you may expect from the labeling...which is not a bad thing, as the aroma is quite interesting and unique.
The taste is unexpected. The bottle reads "Bottle Conditioned Real Ale." I have also read elsewhere that Indigo Imp does open fermentation...another interesting quirk about this place. That style has, not surprisingly, lent an interesting, fruited funk to this beer. In terms of rye notes, there isn't much. Instead, fruity notes of plum and peach are in the forefront, driving this beer. There is a bit of a spicy backbone, but only after the initial fruitiness clears a path. Coupled with that fruit, though, is a slightly sour note. Though, I would not consider this to be a sour.
This beer is good. It's really good. What has happened to the style of the beer is unexpected and interesting, but not off-putting in the least.
Overall, this is a beer with some complexity to it, and one that will be neat to try in a year or so (which, I'm assuming, is why they wax one bottle in every pack). Indigo Imp will remain on my radar as a brewery that has the creative potential to do great things.
2,233 characters

1.9
/5
rDev
-23.1%
look: 2.5 | smell: 2.5 | taste: 1.5 | feel: 1.5 | overall: 2
12oz bottle poured into a pint glass
A: I agree with those below, it is a very murky brown. One-finger head.
S: Smells like a can of fruit cocktail.
T: Sour and unpleasant. I can't pick out any distinct notes.
M: There's a definite tang here, but the acidity (and I enjoy a nice sour beer from time too time) is a bit off-putting.
O: Indigo Imp's beers for me have been very hit or miss. Some I've enjoyed, this is not one of them.
433 characters
1.76
/5
rDev
-28.7%
look: 2.5 | smell: 1.5 | taste: 1.5 | feel: 2.5 | overall: 2
Brought over by Ryan011235, who loves the stuff.
Appearance
It pours out with promise. It has a nice color. Its a dirty red, the color you might find on red plums. The head isn't as nice though. its loose and coarse, the bubbles quickly gravitate to the edges before they all disperse.
Aroma
Stinky. This stinks. Stink, stunk, stank.
It has odd aromas of plywood, Ryan and I both separately concluded that there are notes of cedar, but these cedar notes are out of place. I said it smells like a cigar box. Which, again, smells great on its own, but is out of place and deformed here. There is a quick jab of chocolate that is quickly whisked away.
Taste
A lot of sweet malted grain like that found in malt liquor. Cuvee de Colt. There is a twanginess thats undoubtedly coming from the rye but it borders on tart.
[Here my notes say 'tart' but it looks like 'fart'. I think the latter is just as appropriate.]
It tastes like bruised, rotting fruit. Dead caramel and chocolate, which left me pondering how they've managed to kill caramel and chocolate to which I concluded that the guys at Indigo Imp are playing God, but starting small.
Mouthfeel
Light bodied with a loose, coarse carbonation that yields to a slimy finish.
Overall
Here is how this beer is properly served, and best enjoyed:
https://picasaweb.google.com/lh/photo/c83kP9MTH5DoiUesMUvxKw?feat=directlink
1,379 characters
Fiend Red Rye Ale from Indigo Imp Brewery
Beer rating:
2.47
out of
5
with
9
ratings