De Troch Framboise Lambic

Brouwerij De Troch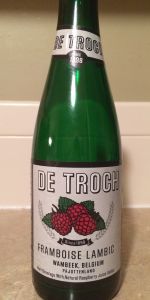 Write a Review
Beer Geek Stats:
| Print Shelf Talker
Style:

ABV:

3.5%

Score:

Avg:

3.92

| pDev:

3.57%

Reviews:

5

Ratings:

From:

Avail:

Year-round

Wants

Gots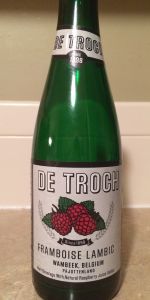 Notes:
Reviews by avalon07:

avalon07 from South Carolina
4.03
/5
rDev
+2.8%
look: 4 | smell: 4 | taste: 4 | feel: 4.25 | overall: 4
L: Poured from a bottle to a tulip glass. Had a dark, ruby color and a thick consistency. There was a small amount of off white, foamy head that lasted an average amount of time. Not a whole lot of lacing.
S: Not surprisingly, a big raspberry aroma, along with some yeast as well.
T: Like the aroma, tasted of a ton of raspberries, but also had traces of Belgian yeast, a hint of malt, and other fruity elements (tasted like a little bit of strawberry to me). Fairly one-dimensional, as you expect from a Lambic, but still very lively and enjoyable.
F: A well-carbonated beer with a somewhat slick finish. Light-bodied.
O: This is a very easy to drink, lightweight beer. A good example of a Lambic.
Nov 13, 2015
More User Reviews:

bluejacket74 from Ohio
4.05
/5
rDev
+3.3%
look: 3.75 | smell: 4.25 | taste: 4 | feel: 4 | overall: 4
375 ml bottle, no dating that I was able to find. Served in a Prairie Artisan Ales lambic glass (tumbler), the beer pours a cloudy reddish/brown color with about an inch off-white head that stuck around a while. There was also a decent amount of lacing. Aroma is nice and fruity, the brew smells like fresh raspberries and raspberry jam, and a bit of grainy malt. Taste is pretty much just like the aroma, but I think the sweet, raspberry jam/sugary flavor is dominant. Mouthfeel/body is light/medium, it's a bit slick and is well carbonated. I liked this, and if you're a fan of the sweeter tasting fruited lambics then this is certainly worth picking up! $6.99 a bottle.
Jan 06, 2017

Smakawhat from Maryland
4.06
/5
rDev
+3.6%
look: 4 | smell: 4.25 | taste: 4 | feel: 4 | overall: 4
Poured from the bottle into a tulip glass.
Deep tanish red, a sort of almost rusted iron brown color. Minimal rising carbonation, meeting to a fine bubbled two finger sudsy and even head. Settles to a faint half finger, and a nice puck with a bit of crown like collar.
Boy is the aroma big. Large amounts of juiced raspberry fruit, rich and bursting. Minimal sensing lambic quality, no hints of dry acid and quite sweet smelling but doesn't hint at a lot of sugar sweet aromas. Real inviting nose.
Palate is not much of a surprise from the aroma. Thick raspberry sweetness but tolerable, washing over the mid palate. Light bodied but also not much funk or acidic notes to give. A big raspberry bonanza though all over the palate from start to finish.
It's a one dimensional lambic, but a really nice fruit showcase though.
Feb 25, 2017

jaydoc from Kansas
3.96
/5
rDev
+1%
look: 4.25 | smell: 3.75 | taste: 4 | feel: 4 | overall: 4
Sep 11, 2015

a77cj7 from South Dakota
3.75
/5
rDev
-4.3%
look: 3.75 | smell: 3.75 | taste: 3.75 | feel: 3.75 | overall: 3.75
Dec 03, 2016

shoegueuze from California
4.02
/5
rDev
+2.6%
look: 4.25 | smell: 4 | taste: 4 | feel: 4 | overall: 4
For a Fruit/Vegetable beer this would be a 4.5+/5 but for a Framboise Lambic it's a bit simplistic.
Oct 04, 2015


Whiskeydeez from Kansas
3.56
/5
rDev
-9.2%
look: 3.5 | smell: 3.75 | taste: 3.5 | feel: 3.5 | overall: 3.5
Apr 25, 2016
Sweffin from Wisconsin
3.84
/5
rDev
-2%
look: 3.75 | smell: 4 | taste: 3.75 | feel: 4 | overall: 3.75
May 09, 2016

Hohnbaum from Kansas
3.96
/5
rDev
+1%
look: 3.75 | smell: 4 | taste: 4 | feel: 3.75 | overall: 4
Sep 11, 2015
StonedTrippin from Colorado
3.96
/5
rDev
+1%
look: 3.75 | smell: 4 | taste: 4 | feel: 3.75 | overall: 4
just because the bottle is old, doesnt mean the beer is oude in the traditional lambic sense. i was floored by their oude kriek a few weeks back, which is why i jumped on this framboise when i saw it this weekend, but the two are not comparable, and i suspect this is more in like with their regular kriek, more sweet and fruit driven, less of the sour lambic character, juice more than fermentation driven, still delicious, but i would file this away with the sweeter lambics, unlike the oude kriek, which was downright amazing. some time on this bottle for sure, and its probably drier than it would be fresher. some obvious bottle fermentation has occurred here too, blackish red sludge under the cap and on the ring of the bottle, no cork in this one (oude kriek had a cork). its got a little head and fizz, a brownish tone set in dimming the raspberry red, and a little bit of a dull tone to it. it smells and tastes like real raspberries, juicy and ripe, a little oxidized in that green glass sort of way, but the fruit is natural in here, bold as it is. a little piquant acidity and some wheat character from the base lambic is all, not as funky or as nuanced as i was hoping, and it seems a little desserty to me overall. the de troch stuff has been a little up or down for me, i dont prefer the sweeter lambics and that seems to be what is most available from them here in the states. this is tasty but not at the level of their oude kriek, not even close, at least for my tastes. the quality is there though.
May 18, 2020
jimmah120 from Minnesota
3.89
/5
rDev
-0.8%
look: 3.25 | smell: 4.75 | taste: 3.75 | feel: 3 | overall: 3.75
12.7oz bottle
Look is nothing special, looks more like an ale than a lambic. Smells like fresh sour raspberry. Tastes overly like juice and has a 'malt beverage' aftertaste. Feels very slick and oily. No real sour funk or acidity, just sweet all the way
Good stuff
Aug 05, 2020
De Troch Framboise Lambic from Brouwerij De Troch
Beer rating:
90
out of
100
with
13
ratings