The Abbey Burger Bistro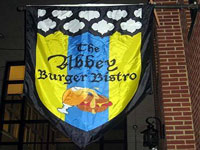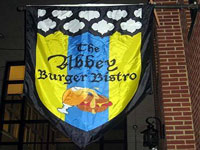 Bar, Eatery
1041 Marshall St
Baltimore
,
Maryland
, 21230-4005
United States
(443) 453-9698 |
map
abbeyburgerbistro.com
Notes:
Reviews: 8 | Ratings: 14
4.44
/5
rDev
+13.3%
vibe: 4.5 | quality: 4.5 | service: 4.25 | selection: 4.5 | food: 4.5
What a weird and enjoyable little place.
It's a long, narrow, bricky bar in an absurdly old building. I was in a party of 3 and we sat at a booth alongside the bar. The decor feels like a good downtown Baltimore sports bar--intimate, clean, not super loud or douchey. It's definitely got more of a bistro vibe than an abbey vibe, though: aside from keeping 3-4 good Belgians on tap, it feels mostly like a well-worn pub. The service was good and crowd was peaceful.
The beer selection isn't super astounding by 2019 standards, but they got 40 taps a few dozen more bottles and there's tons of good options. Always at least a handful of Belgians on tap, as I mentioned, while the rest of the taps lean heavily upon local and regional beers. There's a wide range of styles, a beer for every mood, and they occasionally get in some harder to find imports.
The beer menu is not fully to contemporary tastes, but frankly I find that refreshing. I'm tired of going to a place where 90% of taps are some variation of an NEIPA.
The food is a burger bar. They got various meats and breads and toppings and they're all very tasty.
So, yeah. This place ain't Max's. If you're looking for a world-class tap list, go to Max's. But the vibe is much more easy to engage with, and the food is better, so if you're in the area you should strongly consider stopping by.
1,359 characters

4
/5
rDev
+2%
vibe: 4 | quality: 4.25 | service: 4 | selection: 3.5 | food: 4.5
I would have to agree with the previous review. This is an awesome place to try some unique burgers, but this isn't the place to go while seeking out brews.
156 characters

3.75
/5
rDev
-4.3%
vibe: 4 | quality: 4 | service: 3.5 | selection: 3.5 | food: 4
Located in the Federal Hill area, we ventured here for a burger and beer after a stop at Ryleigh's Oyster Bar around the corner. It is located in a kind of side alley, but the Abbey Burger sign is easily visable. There is a lot of dark woods and a bar that seats about 10 when you first walk in on the right. Several tables and hightops round out the seating areas. Several TVs showing sports too.
There were 15 beers on tap here, with some basics but they did have Otter Creek IPA, Southern Tier IPA, Dominion Double IPA, Peak Summer, Yellow Pils, and Allagash White were some of the selections. They also had Union Craft Brewings Balt Altbier on tap which was pretty good.
Service was decent here, but we needed to order a burger to try this place out. We ordered the kangaroo burger, which was very good.
All in all this was a decent visit, but probably not a beer related stop unless you are looking for some unique burgers to pair with a good beer.
957 characters

3.93
/5
rDev
+0.3%
vibe: 4 | quality: 4 | service: 3.5 | selection: 4 | food: 4.5
Fells Point has better beer bars and there are probably better places to drink in Federal Hill than the Abbey Burger Bistro. But I defy you to get a better burger and have such a quality beer list. Does it approach Max's or Ale Mary's? No, not even close, but it's got some pretty beers on tap and in bottles.
If you don't like the Arsenal Gunners either keep your mouth shut or go somewhere else. The upstairs bar is a shrine to the owner's favorite EPL club. I'm a ManU, but the owner wasn't present so I was safe.
About 20 or so taps with some given over to the ubiquitous macros, but some good ones nonetheless, like Allagash White and a few Heavy Seas offerings. The bottle and can selection added to this with some Sixpoint, Maui, some Germans, and a decent amount of Belgians.
But the highlight here were the burgers. You can go with one of the ones on the menu or build your own. They start at $9.95 and go up as you add extras. But those extras are amazing and you could easily find yourself chomping down on a burger over $25. They offer exotic meats, a large array of rolls, more than your standard cheese selection, a host of other toppings including peanut butter, a fried egg and various spices, pickles and condiments. Go to town!
The only knock is the service. We sat at the bar and I can't blame the girl who served us as she was pretty much handling the whole upper floor by herself with the help from one guy. The only thing I can blame her for is that you can see that they have all the appropriate glassware and everything we ordered came with a stemmed pilsner. That didn't quite work for my porter and my subsequent DIPA, for which I needed to ask for a fresh glass.
1,696 characters

3.28
/5
rDev
-16.3%
vibe: 3 | quality: 4 | service: 2 | selection: 3.5 | food: 4
I got pretty excited to stumble upon a Belgian pub in the Federal Hill neighborhood. Upon first look, I was a little let down that it seemed more sports bar than expected. The beer taps feature around a dozen decent Belgians and some pretty good American micros (some Belgian-inspired, some not). The menu is basically an extensive list of burger options with a slip to check off variations of bread, meat (most locally raised), cheese, and toppings (like you'd find at a sushi restaurant). Quality ingredients made it pretty fun, and delicious. What this place could use is better service. The guys behind the bar were friendly enough when they bothered to pay any attention, but I generally don't require too much. Ultimately, the fact that they hung up on me after I noticed they overcharged me, will be the reason I refuse to return. Being lackadaisical is one thing, but disrespect is unacceptable.
903 characters
4.18
/5
rDev
+6.6%
vibe: 4 | quality: 4 | service: 4.5 | selection: 4 | food: 4.5
Thanks again to Sinistrsam for bringing me here.
There were five of us in all, and it was a Friday night, so we had to wait about 45 minutes for a table, which was totally fine and understandable.
We had to sit upstairs also, and like the Brewer's Art -- only that's downstairs instead of upstairs -- it was a bit odd not being in the main part of the restaurant, but the upstairs does have some flair. A cool-looking bar and a nice atmosphere, and not being able to smoke is always great for non-smokers like myself. Moving from Virginia to New York was a big change in that respect, so it was nice to see that Baltimore's the same way.
For food, we of course got burgers. That's the staple her. I got a Bison burger, which was the first time I had such a thing, and it was great. It's a lean meat, so you want to get it medium rare is what I was told, and that turned out to be a good decision.
You can get their specialty burgers, or you can build your own, which I chose to do as far as add-ons.
The beers are mostly Belgian, but they do have a lot of micro domestic stuff too. I got an Ommegang winter (though I don't remember exactly what it was), and had we stayed longer than dinner, I would've gotten to try a few more. All the beers were served in Cervoise style glasses, which was a nice touch also.
I'd certainly go back, and I enjoyed the experience overall. The area where the bar is also has many others surrounding it, which seems to be pretty evident everywhere in Baltimore.
1,504 characters
3.3
/5
rDev
-15.8%
vibe: 4 | quality: 3.5 | service: 2.5 | selection: 3.5 | food: 3.5
Had occasion to visit this relatively new spot in the Federal Hill area of Baltimore. I believe they have dropped the burger bistro part of the name, and it's now just called the Abbey. This place is located in a small culdesac, right off of cross street near the market (cross street market).
As one walks in, there is a good size bar area to the right, holding 12 to 15 seats. There are also a few tables to the left, and a few more in a larger area in the back. The overall impression is of a fairly small beer bar, with lots of exposed wood and brick. There are a few flat screen TV's behind the bar and on the wall, showing the expected sports events. All things considered, I thought the atmophere pretty nice and relaxed here.
As for the beer selection, the menu lists close to 20 different beers on tap. However, at any one time they have only 8 tap handles, though the selection is pretty good. On this particular day the tap list included St. Bernardus 6, La Chouffe and the Hennepin from Ommegang. They also have around 30 beers by the bottle, consisting of a variety of macros, micros and imports. Service was OK, though was nothing special. Although the place wasn't crowded, I pretty much had to wave my hand or make some affirmative move to get attention/service. Still, the very young folks who seemed to be runing the place were pleasant, polite and fairly attentive.
Food here is pretty good, though I wouldn't call it great. There are the usual pub grub Baltimore staples here, but there is still an emphasis on burgers here as well. In addition to the lunch menu, you are also provided with a burger menu, that you can check off, indicating your preference in toppings, cheese and buns. The burgers come with chips, or for $2 more, you can get a side of fries. I was intrigued by the Foie Gras burger, which is what I went for. The price for it was $19, which I thought a bit high, but probably reasonable if it came with a significant amount of foie gras. In fact, it did not come with very much foie gras at all, and there was no more then a slight flavor of "something else" along with the burger and carmelized onions. On the other hand, the burger was otherwise pretty tasty, and I enjoyed it. It just wasn't worth anything like the $19 I paid for it.
All things considered, this is a decent enough place, one I would return to again if I happened to be wandering around in the Federal Hill area. As I generally don't spend much time in Federal Hill, I'm not exactly sure when that will be.
Edit from 3/19/12. Stopped by twice over the past weekend, and on both occasions walked out without buying a beer. On Friday, 3/16/12, at around 2:00, I walked in with a couple of friends from work and was immediately told it would be at least a half hour wait for a table. As it was St. Patty's day weekend in Federal Hill, I wasn't hugely surprised, so we just took our business elsewhere. However, I also stopped by on Sunday at around 3:30 and was not at all happy with the experience. The draft list has really gone downhill since I first reviewed this place, with the focus on things like NB Fat Tire and 1554, Carlsberg, New Castle and the like. Also, I gather the place had been hit pretty hard the previous evening (no surprise; every drinking establishment in Federal Hill is hit hard on St. Patrick's day), as they were out of three of the beers on the list. After waiting at the bar for over 5 minutes (the bottle list is still pretty good, so I figured I'd get a bottle of something), and with a staff that seemed completely disinterested in waiting on me, I just got up and left. I've adjusted my review accordingly.
3,652 characters

2.88
/5
rDev
-26.5%
vibe: 4.5 | quality: 3 | service: 2 | selection: 2.5 | food: 4
The abbey burger bistro is a welcome change to the typical bars in federal hill, it's actually something different. I want this place to succeed but in my 2 trips there i have been disappointed. The idea is excellent, but the execution of the beer side of the business is poor. My first time to the bistro was a week or two after it's first opening. The food side of the business is good, some of the best quality and unique burgers around, but we are going to focus on the beer here. Looking at the tap menu there were about 12 beers on tap and 20-30 bottles. A few good seasonals on tap, some solid year round beers, Belgians, and some unique bottles. The first thing I noticed was the multiple misspellings on the menu. Such as St.Bernardus was St.BArnardus which then the waiter referred to as St. BArnarBus. So you have misspelling leading to mispronunciation on top of the misspelling. It's a new place and the wait staff needs beer specific training, I can understand this so no big deal in my mind. But I was actually corrected four times on the pronunciation of St. Bernardus by the waiter. Yes, four times in one conversation (20 seconds), needless to say the waiter was mispronouncing on top of the misspelling. Okay that put a bad taste in my mouth. On the menu St. Bernardus was listed with out stating which St. Bernardus it was. So I asked "do you know which St. Bernardus is on tap" the response from the waiter was "the usual one". Well since there are 10-12 St. Bernardus beers I knew the waiter had no idea what he was talking about, nor was willing to find out for me. I gave up and just said "oh okay I'll go with that". It turned out to be St. Bernardus Abt 12. Thumbs up for being on tap though. The exact same thing happened to my girlfriend when she tried to order a kriekbier. The misspelling on the menu was "krakenbriar". When she ordered a "kriek-bier" she was quickly corrected with "kracken - briar". Well they were out of the kriekbier which leads me to another gripe. Only half of the draft menu is ever available. There are 2 draft systems about 6 taps down stairs, 6 taps up stairs. I have been back to the bistro a couple weeks after my first experience (praying to see improvements) and every time my girlfriend and I have ever tried to order a beer that is on the upstairs taps It has been out. This leads me to believe that the upstairs draft system is not functional and therefor those beers should not be on the menu. Also on this second trip the kriekbier was still misspelled and still unavailable. My girlfriend finally got fed up when she was corrected AGAIN on the pronunciation and she informed the bartenders of the miss spelling and mispronunciation. Three bartenders looked at her with a confused look and said "oh okay" and seemed to care less. Again, the staff needs some serious beer education especially when your business focuses on two things, burgers and beer, and the beer side is poor.
2,944 characters
The Abbey Burger Bistro in Baltimore, MD
Place rating:
3.92
out of
5
with
14
ratings